Last updated: October 15, 2021
The America Bay Track in Ku-ring-gai Chase National Park is perfect for those looking for a fun and easy bushwalk escape in beautiful natural surroundings.
The highlight of this 2 km return walking track is the scenic lookout at the end of the walk, which provides superb views of America Bay.
America Bay Track
Distance:
2 km (return)
Time:
1 hour (depending on stops)
Grade:
Easy
Dogs:
Not allowed
This short walking track is one of many scenic walking trails in Ku-ring-gai Chase National Park, just north of Sydney.
It is located in the West Head and Basin precincts of the park, which is also home to the West Head Lookout and Resolute Beach.
Note that that there is a $12 entry fee for Ku-ring-gai Chase National Park, which allows you to spend the whole day there.
The start of the America Bay Track is located on West Head Road, which can be accessed via McCarrs Creek Road.
The actual walk starts at the big America Bay Track signpost on West Head Rd, and you can park your car there at the small parking area (see map location).

The America Bay Track is only 1 km one way, and is suitable for all ages and fitness levels.
The path is very easy to follow from start to finish, however good walking shoes are recommended as the surface at times is a bit rocky and uneven.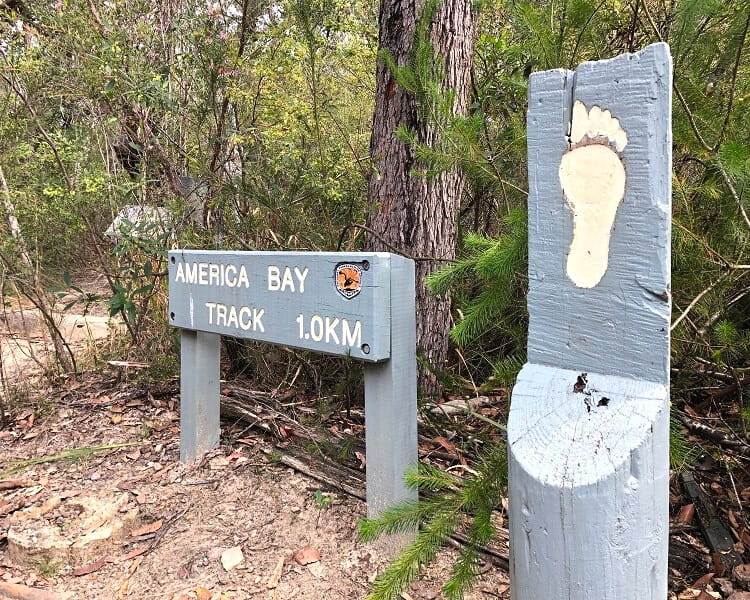 Once you've parked your car at the small car park, simply head into the bush at that signpost to start this short but exciting, family-friendly bushwalking adventure.
Aboriginal Engravings
Quite early into the walk, keep an eye out for an intersection that is actually quite easy to miss.
This is where you can do a short detour to a site with well preserved Aboriginal engravings. Keep an eye out for a wooden pole, as per the below picture.

The weird thing is that it doesn't actually say that there are Aboriginal engravings to visit.
But if you turn right at that intersection and follow the path for approximately 100 metres, you will end up at a rather large and flat rocky area.

The engravings are very well preserved, and if you have a closer look you can easily identify all the different shapes and animals engraved into the surface.

Retrace your steps back to the intersection, and then turn right to continue the main walking track to America Bay.

Small Waterfall
The track continues through a patch of scenic bushland, until it crosses a creek.
You will soon see a small and unpretentious waterfall, which is of course at its best after a period of rain (unlike in the below picture).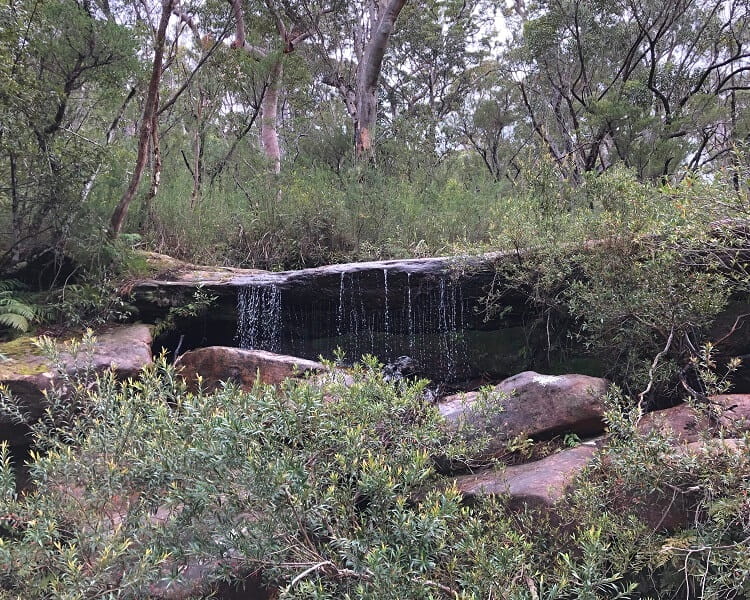 This is also where you will start seeing the first glimpses of America Bay, before the track arrives at the beautiful lookout point.
Lookout Point
The views of America Bay from the lookout are phenomenal, so by all means take your time to really enjoy this beautiful sight.
There's a rather large rocky platform at the lookout, which lends itself perfectly for a picnic with scenic views.

There is in fact another waterfall at the lookout, where the creek descends to lower levels, to ultimately flow into America Bay.
It's challenging though to get good views of this waterfall from the lookout.

The track used to continue all the way down to the bay where there is a beach.
Unfortunately, that track is closed until further notice. The sign that says it's closed actually looks like it's a permanent closure, but who knows.