Last updated: September 29, 2022
Ballast Point Park is an award-winning, 2.6 ha recreational area in Birchgrove on the Balmain Peninsula, with scenic Harbour and city skyline views to take in.
This waterfront park was once a thriving industrial site, and its current design has preserved much of the area's industrial past.
Let's find out more about this unique spot in Sydney Harbour.
The official address of Ballast Point Park is 4 Ballast Point Rd in Birchgrove (see map location). It's fairly easy to drive to, but parking can be limited, especially on the weekends.
Visitors can try to park their car in the parking area on Wharf Road. However, this is a very small car park, and street parking nearby is also limited.
Alternatively, the Balmain Wharf is not too far away and a short walk to the park. You can also catch a bus (lines 441 and 442) to Balmain and Birchgrove.
Check the Transport NSW website for exact details.

What Is Ballast Point Park?
We had never heard of Ballast Point Park before until we drove past it one day while visiting Balmain.
We noticed a couple of unusual structures in the distance, so we decided to park the car and go on a little expedition.
Ballast Point Park is located at the end of Ballast Point Road in Birchgrove, at the tip of the Balmain Peninsula, so the views across Sydney Harbour are magnificent.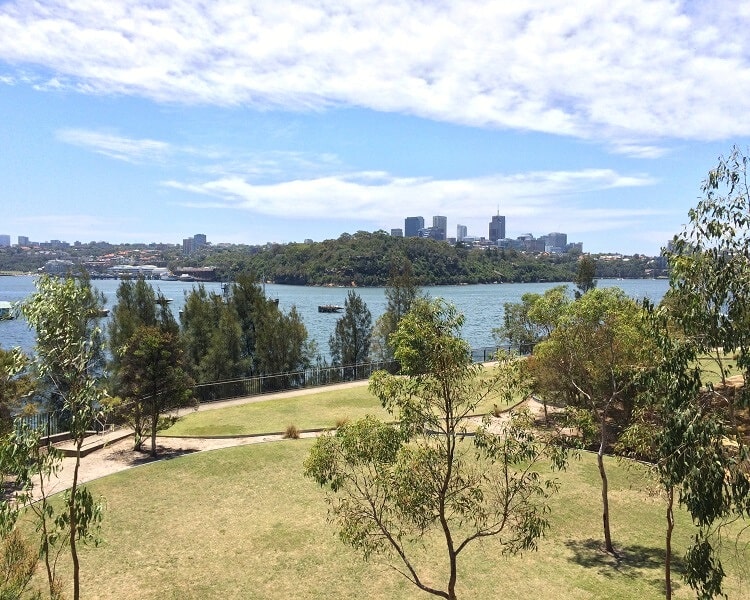 Together with its close neighbours, Balls Head Reserve and Goat Island, Ballast Point forms the entry to the western part of Sydney Harbour.
From Industrial Back to Nature
The park was officially opened to the public in July 2009 by the Sydney Harbour Foreshore Authority, with walking paths, a playground, barbecues, picnic areas and access points for cyclists.
This part of Sydney has quite a rich history, and the park was designed such that this history remains very much alive. It's worth pointing out that many recycled materials have been used for the park's redesign.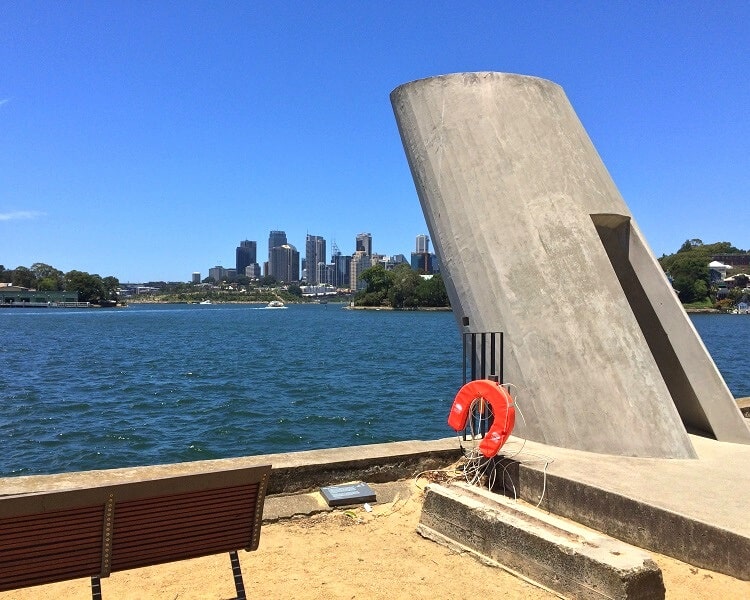 The park has a somewhat raw atmosphere, which, combined with the surrounding beauty and panoramic views, makes it an exciting place to wander around and explore.
In recognition of Aboriginal history, the park was given a second name, Walama, which means "to return". This name reflects the park's transformation from an industrial site to a more natural place.
Tank 101
The park's most prominent and visual landmark is Tank 101, a large steel structure representing one of the oil tanks used by Caltex in the 20th century.
Built in the 1930s, the original Tank 101 was the most significant industrial storage vessel on the site.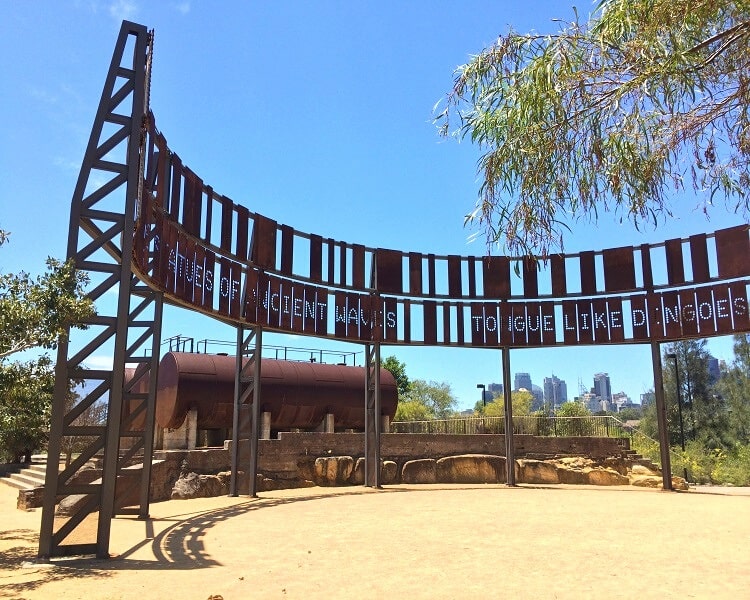 An interesting feature is the poem in the structure written by Australian poet Les Murray, which is worth reading.
The structure was partly built with reused steel from the actual tank in the old Caltex site.
History of Ballast Point Park
After centuries of Aboriginal habitation, the sandstone-rich site was used by European settlers as a fishing and hunting ground in the early 19th century.
It is believed that the name "Ballast Point" refers to sandstone quarrying from this site to use as ballast for ships.
Menevia Point
After a few changes of ownership, Thomas Perkins, a local clothing merchant, purchased Ballast Point in 1852 for a whopping 300 pounds.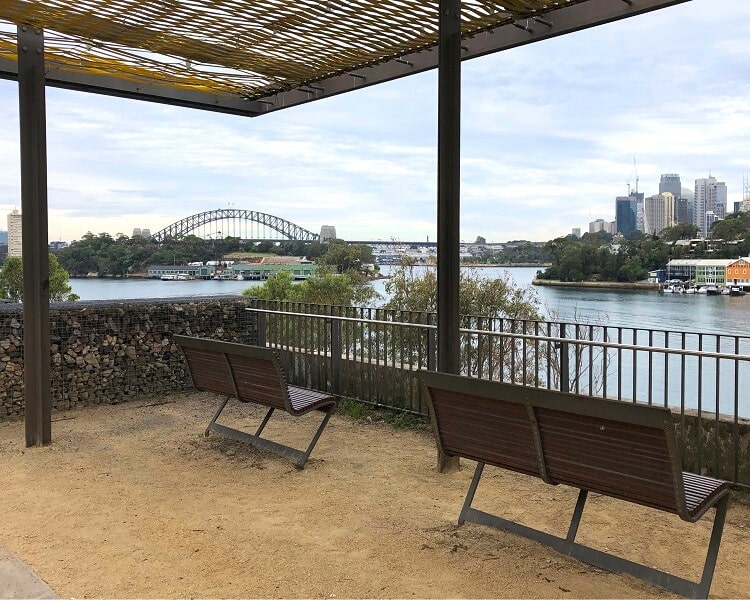 In 1864, the site became known as Menevia Point when Perkins built a two-storey house for himself and his family that he named Menevia. The site later became known as Perkins Point, named after Mrs Perkins.
It is generally believed that Menevia was the only house that has ever existed on Ballast Point. In later years, Menevia was used as a boarding house.
Interestingly enough, remnants of the Menevia house were uncovered during remediation works for the new park. A glass display now contains artefacts for the public to see.
The Caltex Era
Sadly, Menevia was demolished in 1928 by oil company Texaco (which later became Caltex), which bought the site for 15,000 pounds to transform it into a fuel depot.
The old, run-down house had to make way for ugly oil storage tanks. Until the 1990s, Ballast Point had been a very important oil distribution site in the greater Sydney area.

Caltex phased out its operations in Sydney at the end of the 20th century. The Sydney Harbour Foreshore Authority then purchased Ballast Point from Caltex in 2002 to turn it into public parkland.
Ballast Point Park is now considered one of the Sydney's prettiest parks.
A Brand New Park
After seven years of designing and constructing, Ballast Point Park was officially opened in 2009 by NSW Premier Nathan Rees, NSW Planning Minister Kristina Keneally, and former Prime Minister Paul Keating.
Notably, the park won the Landscape Design award in the 2009 BPN Sustainability Awards.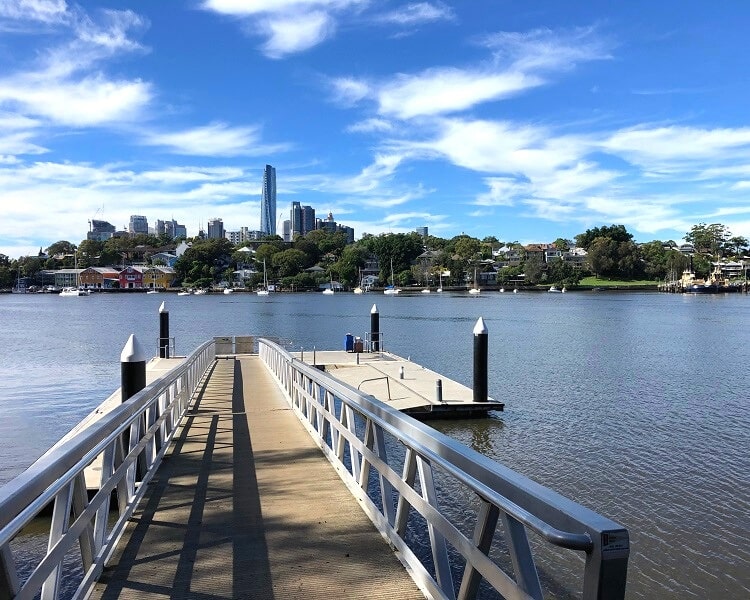 While the park was very well designed, Paul Keating originally wanted to take it a step further. His vision was to completely remove the industrial aspect and turn the site into a natural park.
He wanted green to be completely green, which many disagreed with. But if it wasn't for Paul Keating, Ballast Point could've become residential with apartment blocks instead of parkland.
Watch this video to get an idea of what Ballast Point Park looks like: