Last updated: March 31, 2021
We can all agree that Sydney isn't the most bicycle friendly city in the world. Busy roads, narrow lanes, lack of cycle paths, cycling in Sydney can often feel a bit like a game of Russian roulette.
Things are improving though, with more cycle lanes popping up in and around the city, in addition to an increase in dedicated cycle tracks and shared pedestrian and cycle paths.
There are also classic bike tracks in Sydney with either no cars or very few cars around, where you can enjoy the benefits of cycling in safe surroundings.
In this article, we are going to share 12 of these Sydney cycle tracks.
Top 12 Sydney Bike Rides:
In order of distance, here are 12 of the most popular Sydney bike rides (with links to Google Maps) where you can put your bicycle to good use.
Note that most of these bicycle tracks have various entry and exit points, so you can shorten or extend these tracks as you see fit.
1. Centennial Parklands Circuit
Let's kick off this list of best Sydney bike rides with the most popular track, the Grand Drive circuit ride in Centennial Parklands.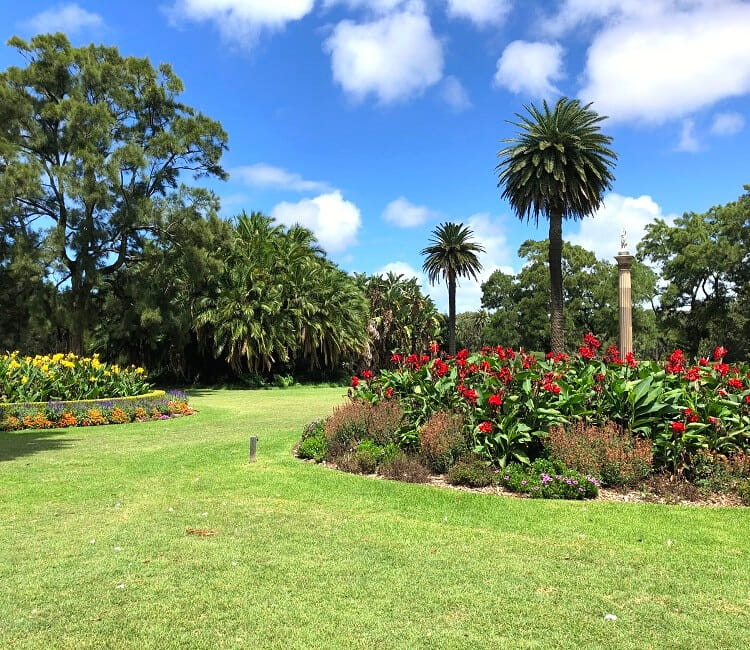 This is a 4 km long road around Centennial Park, shared by cars, cyclists, joggers, pedestrians, and horses, with a dedicated cycle lane for safe riding. Always try to keep to your left wherever possible, as both learner and experienced cyclists use Centennial Park as their cycling playground.
Of course, you don't have to stick to just cycling on Grand Drive, as there are various other roads in Centennial Parklands where you can enjoy cycling. There is even a Learners Cycleway for kids to learn how to ride a bike.
2. The Bay Run
Another classic Sydney bike ride as well as classic running track is the Bay Run around Iron Cove in Sydney's west.

The Bay Run is a 7 km long Harbour-side shared path that closely follows the water edge of Iron Cove. It passes through the inner-west suburbs of Haberfield, Five Dock, Rodd Point, Drummoyne, Rozelle and Lilyfield.
The lovely scenery from start to finish and the great variety of cafes nearby to have a coffee, make the Bay Run a highly enjoyable track to get your sweat on.
3. Olympic Park Circuit Ride
Sydney Olympic Park in Sydney's west is a bicycle rider's paradise with various bike paths to enjoy. The Olympic Circuit in particular is a good bike ride to start exploring this area.
Please note though that this circuit bike ride is not set in stone, and is really just a guide. The best way to get the most out of your day cycling in Olympic Park is by making a list of landmarks to visit beforehand so you are well-prepared.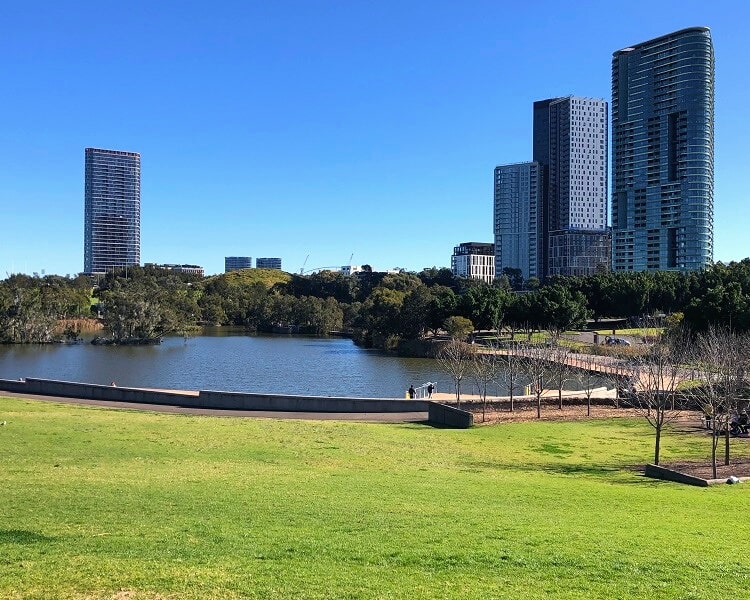 One of the highlights in Olympic Park is the Brickpit Ring, an elevated circular walkway above a protected habitat for endangered frogs and other wildlife.
Check out this map on the Sydney Olympic Park website with highlights, landmarks, places to eat, and other essentials, to help plan your day.
4. Narrabeen Lagoon Circuit
The 8.5 km long circuit trail around Narrabeen Lagoon is a scenic track that is popular with cyclists, joggers, and pedestrians.

This flat bike ride passes through various ecosystems and landscapes, always staying close to the shores of the lagoon.
Please note though that it can get rather busy at Narrabeen Lagoon during weekends, so it's important to ride carefully, especially with children and dogs also enjoying the same track.
5. Lady Carrington Drive
The Lady Carrington Drive is a 10 km long family-friendly off-road bicycle trail in the Royal National Park.

It's a designated cycle track that runs along the Hacking River, between Audley in the north and the starting point of the Forest Path in the south.
The track can be done in either direction, with small car parks and picnic areas available at both ends.
6. Cooks River Cycleway
The Cooks River Cycleway is a 12 km long multi-use path for cycling, walking and running. It goes between Tempe in the east and Strathfield in the west.

The cycle path follows the Cooks River passing through various suburbs, with a wide range of flora and fauna to enjoy from start to finish.
There are plenty of stops along the way, and with many entry and exit points, you can make this cycle path as short or as long as you see fit.
7. Parramatta Valley Cycleway
Roughly following the Parramatta River in Sydney's west, the Parramatta Valley Cycleway is a 15 km long shared use cycle and pedestrian path.

The starting point of the cycleway is at Morrison Bay Park in Putney and continues along the river to Parramatta Wharf, or even further to Parramatta Park.
The track crosses various bridges and boardwalks, and apart from a few suburban streets, it is almost entirely a car-free path.
8. 10B Cycling Trail
The 10B Trail is an exciting cycling route through Dharawal National Park from north to south, with the southern entrance on Appin Road and the northern entrance in Wedderburn.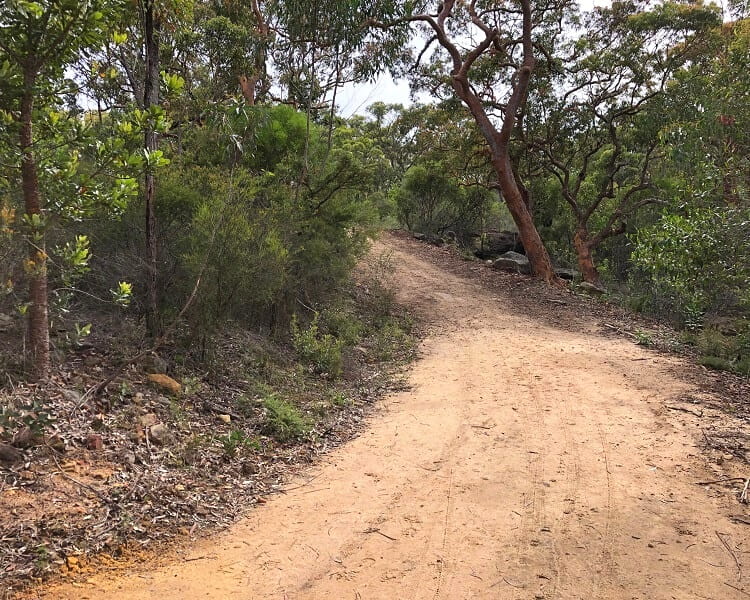 It's 15 km long unsealed road from start to finish, suitable for both mountain bikes as well as road bicycles, with a somewhat steep descent and ascent at Stokes Creek near the northern entrance.
Read more about this area of Sydney in our guide to Dharawal National Park, with an outline of the most popular sights and trails.
9. West Head to Akuna Bay
The track between West Head and Akuna Bay is a classic bike ride in Ku-ring-gai Chase National Park north of Sydney.

From the West Head Lookout, this ride follows West Head Rd to the intersection with General San Martin Dr which leads to beautiful Akuna Bay on the Coal and Candle Creek.
Be mindful that this road is also used by cars, but, in general, cars and cyclists get along quite well in this part of Sydney, as long as care is taken.
10. Tempe to Cronulla
The Tempe to Cronulla ride is a 20+ km cycling adventure which, believe it or not, is almost entirely on dedicated cycling lanes and shared paths.

The track starts at the Cooks River in Tempe and follows the coastline west of the airport going south where it crosses the Georges River into the Sutherland Shire.
Before arriving in Cronulla, you can extend this bike ride by cycling north to Kurnell via Captain Cook Drive, which is a fantastic detour.
11. Prospect Reservoir Loop
Prospect Reservoir is a heritage listed water storage facility created by the Prospect Dam on the Prospect Creek in Sydney's west.
On the eastern side of the reservoir is a large recreational area with various parks, picnic spots, playgrounds and lookouts to explore and enjoy.

The reservoir itself has cycle paths, but the Prospect Reservoir Loop bike ride is a 30 km long bicycle track that follows the Lower Prospect Canal Reserve from Guildford station to the reservoir.
From the reservoir, the ride returns via Orphan School Creek, or otherwise via Prospect Creek if you prefer a shorter ride. For the most part, this is a dedicated cycle path with no cars around.
12. M7 Cycleway
The 40 km long M7 Cycleway is a shared use path for both cyclists and pedestrians that runs alongside the M7 motorway between Prestons and Baulkham Hills.

It's an uninterrupted cycle path with no cars or traffic lights, which makes it the perfect workout playground for cycling enthusiasts.
It's a track that can get rather buys during weekends, and with various entry and exit points along the way, anyone can use the M7 Cycleway to get their cycling fix in.