Last updated: August 29, 2023
The Blackheath area in the Blue Mountains, between Medlow Bath and Mount Victoria, is home to many panoramic lookouts offering scenic views of cliffs, waterfalls and valleys.
Most of these lookout points can be accessed by car without the need for intense bushwalking, although there are enough trails nearby if you do wish to go hiking.
In this article, we are sharing seven of these vantage points, including details on how best to get there, which makes for a fun day out in Blackheath.
Top 7 Blackheath Lookouts
Starting west of the Great Western Highway, here are the seven best Blackheath lookouts you can drive to.
Mount Blackheath Lookout
Hargraves Lookout
Evans Lookout
Govetts Leap Lookout
Pulpit Rock Lookout (currently closed)
Perrys Lookdown
Anvil Rock Lookout
Please note that Hargraves Lookout, Evans Lookout, and Govetts Leap Lookout have wheelchair-friendly access.

1. Mount Blackheath Lookout
The Mt Blackheath Lookout, otherwise simply referred to as the Blackheath Lookout, is a bit of a hidden gem in the Blue Mountains.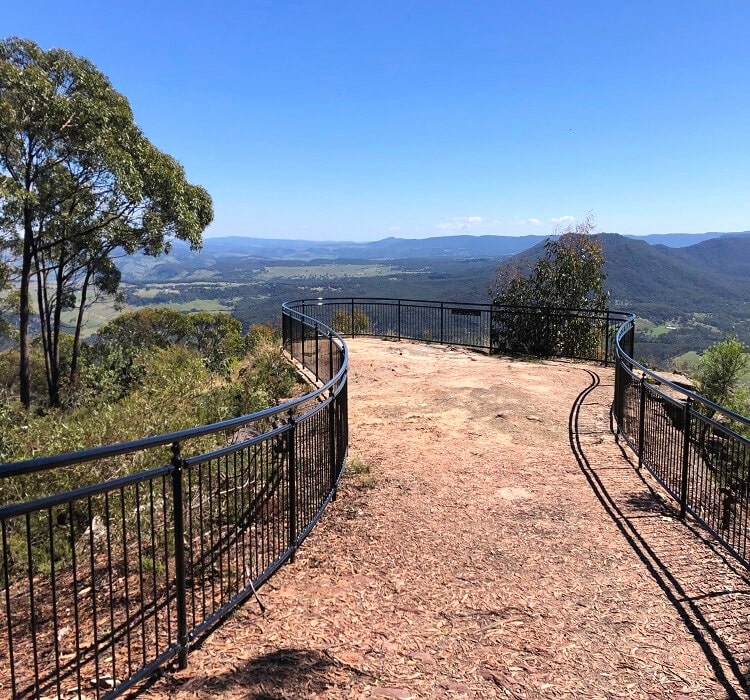 This lookout is located in the less-travelled western section of the Blackheath area and not only offers fantastic district views but is also a popular hang-gliding and paragliding spot.
To get there, turn into Shipley Road from Station Street and turn into Mount Blackheath Road after approximately 5 km. Keep driving on this road until you reach the Mount Blackheath lookout area.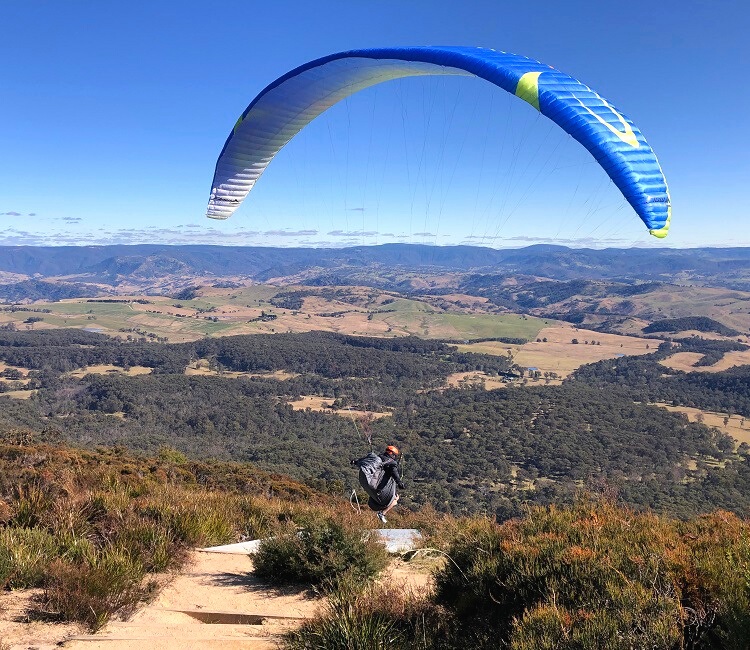 It's a fantastic spot, with several vantage points, a picnic area, toilet facilities, a parking area and a purpose-built launch ramp for hang gliders.
2. Hargraves Lookout
The Hargraves Lookout is another gem in the same area and can be accessed by driving on Shipley Road until the very end, where you will see a small car parking area.
This lookout has recently been upgraded with new vantage areas, picnic facilities, a unisex toilet and wheelchair access. You will also find a short walking trail leading to the southern tip of the headland.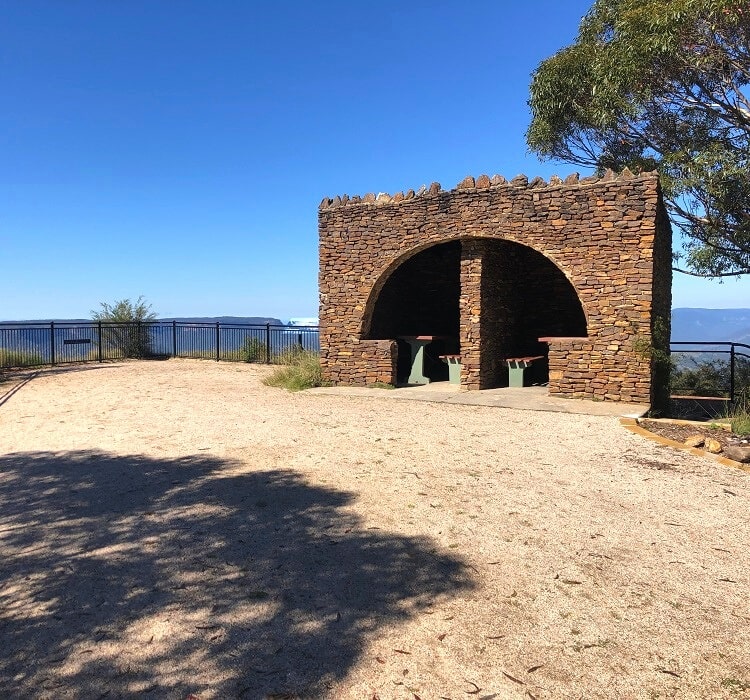 The Megalong Valley views from the Hargraves Lookout are amazing and reach as far as Oberon on a clear day.
Note that both the Mount Blackheath and Hargraves lookout points are managed by the Blue Mountains City Council, and as such, dogs are also allowed to visit while on a lead.
Another exciting spot to explore in this quiet area of the Blue Mountains is the
Mermaids Cave
, a large rock overhang with a small waterfall in beautiful natural surroundings.
3. Evans Lookout
We are now travelling to the eastern section of the Blackheath area, where the more well-known lookouts and walking tracks are located.
Evans Lookout is one of the most impressive vantage points in the greater Blue Mountains region, with incredible views of the Grose Valley to take in.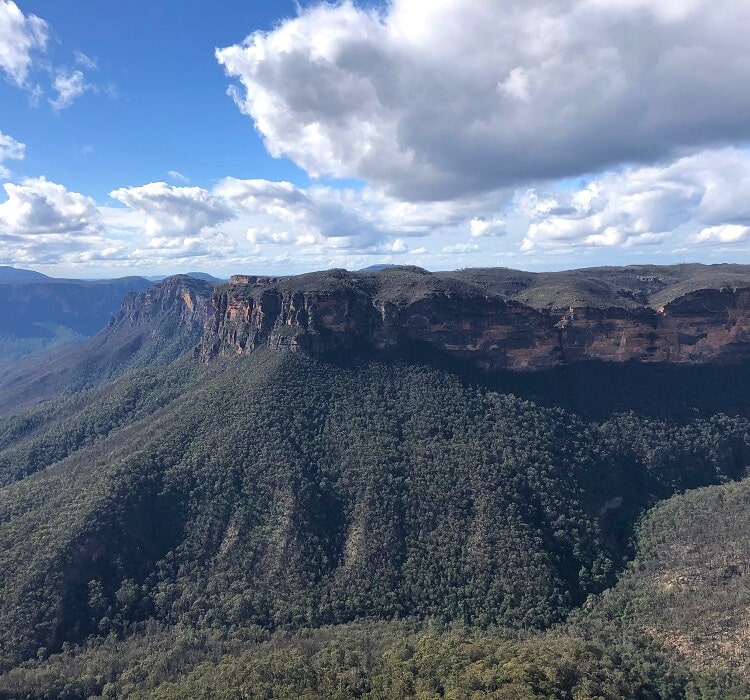 This lookout is also the starting point of two exciting walking tracks; the Grand Canyon Walk and the Cliff Top Walk, which runs between Evans Lookout and Govetts Leap.
Evans Lookout has a dedicated car park at the end of Evans Lookout Road, but if that is full, there are two more car parks further away on the same road.
4. Govetts Leap Lookout
The Govetts Leap Lookout is located at the end of Govetts Leap Road and comes with a large parking area and picnic facilities.
The views from this vantage point of the Grose Valley are phenomenal, with lots of walking tracks nearby to choose from. Some of these walks go into the valley, and others stay on higher ground.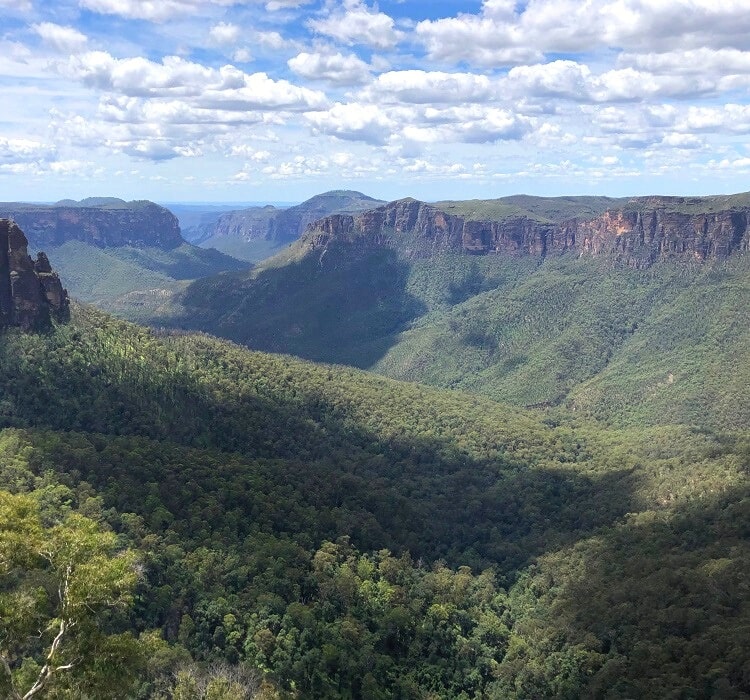 What's great is that there is a second lookout only moments away from the main lookout that also offers fantastic valley views but from a slightly different angle.
That second lookout, the George Phillips Lookout, is located just north of the Govetts Leap Lookout and can be accessed via a section of the family-friendly Fairfax Heritage Walk.
5. Pulpit Rock Lookout
Pulpit Rock is a large cliff edge with three lookout points spread across different levels, offering panoramic views of the Grose Valley and surrounding cliff walls.
The lookout platforms are connected via a path with several sets of stairs, which from above looks quite spectacular.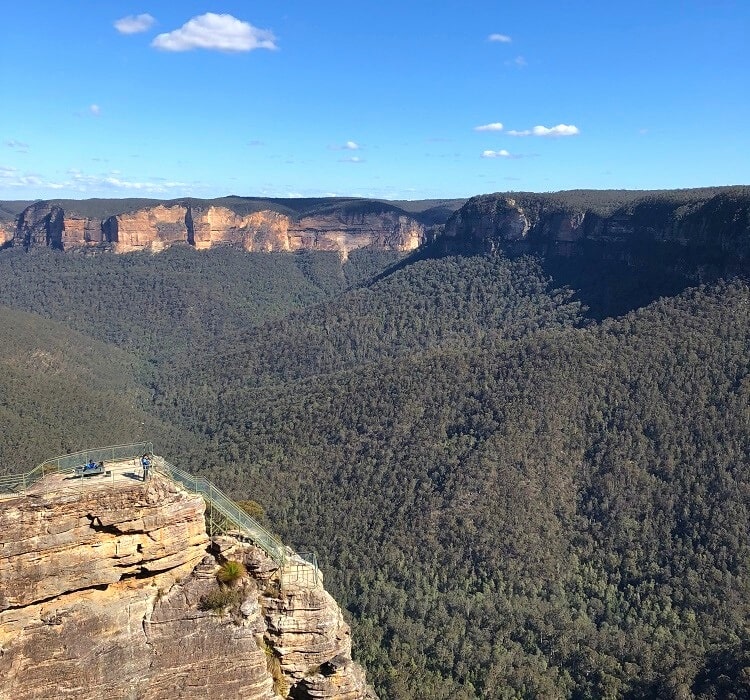 To get there, drive into Hat Hill Road from the Blackheath town centre and turn right into Pulpit Rock Road, which leads to a car parking area. From there, it's only a short walk to the lookout.
The Pulpit Rock Lookout and Pulpit Track are currently closed until further notice. Check the NSW National Parks website for the latest updates.
6. Perrys Lookdown
Perrys Lookdown is the starting point of a very steep walking track to Blue Gum Forest in the Grose Valley.
Luckily though, there is no need to do this challenging walking track if you just want to enjoy the beautiful views from Perrys Lookdown.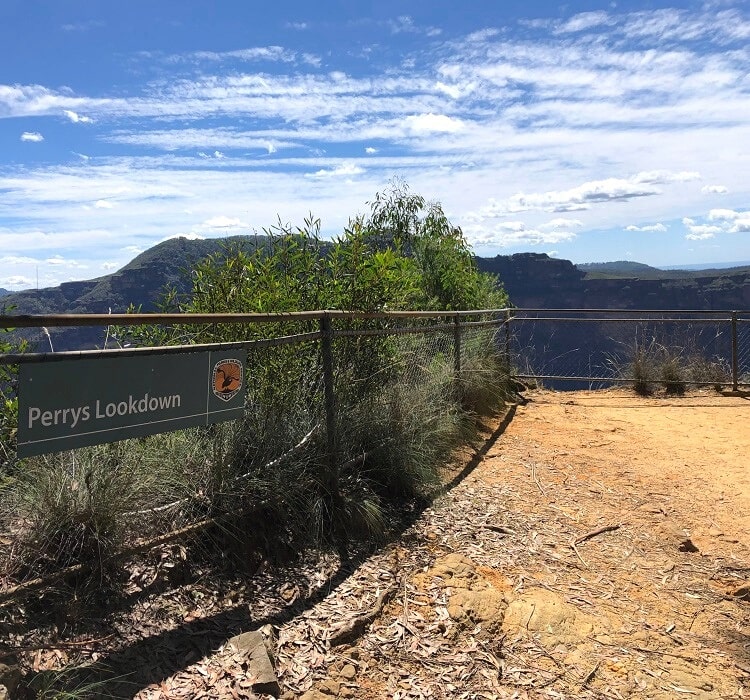 A few hundred metres into the walking track is a second lookout, the Dockers Lookout, which offers similar valley views.
To get to Perrys Lookdown, follow Hat Hill Road (the same road to get to Pulpit Rock), which evolves into Perrys Lookdown Road.
7. Anvil Rock Lookout
Anvil Rock is an elevated lookout platform from where visitors can enjoy panoramic 360-degree Grose Valley views.
From the car park, it's only about 250 metres to the lookout on a well-maintained path. At the end of that path is a set of stairs that will get you onto the lookout platform.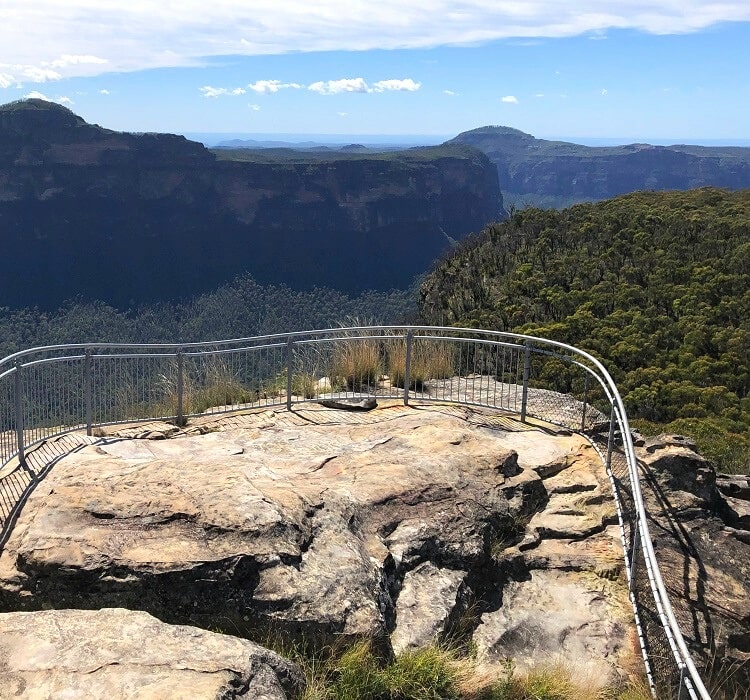 From that same car park, it's also worth visiting the Wind Eroded Cave, a unique rock formation shaped like a wave-like overhang created by wind erosion.
Anvil Rock Lookout is located only moments away from Perrys Lookdown, so it makes sense to visit these two sights on the same day.
Keen to chase more views nearby? Check out the
Mount York
area of the Blue Mountains, with various lookouts and walks to explore.