Last updated: December 15, 2022
There are various ways to visit the Blue Mountains. If you travel by car, you have the freedom to go anywhere you like and set your own schedule. If you book a day tour to the Blue Mountains, you can sit back and relax, as everything is organised for you.
But public transport is also a very practical way to visit Sydney's most popular weekend destination. Combine a train journey with a trip on the hop on hop off Blue Mountains Explorer Bus, and you get to see all the major highlights in a relaxing way.
Book a Blue Mountains tour:
What Is the Blue Mountains Explorer Bus?
The Blue Mountains is a must-visit for every tourist coming to Sydney, and one of the best ways to get there and around is by train in combination with an all-day Blue Mountains Explorer bus pass.
The Explorer Bus works on a classic Hop-On-Hop-Off basis, and gives you the freedom to spend as much time as you like at the most popular spots in the Blue Mountains.
This makes the Blue Mountains Explorer Bus is the perfect solution if you want to go a little more DIY than you can do with a fully organised day tour.
When you're ready to go to the next highlight, simply wait for the bus to arrive and hop on. The bus drivers are known to be super friendly and provide useful background information about the different highlights you're going to visit.
You can purchase two different types of tickets:
Where Does the Explorer Bus Stop?
Despite the fact that the Explorer Bus only covers the Katoomba and Leura area of the Blue Mountains, the bus actually has almost 30 stops. In other words, if you want to see and experience everything, you will probably need more than one day.
Also note that some of these stops are at, or close to, popular hotels and guesthouses. So if you're staying overnight in the area, most likely there will be an Explorer Bus stop close to your accommodation.
Below are the most interesting stops along the route, starting in the Katoomba town centre, close to the train station. The full timetable and route with all stops is available on the Explorer Bus website.
You're free to hop on and hop off wherever you like and for as long as you like!
1. Katoomba Cascades and Falls
The popular Katoomba Cascades and Katoomba Falls are two separate stops but they are very close to each other.

Katoomba Cascades, a series of small waterfalls on the Kedumba River. The cascades is where the river turns into Katoomba Falls, a segmented waterfall that drops 150m into Jamison Valley.
If you feel like hiking, it's highly recommended to head into the valley and see Katoomba Falls from close by. An exciting 3km circuit trail will get you there, and is a great way to experience the beautiful scenery.
2. Scenic World
Open every day of the year from 9am until 5pm, Scenic World in Katoomba is one of the most popular tourist attractions in the Blue Mountains.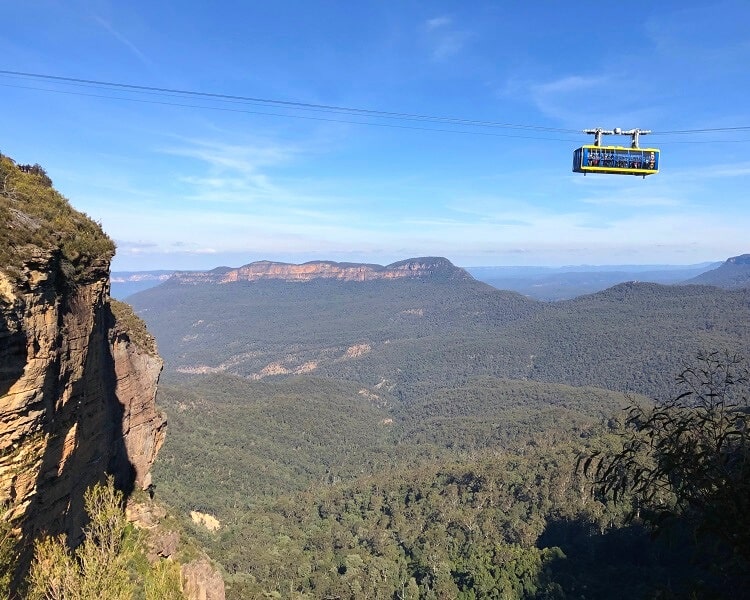 Visitors to Scenic World can enjoy a variety of rides that all offer breathtaking views of the surrounding scenery characterised by valleys, waterfalls and rainforest.
To make your day even more convenient, it's possible to buy a combination package that includes an all-day pass to Scenic World and a full-day ticket for the Explorer Bus.
3. Echo Point and the Three Sisters
For many tourists visiting the Blue Mountains for the first time, the Three Sisters is on top of the list of sights to see in the Blue Mountains.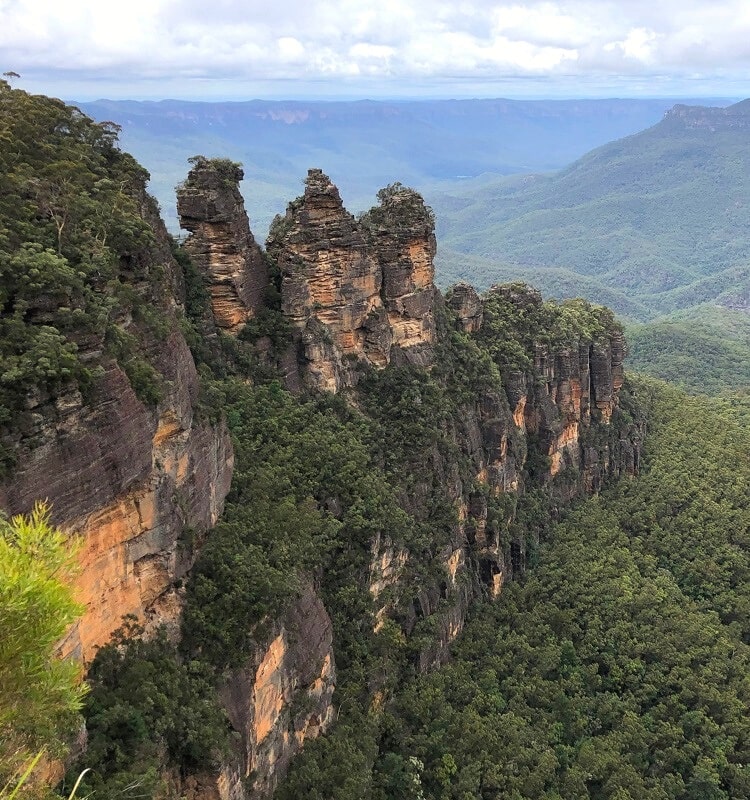 The Three Sisters were formed by land erosion by wind, rain and rivers, causing the sandstone cliffs surrounding the Jamison Valley to be slowly broken up over time.
Echo Point is one of the most popular lookout points in the Blue Mountains region, with stunning views of the Three Sisters and the surround Jamison Valley.
4. Leura Cascades
If you're looking for a great spot for a picnic, Leura Cascades is a great option. The picnic area is well equipped with great facilities such as toilets, tables, seating and plenty of shaded sections.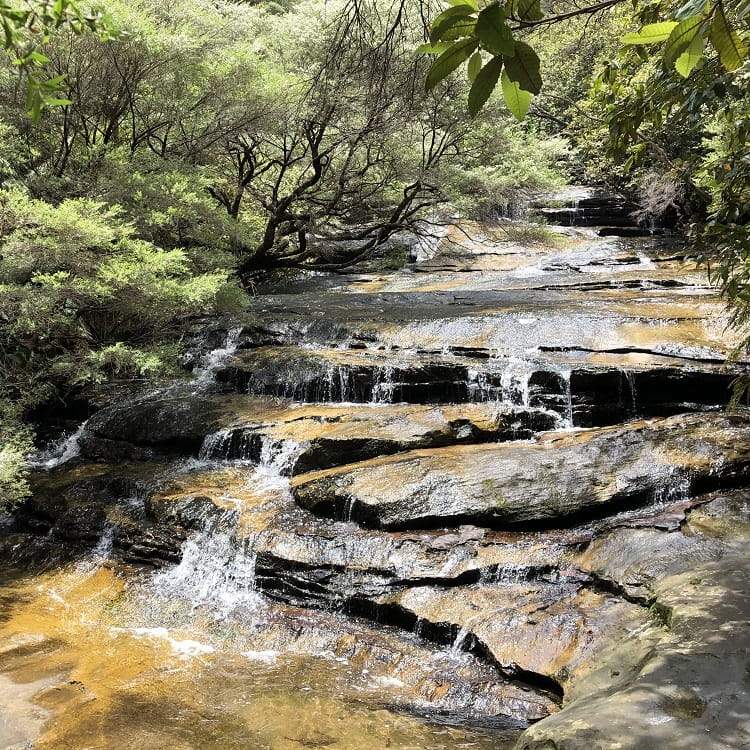 But a picnic is not the only reason to visit this scenic area. The Leura Cascades walking track is a short but picturesque trail along Leura Falls Creek, leading up to a beautiful lookout point with amazing views of Jamison Valley.
5. Gordon Falls
Before heading into Leura Village, it's a good idea to hop off at Gordon Falls. A short walking track leads to a lookout point that provides beautiful views of the waterfall and surrounding area.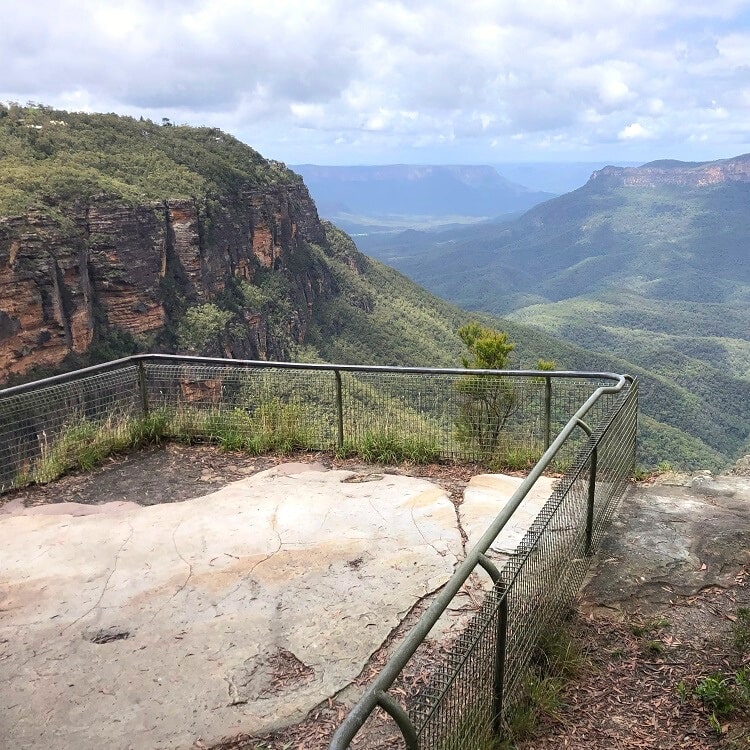 It's far less busy than Echo Point but the views and photo opportunities are just as great.
6. Leura Village
If at this point you haven't had lunch yet, Leura is by far one of the best spots in the Blue Mountains to refuel with great food and a cup of coffee.
Leura's main strip, Leura Mall, is a pleasant accumulation of different coffee shops, restaurants, boutiques and galleries.
From Leura, the hop on hop off Blue Mountains Explorer Bus will head back into Katoomba to complete the full route.