Last updated: October 18, 2023
The Bondi to Coogee walk is one of Sydney's finest coastal trails, featuring beautiful beaches, high sandstone cliffs, and incredible views.
Tourists from all over the world and local Sydney-siders alike come to Sydney's east every day to undertake the hike between Bondi Beach and Coogee Beach, combined with a nice meal at one of the many cafes.
In this guide, we are going to take you through the highlights of this beautiful walk, plus details on how best to get there.
Bondi to Coogee walk
Distance:
6 km (one way)
Duration:
2 – 3 hours (depending on stops)
Grade:
Easy (some steep sections)
Dogs:
On a lead
Getting to Bondi or Coogee can be challenging on sunny days because they are both popular spots in Sydney.
Public Transport
If you don't have a car or simply don't want to be driving, public transport is a good option. Regular train services travel between the city and Bondi Junction, with connecting buses departing from Bondi Junction to Bondi Beach.
There are also buses departing from the Sydney CBD going straight to the beach, but they may take a bit longer, depending on traffic.
Check the Transport for NSW trip planner for exact details.
Parking in Bondi
Bondi has two paid parking areas along Campbell Parade, parallel to the beach, but they both tend to fill up quickly on busy days and are also very expensive.
There are also various underground public car parks close to the beach, such as Wilson Parking (map) on Hall St (entry and exit on O'Brien St) and Pacific Bondi Beach (map) on Campbell Parade.
Another option is street parking further away from the beach. Some street parking around Bondi is free with a time limit of 2 hours. Sandridge St (map) and Fletcher St south of the beach are great options to try and find a parking spot.
Parking in Coogee
At the other end of the walking track, Coogee has a couple of paid parking areas. Free parking is available at Trenerry Reserve (map) south of the beach, or otherwise in the suburban streets nearby.
The coastal walk between Bondi and Coogee has lots of highlights, but in this article, we're going to focus on the following 11 highlights and landmarks:
Bondi Beach
Bondi Icebergs
Mackenzies Point
Mackenzies Bay
Tamarama Beach
Bronte Beach
Waverley Cemetery Boardwalk
Clovelly Beach
Gordons Bay
Dolphins Point
Coogee Beach
In the track notes below, we will navigate the Bondi to Coogee walk along those highlights, from north to south.
Here is a map for your reference, with the highlights marked from 1 to 11, starting at Bondi Beach:

Bondi to Coogee Track Notes
With five of Sydney's most popular beaches included in the Bondi to Coogee walk, this is going to be one beautiful day out.
If you think the walk to Coogee is a bit too far, check out our guide to the Bondi to Bronte walk, which is a bit shorter but still includes lots of scenic highlights.
1. Bondi Beach
Bondi Beach is Sydney's (and Australia's) most famous and most popular beach.
It has everything one would expect from an Australian beach. A wide and long strip of sand, great swimming and surfing conditions, lots of restaurants and cafes, picnic areas, a promenade, and a classic pavilion.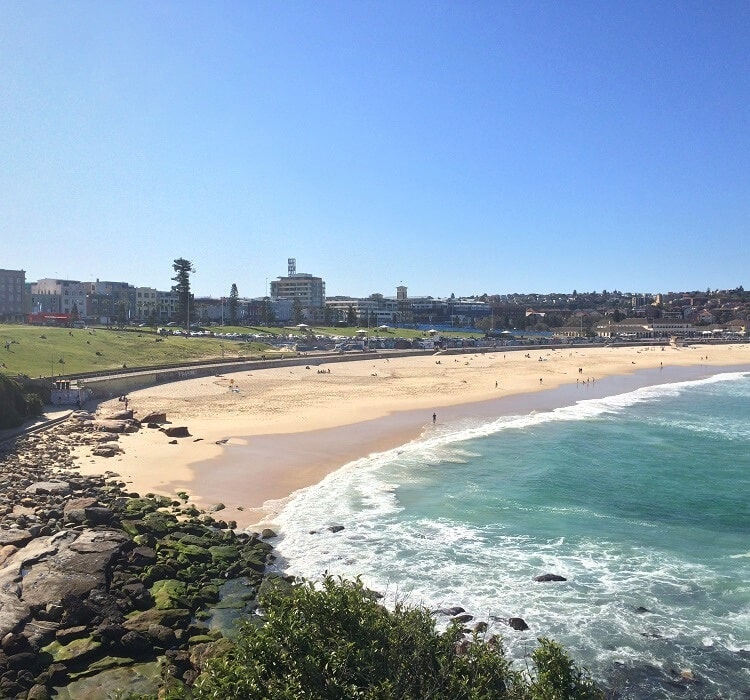 With a long and rich history, Bondi Beach defines Australian beach culture, and is even listed on the Australian National Heritage List.
Also worth mentioning is that the Bondi Surf Life Saving Club is recognised as the oldest surf lifesaving club in the world, having been around for more than a century.
From Bondi Beach, head south to Bondi Icebergs on Notts Avenue, from where you can commence the walking track to Coogee Beach.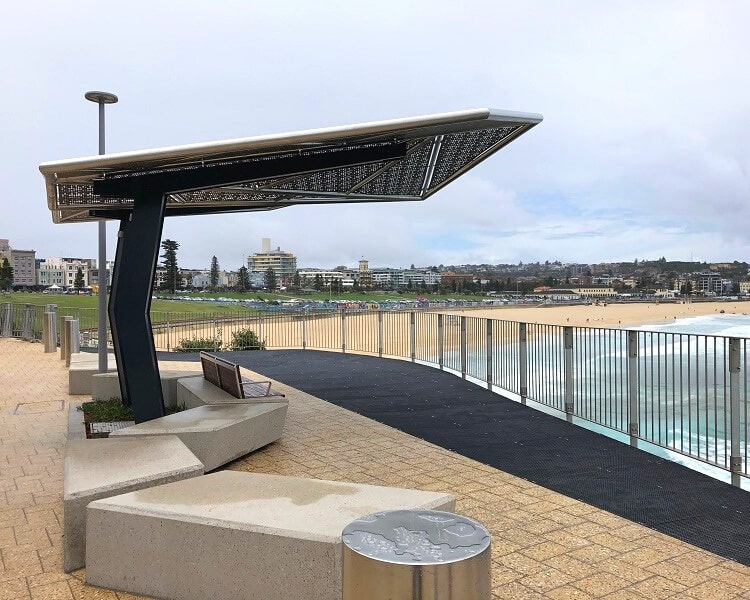 Notts Avenue was recently upgraded to improve the safety and amenities for residents and the one million yearly users of the Bondi to Coogee coastal walk.
As part of this upgrade, a new lookout platform was installed, with fantastic views of Bondi Beach and the ocean. This lookout is next to Bondi Icebergs, so check it out before starting the walk.
2. Bondi Icebergs
If you'd like to enjoy a drink and a meal in true Bondi style, you can't go wrong at Bondi Icebergs. It's a swimming club with a restaurant upstairs that faces the ocean.
Swimming in the Bondi Icebergs Pool is a popular pastime all year round, even during the winter months when local die-hards happily do their laps.

From Bondi Icebergs, follow the concrete walking path around Bondi Bay towards Mackenzies Point.
The views of Bondi Beach and the ocean along this stretch are pretty spectacular, so take your time to enjoy it all.
3. Mackenzies Point
At the end of that path is a set of stairs going up to a lookout from where you can enjoy fantastic views of Bondi Beach.
This lookout is located on the easternmost tip of Mackenzies Point, a headland between Bondi Beach and Tamarama Beach.

Also located on this headland is Marks Park, a large grassy area where the annual Sculpture by the Sea is being held. Even without the sculptures, it's worth exploring this park, especially with the recent upgrades.
From the Mackenzies Point lookout, the walking track continues south towards Mackenzies Bay.
4. Mackenzies Bay
Situated just north of Tamarama Beach, Mackenzies Bay is a picturesque bay with a shoreline that mainly consists of rocks.
The story goes that Mackenzies Bay transforms into a beach every few years when sand gets washed up. Whether that's true or not, we don't know.

From Mackenzies Bay, continue on the walking trail around the bay and the little headland, ending up at Tamarama Beach.
5. Tamarama Beach
Often referred to as "Glamarama", Tamarama offers good but somewhat rough surfing conditions. The beach is small and narrow, with several volleyball courts set up at the back.
Tamarama is not the best beach for swimming because of the deep and strong rip currents. This is why Tamarama Beach is better suited for sunbathing, a game of volleyball, or simply hanging out, rather than swimming.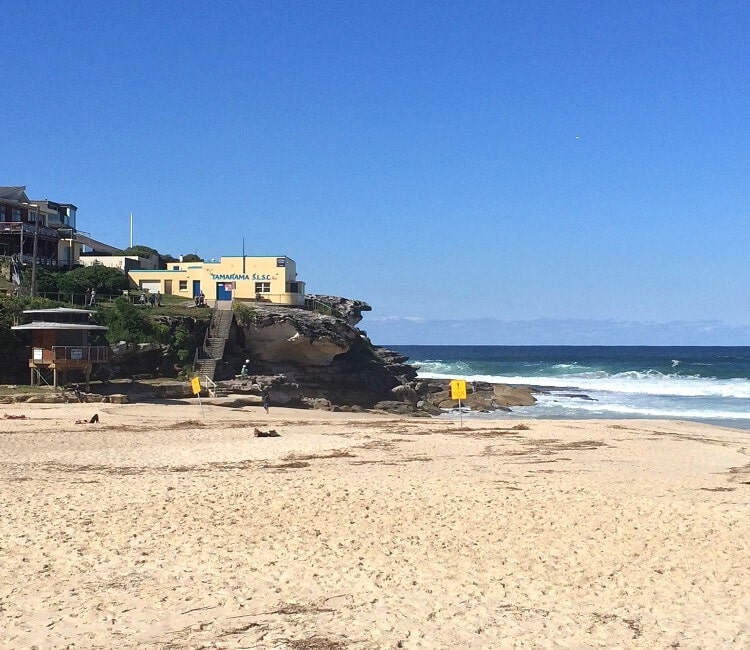 Tamarama Park, located just behind the beach, has excellent BBQ and picnic facilities and a modern cafe with a toilet and shower block.
From Tamarama Beach, follow the main track heading south to Bronte Beach.
6. Bronte Beach
Bronte Beach is a family-friendly strip of sand, complemented by a large park with excellent BBQ and picnic facilities.
If you're feeling hungry at this point during the walk from Bondi to Coogee, the strip of cafes along the road next to Bronte Park is a great spot to grab a meal and a coffee.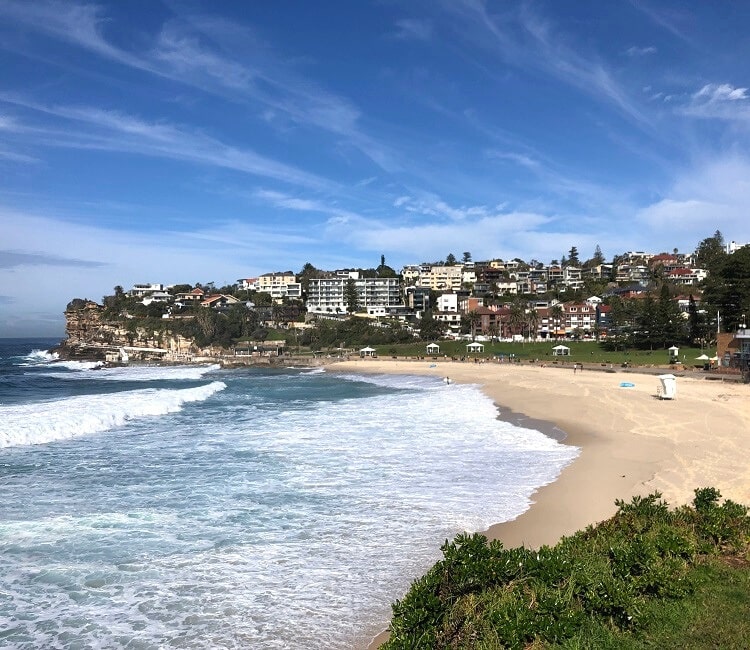 Or even better, get some fish and chips and eat it in the park, with the beach right in front of you. It doesn't get much better than that!
From Bronte Beach, follow the track south that leads to Waverley past Calga Reserve, which marks the start of a scenic boardwalk.
7. Waverley Cemetery Boardwalk
In 2009, a 550m long wooden boardwalk was opened to the public that swings around the large Waverley Cemetery.
This section was the missing piece in the Bondi to Coogee walking trail and essentially changed it into an uninterrupted walking path.

The official name for this $2.5m boardwalk is the Sesquicentenary Boardwalk, to commemorate Waverley council's 150th anniversary.
Walking (or running) on this boardwalk is an adventure in its own right, with the ocean below. There are several viewing points with benches where visitors can enjoy the best panoramic views.
8. Clovelly Beach
The boardwalk ends right where Clovelly starts. Clovelly is a vibrant and charming beachside suburb with a lawn bowls club, a lovely family-friendly beach, and a large parking area.
Swimming here is great, but it can get rough the closer you get to the open ocean, especially when the wind picks up.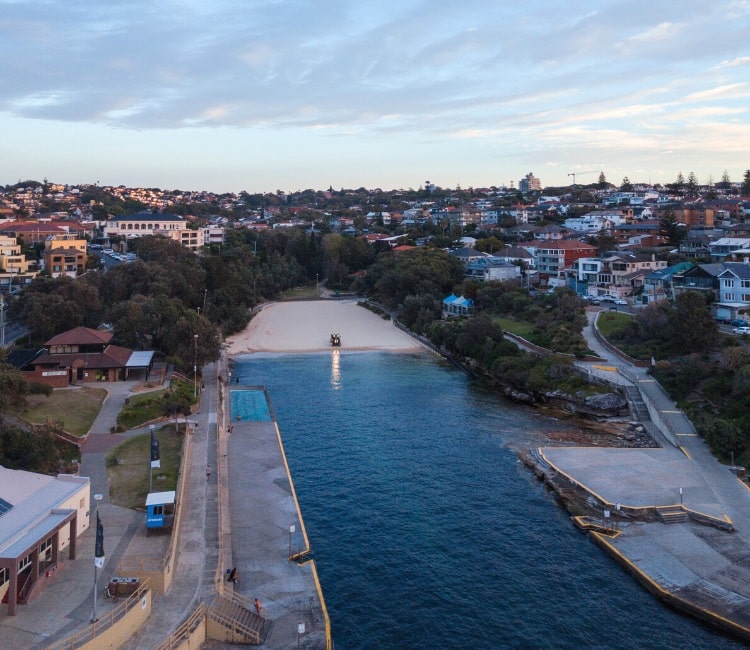 Just around the corner from the Clovelly Surf Life Saving Club is a large car park, which is also a great spot to relax and enjoy the ocean views.
9. Gordons Bay
The next stop is Gordons Bay, but to get there, you must first go up to Cliffbrook Parade. This very steep passage from Clovelly to Gordons Bay is not for the fainthearted, so by all means, take your time.
Nestled between Clovelly and Coogee, Gordons Bay is a small and secluded oasis. The bay has no car parking facilities and is only accessible via the coastal trail.

Gordons Bay does have a small strip of sand, but it can hardly be called a beach. Racks of boats from the local fishing club cover most of it, which makes Gordons Bay feel like a quiet fisherman's village in remote Greece.
Besides fishing, Gordons Bay is popular with divers and snorkelers who can do the Gordons Bay Underwater Nature Trail there. This 600m trail consists of concrete-filled drums linked by a chain. There are even steel plaques that display interesting information.
10. Dolphins Point
The main walking trail continues around Gordons Bay to Dolphins Point, a peninsula just north of Coogee Beach.
Before heading into Coogee, it's worth checking out the Bali memorial for the victims of the 2002 Bali bombings.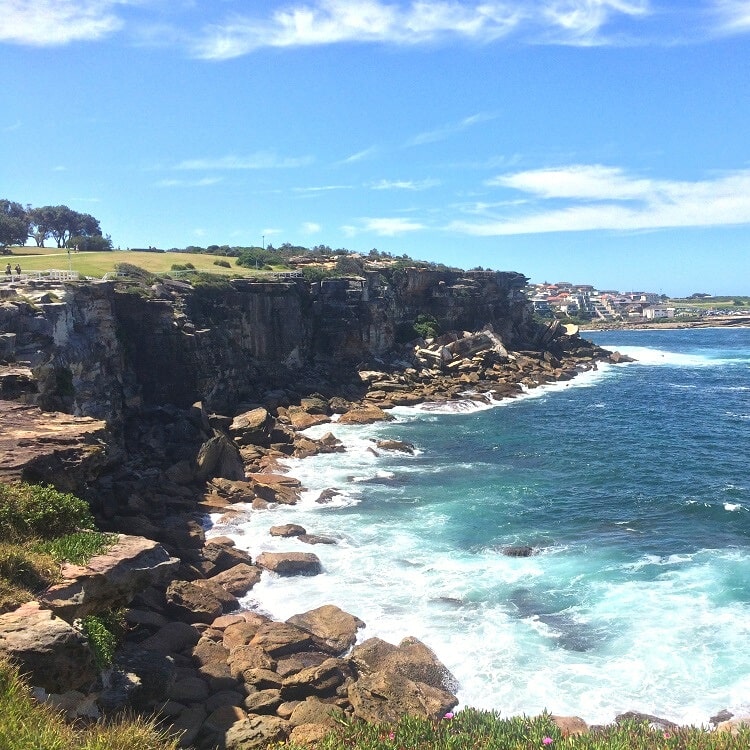 Near this memorial is an old portico, which used to be the entrance to the Giles Gym and Baths. This complex was demolished in 2000 due to old age, but you can still go down for a swim or sunbathing.
From Dolphins Point, the walking trail finally arrives in Coogee via Dunningham Reserve.
11. Coogee Beach
At the north end of Coogee Beach is the popular Coogee Pavilion. If you're hungry or if you'd like a cold beer, this is a great place to hang out for a little while. The rooftop, if not too busy, offers some great views too.
Otherwise, head straight into Coogee, settle into one of the many cafes or grab some fish and chips to enjoy at the beach or in the park.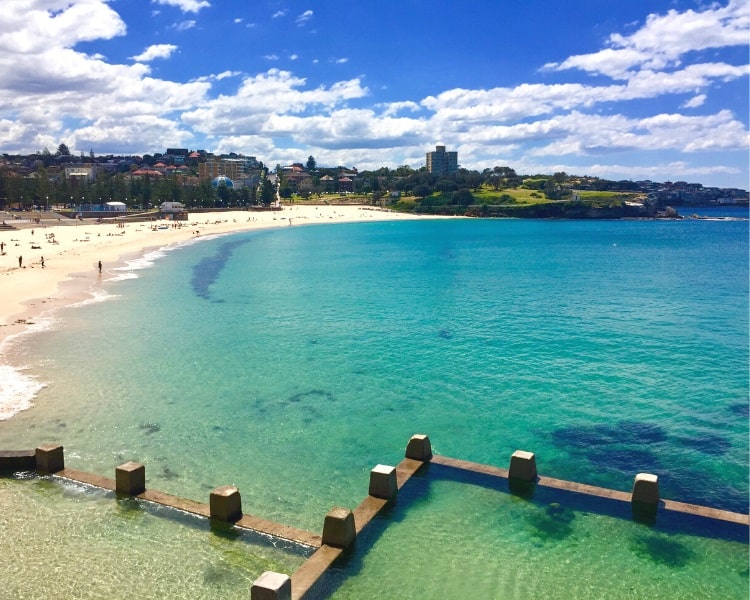 Coogee Beach is a popular and characteristic 400m strip of sand facing beautiful Coogee Bay.
Goldstein Reserve, the large parkland area behind the beach, offers many tables, barbecues, picnic shelters and trees that provide shade. Between Coogee Beach and Goldstein Reserve is a long promenade.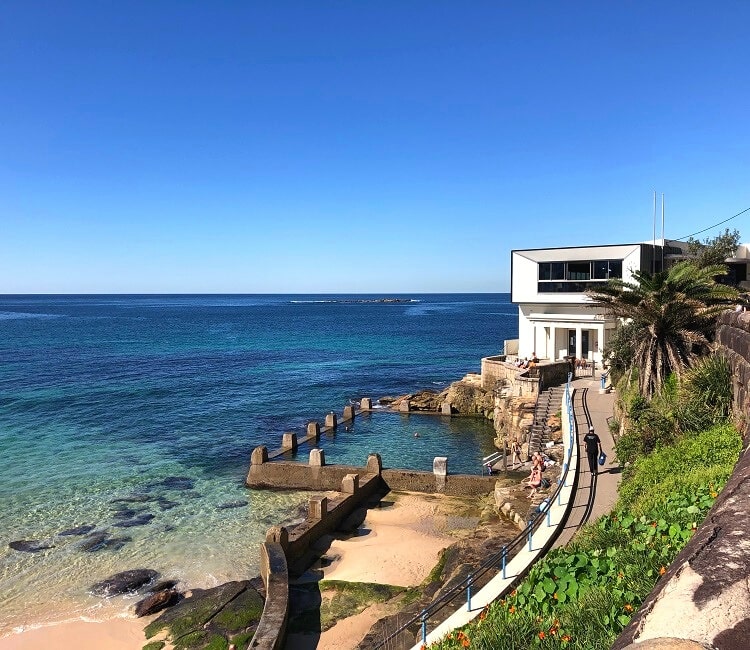 The Coogee Surf Life Saving Club, established in 1907, has its iconic clubhouse at the southern end of the beach and can be hired for private functions.
Once you've completed the hike from Bondi to Coogee, it's time to grab some food and a nice coffee. For the best cafes, take a look at our guide to the best coffee in Coogee for some great insider tips.
One of the perks of living in Sydney is that there is no shortage of coastal hikes, with the Bondi to Coogee walk being the most popular.
Some of these coastal and Harbour walks are connected, and together they form the 80 km long hike between Bondi and Manly, an incredible coastal adventure.
If you'd like to add another section to the Bondi to Coogee walk, consider starting in Watsons Bay and do the Federation Cliff walking track to Bondi.
Otherwise, in Coogee, you can continue the coastal trail to Maroubra Beach, from where you can continue on to the Malabar Headland.