Last updated: October 16, 2021
Bouddi National Park may not be on top of everyone's list when looking for new walking tracks to explore. But this 15 km2 national park is actually home to some very pretty and unique bush and coastal walks.
Established in 1967 as a National Park, Bouddi was named after the local Aboriginal name of the area. There are still lots of Aboriginal sites to be found in the park, such as middens, engravings, and rock shelters.
The park has a very distinct landscape, with thriving bushland, sandstone cliffs, beautiful coastal paths, and long, isolated beaches. What's great is that some of these beaches can only be reached via walking tracks.
Top 8 Bouddi National Park Walks:
Top 8 Bouddi National Park Walks
Here are 8 of our favourite walking tracks in Bouddi National Park, ranging from an easy 1.5 km to a more challenging 8 km in length.
If you prefer an even longer hike, it's possible to combine some of the below walks, as they are all located within close proximity.
1. Bouddi Coastal Walk
Enjoy 8 kilometres of quiet beaches, lookout points, boardwalks, and panoramic ocean views, as you hike from Putty Beach to MacMasters Beach along the coast of Bouddi National Park.

Highlights of this classic Central Coast walking track are the Gerrin Point Lookout, Maitland Bay and Bullimah Beach.
If 8 km is a bit too much, this walk can easily be divided into three smaller sections: MacMasters Beach to Little Beach, Little Beach to Maitland Bay and Maitland Bay to Putty Beach.
Bouddi Coastal Walk
Distance:
8 km (one way)
Time:
4 hours
Grade:
Moderate
2. Mount Bouddi Walking Track
The short but pretty Mount Bouddi walking track starts at the Mount Bouddi (Dingeldei) picnic area, and guides hikers through beautiful bushland to the Bouddi Lookout, offering great views of Maitland Bay.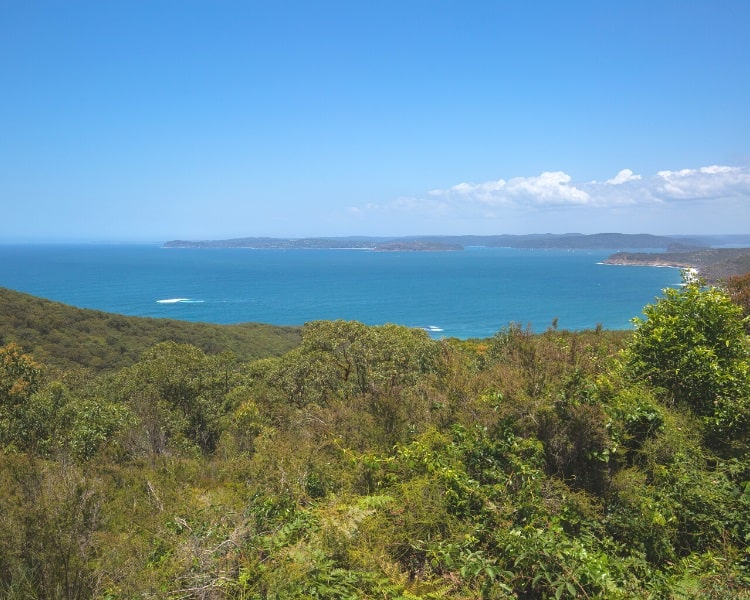 This walking track connects with the Bouddi Coastal Walk and the Maitland Bay track.
If you're feeling energetic, you could return to the picnic area via the Maitland Bay track and the Strom trail, which would probably take an extra hour.
Mount Bouddi Walking Track
Distance:
2.4 km (return)
Time:
1.5 hours
Grade:
Easy / moderate
3. Little Beach Trail
The short walking trail to Little Beach (see map location) takes you though a peaceful stretch of rainforest and over a little bridge all the way to the sand and rocks of Little Beach.

While perhaps not the best spot to swim, Little Beach is great for exploring and relaxing with a picnic.
There are also several camping spots available right behind the beach with excellent BBQ facilities. The Bouddi Coastal Walk also runs past Little Beach.
Little Beach Trail
Distance:
1.5 km (return)
Time:
1 hour
Grade:
Easy
4. Rocky Point Trail to Allen Strom Lookout
The Allen Strom Lookout (see map location) faces west, offering scenic, panoramic views over Hardys Bay and Brisbane Water.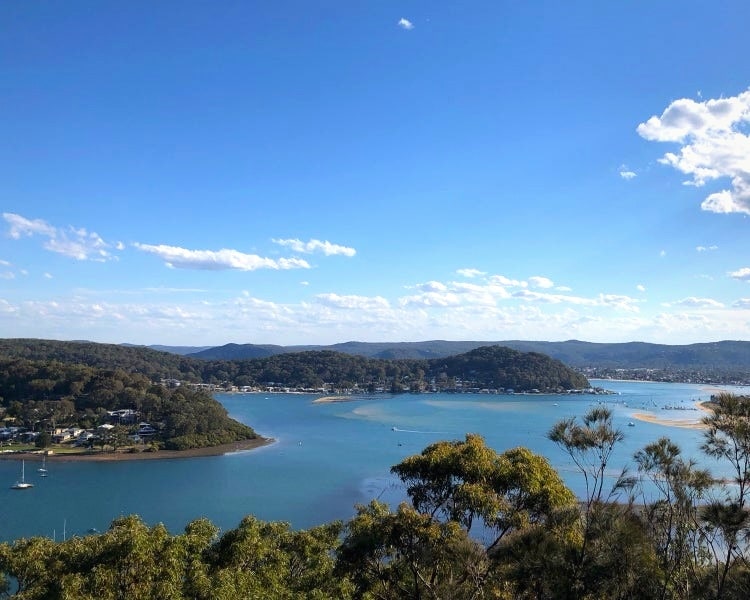 The Rocky Point trail that leads to the lookout is an easy 2 km return walk through bush and woodland that is also popular as a beginner cycling track.
This is by no means a hugely spectacular walking track, but it's great for young children and the lookout is very rewarding. You can park your car on Wards Hill Road at the intersection with Maitland Bay Drive.
Rocky Point Trail
Distance:
2 km (return)
Time:
1 hour
Grade:
Easy
5. Maitland Bay Track
The Maitland Bay track is a short but steep bushwalk that winds its way down from the Bouddi National Park Information Centre to the stunning beach of Maitland Bay through beautiful rainforest.

While the track down to the beach may be very easy, the return trip is actually quite hard with some very steep sections to conquer.
Once you've set foot on the yellow sand of the beach, it's recommended to venture out further east towards Bouddi Point where you can discover the remains of an old shipwreck.
Maitland Bay Track
Distance:
1.8 km (return)
Distance to Bouddi Point:
3.6 km (return)
Time:
1.5 hours
Grade:
Moderate (steep)
6. Bullimah Spur Track
Just like the Maitland Bay track, the Bullimah Spur track also starts at the Bouddi National Park information centre, but this walk goes southbound towards the Bullimah Lookout.
The exciting walking track meanders through bushland with the occasional glimpses of Maitland Bay in the distance.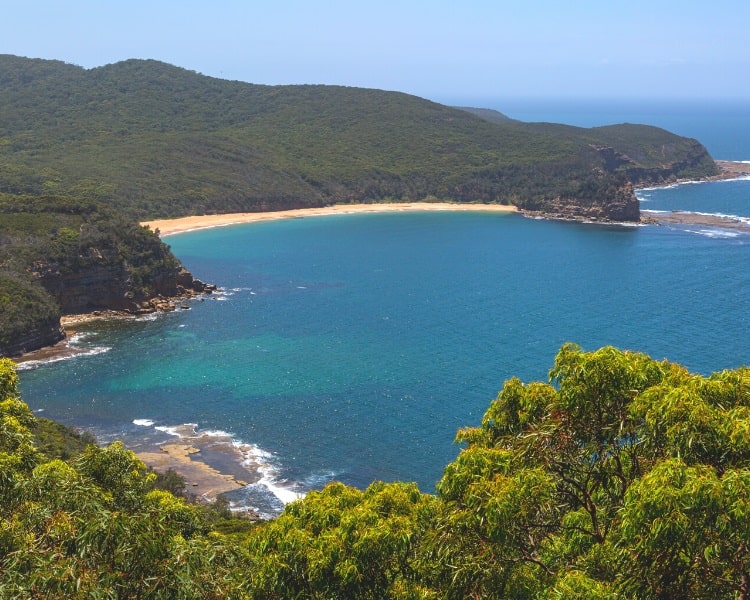 The views from the lookout over Broken Bay, Palm Beach, and Lion Island are absolutely stunning and very much worth the effort.
Parking is available at the Information Centre on Scenic Road. From there, follow the Maitland Bay track for only a short while until it branches out into the Bullimah Spur track.
Bullimah Spur Track
Distance:
2.4 km (return)
Time:
1 hour
Grade:
Easy
7. Box Head Track
The 3.2 km Box Head track winds its way down through bushland heading towards the ocean, similar to the Maitland Bay track.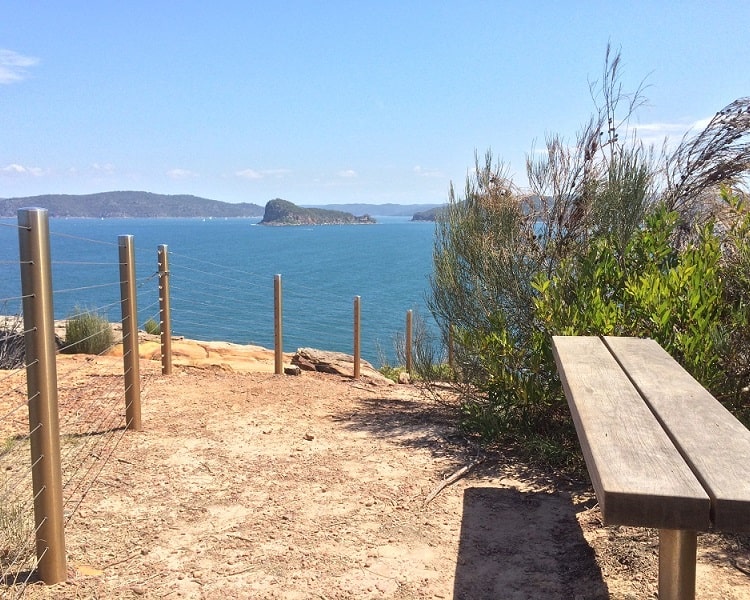 In this case though, the destination is the popular Box Head lookout located at the southernmost tip of the Bouddi National Park peninsula.
From the lookout the panoramic views of Broken Pay, the Hawkesbury River, and the Barrenjoey Headland are amazing.
Box Head Track
Distance:
3.2 km (return)
Time:
1.5 hours
Grade:
Easy
8. Daleys Point Fire Trail
The start of the Daleys Point fire trail is very close to where the Rocky Point trail starts. It's best to park your car on Wards Hill Road at the intersection with Maitland Bay Dr, and then make your way north-west towards the Daleys Point lookout.
This easy 3.2 km return trip takes in several Aboriginal engraving sites, with large sandstone drawings clearly visible at the end of the walking track.
From Daleys Point, you can enjoy scenic views of Cockle Bay Nature Reserve, Rileys Island and Brisbane Water.
Daleys Point Fire Trail
Distance:
3.2 km (return)
Time:
1.5 hours
Grade:
Easy
How to Get to Bouddi National Park
Located on the southern point of the New South Wales Central Coast near Gosford and Woy Woy, Bouddi National Park is an excellent weekend getaway destination, with lots of opportunities for hiking, swimming, fishing, camping and cycling.
Bouddi National Park can be easily accessed via the M1 Pacific Motorway. You can either head into the park via Gosford (Central Coast Hwy and Avoca Dr), or via Woy Woy (Woy Woy Rd and Empire Bay Dr).
The Scenic Road runs right through Bouddi National Park and gets you to most of the walking and cycling tracks.
The Maitland Bay information centre is located at 227-231 The Scenic Rd in Killcare Heights (see map location), from where you can start several walking tracks such as the Maitland Bay track and the Bullimah Spur track.
Most of these walks also connect with the Bouddi Coastal walk. Enjoy!