Last updated: November 21, 2023
The Bradleys Head to Chowder Bay Walk is a short but scenic walking trail on Sydney's lower north shore, offering incredible views of Sydney Harbour.
This trail forms part of the longer Taronga Zoo to Balmoral Beach walk, which is one of Sydney's finest Harbour walking tracks.
In this article, we will share the highlights of this enjoyable walking track to Chowder Bay, including pictures and a map.
Bradleys Head to Chowder Bay
Distance:
2.7 km (one way)
Duration:
1 hour
Grade:
Easy
Dogs:
Not allowed
Paid parking is available at Bradleys Head (via Bradleys Head Road), although the parking area is small and fills up quickly, especially on the weekends.
A better option is to catch a ferry to Taronga Zoo from Circular Quay and then do the Bradleys Head Walk, a short and easy walk around Athol Bay.
Travelling by bus is also a good option, with regular bus services going from Wynyard to the Taronga Zoo and Bradleys Head area.
Alternatively, if you wish to start this walk from Chowder Bay, plenty of paid parking is available on Chowder Bay Road, which also has bus stops nearby.
Map
Below is a map of the walk from Bradleys Head to Chowder Bay with the following landmarks and highlights:
Bradleys Head
Taylors Bay
Chowder Head
Clifton Gardens Reserve
Chowder Bay

Bradleys Head to Chowder Bay Track Notes
In the below track notes, we are starting at Bradleys Head and walking to Chowder Bay via Taylors Bay, Chowder Head, and Clifton Gardens Reserve.
Overall, the walk is easy to follow and well-signposted. It's a relatively easy walk on a mostly flat (but uneven) path with only a few steps.
1. Bradleys Head
Before you start the hike to Chowder Bay, it's strongly recommended to explore Bradleys Head, a special place in Sydney Harbour National Park.
Named after William Bradley, a Royal Navy officer who participated in the First Fleet to Australia, Bradleys Head is a fascinating place to visit.
There are a few points of interest at Bradleys Head. The first thing you will notice is the tall mast that stands tall and proud on the tip of the headland overlooking Sydney Harbour.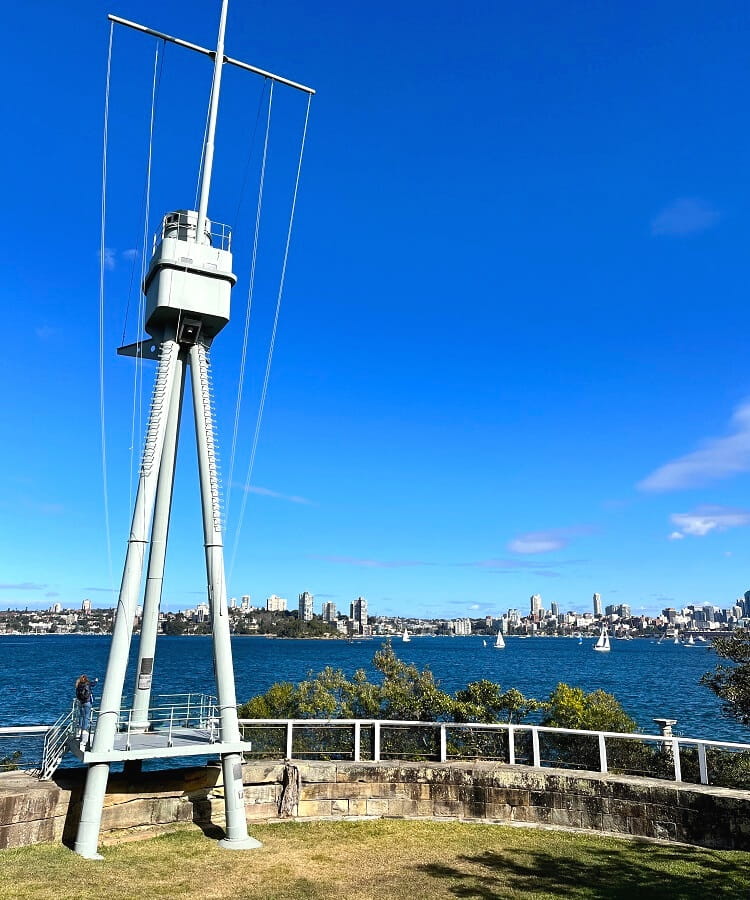 The mast was the foremast of HMAS Sydney, a light cruiser that was broken up on Cockatoo Island in 1929.
It was erected at Bradleys Head in 1934 and now serves as a monument for all Australian ships lost and all Australian sailors killed at war.
Another highlight is the Bradleys Head Amphitheatre, a popular fishing and picnic spot within the Sydney Harbour National Park. The Amphitheatre is also a popular wedding venue, which is not surprising, given the incredible city and Harbour views.
2. Taylors Bay
Once you've finished exploring the fascinating Bradleys Head area, it's time to start the walking track to Chowder Bay. To find the start of that trail, look for the signpost on Bradleys Head Road.
From there, the trail quickly evolves into a real bushwalk, surrounded by native trees, such as eucalyptus and ferns, and lots of wildlife, such as birds and lizards. There's even a small waterfall along the way.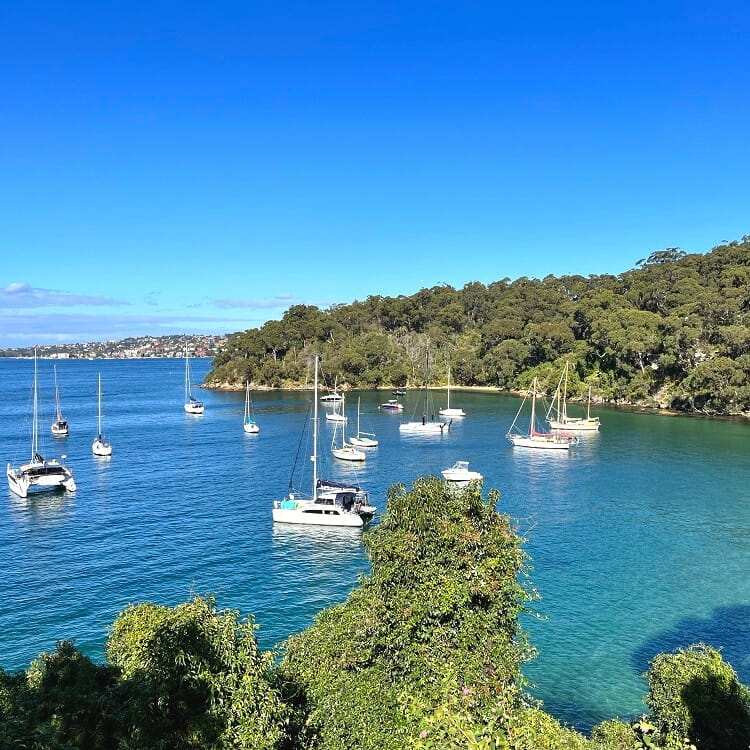 After a few hundred metres, you will see a sign pointing left to Athol Hall, a popular venue for weddings and other formal events.
The heritage building is over 150 years old and is surrounded by grassy areas and picnic grounds. It's worth having a look before moving on to Taylors Bay.
3. Chowder Head
As you continue, the track circles around Taylors Bay, offering great views of this picturesque bay with usually a few small boats anchored. There is a short sidetrack that goes down to the bay as well.

From Taylors Bay, the track continues to Clifton Gardens and Chowder Bay via the Chowder Head peninsula through a pocket of scenic bushland.
Chowder Head has a few good vantage points from where you can enjoy lovely views of the Harbour, South Head, Shark Island, and back to Bradleys Head.
4. Clifton Gardens Reserve
The trail continues to Clifton Gardens Reserve, a popular picnic spot for families since the 19th century.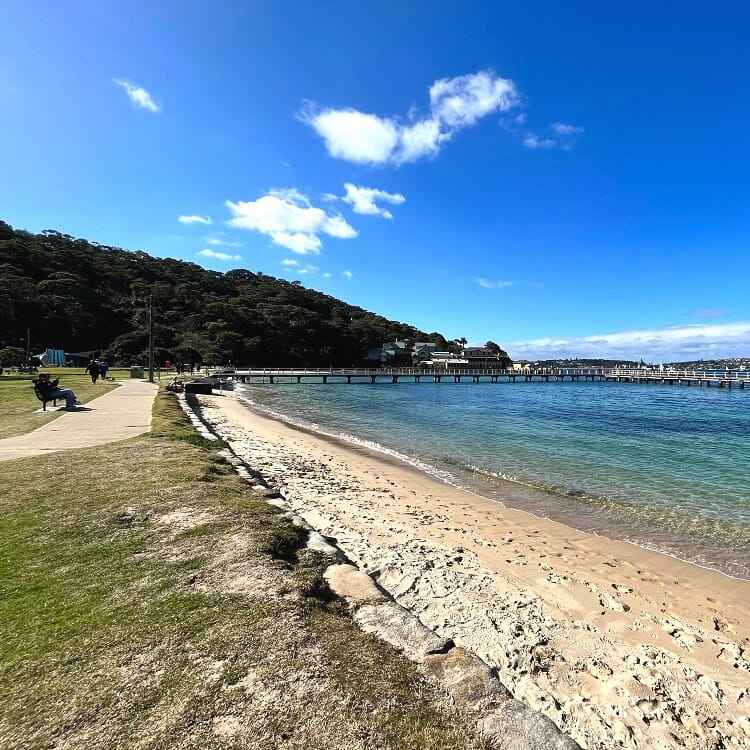 The area is now home to a beautiful beach with a netted swimming enclosure, a fenced playground, change rooms, and excellent BBQ and picnic facilities.

It's also a popular beach for dog owners, with lots of space for dogs to run around in the park, on the beach, and in the water.
5. Chowder Bay
The track follows the small promenade along Clifton Gardens beach until it reaches Chowder Bay, a great place to relax with a coffee and a meal at one of the cafes.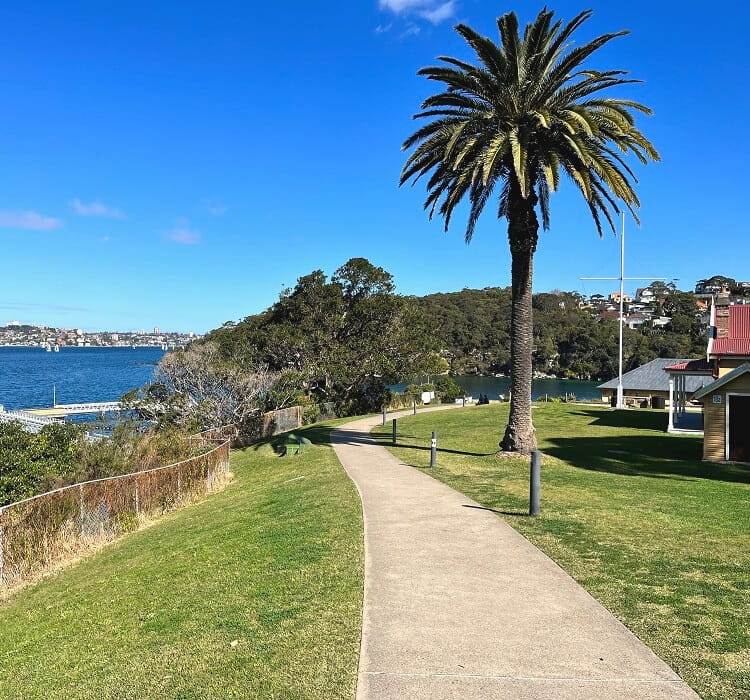 If you're up for a premium dining experience, consider going to Ripples Chowder Bay, a nice restaurant with views and food that are both top-notch. Another option is L'Héritage, a French restaurant offering delicious food in a beautiful setting.
Otherwise, if you're looking for a more standard breakfast or lunch experience, check out Two Penny Coffee or Drift Cafe.
The Bradleys Head To Chowder Bay walking trail is a great way to explore the beauty of Sydney Harbour. The wildlife and natural bushland thrive in this part of Sydney and add to the experience.
As mentioned, this trail is a section of a longer walking track that starts at Taronga Zoo and continues from Chowder Bay to Balmoral Beach.
It's possible to make the walking track even longer by starting from Sirius Cove Reserve and then follow the trail past Little Sirius Point and Whiting Beach to the Taronga Zoo ferry wharf.
At the other end, in Balmoral Beach, you can continue hiking to Chinamans Beach, and on to the Spit Bridge via some suburban streets.