Last updated: September 18, 2020
The Bradleys Head to Chowder Bay Walk is a relatively short but picturesque walking trail in Sydney's lower north shore, offering incredible views of Sydney Harbour.
This trail is part of the longer Taronga Zoo to Balmoral Beach walk, one of Sydney's finest Harbour walking tracks.
Bradleys Head to Chowder Bay
Distance:
2.7 km (one way)
Time:
1 hour
Grade:
Easy
Dogs:
Not allowed
Paid parking is available at Bradleys Head (via Bradleys Head Road), although the parking area is small and fills up rather quickly, especially during weekends.
You can also catch a ferry to Taronga Zoo from Circular Quay, and walk down to Bradleys Head, which isn't too far away. Simply follow the walking trail past Athol Bay and Athol Beach to Bradleys Head.
The bus is also an option, with regular buses travelling from Wynyard to Taronga Zoo and Bradleys Head.
The Bradleys Head to Chowder Bay walk officially starts in Bradleys Head. Let's find out why Bradleys Head is such a special place in Sydney Harbour National Park.
Foremast of HMAS Sydney
Named after William Bradley, a Royal Navy officer who participated in the First Fleet to Australia, Bradleys Head is quite a fascinating place to visit.
The first thing you will notice is the huge mast that stands tall and proud at the edge of the cliff, overlooking Sydney Harbour.

The mast was the foremast of HMAS Sydney, a light cruiser that was broken up on Cockatoo Island in 1929.
It was erected at Bradleys Head in 1934, and now serves as a monument for all Australian ships lost and all Australian sailors killed at war.
Bradleys Head Amphitheatre
The amphitheatre at Bradleys Head is a very popular fishing and picnic spot within the Sydney Harbour National Park.
This man-made amphitheatre is a great lookout for the best views of the city skyline, the Sydney Opera House, and the Sydney Harbour Bridge.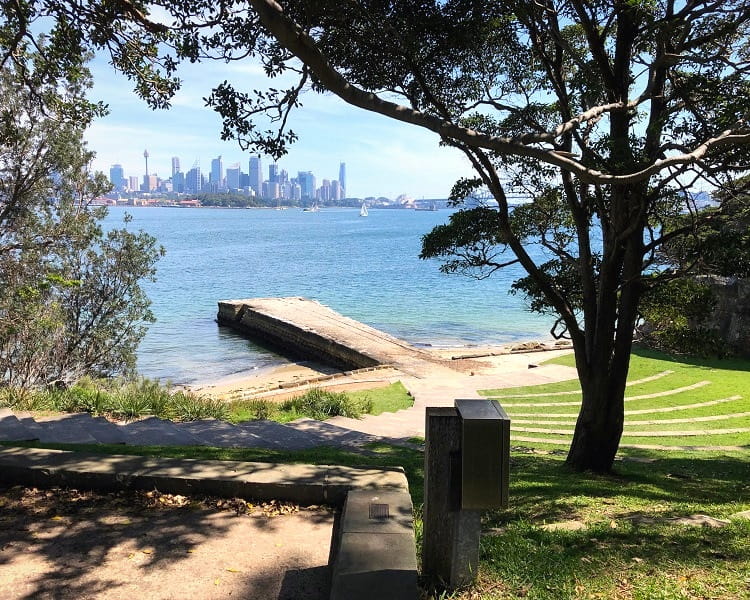 With million dollar views, the amphitheatre is widely regarded as one of Sydney's best outdoor wedding locations.
Bookings can be made via National Parks for both the Bradleys Head Amphitheatre and Athol Hall for the reception.
Fortification Complex
At the Bradleys Head Fortification Complex, on Bradleys Head Road, you can experience some of Sydney's military history.
The complex, built in the 19th century, was part of the larger Sydney Harbour defence system, meant to protect New South Wales (and its wealth) from invaders. There are also remnants of convict-built artillery batteries.
Bradleys Head Lighthouse
Bradleys Head features a small lighthouse, built in 1905 that is still active today.
The lighthouse, closed to the public, is located just in front of Bradleys Head, connected to shore by a small footbridge.

Next to the big mast is the start of the Bradleys Head Memorial Walk, which flows into the walking track to Chowder Bay.
This short avenue commemorates the loss of 22 commissioned Royal Australian Navy ships and submarines, each represented by a little plaque.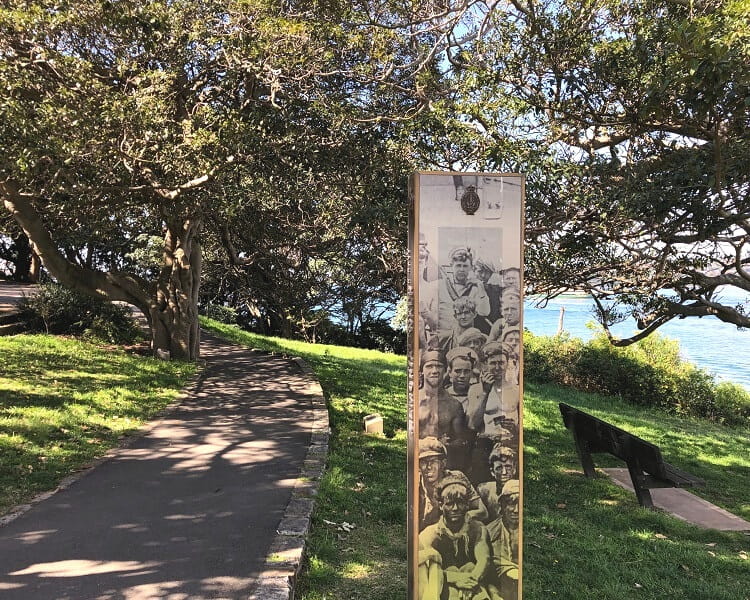 Now that you've explored Bradleys Head, it's time to start the walking track to Chowder Bay.
Bradleys Head to Chowder Bay Track Notes
From Bradleys Head, follow the trail into the bush heading towards Taylors Bay. Simply look out for the big signpost which marks the start of the walk.
The trail now becomes a true bushwalk, amidst lots of wildlife (mainly birds and lizards) and native trees, like eucalyptus and ferns. There's also even a little waterfall along the way.
After a few hundred metres you will see a sign pointing left to Athol Hall Cafe and Function Centre, which is a lovely place for morning or afternoon tea.

The heritage building is more than 150 years old, and is surrounded by quiet picnic grounds. It's definitely worth having a look before moving on to Taylors Bay.
Taylors Bay and Chowder Head
As you continue, the track circles around Taylors Bay, offering great views of this picturesque bay with usually lots of small boats anchored. There is a short sidetrack that goes down to the bay as well.
From Taylors Bay, the track continues to Clifton Gardens and Chowder Bay via the Chowder Head peninsula.
Chowder Head has a great vantage point from where you can enjoy nice views of the Harbour, including South Head, Rose Bay, Shark Island and also Bradleys Head.
Clifton Gardens Reserve and Chowder Bay
The trail continues to Clifton Gardens Reserve, which has been a popular picnic spot for families since the 19th century.
The area is now home to a rocky beach with netted swimming enclosure, a fenced playground, change rooms, and excellent BBQ and picnic facilities.

The track follows the little promenade along Clifton Gardens beach, until it reaches Chowder Bay, which is a great place to relax with a coffee and a meal at one of the little cafes.
If you're up for a pricier dining experience, have a look at Ripples Chowder Bay, a nice restaurant with views and food that are both top notch.
The Bradleys Head To Chowder Bay Walking trail is a great way to explore the beauty of Sydney Harbour. The wildlife and natural bushland are very much thriving in this part of Sydney.
This trail is a section of a longer walking track that continues from Chowder Bay to Balmoral Beach.

There are a couple of small parking areas at Bradleys Head, and if these are filled up, you can try parking at Taronga Zoo.
You can of course also start this walk at the other end, and park your car at Chowder Bay which has a much bigger paid parking area available.
The walk is very well sign-posted, and once you arrive at Bradleys Head (or Chowder Bay), you should be able to easily identify the start of the track.
Paid parking is available at the Bradleys Head end as well as at the Chowder Bay end of the walk, as marked in the below map.