Last updated: April 27, 2023
Cockatoo Island is a UNESCO World Heritage and National Heritage Listed island right in the middle of beautiful Sydney Harbour.
The island has a rich history as a shipbuilding yard, a Commonwealth naval base, and a convict island. You can experience all this first-hand by wandering on the island and absorbing its well-preserved history.
Catch a ferry from Circular Quay, score a free map from the visitor centre, and enjoy a wonderful day out. Or book a luxury tent on the camping site and enjoy two days on this unique island.
Read on, as we explore some of the best things to do on Cockatoo Island.
Since Cockatoo Island is an actual island in Sydney Harbour, the only way to get there is by boat.
Ferry services to and from the island (Woolwich/Balmain and Parramatta RiverCat services) are excellent and offer the perfect opportunity to enjoy beautiful Sydney Harbour from close by.
The best places to hop on a ferry to Cockatoo Island are Circular Quay and Barangaroo. Ferries go regularly, seven days a week, and there is no need to make a booking.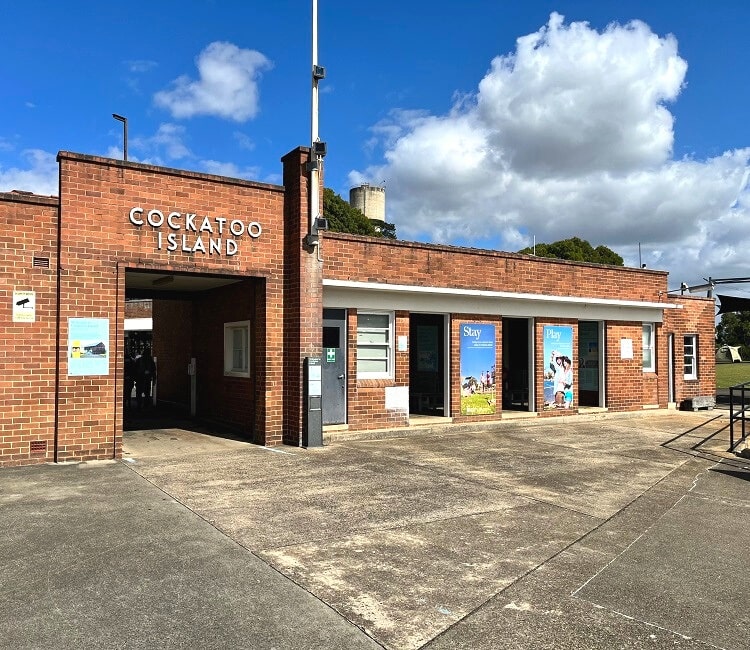 Also worth mentioning is that if you visit Cockatoo Island on a Saturday or Sunday, you can enjoy unlimited public transport for a very affordable daily travel cap.
Map of Cockatoo Island
Upon arrival, it's recommended to grab a free Cockatoo Island map at the visitor centre and walk your way around the island.
You can also download and print a map of the island from the official New South Wales Cockatoo Island website.
7 Things to Do on Cockatoo Island
Here are seven ideas for things to do on Cockatoo Island.
1. Walking
The best way to see all the highlights of the island is by simply wandering around, ideally with a map in your hand or on your phone.
You can also go for a self-guided audio tour that you can purchase at the visitor centre for a few dollars. It's a guided walk along more than 20 stops, with an informative narrator, immersive sound effects, and archival interviews with former workers and residents.
If you're going DIY, it's recommended to walk in a clockwise manner along the five different precincts on the island:
Industrial Precinct
Docks Precinct
Historic Residence Precinct
Ship Design Precinct
Convict Precinct
Walking the entire island will probably take up to two hours, including stops for photos and reading the information panels. It's an easy walk, but there are steps and areas with uneven surfaces.
Convict Precinct
Of the five precincts on Cockatoo Island, the Convict Precinct is perhaps the most interesting.
Walking through the convict precinct gives you a sense of how harsh life was on the island for prisoners. Hard labour, poor hygiene, and overpopulation were common on the island in the 19th century.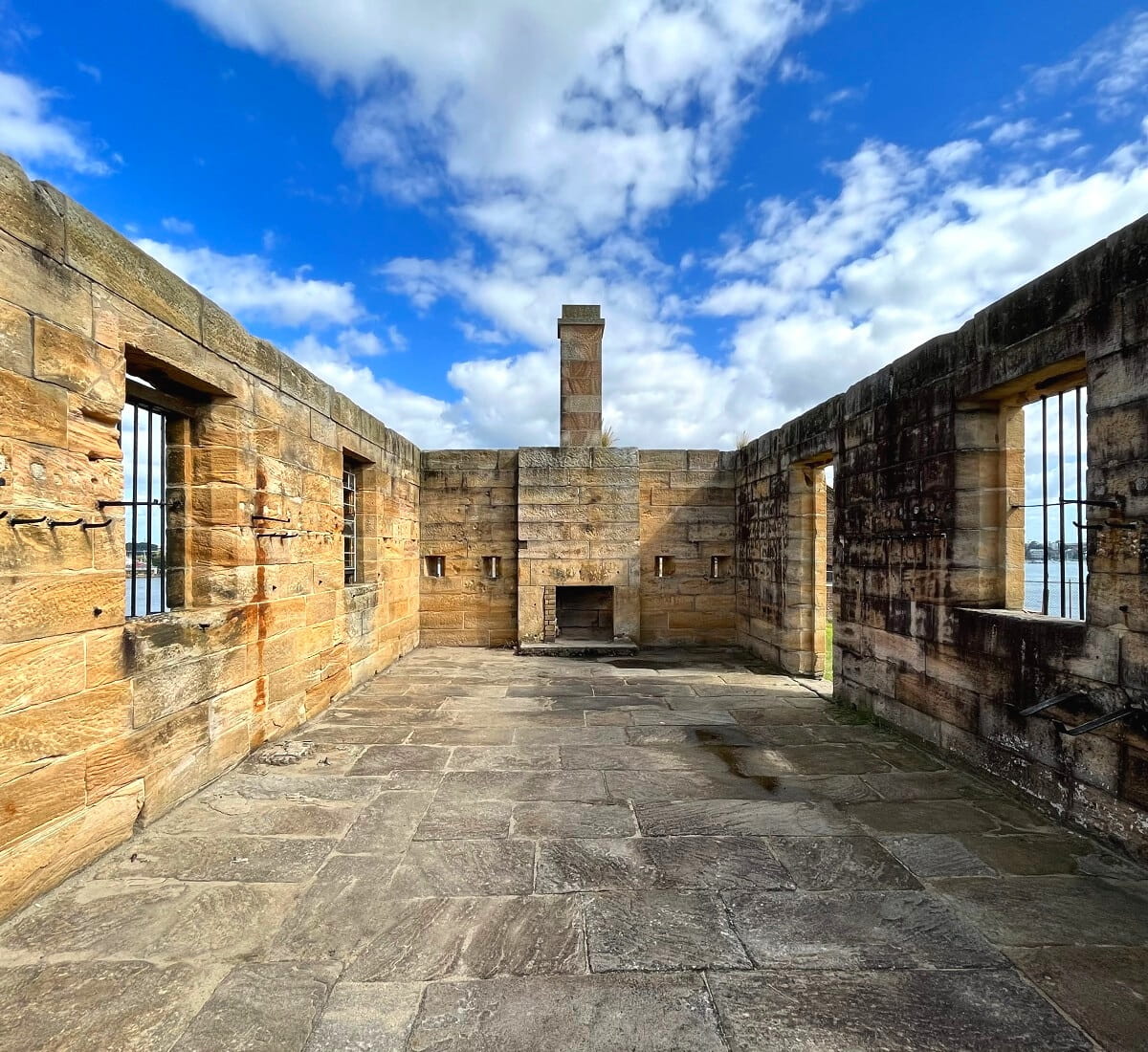 A lot of the barracks, silos, and docks that you can see on the island were built by convicts.
In 2009, during archaeological research excavations, two solitary confinement cells were discovered, further revealing how harsh the conditions were for convicts on the island.

These confinement cells are open to the public, and walking through them is quite a unique experience.
Tunnels
There are two tunnels on Cockatoo Island that visitors can walk through, with the Dog Leg Tunnel the most fascinating of the two.

The Dog Leg Tunnel was built in 1915 and is just under 200 metres long.
It was built to quickly move materials from one side of the island to the other. During World War II, the tunnels were used as shelters.
Cliff Top Walk
Another must-do highlight is the Cliff Top Walk, a metal walkway around the eastern edge of the upper part of the island.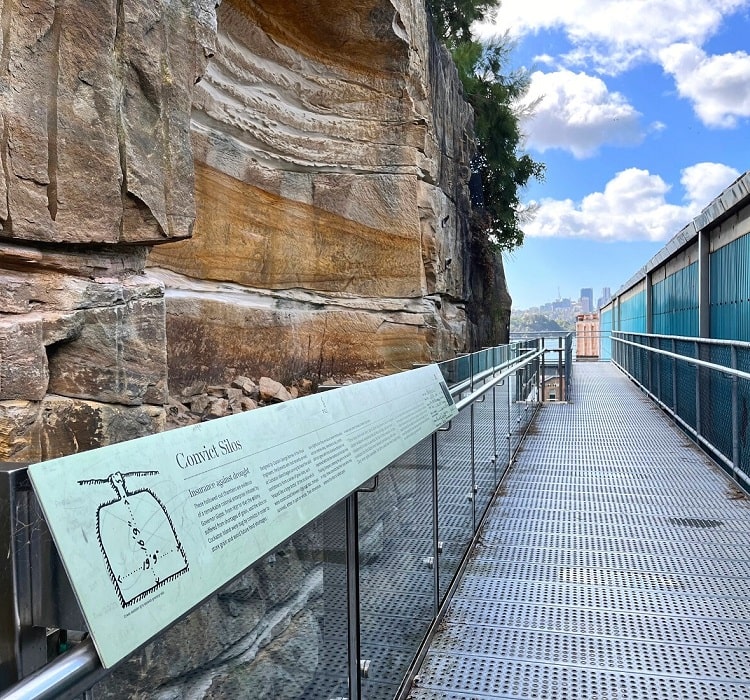 Because the walkway is elevated, you can enjoy great views of the island, the surrounding Harbour, and the city skyline in the distance.
One of the interesting things to see along the Cliff Top Walk is the convict silos. These are hollowed-out chambers created by convicts to store grain.
2. Guided Tours
There are several guided tours that you can do on the island if you'd like to learn more about its history or if you're up for a bit of an adventure.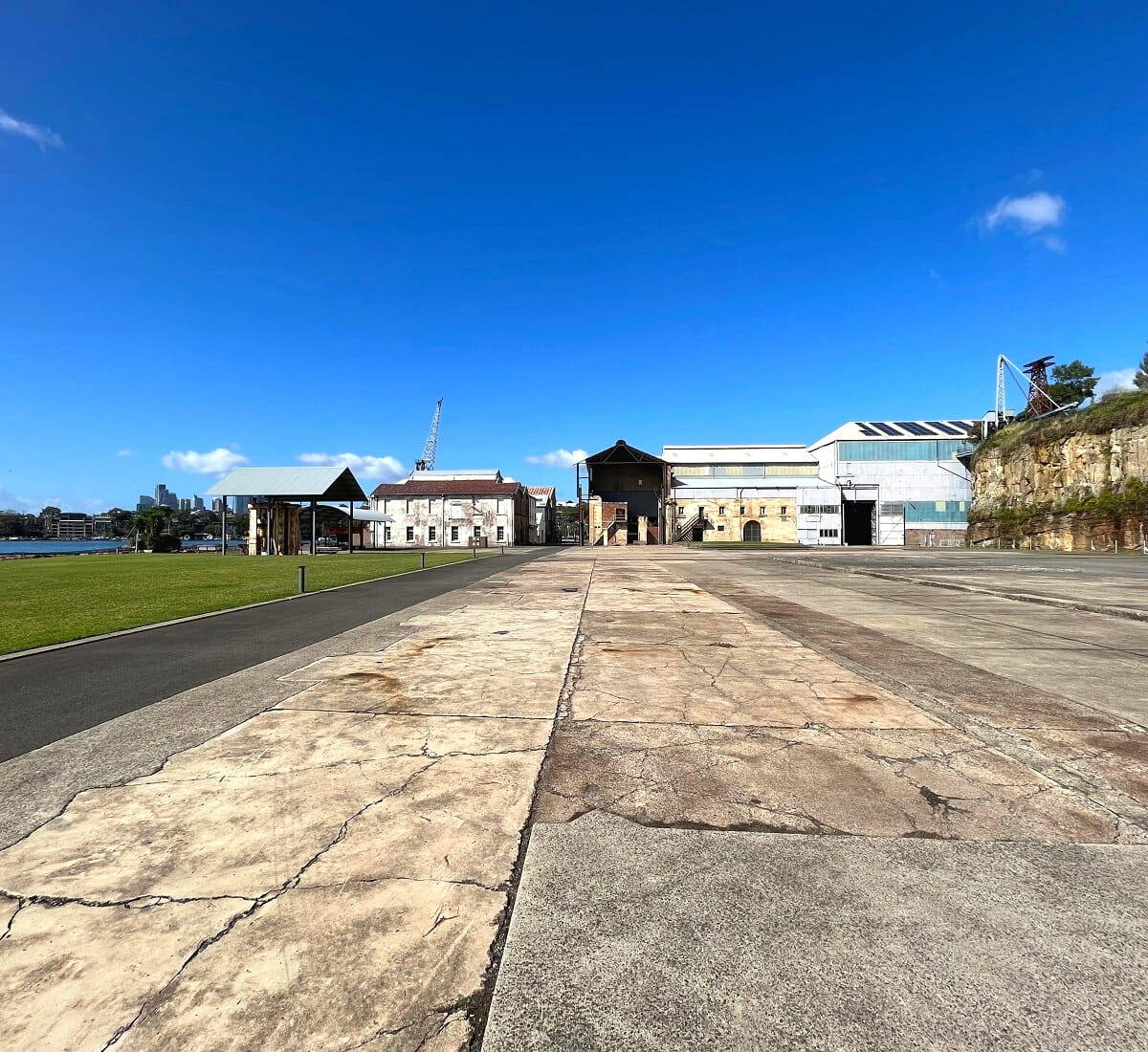 Popular tours are the Ghost Tour, the Convict Precinct Tour, the Dark Past Tour, and the Sandstone to Steel Tour.
Tickets for guided tours can be purchased from the Ticketbooth website.
3. Learn About the History of Cockatoo Island
As you walk around the island, either by yourself or with a guided tour, you will be able to learn more about the history of Cockatoo Island and Sydney.
Like most other islands in Sydney Harbour, Cockatoo Island has had a long and tumultuous history and has only been open to the public since 2007 as a tourist attraction.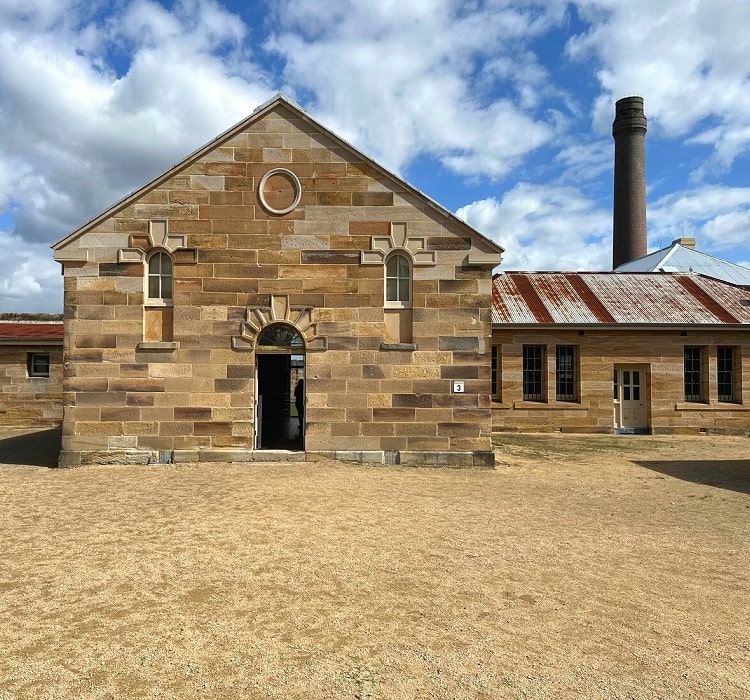 The island was used as a convict prison between 1839 and 1869. Prisoners had to endure harsh living conditions and were employed to construct barracks, silos, and docks.
Shipbuilding on Cockatoo Island began in 1870, and many large and significant vessels have been built and repaired on the island since.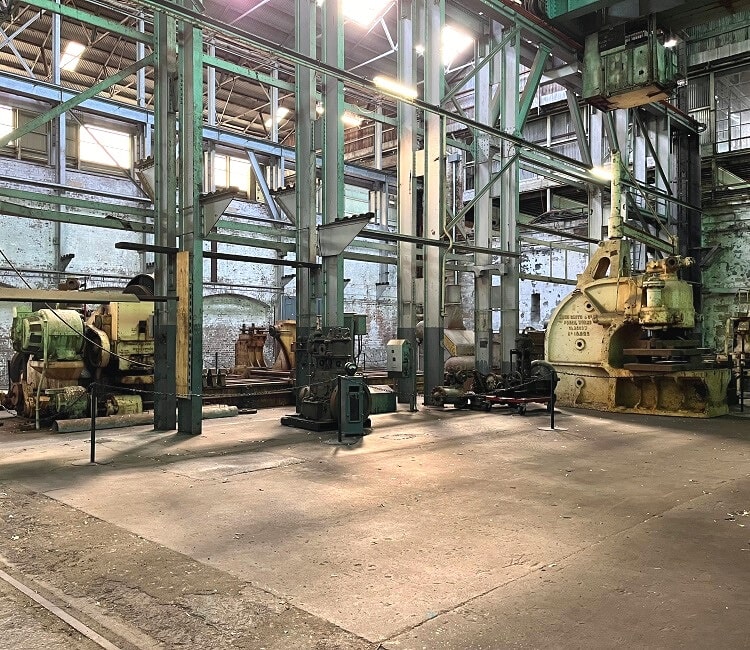 The last ship to launch from the Cockatoo Island dockyard was the HMAS Success, a replenishment oiler that was decommissioned in 2019.
Cockatoo Island was included in the National Heritage List in 2007 and proclaimed a World Heritage Site by UNESCO in 2010. The Sydney Harbour Federation Trust has been managing the island since 2001.
4. Camping (or Glamping)
Cockatoo Island has an excellent camping site where you can relax and take in the unique atmosphere of the island. Camping on the island is often referred to as "glamping" (glamorous camping).
Glamping is basically a form of easy camping, with all the hard work of camping done for you; no need to set up tents or beds.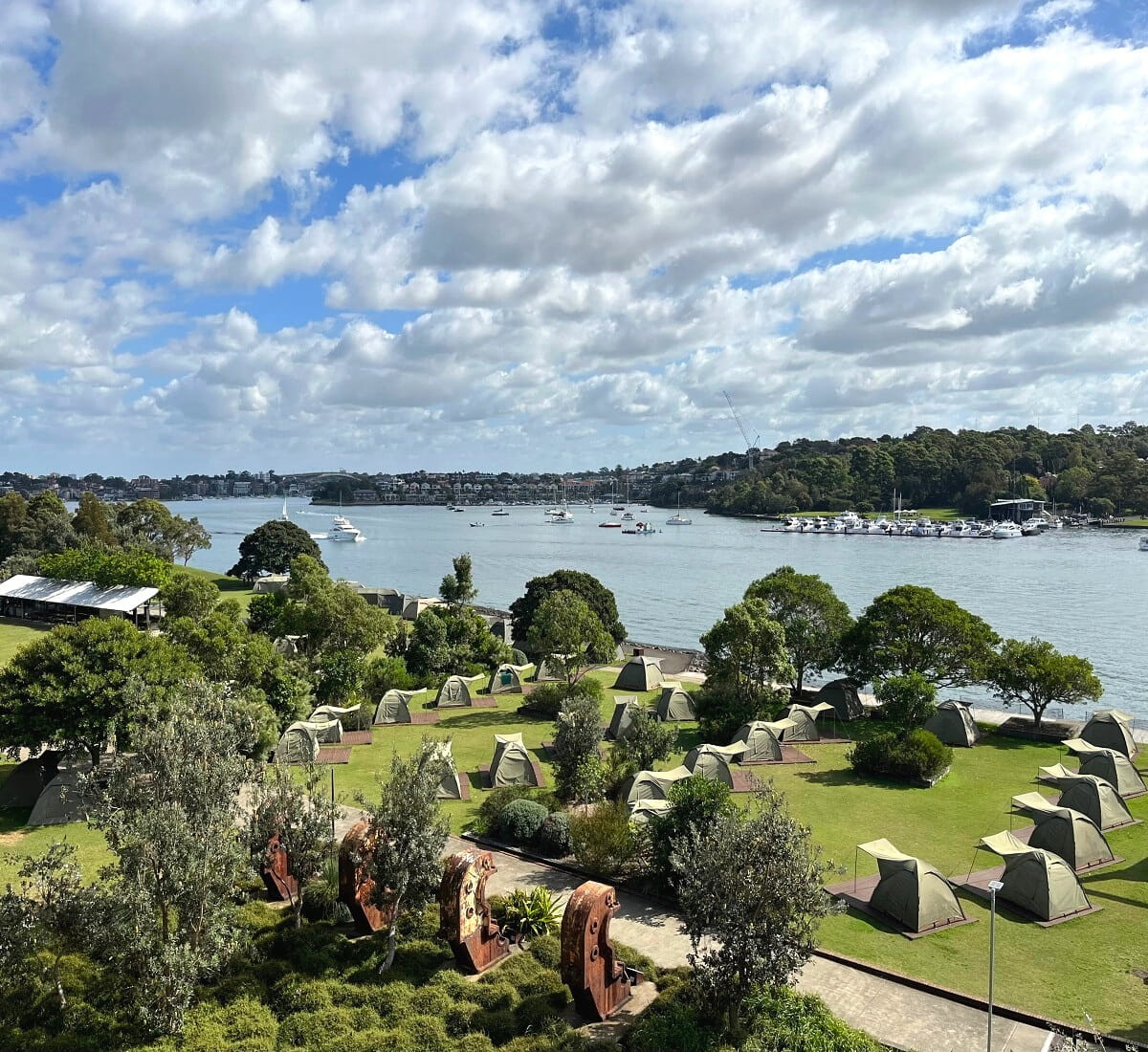 It's a luxury camping experience with everything conveniently organised for you. Everything is set up and ready to go upon your arrival.
It allows you to maximise your time on the island and fully enjoy your short break. The campsite offers tents of different sizes, with excellent BBQ, toilet and shower facilities.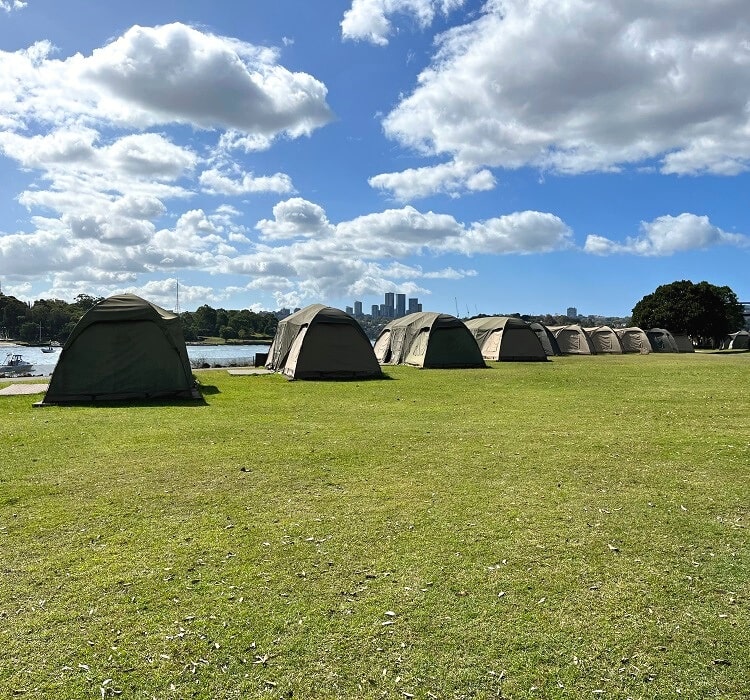 You can also choose the cheaper camping option where you will need to bring your own sleeping gear. You can also bring your own hiking tent and simply book a spot on the grounds.
Bookings for a spot on the campground can be made through the official Cockatoo Island website.
5. Book a Holiday House or Apartment
If camping (or glamping) isn't your thing and you'd like to enjoy a bit more luxury, you can also rent a holiday house or apartment on the island.
The two houses available to book are Federation-style, heritage-listed properties that were once the homes of Cockatoo Island's engineering manager and medical officer.

The three apartments are all restored Harbour View apartments, each with a large entertaining balcony overlooking Sydney Harbour.
Bookings for a holiday house or apartment can be made through the official Cockatoo Island website.
6. Photography Opportunities
Cockatoo Island is often used as a photography course excursion trip because the island is the perfect place for shooting great photos.
Industrial buildings with an abandoned atmosphere, stunning Harbour views, wildlife, an old prison, city views, and much more.

As you wander around the island, you'll be amazed by the countless photo opportunities you'll encounter. You're going to need at least two hours to do a complete tour of the island.
Cockatoo Island truly is a photographer's paradise, and the ferry trip to and from the island is a bonus.
7. Have Lunch
There are currently two (licensed) waterfront cafes where you can sit down for a nice meal and a refreshing drink.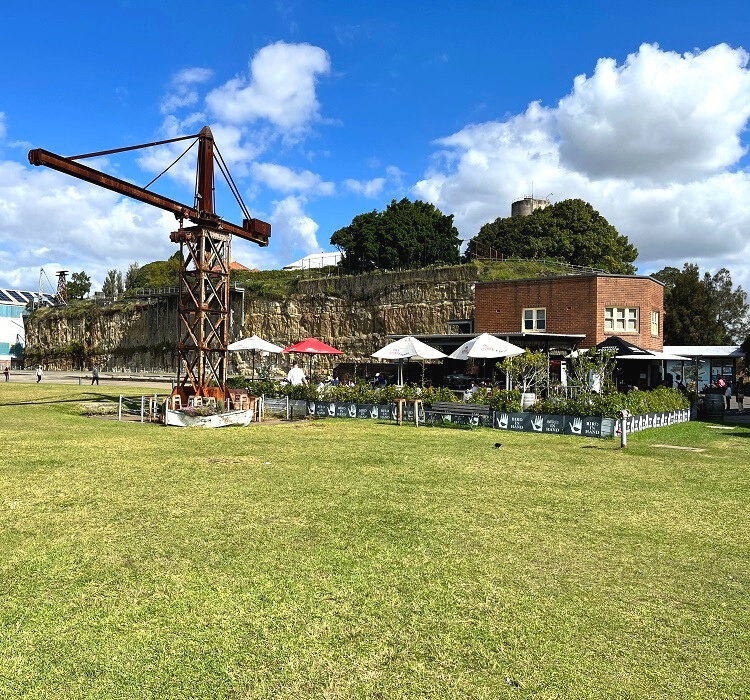 Marina Cafe & Bar is situated in the historic Docks Precinct and Cockatoo Overboard is located near the Visitor Centre.
Another option is to organise a picnic with friends and family and settle in on one of the many grassy areas on the island.
Interested in other exciting islands in Sydney Harbour?
Goat Island
is another fascinating place to visit, with lots of history and photo opportunities.