Last updated: March 18, 2021
Cockatoo Island is a UNESCO World-Heritage and National Heritage Listed island right in the middle of beautiful Sydney Harbour.
The island has a rich history as a shipbuilding yard and Commonwealth naval base and also as a convict island. You can experience all this first-hand by wandering around on the island and absorbing its well-preserved history.
Catch a ferry from Circular Quay, score a free map from the visitor centre and enjoy a wonderful day out. Or book a luxury tent on the camping site and enjoy two days on this unique island.
Cockatoo Island Circuit Walk
Distance:
Approx. 2 km (circuit)
Time:
1.5 hours (including stops)
Grade:
Easy
Dogs:
Not allowed
History of Cockatoo Island
Just like most other islands in Sydney Harbour, Cockatoo Island has had a long and tumultuous history, and has only been open to the public since 2007 as a tourist attraction.
The island was used as a convict prison between 1839 and 1869. Prisoners had to endure harsh living conditions and were employed to construct barracks, silos and docks.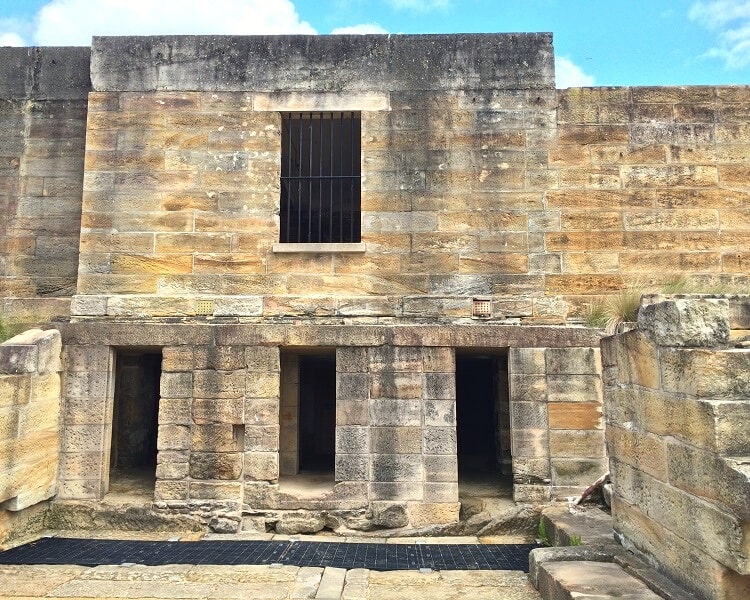 Shipbuilding on Cockatoo Island began in 1870, and a long list of large and significant vessels have been built and repaired on the island since.
The last ship to launch from the Cockatoo Island dockyard was the HMAS Success, a replenishment oiler that is still operational in the Royal Australian Navy.
Cockatoo Island was included in the National Heritage List in 2007 and proclaimed as a World Heritage Site by UNESCO in 2010. The Sydney Harbour Federation Trust has been managing the island since 2001.
Cockatoo Island has preserved a lot if its history and the best way to experience the island is to simply walk around.
As you arrive at the ferry wharf you'll walk past the visitor centre where you can pick up a handy guide book and map of the island.
You can also do the $5 audio tour which will teach you more about the history of the island as you wander around.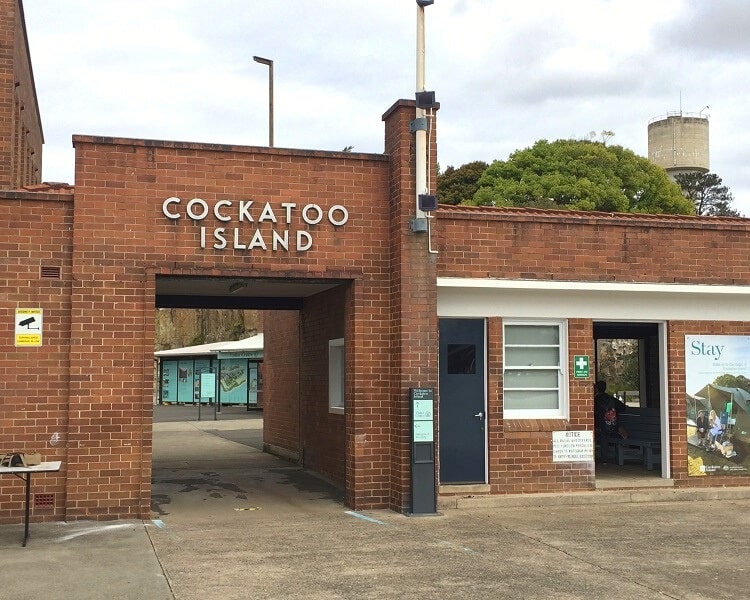 It's recommended to walk clock-wise around the island, along the various districts:
Industrial Precinct
Docks Precinct
Historic Residence Precinct
Ship Design Precinct
Convict Precinct
From the clifftop walk, you can enjoy amazing views of Sydney Harbour and the Sydney Harbour Bridge.
You will also see tennis and basketball courts here, but you'll need to book these in advance if you want to play a few games.
There are also two tunnels that cross the island, one of which has a little cinema displaying interesting historic videos of Cockatoo Island.
1. Industrial Precinct
This section of the island is home to some huge industrial buildings and workshops.

In the Industrial Precinct you will experience the major industrial hub that Cockatoo Island was from 1857 to 1991.
2. Docks Precinct
Cockatoo Island was home to Australia's first naval dockyard used by the Australian navy and continues to build and repair ships until 1991.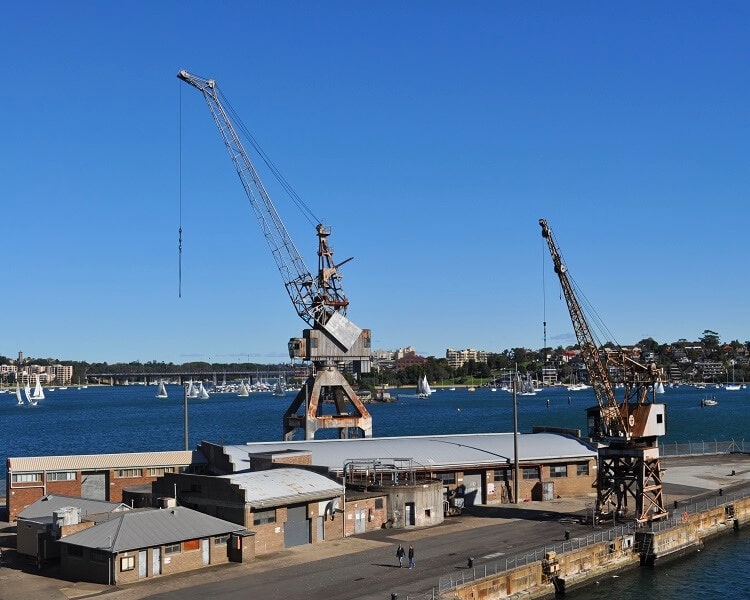 The Docks Precinct consists of two large docks: the Fitzroy dock and Sutherland dock.
3. Historic Residence Precinct
This section is located in the middle of the island and can be accessed via the clifftop walk. The historic residence precinct is where the island's managerial staff and their families used to live throughout the 19th and 20th century.

The residences are impressive and the views of the surrounding harbour are beautiful.
4. Ship Design Precinct
Ships had to be designed before they could be built and all this took place in the ship design precinct.
You can have a closer look at all the trade-specific buildings, such as the drawing offices, the pattern shop and joiner's shop, as you wander through this part of the island.
5. Convict Precinct
Walking through the convict precinct gives you a great sense of how harsh life was on the island for prisoners.
Hard labour, poor hygiene and overpopulation were standard practices on the island in the 19th century. A lot of the barracks, silos and docks that you can see on the island were built by convicts.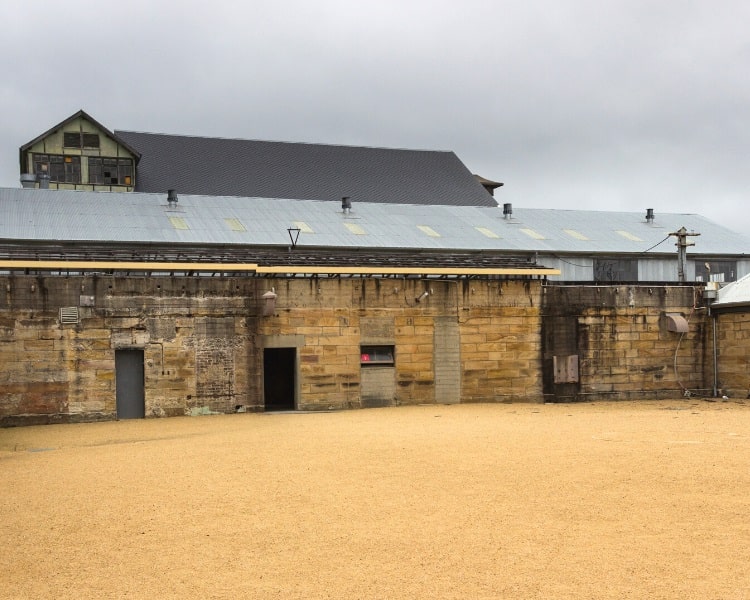 In 2009, during archaeological research excavations, two solitary confinement cells were discovered which further revealed how harsh the conditions were for convicts on Cockatoo Island.
These confinement cells are now open to the public.
Cockatoo Island has an excellent camping site (see cover photo) where you can relax and take in the unique atmosphere of the island. Camping on the island is often referred to as glamping, or glamorous camping.
But you can also choose the cheaper camping accommodation where you still need to bring your own sleeping gear.
Glamping is basically a form of easy camping, with all the hard work of camping done for you; no need to set up tents or beds.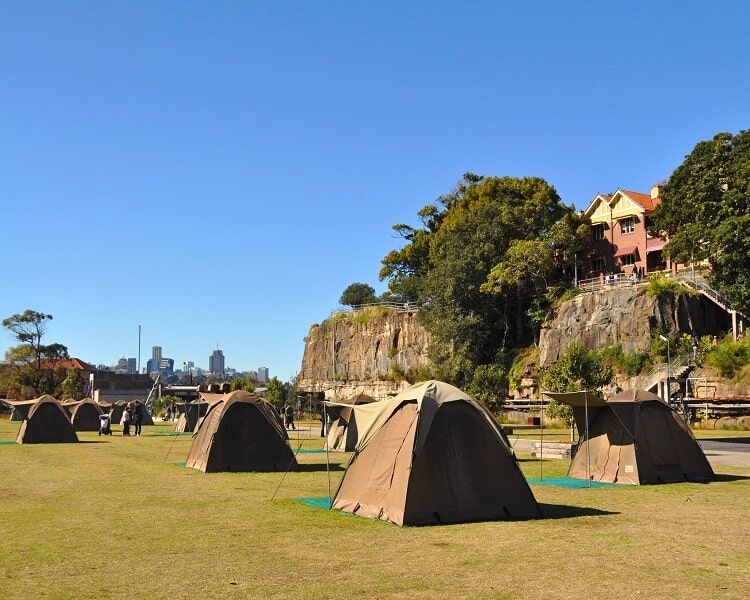 It's a luxury camping experience with everything conveniently organised for you. Everything is set up and ready to go upon your arrival.
This allows you to maximise your time on the island and fully enjoy your short break. The camp site offers tents of different sizes and there are excellent BBQ, toilet and shower facilities. You can also bring your own hiking tent and simply book a spot on the grounds.
Camping on the island is also a great way to spend New Year's Eve and to watch Sydney's famous Harbour fireworks. The views from Cockatoo Island are amazing because of its central Harbour location.
Photography Opportunities
Cockatoo Island is often used as a photography course excursion trip, because the island is the perfect place for shooting great photos.
Industrial buildings with an abandoned atmosphere, stunning Harbour views, wildlife, an old prison, city views, and so much more.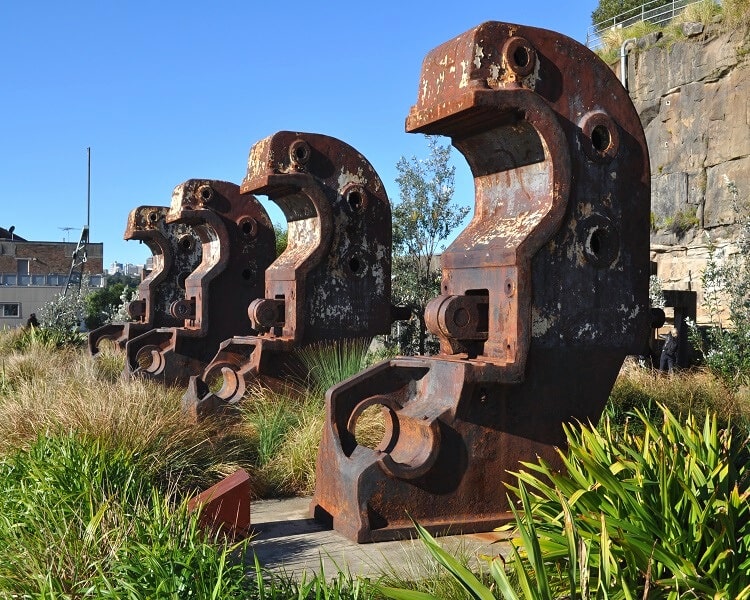 As you wander around the island, you'll be amazed by the countless photo opportunities you'll come across. You'll need at least 2 hours to do a complete tour of the island.
Cockatoo Island truly is a photographer's paradise and the ferry trip to and from the island is an added bonus.
Getting to Cockatoo Island by Ferry
Most visitors to Cockatoo Island will need to catch a ferry. Ferry services to and from the island (Woolwich/Balmain and Parramatta RiverCat services) are excellent and give you a perfect opportunity to enjoy beautiful Sydney Harbour from close by.
The best places to hop on the ferry are Circular Quay and Darling Harbour (King Street). Ferries go regularly, 7 days a week, and there is no need to make a booking.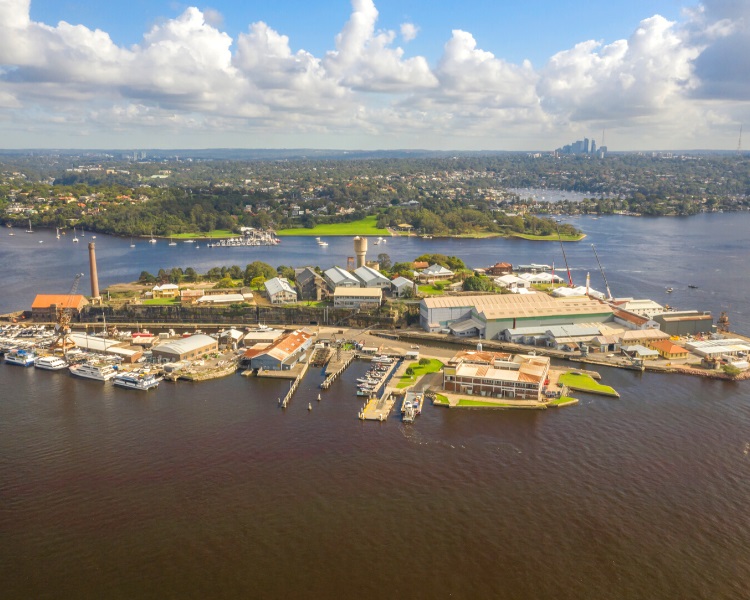 If you visit Cockatoo Island on a Saturday or Sunday, you can enjoy unlimited public transport travel for only $8.05 for the whole day.
For those of us lucky enough to own a private boat can use the berth at Camber Wharf right at the Cockatoo Island Marine Centre cafe. Vessels should not be longer than 9 metres and not higher than 10 metres. Berths are available in 4-hour blocks or for overnight stay (reservations essential).

You can also use a water taxi to get to the island. It's recommended to make a booking for a water taxi in advance, especially when leaving the island, otherwise you may not be able to find one.
Exploring Cockatoo Island is a great way to spend your weekend. Walking around on the island is very easy and everything is very well signposted. The audio tour is recommended because it gives you a good understanding of the rich history of the island.
The island is also kid-friendly but it is recommended to keep a close eye on your children as they can easily get lost while wandering through all the exciting buildings and historical sites.

Also, during the spring months, the island is crowded with nesting seagulls that can be very aggressive during that time of year, so please be cautious.
Entry to the island is absolutely free and all you need to do is buy a ferry ticket. But you'll be happy to do so because the ferry trip is an adventure in itself, with great views of Sydney Harbour to soak in.
Interested in other cool islands in Sydney Harbour?
Goat Island
is another fascinating place to visit, with lots of history and photo opportunities.
Grab a free Cockatoo Island map at the visitor centre and hike your way around the island. It's recommended to go clock-wise and follow the different precincts on the island.
You can also download and print a map of the island from the New South Wales Cockatoo Island website.