Last updated: March 11, 2023
The Coogee to Maroubra walk is one of Sydney's best coastal trails, and is an extension to the popular and much busier Bondi to Coogee walk.
While one section goes through suburban streets, the walking trail between Coogee and Maroubra offers sensational coastal scenery from start to finish.
Read on, and find out more about the highlights and landmarks of this 5 km long family-friendly walking track.
Coogee to Maroubra Walk
Distance:
5 km (one way)
Duration:
1.5 hours (depending on stops)
Grade:
Easy / moderate (some rock scrambling)
Dogs:
On a lead
Because the walking track between Coogee Beach and Maroubra Beach is a one-way walk, you can start from either end.
Coogee and Maroubra are both serviced by buses, and both also have lots of parking options available, although weekends will always be busy.
If you're starting in Maroubra, the best spot to park your car is at the northern end of Marine Parade, close to the Mahon Pool.
If you're starting in Coogee, a good spot to park your car is on Neptune Street or Wolseley Road at Trenerry Reserve.
Here is a map of the walk:

Coogee to Maroubra Track Notes
As mentioned, you can start this scenic walking trail either in Coogee or in Maroubra. In the below track notes, however, we are describing the trail walking southbound starting in Coogee.
Highlights and landmarks along the walk:
Coogee Beach
Trenerry Reserve
South Coogee Wetlands
Ivor Rowe Rock Pool
Maroubra Low Tide Trail
Mistral Point
Mahon Pool
Maroubra Beach
It's a relatively easy 5 km walk, suitable for all ages.
It is, however, recommended to wear good hiking shoes, especially for the low tide section in Maroubra.
1. Coogee Beach
There is no dedicated starting point for this walking track, but if you've never walked along the foreshore of Coogee Beach, a good place to start is at the very end of Coogee Bay Road.
From there, follow the walking path right behind the beach, heading south past the eye-catching Coogee Surf Life Saving Club building.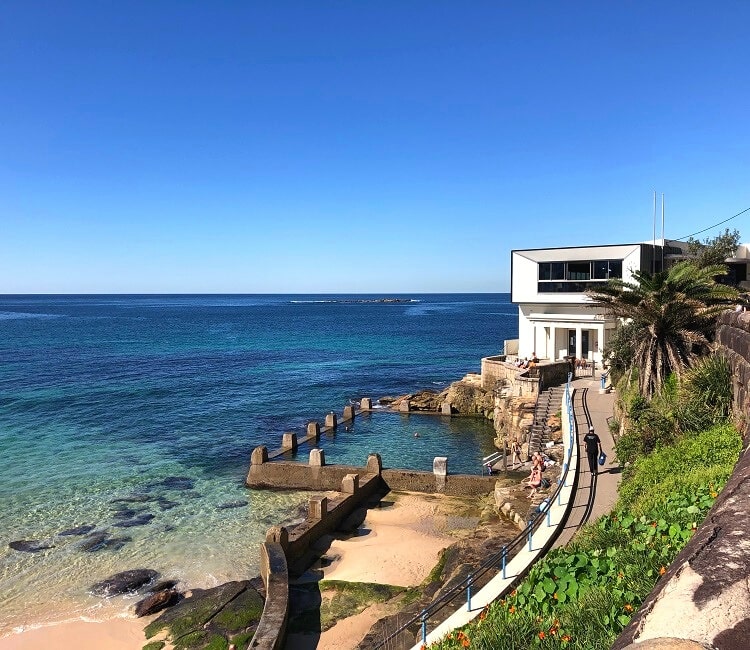 The trail continues past the playground, McIver Baths, Wylie's Baths, and Grant Reserve. Don't forget to have a good look around, as the beach and coastal views from this stretch are pretty good.
The walking path then arrives at Neptune Street, where you continue hiking around Trenerry Reserve.
2. Trenerry Reserve
Trenerry Reserve is an open grassed area from where you can enjoy spectacular views to the north over Coogee Beach and Dunningham Reserve, and to the south over the coastal cliffs and Mistral Point.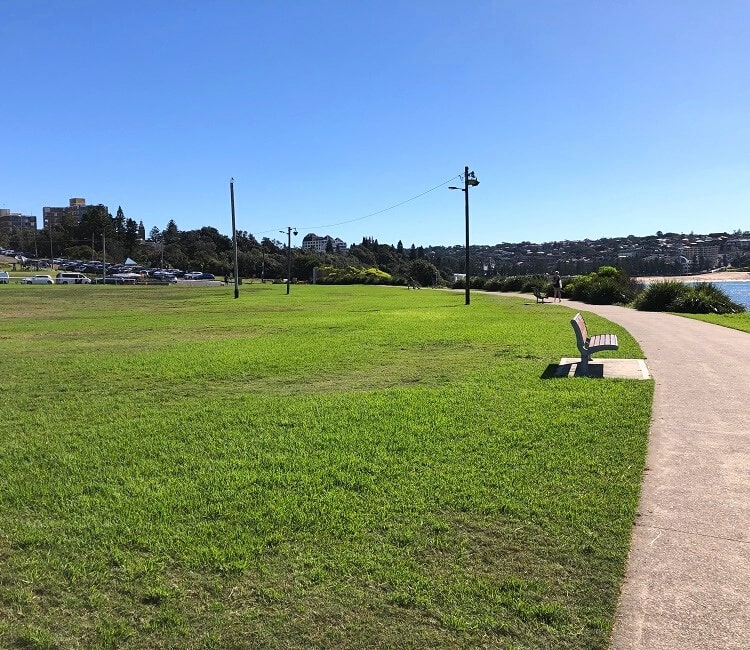 The reserve is also a popular off-leash dog exercise area, where dogs can run around 24 hours per day, seven days per week.
Towards the southeastern end of the reserve, the walking path evolves into boardwalks, heading into the South Coogee Wetlands.
3. South Coogee Wetlands
The South Coogee Wetlands is a protected coastal environment where rare water plants and animal species such as frogs and birds can flourish.
Most clifftops along Sydney's eastern beaches have been cleared or covered with housing over the years, which makes the South Coogee Wetlands quite unique and precious.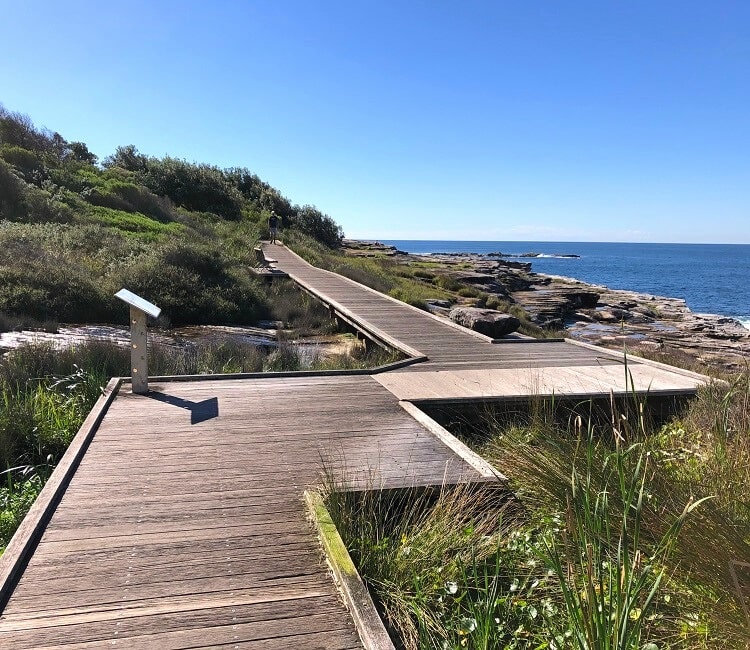 You will find various information boards along the walk where you can learn more about the history behind this fascinating area.
From the wetlands, the walking trail continues along the coastline past impressive real estate towards the Ivor Rowe Rockpool.
4. Ivor Rowe Rockpool
The Ivor Rowe Rockpool is one of Sydney's best-kept secrets and a local's favourite. It's super small, but that's also the appeal.
Via a staircase, you can head down to the pool and enjoy a quick swim if the weather is nice.

From the rockpool, the trail continues up a narrow staircase between two properties and arrives at Cuzco Street.
This is where you're going to have to do a bit of suburban street walking, as per the below map, to get to the Maroubra side of the coastal walk, which starts with the low tide trail.

Do note though that the low tide trail in Maroubra may not always be accessible at high tide.
If this section does turn out to be inaccessible, retrace your steps back to Malabar Road, turn left into Torrington Road, followed by a left turn into Inman Street from where you can re-connect with the coastal trail to Maroubra Beach.
5. Maroubra Low Tide Trail
To access the low tide trail, look for the staircase between properties 35 and 37 towards the end of Liguria Street.
This section of the Coogee to Maroubra walk is perhaps the most exciting, but it does require a bit of rock scrambling to get through.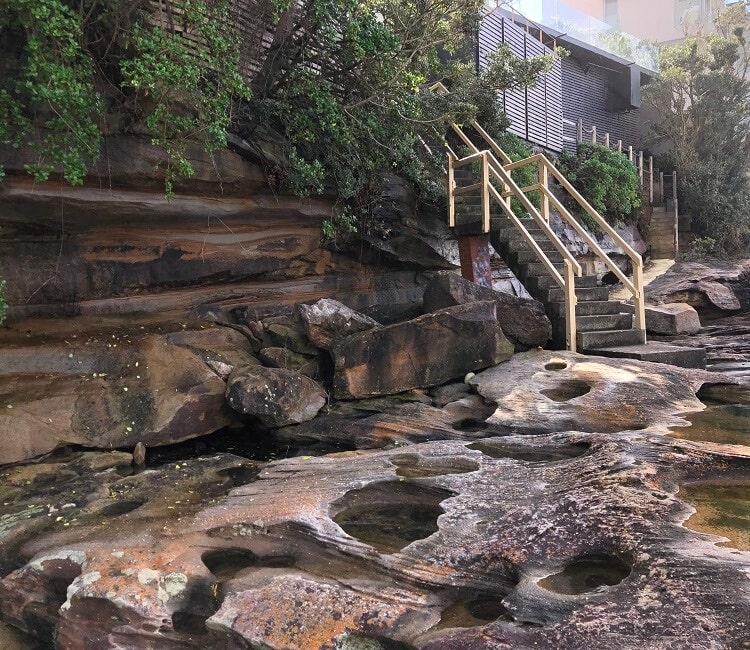 The low tide trail allows you to walk on coastal rocks and platforms right alongside the ocean, which is quite an amazing experience.
This is also where you might be able to spot the Rob Walker Rock Pool, a natural swimming pool that blends in perfectly with the ocean.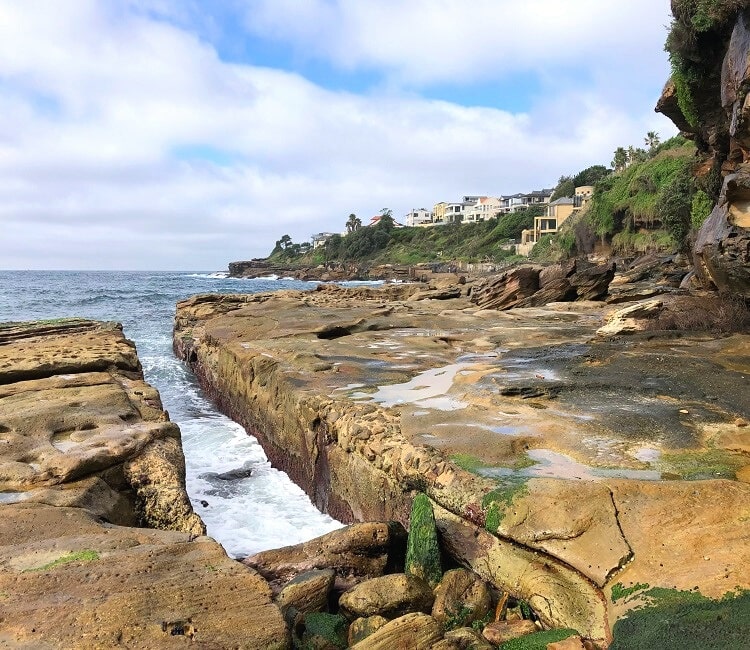 Towards the end of the low tide trail, the path continues eastbound along Marine Parade towards Mistral Point.
6. Mistral Point
Mistral Point is a rocky headland just north of Maroubra Beach, from where visitors can enjoy spectacular 360-degree ocean views.
Besides the views, the rock formations themselves are interesting enough to go ahead and spend some time exploring Mistral Point.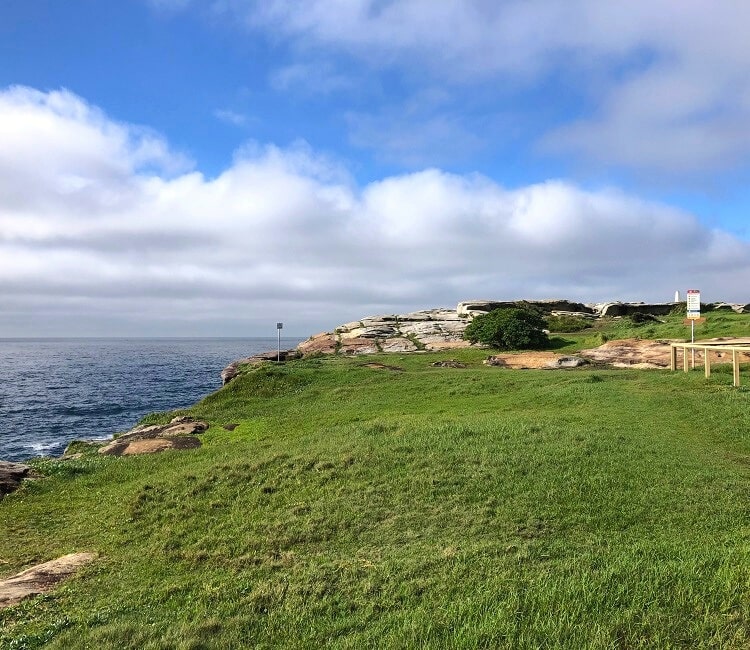 The walking track doesn't actually go onto the headland, but it's worth going off-track to soak in the views from the rocky platforms.
Moments away from Mistral Point is the Mahon Pool, which you can walk past by doing a short detour from the main walking path.
7. Mahon Pool
Mahon Pool is one of Sydney's best ocean pools, built in the 1930s as a naturally formed seaside rock pool.
Due to its location away from the beach and close to the ocean, Mahon Pool is still a bit of a secret swimming spot in Sydney, where visitors can enjoy a quiet swim with fantastic views.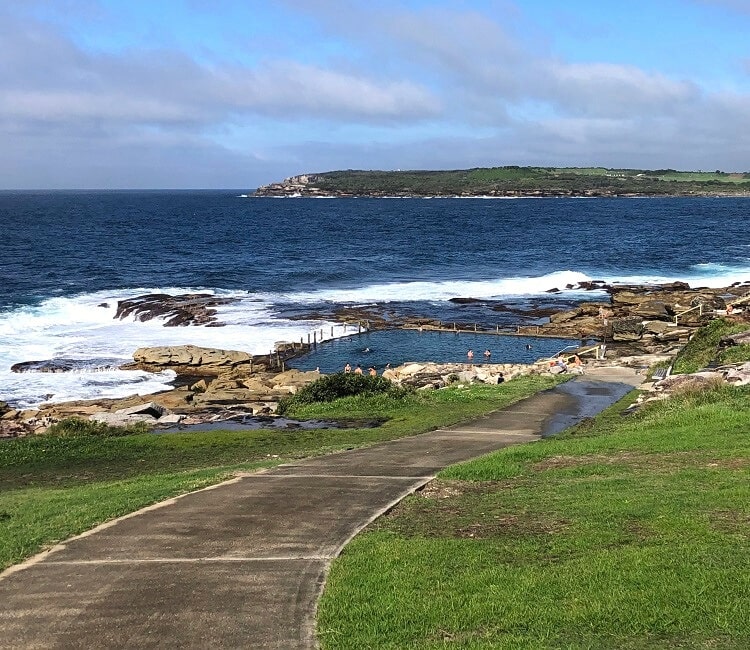 A car park on Marine Parade is conveniently located a short stroll away from the ocean pool, with toilets, showers, and change rooms also nearby.
From the Mahon Pool, the trail continues along Marine Parade all the way to the beautiful beach of Maroubra.
8. Maroubra Beach
Maroubra is one of Sydney's most popular beach-side suburbs, with a very long and spacious beach and many great cafes and restaurants along Marine Parade and McKeon Street.

Still feeling energetic after completing the walk from Coogee to Maroubra?
You can continue hiking southbound and do the Malabar Headland Walk, a beautiful circuit trail through bush and coastal landscapes.