Last updated: June 17, 2021
The somewhat undiscovered Cowan to Jerusalem Bay walking track guides hikers through scenic bushland, ending up at a picturesque bay that is perfect for a swim and a quiet picnic.
It's an easy, but at times very steep, 2.4km trail down to the bay, where you can enjoy great views overlooking Cowan Creek.
Cowan to Jerusalem Bay Track
Distance:
2.4 km (one way)
Time:
1 hour
Grade:
Easy / moderate (steep parts)
Dogs:
Not allowed
As the walking track to Jerusalem Bay starts at the Cowan train station, the best way to get there is by train. It's a very convenient trip from Sydney Central that takes less than one hour.
During weekends you can take advantage of the $8.05 cap on all public transport travel with the Opal card. Cowan train station is serviced by the Central Coast & Newcastle Line.
If you're travelling by car, there is free suburban street parking available close to Cowan train station. There is also a small commuter car park located next to the train station.
Cowan to Jerusalem Bay Track
The 2.4km trail between Cowan and Jerusalem Bay is part of the Great North Walk, a monstrous 250km track between Sydney, Hunter Valley and Newcastle, that only the true adventurers and professional hikers dare to undertake.
Luckily we don't have to hike 250km to see all the beautiful things that this part of New South Wales has to offer. Instead, we can simple do shorter sections.
One of these sections is the 4km trail from the Cowan train station to Jerusalem Bay. It takes around 1 hour to get to the water and about 1.5 hours to get back to Cowan.

Please note that while the track is short, it's actually quite a difficult track with some very steep parts (especially at the beginning) and rough and uneven surfaces at times.
Once you're at Jerusalem Bay, instead of returning to Cowan, you have the option to continue further north to Brooklyn which is an extra 10km.
What's great is that you can simply catch the train from Brooklyn station back to Sydney, or back to Cowan if your car is parked there.
Cowan Train Station
The start of the scenic track to Jerusalem Bay is well signposted from the train station.

Simply follow the signs to Brooklyn and the Great North Walk, cross the rather uninspiring bridge over the noisy motorway, and make your way into the serenity of the forest in front of you.

The first part of the trail is very steep and rocky, but this soon slowly evolves into a pleasant forest path.
After about half an hour you will start seeing glimpses of water, as you walk along Cowan Creek towards the bay past huge gum and eucalyptus trees and little waterfalls.

At this point it feels like Jerusalem Bay is very close, but there is actually still quite a bit to go before you arrive at the bay.
Jerusalem Bay
Keep following the path until you get to an elevated point where you can enjoy some pretty amazing views over Cowan Creek and Jerusalem Bay.
It's hard to imagine that the city is less than an hour away, as it just looks and feels like you're in a little paradise far away from civilisation.

On a warm day it's definitely recommended to go for a refreshing swim. There are some flat, rocky surfaces around the water's edge where you can put your towel and belongings down before going into the water.
The quiet and peaceful surroundings of the bay and the trees make swimming here such a unique experience.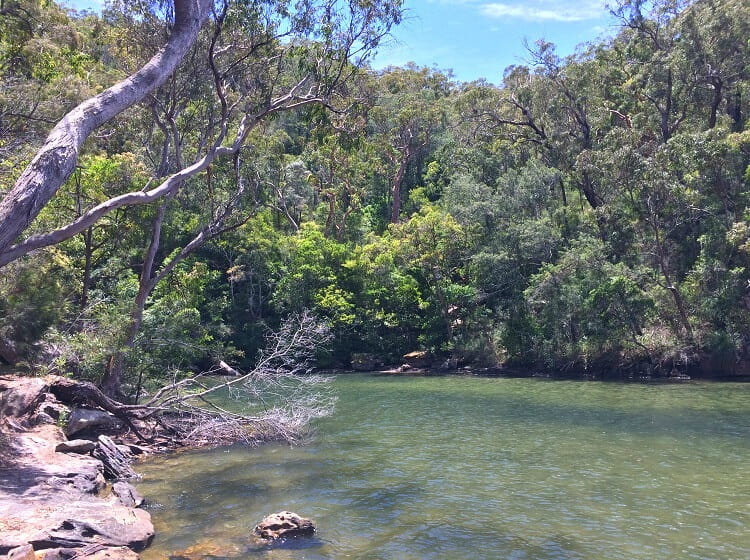 It never really gets busy at Jerusalem Bay as there is no road access, and you need to have a bit of an adventurous mindset to hike down to the water from Cowan.
The other obvious way to get to the bay is by boat. You will notice quite a few boats floating around the bay, which is actually quite a pretty sight.

There are other walking tracks nearby if you're keen to do a bit more exploring in this beautiful part of the world.
As mentioned, the walk between Cowan and Jerusalem Bay can be extended to Brooklyn from where you can catch the train back to either Cowan or Sydney.
The total distance of this tough walk is around 13km, so make sure you come prepared with good hiking shoes and lots of water and snacks.
Another adventurous walking track is the 13km hike between Cowan and Berowra via Berowra Waters.
This hard walk explores the ridges and valleys around Berowra Waters, with great views and vantage points along the way. Berowra Waters is also a suburb with great accommodation and restaurant options.
The best way to get to Cowan is to simply catch the train, because the start of the walk is right next to the train station.
Cross the tracks at the south side of the station to get to the other side, and follow the signs for Brooklyn and the Great North Walk.