Last updated: May 4, 2023
The Curra Moors Loop Track is a 10 km circuit walk in Royal National Park that offers a good mix of scenic bushland and panoramic coastal views.
It's a moderately challenging walking track that ticks all the boxes for those looking for a fun hike to do on the weekend while also getting a decent workout in.
We enjoyed the Curra Moors Loop Track so much that it has been included in our list of best hikes in Royal National Park.
Curra Moors Loop Track
Distance:
10 km (circuit)
Duration:
3 hours (depending on stops)
Grade:
Moderate
Dogs:
Not allowed
The start of this walking track is on Sir Bertram Stevens Drive in the south-eastern section of Royal National Park (see map location).
There is a small dedicated car park for this walking track, but it tends to fill up quickly on weekends. If it is full when you get there, try and park on the side of the road.
To park there, you will need to pay the $12 Royal National Park entrance fee, either at the booth at the entrance to the park or at the pay machine at the start of the walking trail.

Curra Moors Loop Track Notes
The Curra Moors Loop Track is approximately 10 km long, including two side trips to Eagle Rock and Garie Beach.
It's a moderately challenging bushwalking track on a path that is easy to follow. There are a few sections where the surface is a bit rough, but overall this is a well-maintained walking trail.
We are going to describe the Curra Moors Loop Track along the following sections and landmarks, in a clockwise manner:
Start of the walk
Curra Moors North
Eagle Rock (side trip)
Coast Track
Garie Beach (side trip)
Curra Moors South
Here is a map of the walking track:

1. Start of the Walk
Once you've parked your car, look for the signpost as per the picture above, and head into the bush to start this exciting hiking adventure.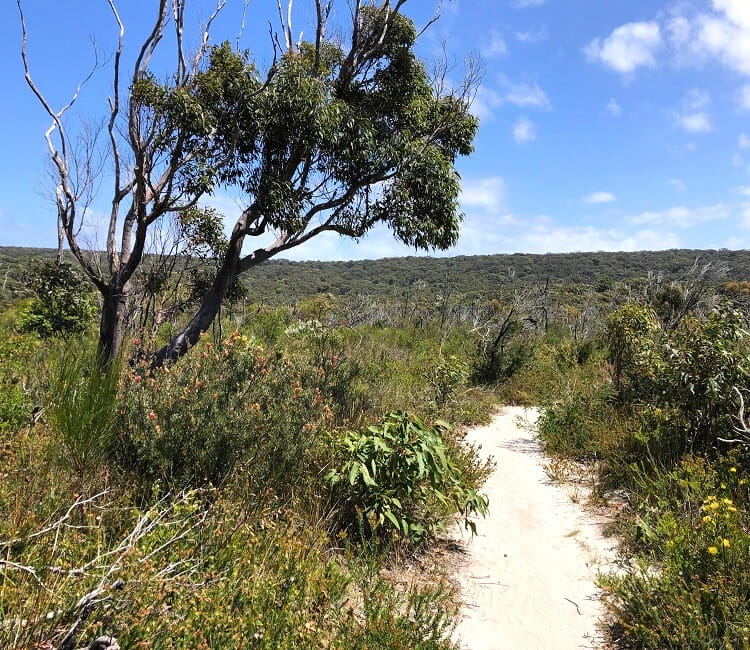 The first section of the track is a pleasant walk through scenic bushland, slowly evolving into a more open landscape with heath vegetation.
After approximately 1.7 km of hiking, the trail arrives at an intersection where the Curra Moors Track essentially turns into a circuit walking track.
2. Curra Moors North
At this intersection, you can either make a right turn, or you can simply keep heading straight and complete the walk in a clockwise manner, which is what we would recommend.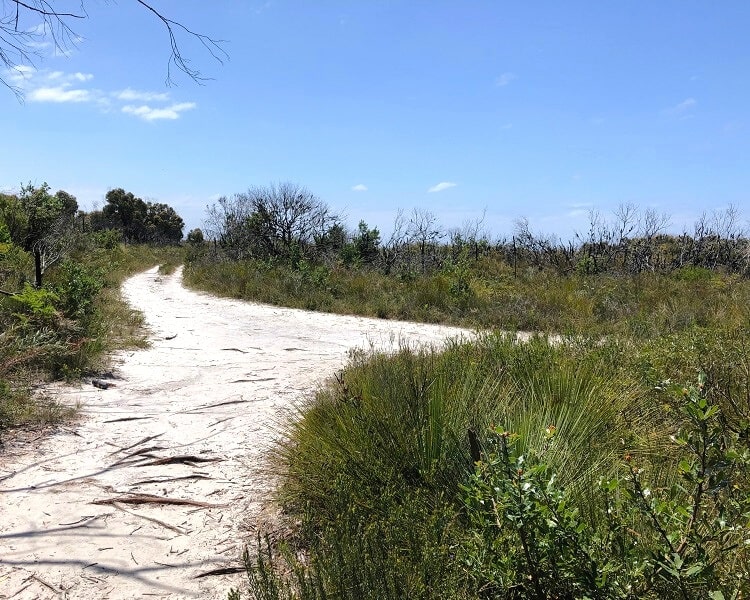 The northern section of the Curra Moors Loop Track is mainly on a fire trail with, especially during the spring months, lots of colourful wildflowers to be discovered.
The trail soon crosses Curra Brook, which means you're now getting closer to the coast, where you can do a short side trip to Eagle Rock and Curracurrong Falls.
3. Eagle Rock (Side Trip)
At the Coast Track signpost, turn left to go and visit Eagle Rock, which is only a couple of hundred metres away from that intersection.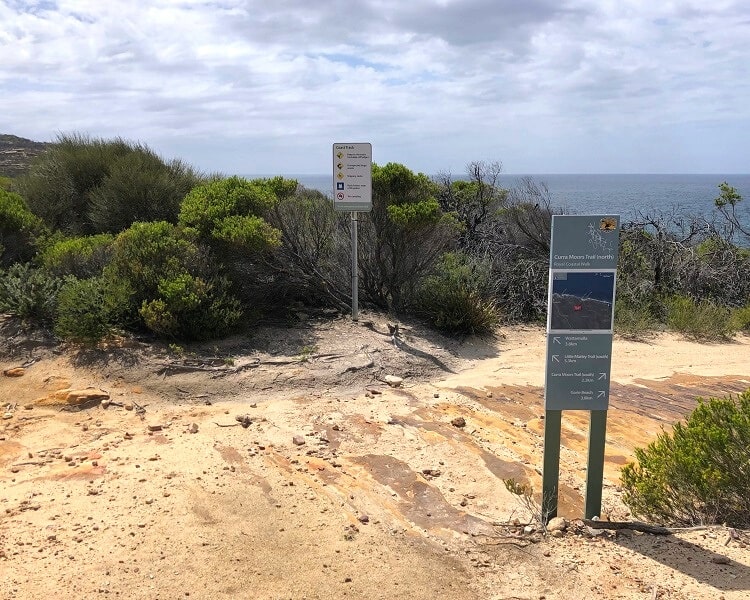 Eagle Rock, or Eagle Head Rock, is a fascinating rock formation resembling an eagle's beak jutting from the cliff.
If you cross Curracurrong Creek to the other side, you can have a closer look at this rock formation and even stand on top of it.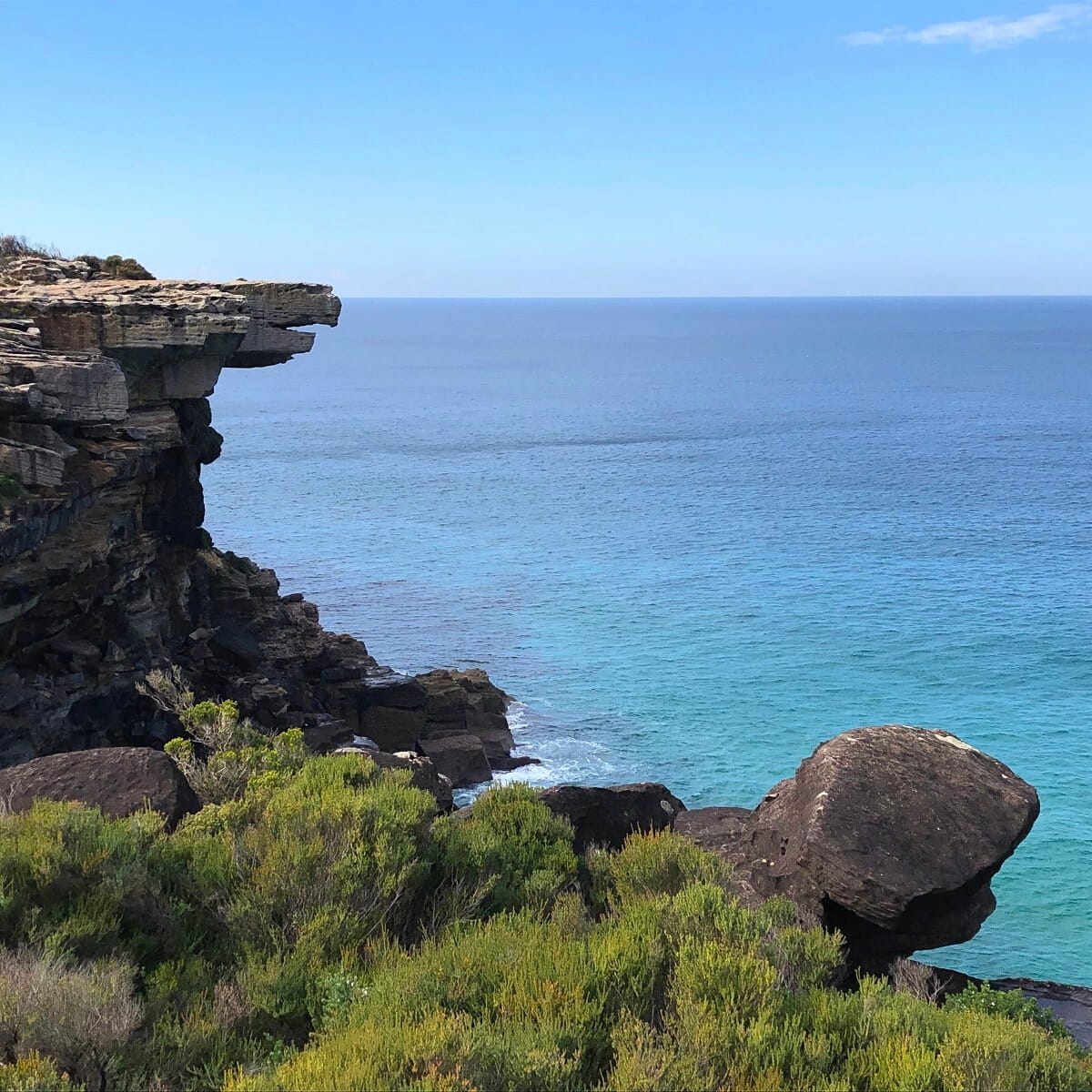 Curracurrong Falls is where Curracurrong Creek drops into the ocean, right next to Eagle Rock. This waterfall is one of the very few waterfalls in the world that drop straight into the sea.
Another way to visit these two iconic landmarks is by doing the Wattamolla to Eagle Rock walking track, a beautiful 8 km return coastal hike.
4. Coast Track
Once you've finished exploring Eagle Rock and Curracurrong Falls, it's time to do a section of the Coast Track heading southbound towards Garie Beach.

This scenic part of the circuit walk is mostly on metal boardwalks along the coastline, with some pretty spectacular ocean views to take in, followed by a landscape of trees and heath vegetation.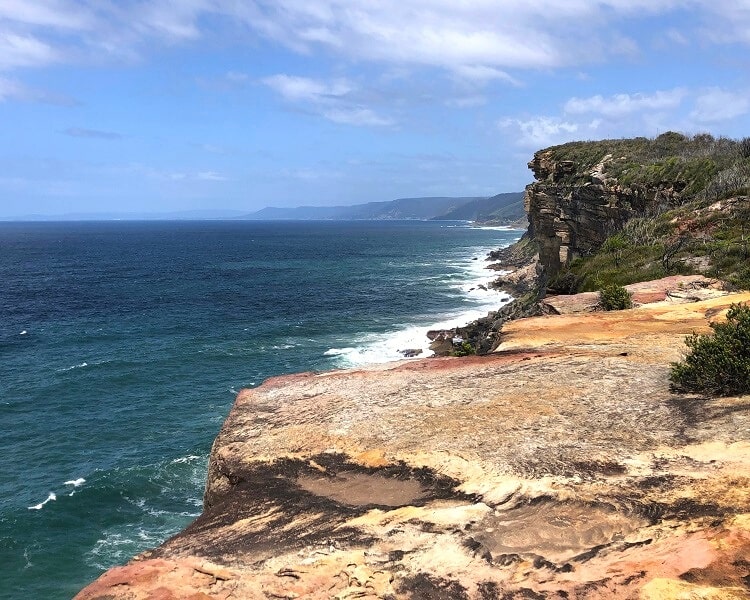 After approximately 2 km on the Coast Track, you will arrive at another junction where you can continue straight ahead to visit Garie Beach or make a right turn to complete the circuit walk.
Read our Coast Track guide for a more detailed outline of this iconic Sydney walking track.
5. Garie Beach (Side Trip)
We do strongly recommend to do the short side trip to Garie Beach, if only for the fantastic views you get to enjoy of the beach from a distance.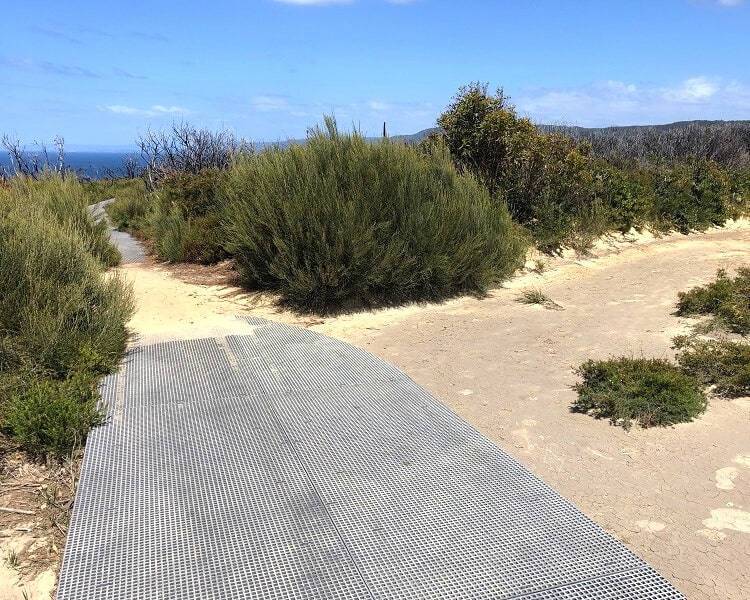 From that vantage point, the track makes a rather steep descent towards the beach, but there's no need to go all the way down if you just want to take in the views.

Garie Beach is one of the few beaches in Royal National Park that is actually patrolled, with the Garie Surf Life Saving Club keeping people safe.
It's still considered a hazardous beach though, so it's essential to always stay between the flags when going for a swim.
6. Curra Moors South
Retrace your steps back to that junction, where you can turn left to complete the southern section of the Curra Moors Loop Track.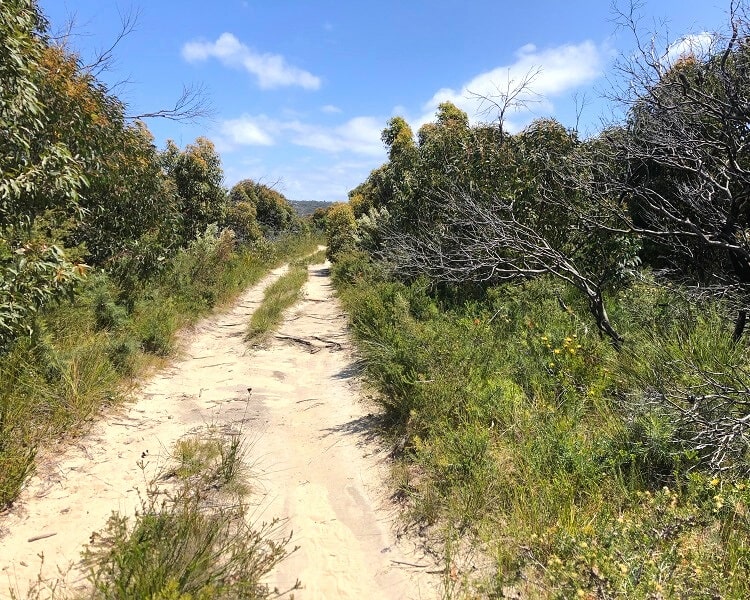 The trail soon arrives back at the intersection where you started the loop.
From there, simply follow the walking trail through the bush back to the car park on Sir Bertram Stevens Drive.