Last updated: August 29, 2023
The Fortress Ridge Trail is a not so well-known hike in the Blue Mountains that leads to an incredible vantage point with panoramic views of the Grose Valley.
A second walk, starting from the same car park, leads to Fortress Rock, another beautiful lookout point with scenic valley views from a different angle.
This second walk also offers the opportunity to do a side trip to Dr Dark's Cave, a "secret" cave with historical value. Read on to find out more!
Fortress Ridge Trail
Distance:
7.5 km (return)
Time:
3 hours
Grade:
Moderate
Fortress Rock Lookout
Distance:
2.5 km (return)
Time:
1 hour
Grade:
Easy (few steep sections)
Both walking tracks to Fortress Ridge and Fortress Rock start from the Fortress Ridge Carpark, located on Mount Hay Road (see map location).
Mount Hay Rd is accessible from the Great Western Highway, close to Leura Mall. The first 3 km are sealed, followed by 6 km of unsealed road.
It's certainly a challenging road, but we have found that the section up to Fortress Ridge is doable with a 2WD vehicle, as long as care is taken.

In the above map:
A: Fortress Ridge Carpark
B: Fortress Ridge
C: Fortress Rock Lookout
The car park is relatively small, but since this is not the most well-known hike in the Blue Mountains, there should be enough parking space available.
The walking tracks to both Fortress Ridge and Fortress Rock are reasonably easy to follow from start to finish.
There are a few sections where the vegetation becomes a bit dense, and there is also a little bit of climbing involved, but overall the tracks are suitable for anyone with a reasonable fitness level.

You will find the starting point of the walking track (initially a fire trail) at the gate at the western end of the car park.
There are no signs or information boards, but it's pretty obvious where to start this hiking adventure.

A few hundred metres into the walk, the trail splits into two. If you're heading to Fortress Ridge first, turn right at this intersection.
Otherwise, if you're doing Fortress Rock first, follow the path to the left. We recommend going to Fortress Ridge first, as that is the longest walk.

The Fortress Ridge Trail starts as a fire trail and then soon turns into a bushwalk through various types of vegetation and scenery.
Some sections of the walk are very open, whereas in other sections, the path is rather narrow and goes through areas of trees and bushes.

It's this variation in the landscape that makes the trail quite interesting and enjoyable, with the views at the end of the ridge as the big reward.
What's great about Fortress Ridge is that the views are so open and far-stretching that it's possible to identify quite a few famous Blue Mountains landmarks.

On a clear day, you should be able to identify Govetts Leap, Lockleys Pylon, Du Faur Head, Mount Banks, Mount Hay, and the Blue Gum Forest.
Once you've finished taking in the incredible views at Fortress Ridge, retrace your steps back to the intersection with the trail to Fortress Rock.
The second walking track, to Fortress Rock, is significantly shorter than the trail to Fortress Ridge.
It's also a very easy walk, except for the short bit at the end, where the trail turns into a steep descent to the actual lookout. Be mindful that it's not a fenced lookout, so please be careful.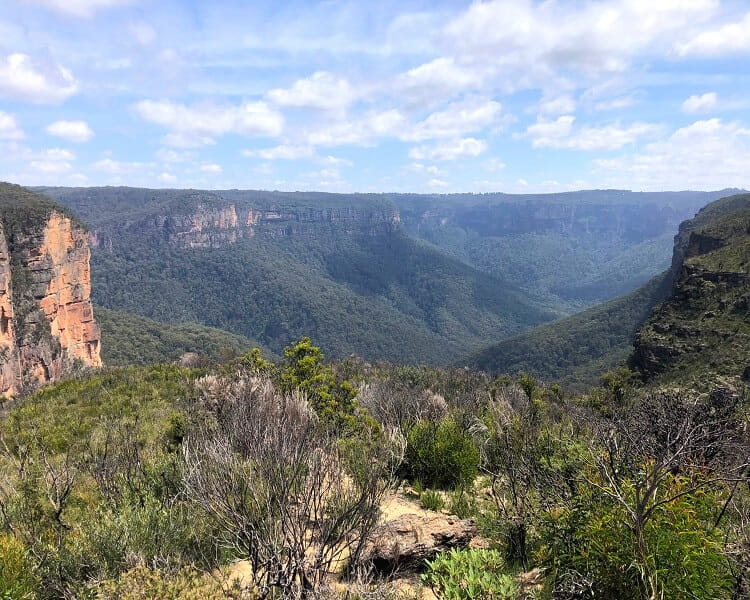 The views from the lookout are breathtaking, with a section of the Grose Valley right in front, surrounded by two giant cliff walls.
If you look carefully, you should be able to see a waterfall at the bottom of the cliff to the west. This is an unnamed waterfall on Govetts Creek, which later joins Grose River further into the valley.

Dr Dark's Cave
You may or may not have heard of Dr Dark's Cave. It's a hidden cave discovered by a medical practitioner named Eric Payten Dark in 1937, which served as a retreat for him and his family for many years.
Relics from the Dark family are still there, such as a fireplace, pots, pans, and sleeping mats, making it a special place in the Blue Mountains.
To get there, look out for an intersection with a track going northbound heading into the bush (see map location). This is not a signposted track and requires a bit of an adventurous mindset.

We haven't been to this cave, so we can't report on the difficulty of this track, but as far as we know, it is indeed a bit of a challenging walk.
Check out this video that explains how to find that cave.
Nearby walks:
The Fortress Ridge Trail is one of several walking tracks on Mount Hay Rd. If you're keen to do more walks nearby, check out the
Lockleys Pylon walking track
(very close by) and the
Mount Hay summit walk
(at the end of Mount Hay Rd).