Last updated: January 31, 2022
The coastal walk from Garie Beach to Era Beach in Royal National Park is a beautiful walking trail that forms part of the iconic Coast Track.
The trail takes in four beaches with a couple of steep climbs leading to vantage points with incredible views of the national park's coastline.
We enjoyed the Garie Beach to Era Beach trail so much that it has earned a spot on our list of best walking tracks in Royal National Park.
Garie Beach to Era Beach
Distance:
5 km (return)
Duration:
2 hours (depending on stops)
Grade:
Easy / moderate (steep sections)
Dogs:
Not allowed
Driving to Garie Beach is very easy. Once you're in the Royal National Park, turn into Garie Road from Sir Bertram Stevens Drive and drive all the way to the car park and picnic area at the end of that road (see map location).
To park your car at Garie Beach, you do need to pay the $12 Royal National Park access fee. You can pay this at the booth on Garie Road or otherwise at the booth closer to the entrance to the national park.
If the car park is full, which does tend to happen on warm sunny days, you can either park on the overflow section (check for signs) or further up on the side of Garie Road.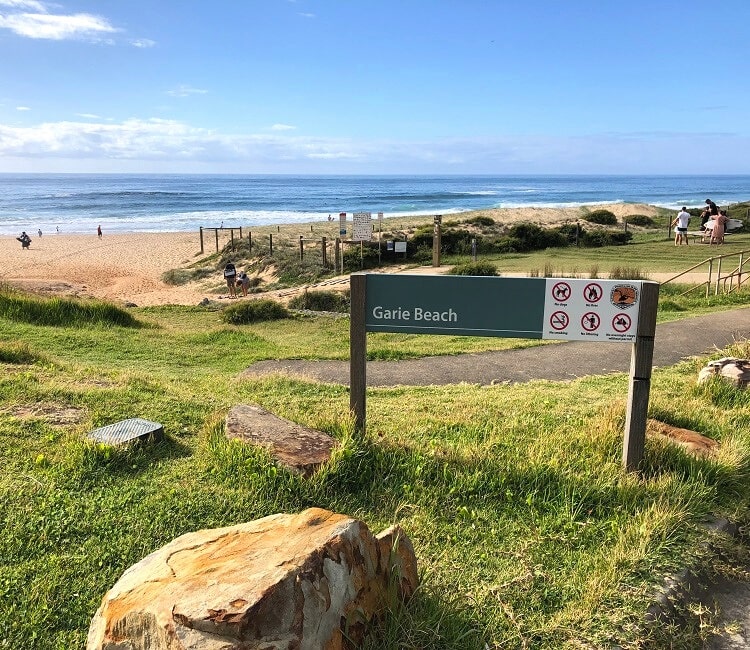 Garie Beach to Era Beach Track Notes
The hike between Garie Beach and (South) Era Beach is approximately 2.5 km one way, and is very easy to follow with a well maintained walking path and good signage.
It's a moderately challenging trail as there are a couple of steep sections, but anyone with a reasonable level of fitness can easily complete this fantastic walking track.
We are going to describe this walk along the following landmarks and highlights, from north to south:
Garie Beach
Little Garie Beach
North Era Beach
South Era Beach
Below is a map of the walk from Garie Beach to Era Beach including those four landmarks and highlights:

1. Garie Beach
Once you've parked your car and you're ready to go, head to the beach and look out for the walking path that runs right behind the beach.
Garie Beach itself is a 900 metres long strip of sand that is patrolled by the Garie Surf Life Saving Club on weekends.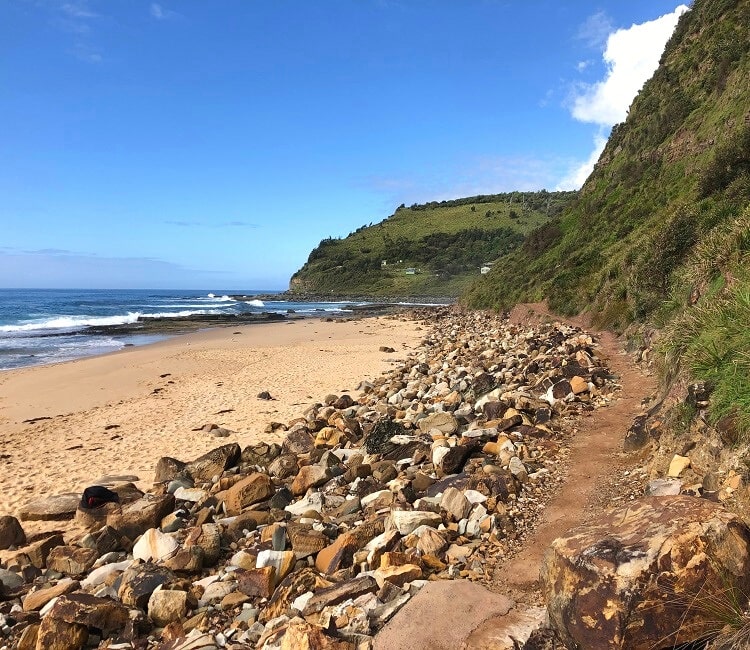 It's a popular swimming and surfing beach with excellent facilities, such as toilets, a kiosk, a large car park, and a picnic area.
Swimming can often be a bit challenging at Garie Beach as the water can be quite rough there, so make sure you always stay between the flags.
2. Little Garie Beach
After walking about 500 metres, the walking trail behind Garie Beach soon reaches a much smaller strip of sand which is referred to as Little Garie Beach.
It is indeed a cute little beach, surrounded by rocks, but it might not be the best beach to go for a swim.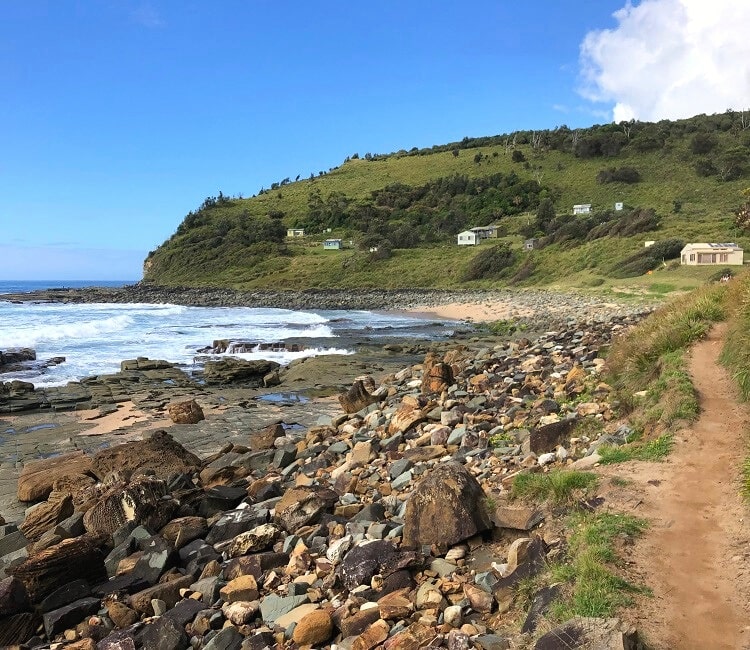 From Little Garie Beach, the trail continues up the hill, walking past the various small cabins that form part of the Little Garie Shack Community.
Most of these cabins were built by families in the first half of the 20th century, before the land became part of the Royal National Park. The cabins have always been, and still are, completely off the grid.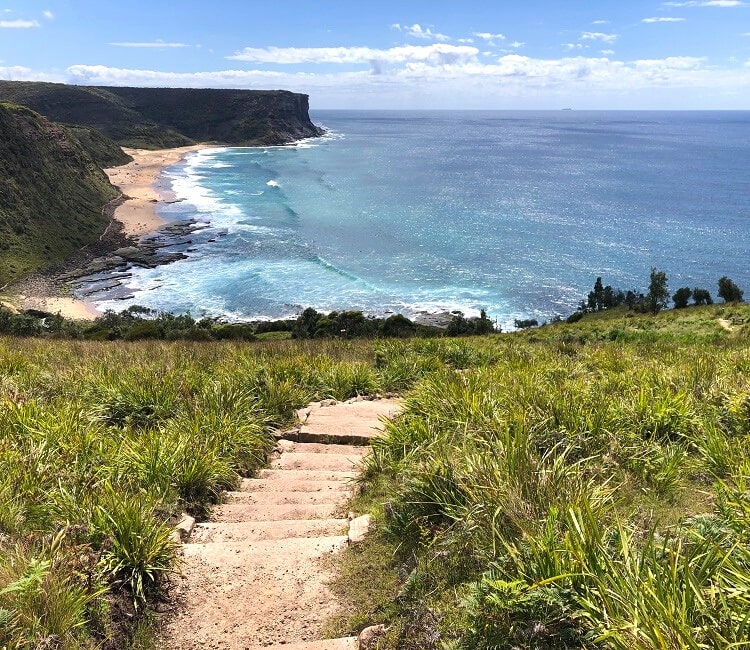 The walking trail up the hillside is mostly via a very long staircase, to finally reach the top of Thelma Head, the headland between Little Garie Beach and North Era Beach.
The views from this headland, as you climb up the staircase, are absolutely fantastic, with Garie Beach and Garie North Head clearly visible in the distance.
3. North Era Beach
Once you've reached the top of Thelma Head, the track continues on to the other side of the headland where you will descend to North Era Beach, again via a long staircase.

The views over North Era Beach and South Era Beach, as you make that descent, are superb, and quite similar to the views from the other side of the headland.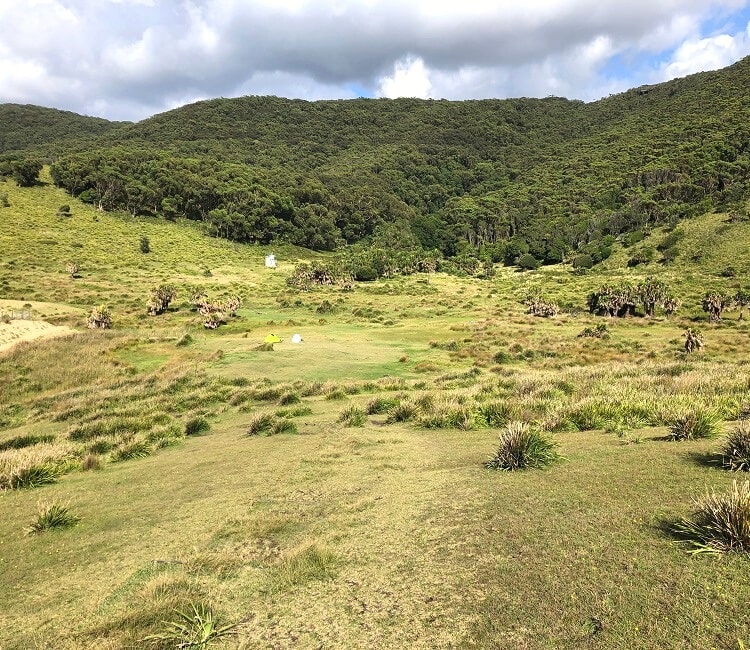 The trail continues past the North Era Campground which is located on a large grassy area behind the beach.
This campground is mainly used by those doing the Coast Track between Bundeena and Otford in two days. Note that bookings for this campground are essential, if you wish to stay there overnight.
4. South Era Beach
To continue the trail to South Era Beach, follow the signs for the Coast Track leading to a path that goes over the hill.
This is an uphill climb via metal boardwalks but it's definitely not as steep or as far as getting to the peak of Thelma Head.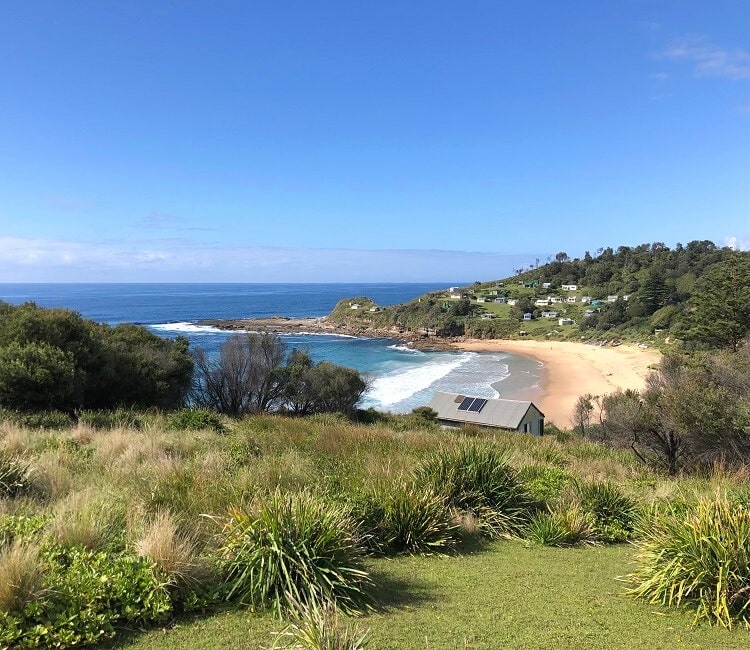 South Era Beach is bigger than North Era Beach, and even has its own surf life saving branch with life savers on duty on the weekends.
Swimming can be quite hazardous at both Era beaches, so make sure you stay between the flags at all times if you wish to go for a swim.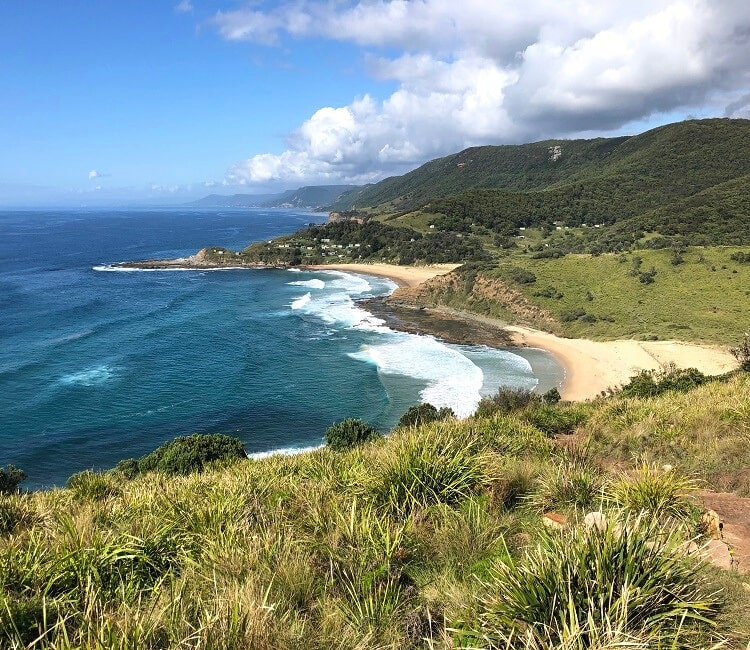 Note that when you return to South Era Beach, you can also do this via the rocky area between the two beaches at low tide.
There is a bit of rock scrambling involved, but overall it's shorter and quicker than returning via the hill.
Continue Hiking?
Once you've made it to South Era Beach, you can choose to keep hiking southbound as far as you wish. As this is part of the Coast Track, the trail continues all the way to Otford at the southern end of Royal National Park.
If you don't want to go that far, perhaps consider going to the next beach, which is Burning Palms Beach. It's another beautiful strip of sand that is nice for a quick swim, depending on the conditions.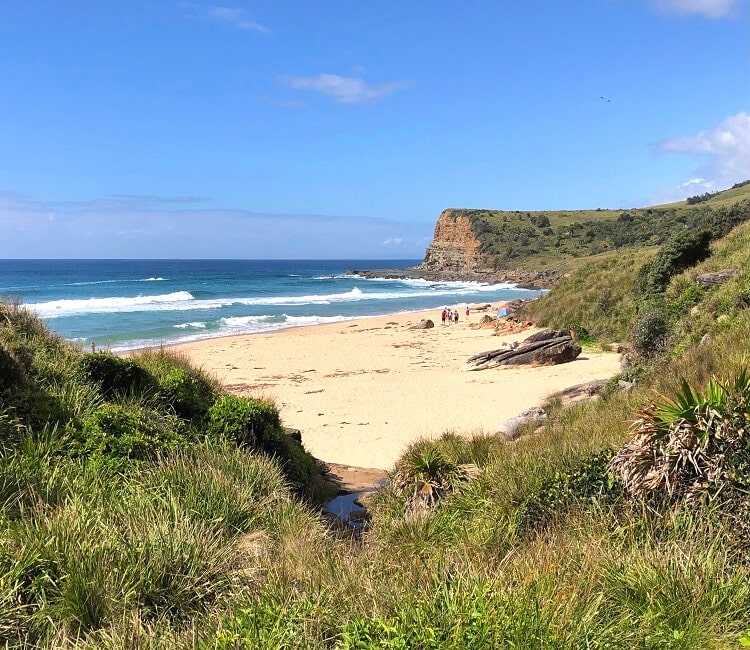 Burning Palms Beach is also the access point to Figure Eight Pools, but before going there, it's important to check the tides to make sure it's safe to go there and that you can actually see the pools.
Read more about the best beaches of Royal National Park in our guide including details on how best to access them.