Last updated: September 5, 2023
The 5.6 km return walking trail to Ikara Head in Mount Victoria leads to a lookout that offers fantastic Grose Valley views.
With a bit of luck, and when the circumstances are right, you may be able to see pink flannel flowers and other wildflowers along the way.
Keep reading to find out more about the highlights of this walk, where to park your car, and where to find the trailhead.
Ikara Head Trail
Distance:
5.6 km (return)
Time:
2 hours (depending on stops)
Grade:
Easy
The trail to Ikara Head is located in the Mount Victoria area of the Blue Mountains, and the trailhead can be found along Victoria Falls Road.
The start of this walk is not signposted and is a bit challenging to find. Even more so because Google Maps seems to be wrong about this walking track.
For the exact location, click on this Google Maps link. It's 3.6 km into Victoria Falls Road from the Great Western Highway.

It's very easy to drive past (as there is no signage), and there is only space for one car to park. If that spot is taken, simply park further up the road.
Here is a satellite view of where the trailhead can be found:

On Google Maps, if you zoom in while in satellite mode, you can identify the walking trail to Ikara Head.
Note that Victoria Falls Road is unsealed, but it is in reasonably good condition. Just be careful after rainfall when more potholes will appear.
For an even more exciting hike, try the Asgard Swamp Track, which has its trailhead only a few hundred metres further down the road.
The Ikara Head Trail is a relatively easy 5.6 km return walking trail through different landscapes.
The main challenge with this walk is that it is a bit overgrown in some sections, which means you will most likely encounter some spiderwebs.
Also note that there is no signage, but overall, the path is pretty easy to follow from start to finish.
Start of the Walk
Once you've managed to locate the trailhead, it's time to start hiking. The image below shows where the walking trail starts.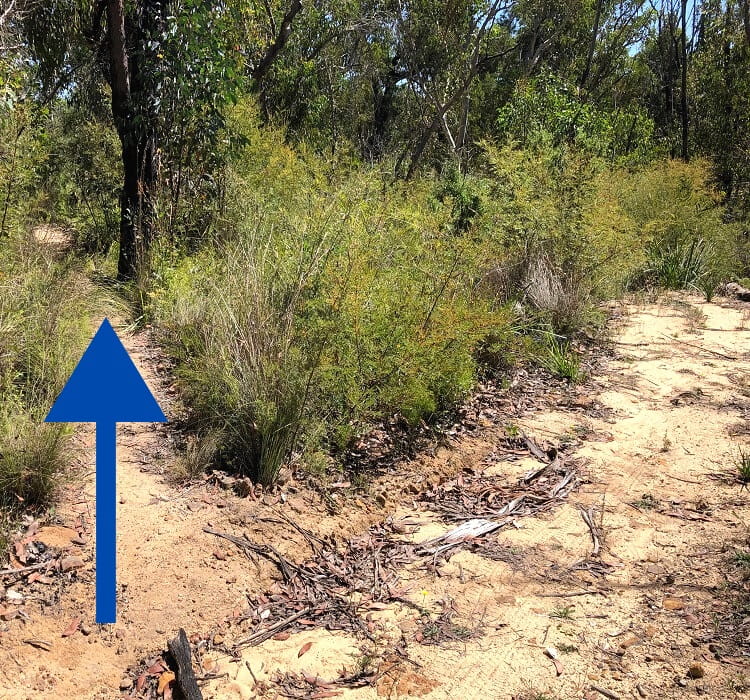 The first section of the walking track goes through a dense forest where the path is often a bit overgrown.
Using a stick or hiking poles can come in handy here to help navigate the path and remove any spiderwebs that you may walk into.

After about 15-20 minutes of walking, the scenery slowly evolves into a more open landscape with various rock formations and distant mountain views to take in.

It's in this open landscape where you'll most likely find wildflowers. The pink flannel flowers, though, are extremely rare. They tend to appear after bushfires and following a period of rainfall.
Apparently, the seeds of pink flannel flowers only germinate after fire, so in a way, it's probably best if these flowers aren't there.
Ikara Head Lookout
The trail eventually ends at Ikara Head, facing the Grose Valley and its surrounding cliff walls, with the Grose River flowing below.
There is lots of space to explore the headland, and the views are fantastic from all angles.

Since this walk is a bit of a hidden gem, there will likely be no one else around, making it the perfect spot for a quiet picnic with million-dollar views.
The Bells Line of Road is located on the opposite side of the valley, which offers access to the Pierces Pass walking track, the Walls Lookout, and the Rigby Hill walking track.

Be aware that Ikara Head is unfenced, and the area has a very uneven, rocky surface. For your safety, stay well away from the cliff edges.