Last updated: September 26, 2023
Jellybean Pool in Glenbrook is a popular natural swimming hole on Glenbrook Creek, with easy access and lots of space to swim and settle in for the day.
But as pretty as this waterhole may be, it can get quite busy at Jellybean Pool on warm and sunny weekends and during school holidays.
Read on, and find out how best to get there, where to park your car, and what some alternative pools are in this area of the Blue Mountains.
The Jellybean Pool is located in the Glenbrook area of the Blue Mountains, and is easily accessible by car as well as by train.
To drive there, take the Ross Street exit from the Great Western Highway, and then make your way to Bruce Road via Euroka Road.
Bruce Road leads directly to the Blue Mountains National Park entrance, often mistakenly referred to as the Glenbrook National Park.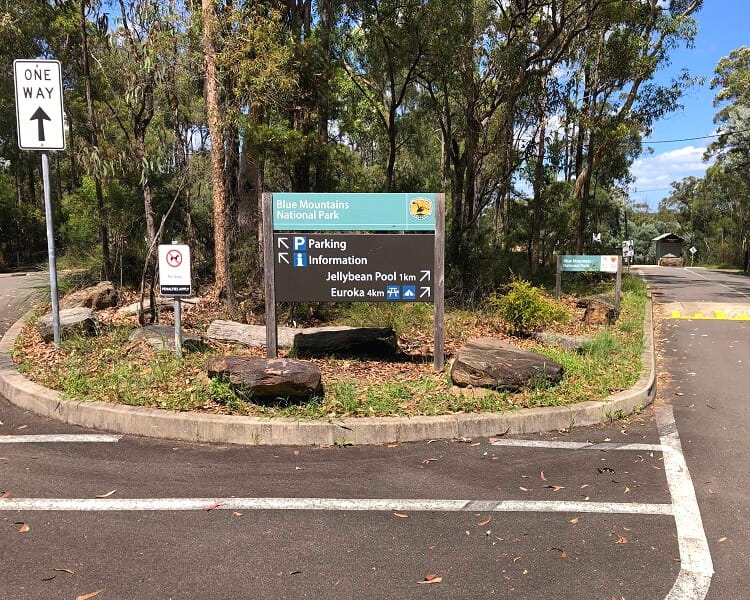 Once you access the National Park, you have two options to park your car:
The first option is to park your car at the car park just past the access gate. From there, you will need to complete an easy but steep 15-minute walking trail to get to the pool.
The second option, which most people do as a first choice, is to park at the designated Jellybean car park, located further up on Jellybean Road.
To park your car in this area of the Blue Mountains, you will need to pay a day use fee, or use your National Parks annual pass if you have that.
In the below map, those two parking areas are marked as P1 and P2, with the walking trail being the blue line:

Once you've parked your car, it's time to visit Jellybean Pool, either via the Jellybean Track or from the designated Jellybean car park.
Jellybean Track
If you're keen to do the short walking track from the main car park (or if you're forced to do so because the Jellybean car park is full), you can find the start of that walk at the southern end of the car park.

While this trail is a bit steep, it's a very short and family-friendly walking track that is well-signposted and well-maintained.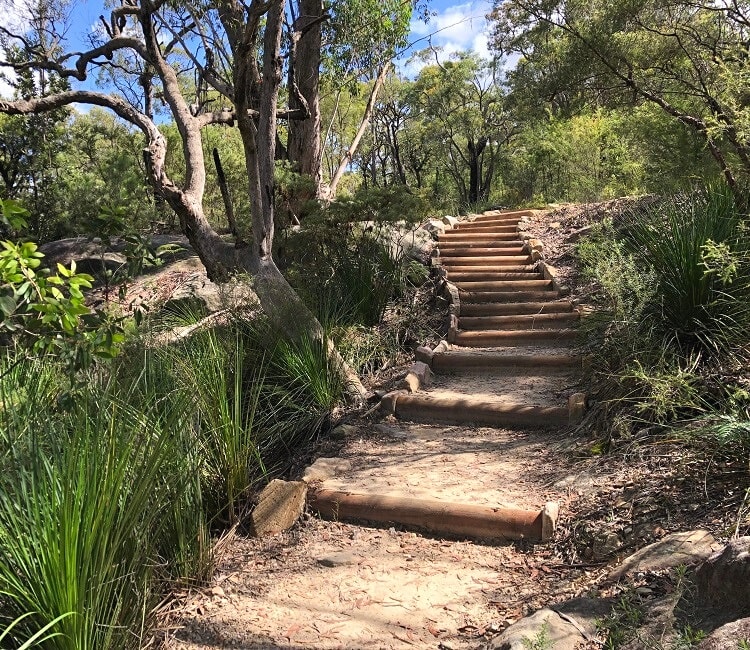 Once the trail arrives at the designated Jellybean car park, follow the steps down to the pool on a short but steep path.
Unfortunately, because of the steps, Jellybean Pool is definitely not a wheel-friendly destination.
Jellybean Pool
When you look at the pool from higher up, as you make your way down the steps, you can see where this waterhole got its name from.
With a healthy dose of imagination, the pool does look a bit like a jellybean. But only a little bit.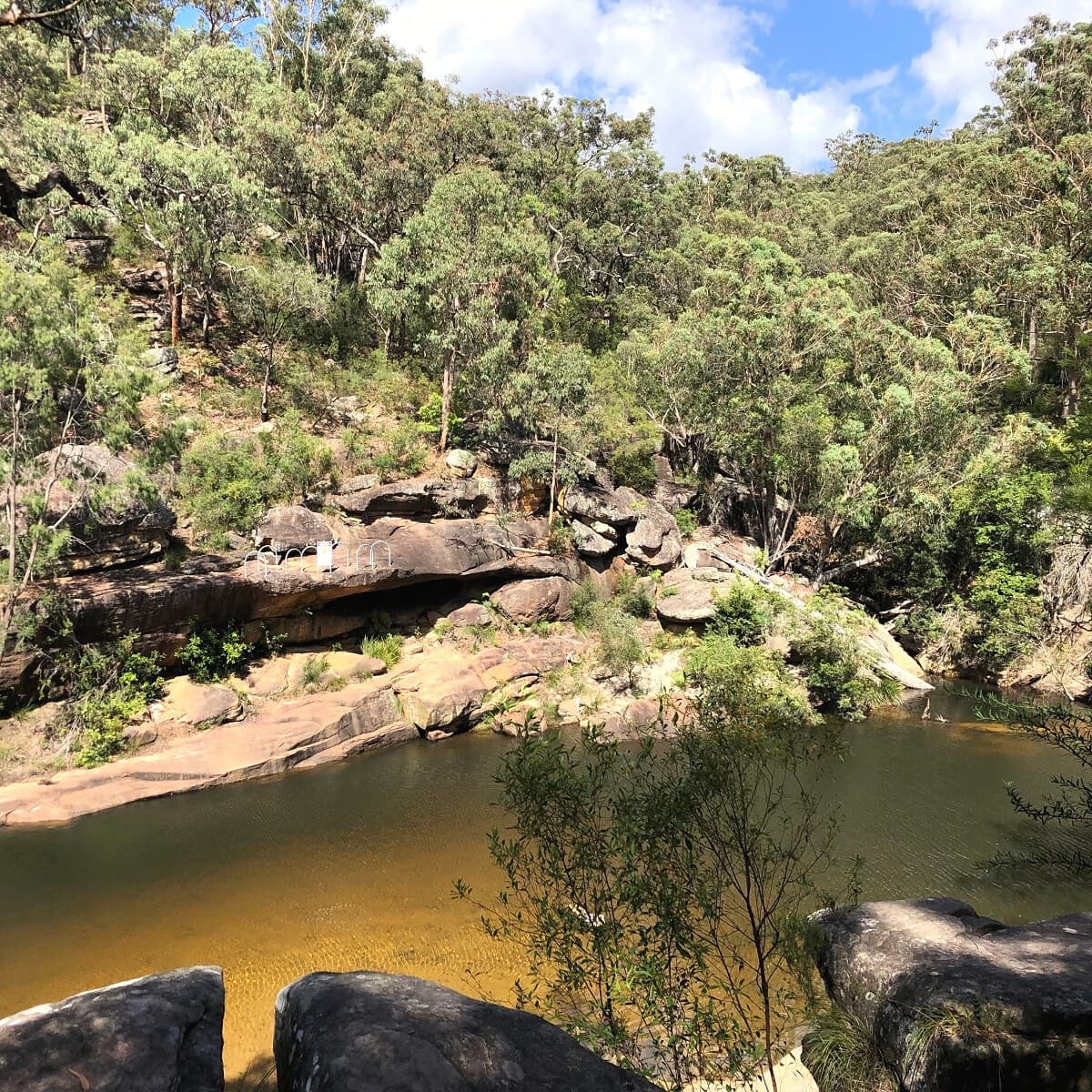 It's quite a large pool, so feel free to wander around and explore the beautiful surroundings and find a good spot to settle in.
Depending on how much water there is, the sandy beach area is probably the best spot to lay down a towel, so you can easily walk into the pool.

Please be mindful that swimming in the wild is always riskier than in a supervised swimming pool.
Don't jump into the water as there may be rocks submerged; if you have kids with you, always stay with them when swimming.
When to Visit
It must be said that Jellybean Pool has become a bit of a victim of its own success in recent years.
Because the pool is so easily accessible (Lower Blue Mountains, two large car parks, easy walking track, toilet facilities) and because it's so beautiful, it's no wonder this spot has become such a popular destination.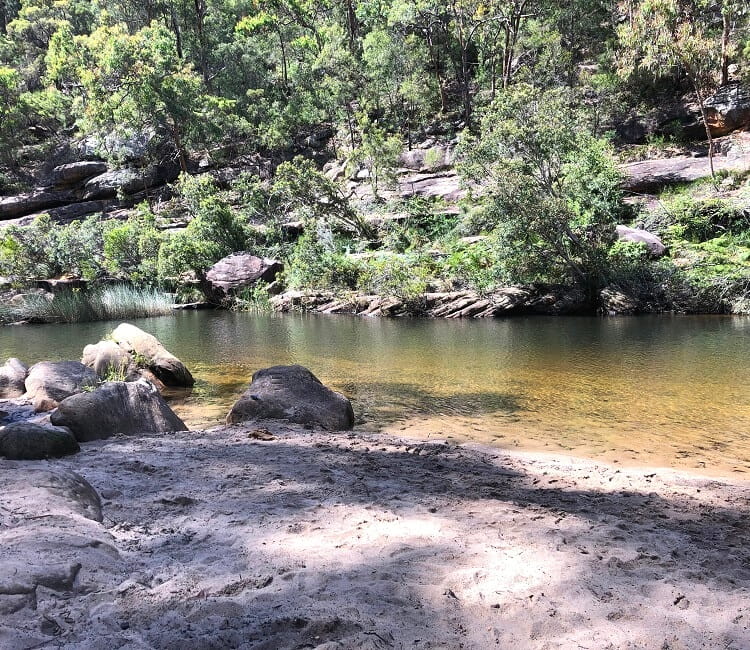 It does get crowded at Jellybean Pool on warm summer days, especially on the weekends and during holidays.
So, if you want to avoid those crowds, either go early or on a weekday outside the holidays. Or otherwise, go during the cooler months if you don't mind the lower water temperature.
Keen to visit an amazing lookout point nearby?
Drive to the end of Mount Portal Trail via The Oaks Trail and visit the Portal Lookout, which offers amazing district views.
If Jellybean Pool happens to be overcrowded, or if you wish to explore the Glenbrook area a bit more, there are a couple of great options.
Or, if you'd like to find waterholes further away, have a look at our list of best Blue Mountains swimming holes for even more scenic spots to go for a dip.
1. Blue Pool
Blue Pool is another natural waterhole that is located very close to Jellybean Pool but usually doesn't attract the same crowd numbers.
To get there, drive past the main car park where Bruce Road evolves into The Oaks Trail. After a few hundred metres, you will see a designated parking area for Blue Pool.

While it may not have a sandy beach area, there is enough space on the rocky areas where you can place your towel and go for a swim.
The walking trail to this waterhole is short, but the path is a bit more challenging than the trail to Jellybean Pool, although very doable.
2. Glenbrook Gorge
The Glenbrook Gorge Track is a challenging walking trail to and along Glenbrook Creek, which eventually feeds into the Nepean River.
The first section of the walk is a relatively easy descent to the creek but is then followed by a more challenging section along the creek, past several waterholes.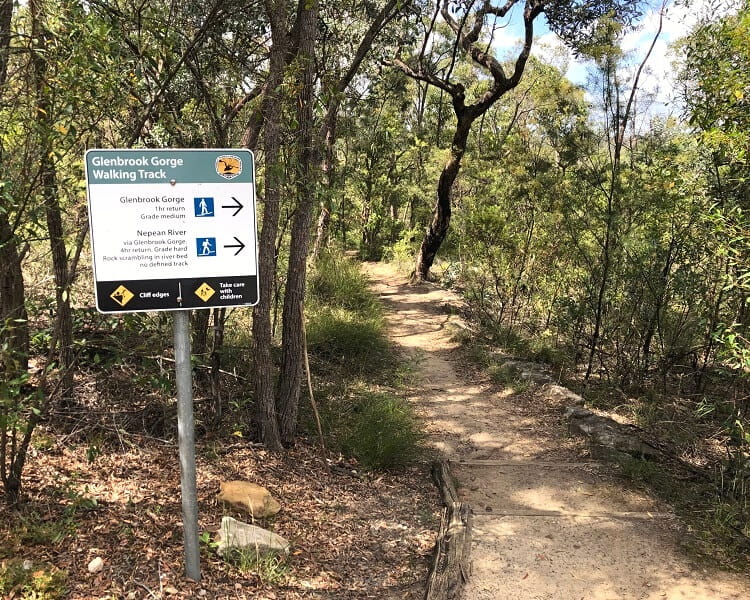 The second part of this track is best suited for experienced bushwalkers because the track can sometimes be difficult to navigate.
The scenery is beautiful, and the waterholes you can find there are fantastic to swim in on a warm day.
You can find the start of this walking track close to where the starting point of the Jellybean Pool Track is located.