Last updated: October 29, 2021
Karloo Pools near Heathcote in the Royal National Park is a beautiful natural water hole that can be accessed via a short bush walking track.
With rock ledges surrounding the water hole and covered areas to place your belongings, Karloo Pools almost looks like a man-made swimming pool in the middle of the bush.
A moderately challenging 2.5 km long section of the Karloo Track will get you to this natural oasis, with the option to continue walking to Uloola Falls.
Heathcote to Karloo Pools
Distance:
2.5 km (one way)
Time:
1 hour
Grade:
Moderate (steep sections and rough surface)
Dogs:
Not allowed
Because the start of the walking track to Karloo Pools is very close to the Heathcote train station, travelling by train is a good option.
Heathcote station is serviced via the T4 Eastern Suburbs and the SCO South Coast train lines, with good connections to the city and Bondi Junction.
Driving is of course also an option, with free parking available at or near the train station, particularly along Wilson Parade just behind the station (map).
The track starts at this signpost on Wilson Parade: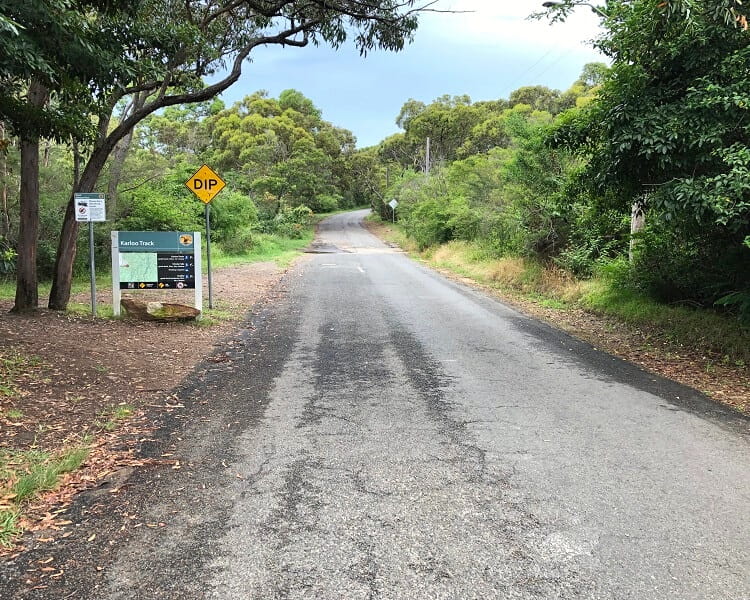 There is no need to pay any park entry fees, because the train station area is located just outside the Royal National Park.
Here is a little map that gives you a bit of an idea of where this walking track to Karloo Pools is located and how long it is:

Heathcote to Karloo Pools Walking Track
While the track to Karloo Pools may be short, there are some steep sections (especially on the way back), and the surface is quite rough at times.
It's certainly not a hard walk at all, but it's important to wear good shoes and to bring a bottle of water with you.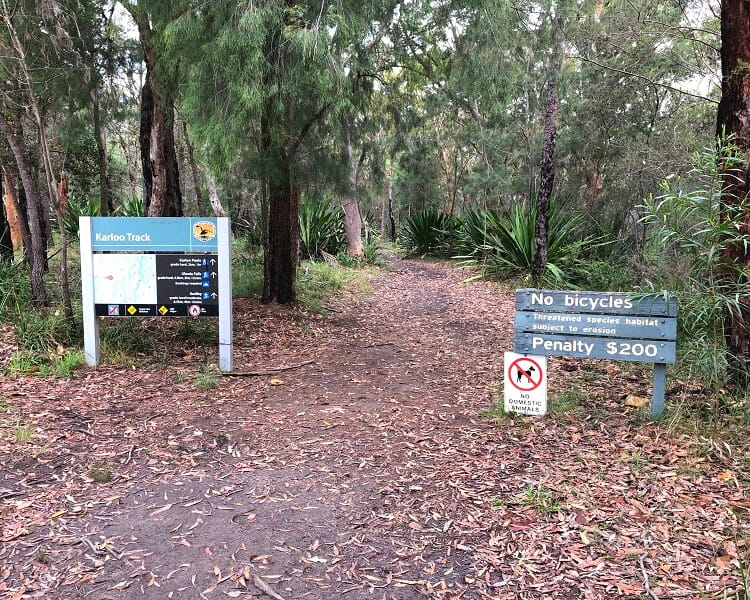 At the signpost on Wilson Parade, turn left heading into bushland away from the road. This is where you are entering the Royal National Park.
Follow the track until you see another signpost (see picture above), which marks the official starting point of the Karloo Track.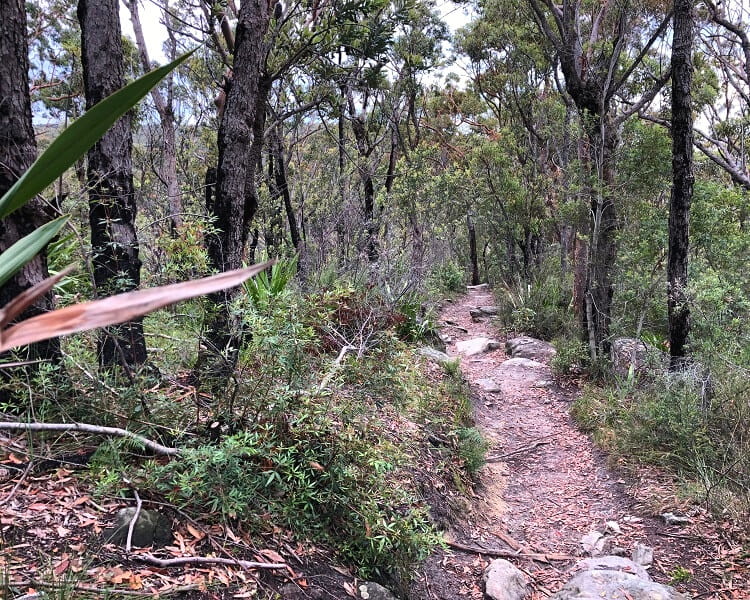 From there, the track to Karloo Pools is a pretty straightforward hike, and is very easy to navigate.
At times the track is quite uneven though, so it's important to be careful and to keep a close eye on the surface you're walking on.

The scenery along the way is pretty diverse and interesting, with a mix of heath land, rainforest, and lots of rocks and boulders.
As soon as you start hearing the gentle sound of streaming water, that's when you know Karloo Pools is very close.

This is where the track meets and crosses Kangaroo Creek, with Karloo Pools as a beautiful natural attraction.
When you arrive at Karloo Pools, you will realise immediately why this is one of the most popular natural swimming holes in the greater Sydney area.
The main water hole, Karloo Pool, is about 15 metres wide and 30 metres long, and looks absolutely stunning. The pool is surrounded by trees and flat rocky areas.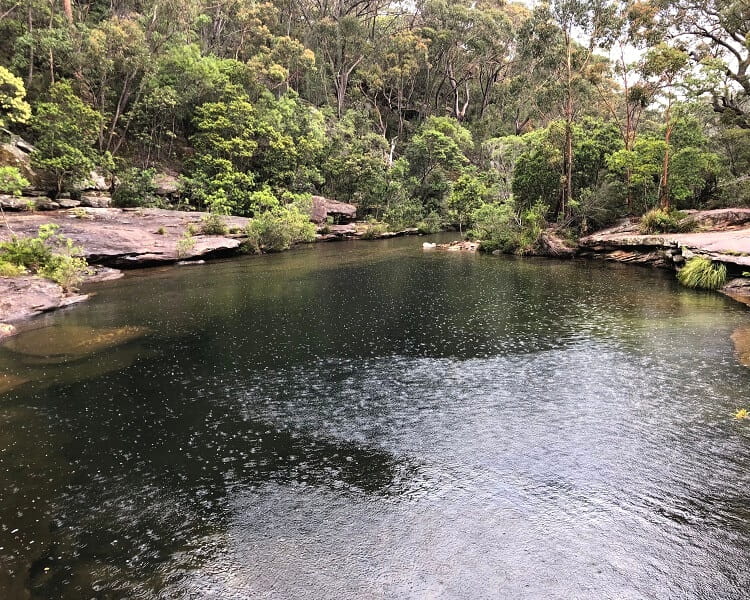 When the water is clear, it's hard to resist the temptation to go for a swim.
But there is very little need to resist that temptation after all that hiking. It is relatively safe to get your toes wet in the pool, so by all means go for it.

Please do note though that it can get quite busy at Karloo Pools, especially during warmer weekends.
For the best experience, it's recommended to go on a week day, or otherwise really early on a Saturday or Sunday morning.
When swimming in Karloo Pools, please keep the following in mind:
It's deep:
The middle of the pool is actually quite deep, so if you're not a good swimmer it's best to not go in, or otherwise stay close to the edges.
It's slippery:
It's very slippery on the rocks surrounding the pool, so don't run into the pool, and be cautious at all times.
Don't jump:
As tempting as it may be to jump, there are large rocks in the water that you can't always see from above, so don't jump or dive into the pool.
Don't leave rubbish:
As always, don't leave rubbish behind in the bush.
Check the water quality:
The quality of the water may not always be good, especially when it hasn't rained for a while. The quality of the water is typically much better when there is more flow in the creek.
The track to Karloo Pools is rather short, and if you feel like a more challenging bushwalk, there are some options to consider.
1. Karloo Track to Uloola Falls
From Karloo Pools, the Karloo Track continues on to Uloola Falls, which is an extra section of 2 km worth of bushwalking through similar scenery.
Uloola Falls may not be as picturesque as Karloo Pools, but it is still very much worth the extra effort to walk there.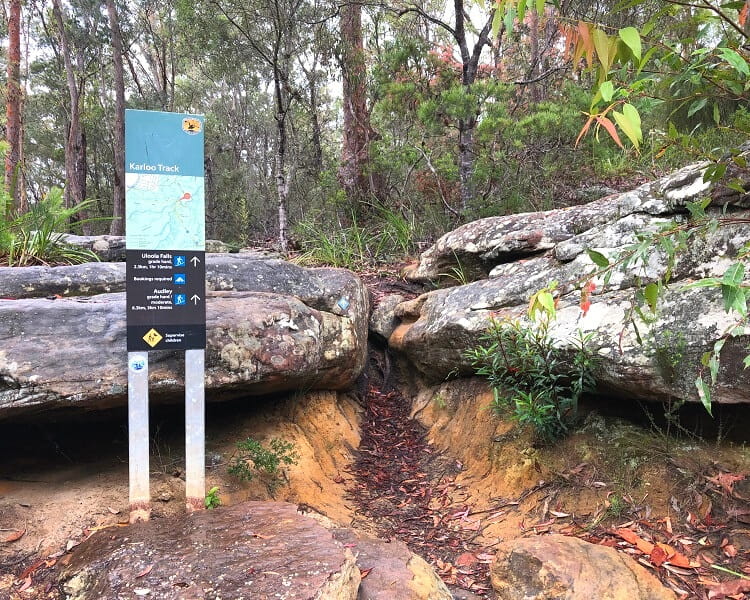 As with most waterfalls, Uloola Falls is at its best after a period of rainfall.
Unfortunately, this also means that the waterfall is actually hardly visible after an extended period of dry and sunny weather. But even so, the hike to there is an enjoyable bushwalk.
2. Uloola Falls to Waterfall Station
Once you're at Uloola Falls, you have the option to continue hiking all the way to Waterfall train station, which is an extra 6 km.
This walking track (Uloola Track), combined with the Karloo Track, forms the Heathcote to Waterfall walking track, and is approximately 11 km in length.

The great thing about the Heathcote to Waterfall walking track is that you can use public transport at both ends of the walk, with two train stations on the same line.
You can of course also start this walk from Waterfall station, and leave the two highlights (Uloola Falls and Karloo Pools) until the second half of the walk.
In the map above, the milestones along this walk are as follows:
A: Heathcote
B: Karloo Pools
C: Uloola Falls
D: Waterfall