Last updated: August 23, 2022
Located south of Wentworth Falls on the Kings Tableland plateau, Lincoln's Rock is one of the most impressive lookout points in the Blue Mountains.
With sweeping views of Jamison Valley and beyond, Lincoln's Rock is a unique and historically important sight that is well worth a visit.
You can either drive to the lookout or do a pleasant 40 minutes bush walk to get there. Read on to find out more!
Driving to the Lincoln's Rock lookout is super easy. It is located on Little Switzerland Drive at the end of Hordern Road in Wentworth Falls.
From the Great Western Highway, turn into Tableland Road. After 2 km, turn right into Hordern Road and drive until the end, where it meets Little Switzerland Drive.
At that junction, turn right and you will end up at the reasonably sized Lincoln's Rock car park (see map location).
This new car park, with a large turning circle, was built in 2021 to replace the informal car park closer to the lookout. From this new car park, it's a short 300m walk to Lincoln's Rock.

Hiking
Alternatively, if you feel like a bit of hiking, park your car on Chester Road (off Tableland Road) just north of Hordern Road (see map location).
From there, follow the Chester Trail and the Little Switzerland Trail to Lincoln's Rock. It's a pleasant and easy 40-minutes walk to the lookout.

The official address of the Lincoln's Rock lookout:
51 Little Switzerland Drive
Wentworth Falls
The map below shows the two parking areas, one at the actual lookout and the other on Chester Road, where you'll find the start of the Chester Trail.

The Kings Tableland is a plateau immediately south of Wentworth Falls in the Blue Mountains.
The plateau forms the eastern boundary of Jamison Valley and extends south to McMahons Point lookout and beyond, with views over Lake Burragorang.

Kings Tableland is also one of the most historically significant areas in the greater Blue Mountains region.
For many years, long before white settlement, the area that we now know as Kings Tableland was a place of significance to the Aboriginal Gandangara people. Remnants of Aboriginal engravings and shelters can still be found in the area.
The most popular sight on the Kings Tableland plateau is Lincoln's Rock, one of the most scenic lookout points in the Blue Mountains.
Lincoln Hall
The lookout was named in honour of Lincoln Hall, a mountaineer who lived in Wentworth Falls for decades before his untimely passing in 2012.

On 25 May 2006, Lincoln Hall was left for dead at Mount Everest at an altitude of 8700 metres, as he was descending from the summit.
However, the following day, Hall was found still alive by a team that was making a summit attempt, and he was rescued.
Views
The panoramic views from Lincoln's Rock overlooking Jamison Valley are unparalleled. But it's not just the views that attract many visitors to this lookout.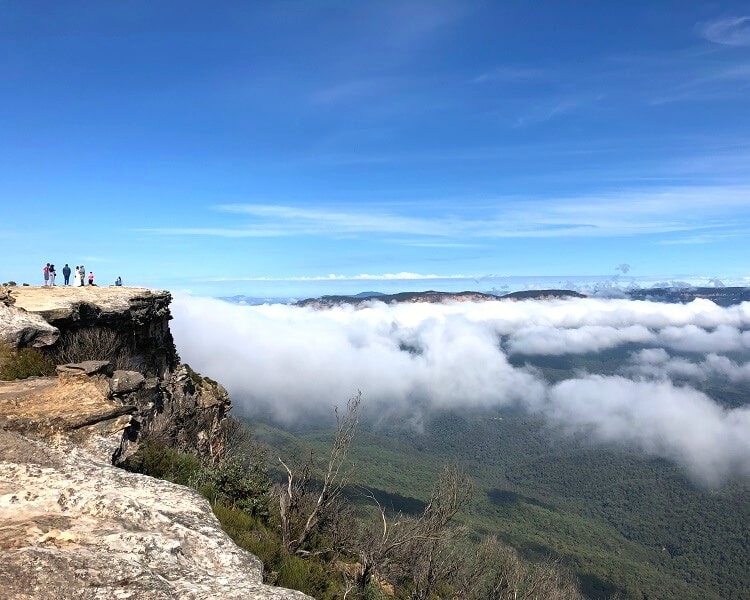 The unique photo opportunity, while sitting on the edge of the cliff, is what makes this spot so popular in the land of Instagram.
Make sure to also explore the southern section of the lookout, where you will find a path heading down to a secret vantage point.
Word of caution:
The Lincoln's Rock lookout is stunning, but it is also unfenced. This adds to the beauty of the area, but it also makes exploring a bit risky. Stay well away from cliff edges at all times, especially when taking photos and selfies.
There are a few other interesting sights close to Lincoln's Rock to enjoy so that you can make a day of it.
1. Rocket Point Lookout and Wentworth Falls
One of Wentworth Falls' best-kept secrets is the Rocket Point Lookout, which offers fantastic views of the waterfall and the valley below.
Many visitors to Wentworth Falls skip this lookout because it's only accessible via a side track away from the regular walking track above the waterfall.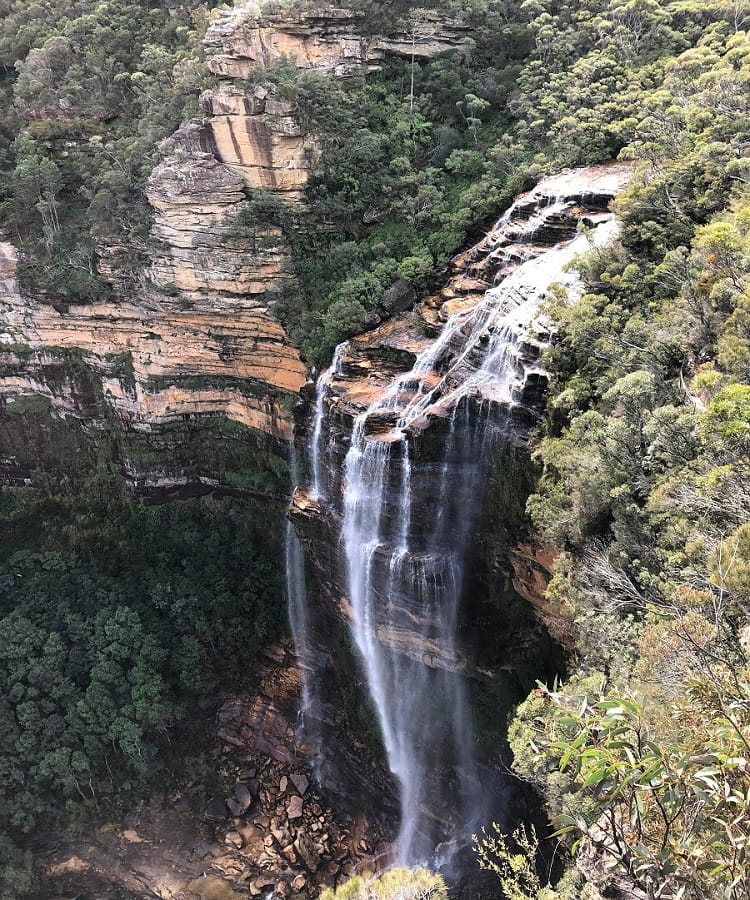 To reach Rocket Point Lookout from Lincoln's Rock, follow Little Switzerland Trail heading north. It's an easy walk and takes about 30 minutes to complete.
Once you're there, you may as well head down to have a closer look at the impressive waterfall that is Wentworth Falls.
2. McMahons Point lookout
The unsealed 4WD and cycle trail to McMahons Point from Wentworth Falls is on Tableland Road, approximately 20km south of Lincoln's Rock.
It is located in a remote area of the Blue Mountains with limited to no reception, so it's best to only go there if you're well-prepared with a suitable vehicle.
From McMahons Point, you can enjoy sweeping views of Lake Burragorang and the Greater Blue Mountains wilderness. With a reservoir capacity of more than 2,000 gigalitres of water, Lake Burragorang has a surface area covering 75 square kilometres and is four times larger than Sydney Harbour.
The lake is formed by the Warragamba Dam, Australia's largest concrete dam, and is Sydney's primary reservoir for water supply.