Last updated:
Established in 1894, Ku-ring-gai Chase National Park is Australia's second oldest national park, 15 years younger than Sydney's Royal National Park.
Located only 25km north of the Sydney CBD, Ku-ring-gai Chase is a popular weekend recreation destination for Sydney residents as well as for tourists.
Measuring a generous 15,000 hectares, the park is characterised by thriving rainforest, rocky cliffs, mangroves, Aboriginal sites, picnic areas, secluded beaches, lookout points, mountain biking trails and various walking tracks.
6 Great Ku-ring-gai Chase National Park Walks
Here is our list of 6 great walks in Ku-ring-gai Chase National Park.
Some of these walking walks are long and challenging, others are a bit shorter and easier to conquer.
1. Resolute Loop Track
Perhaps one of the prettiest secluded beaches in greater Sydney is Resolute beach in Ku-ring-gai Chase National Park, not too far away from the West Head lookout.
Resolute Beach is a 60m long strip of sand, free of rocks, with calm water, making it very suitable for a relaxing swim.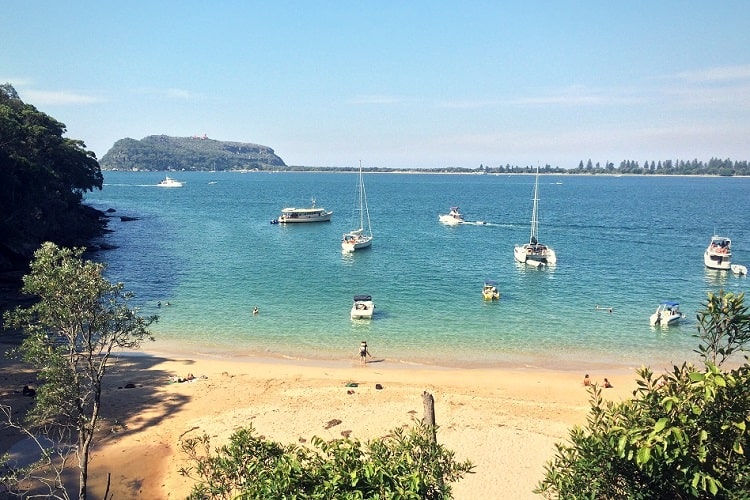 The beach is also a very popular boat landing area. Lots of visitors arrive here with their leisure boats from Palm Beach for a beautiful quiet afternoon in the sun.
The best way to visit Resolute Beach is by following a picturesque 6km loop track starting at the Resolute picnic ground. The first part of the track is a section with well-preserved Aboriginal engravings, followed by a descend into the forest towards Resolute beach.
After a refreshing swim, continue the track towards the West Head Lookout which offers amazing views of Pittwater and the Barrenjoey Headland.
Resolute Loop Track
Distance:
6 km (circuit)
Time:
2 – 3 hours
Grade:
Easy / moderate
2. Cowan to Brooklyn via Jerusalem Bay
The 13km walking track from Cowan train station to Brooklyn is not complete without a refreshing swim in Jerusalem Bay.
The quiet and peaceful surroundings of the bay and the abundance of trees make swimming here such a unique experience.
The scenic hike between Cowan and Brooklyn is part of the Great North Walk, a monstrous 250km track between Sydney, Hunter Valley and Newcastle.

This particular section is not the easiest hike but well worth the effort, with amazing scenery along the way.
The best way to get to Cowan is to simply use public transport, as the start of the walking track is right opposite the train station.
Simply follow the signs for Brooklyn and the Great North Walk to find the start of the track. Once in Brooklyn, you can catch the train back to Cowan.
Cowan to Brooklyn
Distance:
13 km (one-way)
Time:
4 – 5 hours
Grade:
Moderate / hard
3. West Head Lookout to Great Mackerel Beach
The West Head Lookout in Ku-ring-gai Chase National Park offers breathtaking views across Pittwater, Broken Bay, Barrenjoey Headland, Palm Beach and the Central Coast.
Known as one of the best lookouts in greater Sydney, the panoramic views here will leave a long-lasting impression.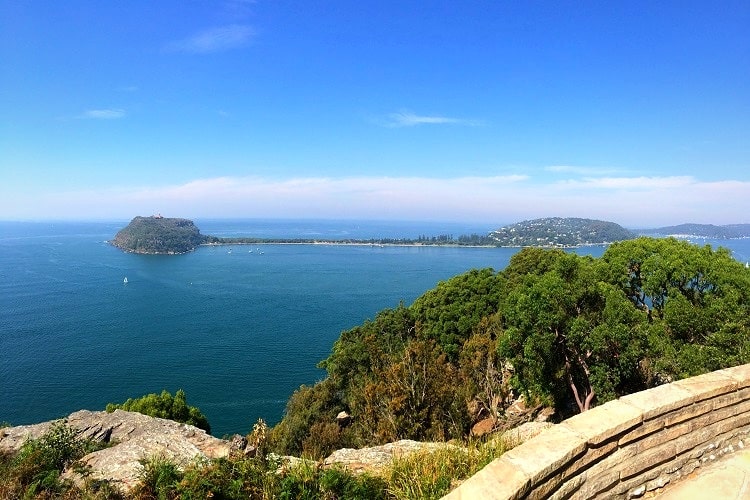 A relatively easy but exciting bushwalk that starts at the lookout brings you to Great Mackerel Beach, a tiny suburb with a population of just over 100 residents that has the look and feel of a remote holiday resort.
Go and have a wander around and admire the fascinating real estate behind the beach, but watch out for the golf carts and wheelbarrows that are used to carry luggage and other things around.
Before arriving at Great Mackerel Beach, the walking track brings you past the tiny beaches of West Head and Resolute, so you'll have plenty of options for a quiet swim.
West Head Lookout to Great Mackerel Beach
Distance:
5 km (one-way)
Time:
2 – 3 hours
Grade:
Easy / moderate
4. Berowra to Mount Kuring-gai via Apple Tree Bay
The moderately challenging walking track between Berowra and Mount Kuring-gai makes for a perfect day out for both seasoned bushwalkers as well as casual outdoor enthusiasts.
Berowra and Mount Kuring-gai both have railway stations with regular train services so you don't have to walk all the way back once you've finished your journey.

The track mostly follows the quiet shoreline of Cowan Creek with some great lookout points along the way. A visit to Apple Tree Bay is optional as a side track but well worth the effort if you've never been there before.
Apple Tree Bay is a popular weekend destination with a boat ramp and plenty of parking. The area has large picnic areas with BBQ's, a small kiosk, drinking water, toilet facilities and plenty of shade from the trees. It's the perfect spot to have a break while refuelling for the rest of the walking track to Mount Kuring-gai.
Berowra to Mount Kuring-gai
Distance:
10 km (one-way)
Time:
3.5 – 4.5 hours
Grade:
Moderate / hard
5. Bobbin Head, Sphinx and Warrimoo Loop Track
While Bobbin Head is a beautiful destination in itself, it's also a starting point for some great bushwalks.
One of these bushwalks is a 10km circuit walk that consists of the Bobbin Head track, the Sphinx track and the Warrimoo track.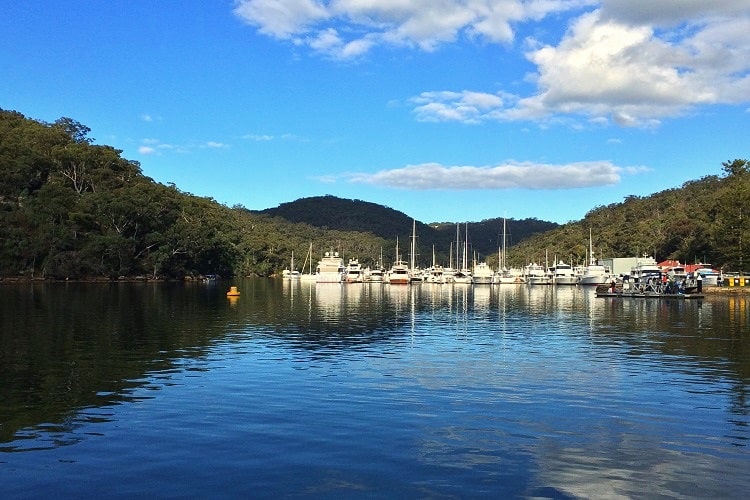 The start of this walk is behind the Empire Marina, clearly signposted with Warrimoo and Bobbin Head track. You can choose to go clockwise or anti-clockwise which ultimately doesn't make much difference.
The Warrimoo track follows the western shoreline of Cowan Creek through thick mangroves with several remnants of Aboriginal middens to be discovered.
Created by a returned soldier in the 1920's, the Sphinx Memorial along the Sphinx track is a sandstone monument created in memory of lives lost in WWI. It's an unusual yet fascinating structure in an unlikely spot.
Bobbin Head, Sphinx and Warrimoo Loop
Distance:
10 km (circuit)
Time:
3.5 – 4.5 hours
Grade:
Moderate
6. Gibberagong Walking Track (Including Bobbin Head Boardwalk)
The Gibberagong track is another popular bushwalk that has its starting point in Bobbin Head. The first section of this walking track is the Bobbin Head mangrove boardwalk that swirls its way through saltwater mangroves right above Cockle Creek.

The track then continues all the way to North Wahroonga through thriving bushland with a large waterhole as one of the highlights.
The Gibberagong walking track is perfect for adventurous bushwalkers that enjoy bird-watching and wildlife-spotting.
Gibberagong Walking Track
Distance:
6 km (one-way)
Time:
2 – 3 hours
Grade:
Moderate