Last updated: August 24, 2022
Milk Beach is a tiny, secluded strip of sand right in front of the historic Strickland House in Vaucluse, facing the Sydney Harbour and the city skyline.
If you're keen to avoid the big crowds in Bondi, Coogee or Manly, try Milk Beach for a quiet lazy afternoon in the sun.
Read on, and find out how best to get there and what to do nearby.
Milk Beach and Strickland House are on the Hermitage Foreshore Track, so following this walk is the best way to visit the beach.
Limited street parking is available on nearby streets such as Vaucluse Rd, Wentworth Road and Carrara Rd. Be mindful that street parking may be hard to find on the weekends.
Various bus routes pass through Vaucluse, with stops on Vaucluse Road (number 325). Check the bus timetable on the NSW Transport Info website.
Milk Beach is one of those picturesque beaches the average tourist doesn't know about, even though it offers the best views.
Overlooking Hermit Bay and Sydney Harbour, this 50 metres long and 5 metres wide strip of sand is quietly tucked away in Vaucluse, an affluent suburb only moments away from busy Bondi Beach.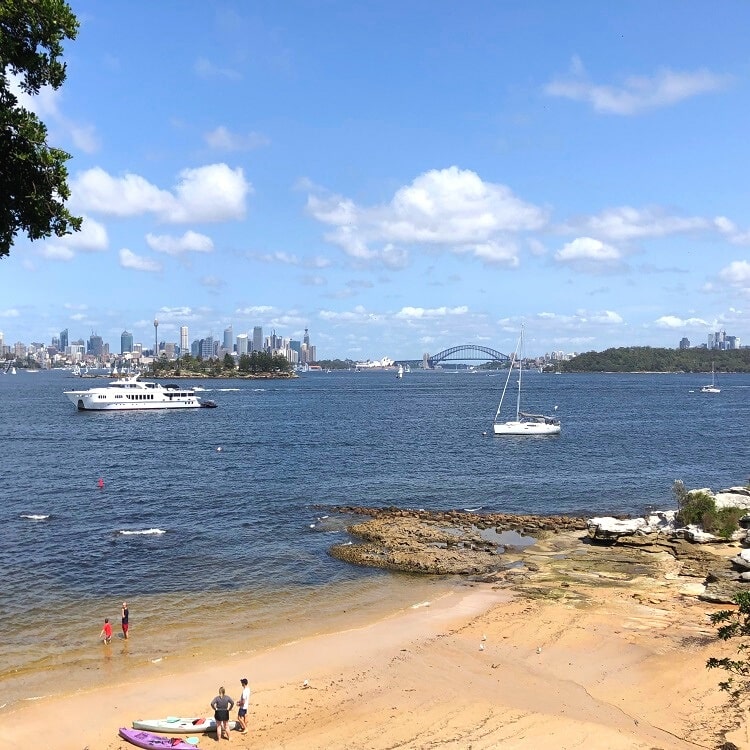 Located halfway along the Rose Bay to Watsons Bay walk, Milk Beach is the perfect spot to spend a relaxing Sunday afternoon.
But as secluded as Milk Beach may appear, it can get crowded sometimes, especially on warm summer days, with families and young people enjoying a swim and a nice cold afternoon drink. Luxury yachts often appear in front of the beach as well.
Because it's such a small strip of sand, there are no cafes or shower facilities at the beach. Nielsen Park and Shark Beach further north do have these amenities if you need them.

There are picnic tables in the Strickland House parkland right behind the beach, so it may be a good idea to bring some food with you.
Milk Beach is also a great (and free) vantage point for the famous Sydney NYE fireworks. The views are pretty good with the CBD skyline and Harbour Bridge in front of you.
Nearby Beaches
There are a few more beaches close to Milk Beach that are worth visiting. Queens Beach and Tingara Beach are located on the other side of Hermit Bay and are just as small and secluded as Milk Beach is, if not smaller.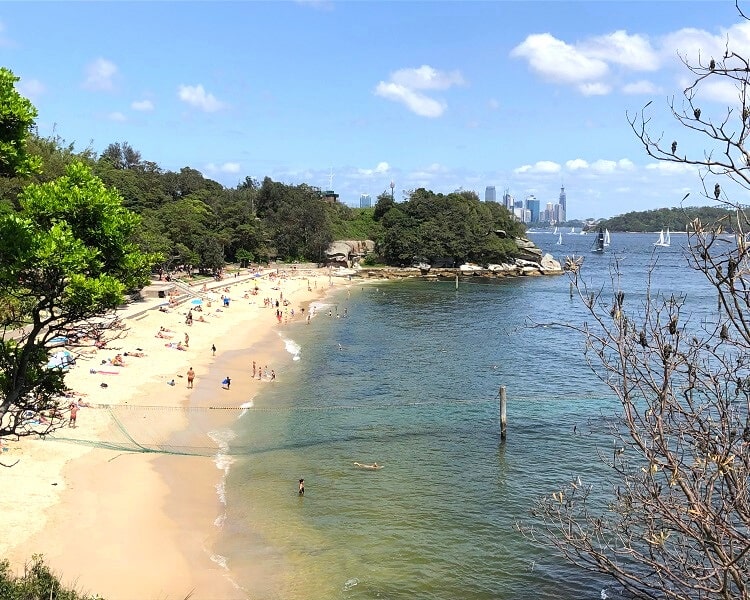 Shark Beach is a family-friendly beach further north, but it can get very busy there on the weekends, especially during summer.
Nielsen Park, right behind the beach, is one of Sydney's most popular recreation areas. Parking is really hard to find, so it's best to come early on those busy days.
Strickland House is a heritage-listed mansion located right behind Milk beach, overlooking Sydney Harbour.
Designed and built in Victorian Italianate style in the 1850s, the 3-storey sandstone house was the home of Sydney's first lord mayor, John Hosking.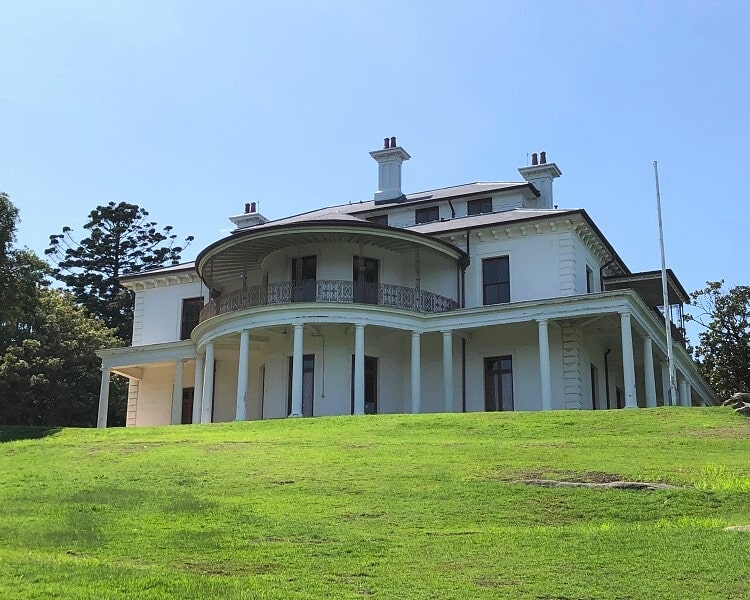 If you're visiting Strickland House coming in from Vaucluse Road, the official address is number 52 Vaucluse Rd. Simply walk through the gates (open from 9 AM til 5 PM daily) and follow the winding road to the impressive mansion.
Be sure to wander around the grounds of the house to get a good feel of what it must have been like to live there back in the day.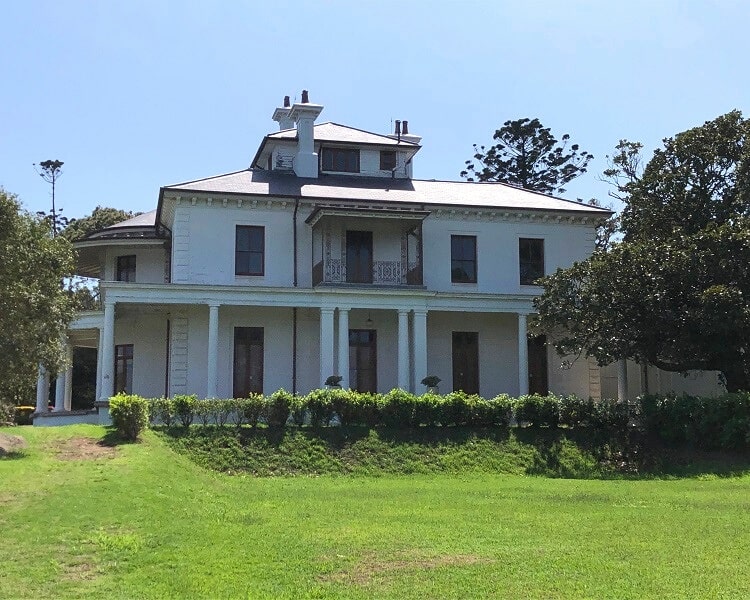 The atmosphere and the views make this also a very popular wedding venue. And with several tables under trees, you can hardly find a better place to enjoy a picnic in Sydney.
The grounds around Strickland house form an urban park, open seven days a week. Strickland House itself is only open to the public one day a year, during National Heritage Week.
History of Strickland House
More than 150 years old, Strickland House is of exceptional historical significance to the state of New South Wales.
The site was first owned by William Charles Wentworth, as part of an early land grant, who gifted it to his daughter. The site was eventually sold to Charles Lowe, who commenced construction of the house in 1854.
John Hosking, the first Lord Mayor of Sydney, purchased the site in 1856 and completed the construction of Strickland House, which was then named "Carrara". John Hosking lived in the mansion from around 1858 to 1876.

After buying the foreshore strip of land in 1912, the Government finalised the purchase of the remainder of the site, including the house, in 1914. In 1915, Carrara was officially opened as Strickland Convalescent Home for Women. In 1933, Strickland House became a hospital for both women and men.
The house was closed for hospital use in 1989 and has been in public use since 1994. Because the cost of maintenance of the house and grounds is so high, there has been talk about allowing commercial uses for the site, such as a cafe or restaurant, but no plans have yet been implemented.
The best way to get to Milk Beach is to follow the Hermitage Foreshore Track from either Rose Bay or Watsons Bay.
If you prefer to go directly to the beach and Strickland House, parking is available in the suburban streets of Vaucluse nearby.
Alternatively, bus route 325 goes through Vaucluse with stops on Vaucluse Rd.