Last updated: June 10, 2021
The scenic Narrabeen Lagoon trail is a stunning 8.4 km circuit walking track around pretty Narrabeen Lakes in Sydney's north.
Completed in February 2015 as a full circuit, the trail is now a popular weekend escape for walkers, joggers, cyclists and parents with prams, all enjoying the natural beauty and serenity of an idyllic lake surrounded by thriving bushland.
Read on, as we're going to talk you through the highlights of this fantastic walk.
Narrabeen Lagoon Trail
Distance:
8.4 km (return)
Time:
2-3 hours
Grade:
Easy / moderate
Dogs:
On a lead
There are quite a few paid parking areas available at several parks and reserves that exist around Narrabeen Lakes. Be mindful though that parking in these car parks is quite an expensive affair.
Good places to park your car, and to start the walking track, are at Jamieson Park, Middle Creek Reserve, and Bilarong Reserve.

Alternatively, there is limited free parking available in the suburban streets nearby, or otherwise you can try parking at the nearby shopping precinct.
Public transport is a viable option too, with frequent buses traveling via Pittwater Road (Berry Reserve) which is located next to the lake. Check the timetables on the Transport NSW website.
The Narrabeen Lagoon Trail is the perfect way to explore the Narrabeen Lakes area, as it navigates through various ecosystems with lots of wildlife to take in, in addition to historical and cultural heritage sites.
The area is a paradise for birds (1/3 of Sydney's bird species live here), rodents, bats, frogs, marsupials, lizards, and many different types of fish.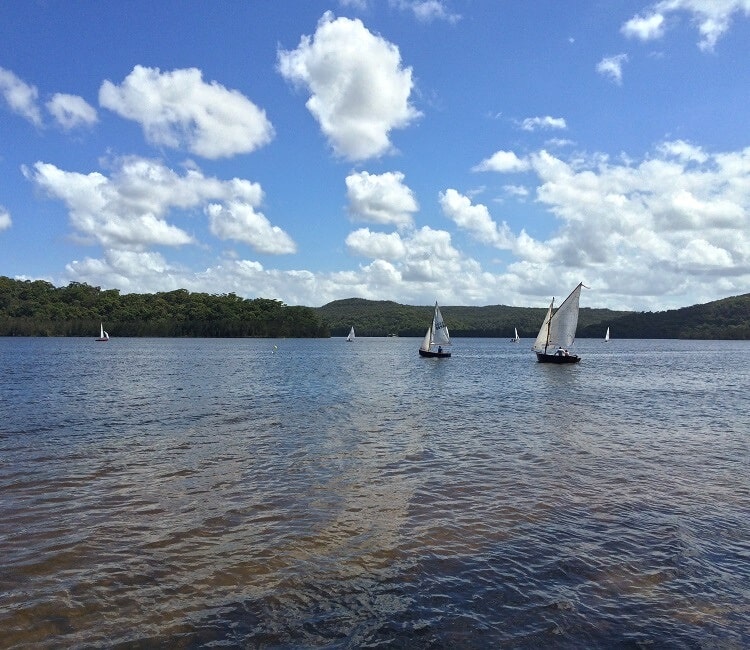 Narrabeen Lakes is also referred to as Narrabeen Lagoon, because the lake is basically a coastal lagoon separated from the ocean next door.
The area around the lagoon has been a popular camping and leisure spot since the beginning of the 19th century, when the tram line was extended to Narrabeen, making transport much easier.

With the recent completion of the Narrabeen Lagoon trail, the area will further develop itself as an attractive tourist and weekend recreation hot spot.
Check out this great video to get a good impression of what the Narrabeen Lagoon Trail is about:
Narrabeen Lagoon Trail (Track Notes)
In February 2015, the final section of the walking trail around the lake was completed, making it a beautiful uninterrupted loop. With an exciting boardwalk and a couple of steel bridges, you can now walk, run or cycle all around the lake.
There's mostly a friendly and accommodating atmosphere along the trail. Joggers, hikers, leisure cyclists, families with small kids on bikes, it can definitely get a bit crowdy there at times.
But most visitors are respectful and considerate to one another, and there's no need to feel intimidated in any way by all the traffic.
The Narrabeen Lagoon trail can be divided into the following five sections:
Middle Creek to Bilarong Reserve
Bilarong Reserve to Berry reserve
Berry Reserve to Jamieson Park
Jamieson Park to South Creek
South Creek to Middle Creek
Starting at Middle Creek, you can make your way around the lake in a clockwise manner.
1. Middle Creek to Bilarong Reserve (2.2 km)
Middle Creek is a good starting point for the walking trail, with a decent size car park, toilet facilities, and also a water fountain.
Make your way north and follow the Wakehurst Parkway all the way to Bilarong Reserve. Keep an eye out for an interesting historic feature: the scattered remains of lime and cement works that were active in this area in the 1930's and 1940's.
Interestingly, the construction of the Wakehurst Parkway prevented the works to reach their full potential.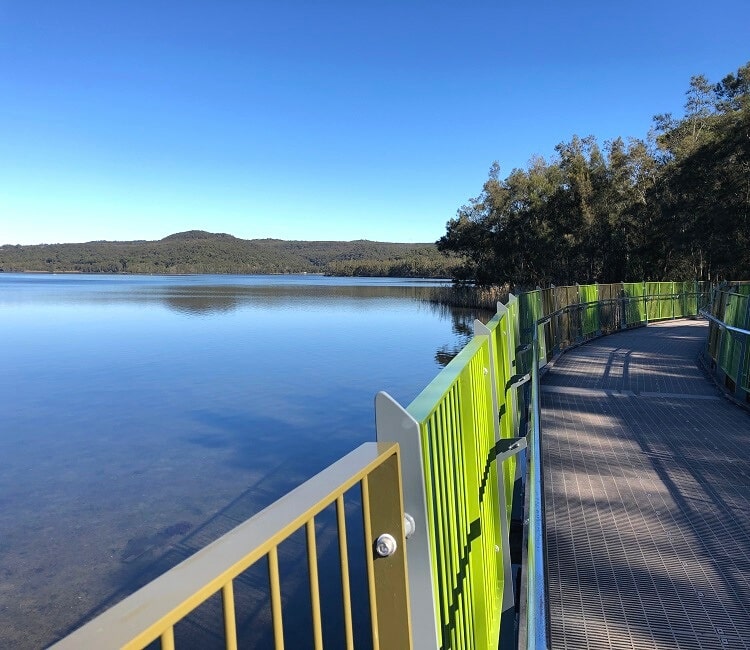 An interesting part of this section is the newly built over-water boardwalk. It's quite a spectacular boardwalk that moves the trail away from the busy Wakehurst Parkway over the lagoon.
Not only is this solution safer for all trail users, it also helps to protect the fragile bio-diversity along the northern foreshore of the Narrabeen Lagoon.
2. Bilarong Reserve to Berry reserve (1.2 km)
Bilarong Reserve also has a large car park, making it another good spot to start this exciting walking trail.
The reserve is also a perfect stopover for families with kids, with a huge playground and excellent BBQ facilities to make use of.

It's also a popular spot for boating enthusiasts who can launch their boats here to start their sessions on the water.
From Bilarong it's only a short stroll around the corner to Berry Reserve.
3. Berry Reserve to Jamieson Park (1.5 km)
Berry Reserve has recently been upgraded and now includes public toilets, picnic tables, a playground, a basketball court and barbecues.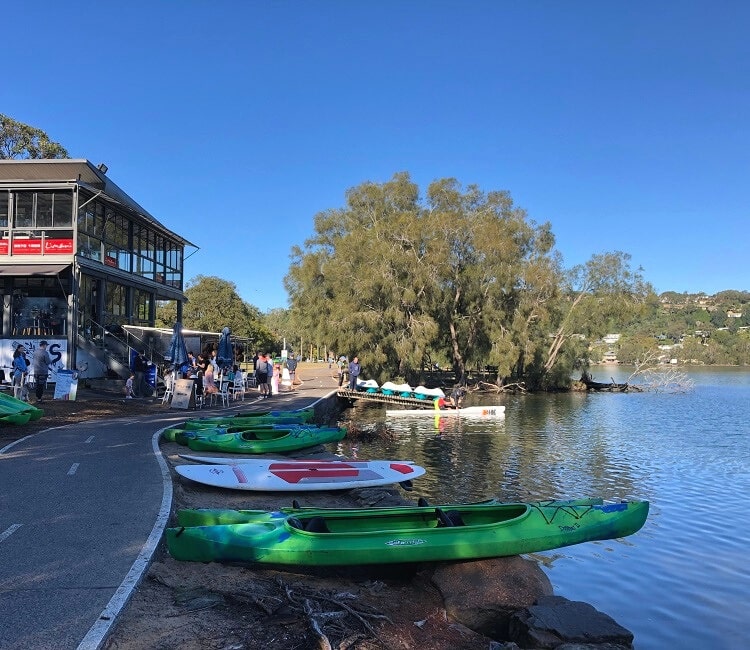 If you're feeling hungry, Berry Reserve is a great place for a pit stop. Have a picnic in the park or go to one of the cafes nearby for a bite.
Another great spot for a coffee or lunch is the Boatshed cafe & bar. Located right at the lake, this place offers the best views.

Continue the trail by following the shoreline of the lake to Jamieson Park.
4. Jamieson Park to South Creek (2.3 km)
Jamieson Park is a 42.8 ha reserve at the southern point of Narrabeen Lagoon. There is a large paid parking area, but this tends to fill up rather quickly during weekends.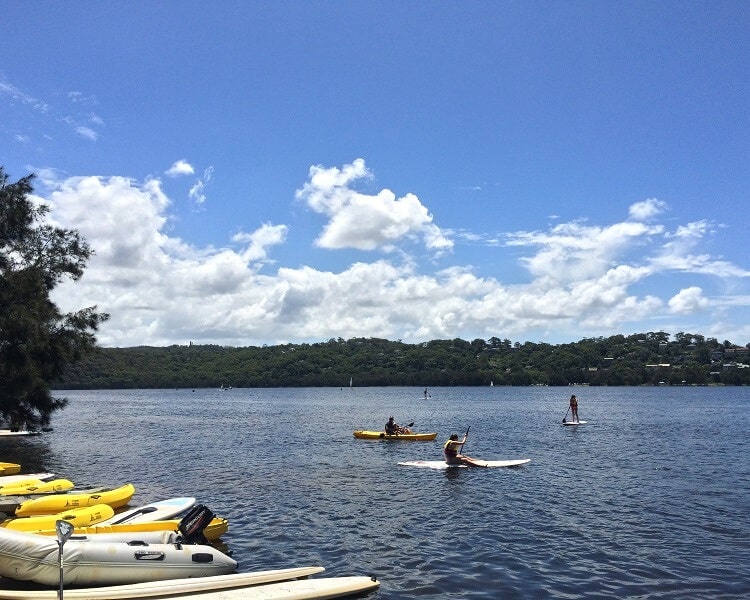 With its sheltered waters and scenic surroundings, Narrabeen Lagoon is the perfect place to try out a bit of water sports action.
At Jamieson Park you can go ahead and hire equipment for a kayaking or a stand-up-paddling session on the lake.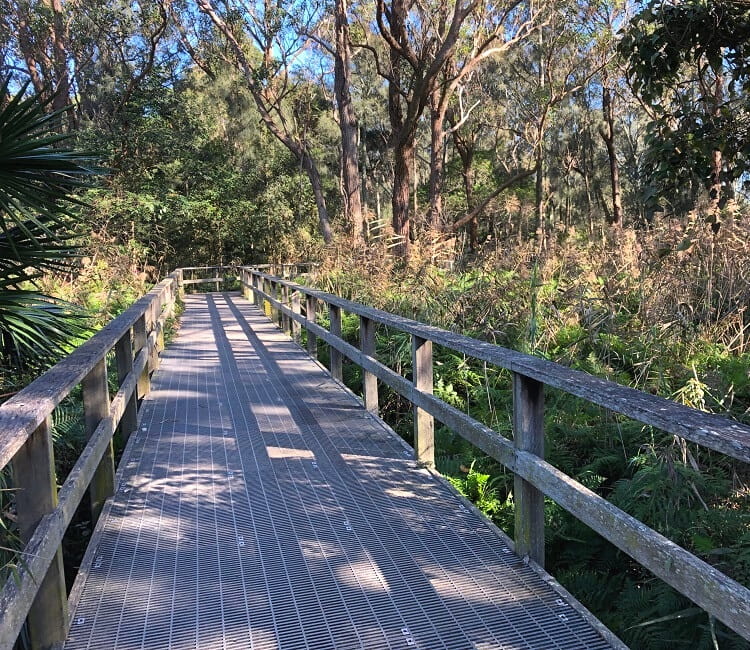 The trail from Jamieson Park to South Creek is perhaps the best part of the Narrabeen Lagoon circuit trail.
This is where you will be hiking through beautiful native bushland with scenic views over the entire lake.
5. South Creek to Middle Creek (1.2 km)
The section between South Creek and Middle Creek was the last part of the circuit to be completed in 2015.
A beautiful wooden boardwalk and steel bridges make it now possible to do a full, uninterrupted loop around Narrabeen lakes.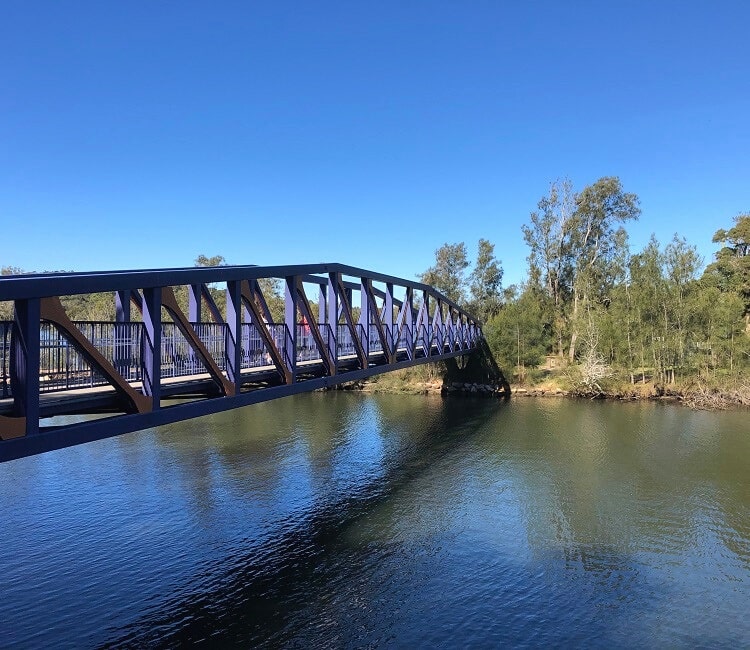 This section of the trail runs past the Sydney Academy of Sport and Recreation, which organises sports programs for schools, community and sporting groups, and for anyone looking to participate in some outdoor fun.
After crossing Middle Creek, it's only a short stroll back to the starting point of the walk at Middle Creek Reserve.
The completion of the Narrabeen Lagoon trail in 2015 has made Narrabeen Lakes the perfect spot for a quick city escape. With an abundance of activities you can do, the Narrabeen Lakes area is a great day out for the whole family.
The walk itself is easy and diverse, but can perhaps be a bit too long for young children. Of course, you don't need to do the whole trail to enjoy Narrabeen Lagoon. Simply pick one or more of the 5 sections and do the rest on another day.
And if you've up for a kayaking or stand-up-paddling session, Narrabeen Lakes is a great place to have a go and to have some fun.