Last updated: November 10, 2021
Sydney's coastline, from Palm Beach in the north to Cronulla in the south, is home to a large amount of ocean pools.
Almost all major beaches in Sydney have one or more man-made rock pools, and some of these pools also have a strong historical value.
In this article, we are going to share 10 of the best ocean and rock pools in Sydney (that are not Bondi Icebergs!) where you can go for a relaxing swim in beautiful surroundings.
We are listing the ocean pools from north to south, starting with the Palm Beach rock pool and ending at the Shelly Beach ocean pool in Cronulla.
1. Palm Beach Rockpool

If you're looking for the most scenic spot to go for a swim in Sydney, definitely try the Palm Beach Rockpool. It is located at the southern end of the main beach on the eastern side of the Palm Beach peninsula.
The Palm Beach Rockpool is 50 metres long and comes with change rooms, showers and toilets, albeit a bit cramped.
The pool is a little away from the beach and can be accessed via a convenient walkway, although the ramp into the pool is rather steep.
2. Mona Vale Rockpool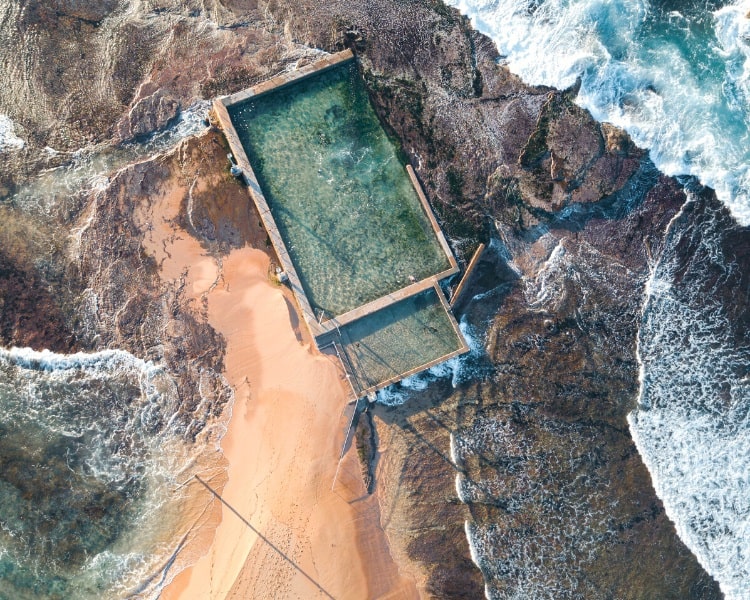 The scenic Mona Vale Rockpool is located on the pointy sandspit that separates Basin Beach in the north from Mona Vale Beach in the south.
Mona Vale Rockpool consists of two swimming pools; a smaller pool for kids, and a larger, 30 metres long pool that is suitable for lap swimming.
Due to its location, the pool can almost disappear in the waves from the ocean at high tide, which only adds to the experience. For a quiet swim though, low tide might be the best time.
3. North Narrabeen Rockpool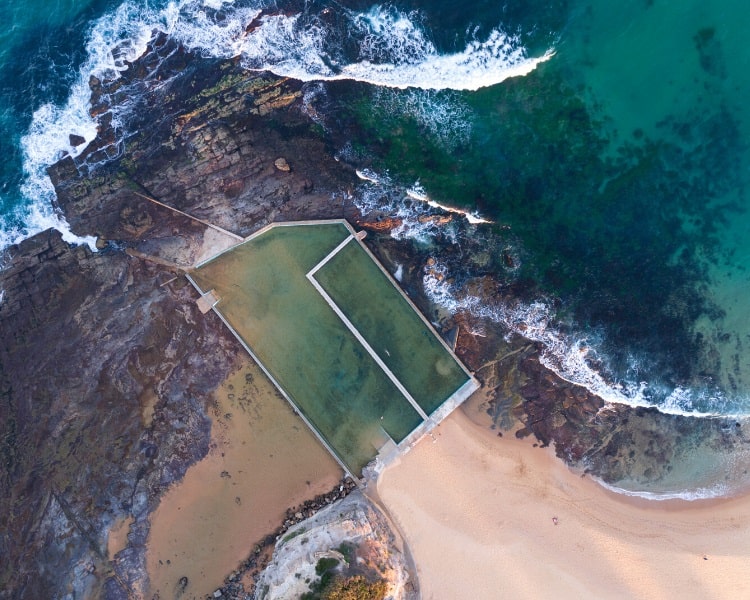 Just a little further south, at the northern end of Narrabeen Beach near the entrance to Narrabeen Lagoon, is the historic North Narrabeen Rockpool.
The rockpool is rather large, with a 50 metres long lap swimming pool separated from the rest of the pool by a wooden boardwalk, and with a kid-friendly section at the northern end of the pool.
It's one of the most popular ocean pools in Sydney, with various swimming clubs and learn to swim programs using this location.
4. Dee Why Rockpool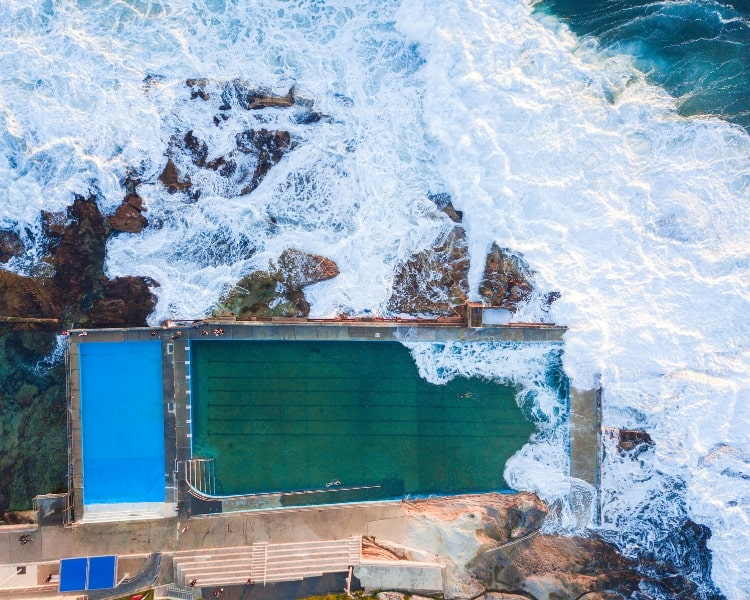 The rock pool in Dee Why is a family-friendly swimming pool area located at the southern end of popular Dee Why Beach.
The Dee Why Rockpool consists of a 50 metres long lap swimming pool, and a shallow section for toddlers to go and have a splash.
Do note though that both Dee Why Beach and Rockpool can get very busy, so it's best to come early if you wish to avoid the crowds.
5. Freshwater Beach Rockpool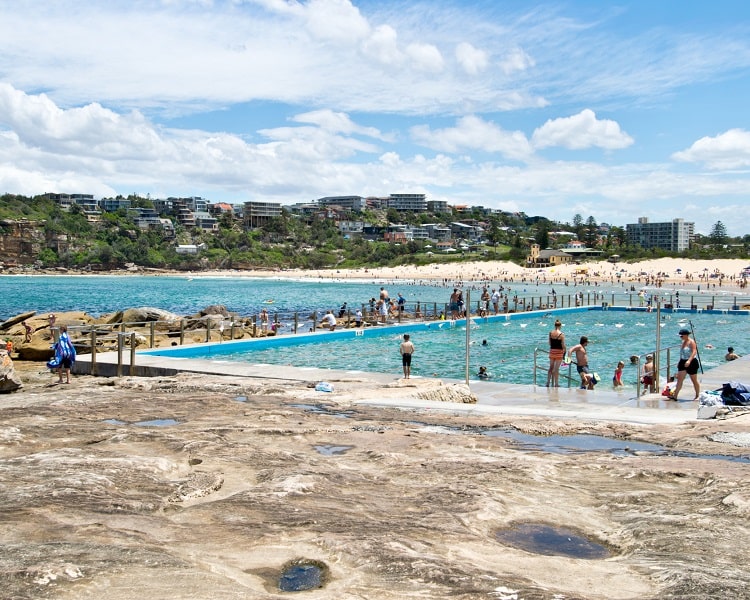 Freshwater Rockpool is a 50 metres long swimming pool located on the headland just north of Freshwater Beach.
The pool is a rather straightforward ocean swimming facility with eight lanes for lap swimming, amidst beautiful natural surroundings.
There is a convenient car park located next to Freshwater Rockpool, from where you can access the pool via a flight of stairs, although the pool is also accessible directly from the beach.
6. Fairlight Rockpool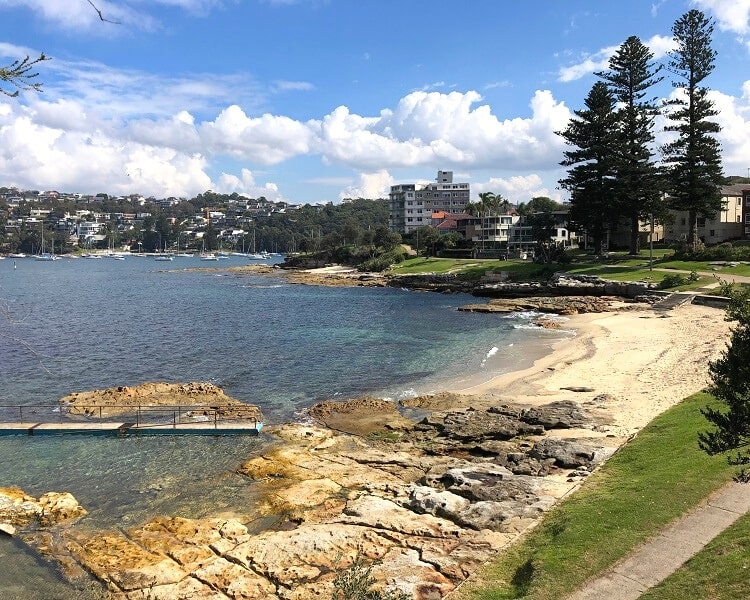 The scenic Fairlight Rockpool is part of Fairlight Beach, a stone's throw away from Manly Cove and the Manly ferry wharf.
Fairlight Rockpool is not your typical ocean pool, and is more of an ocean bath. It's perhaps not big enough for intense lane swimming, but it's more than pleasant enough to go for a relaxing dip.
There is also a smaller paddling pool next to the main pool area, perfect for toddlers and kids to go and have a nice splash.
7. Bronte Baths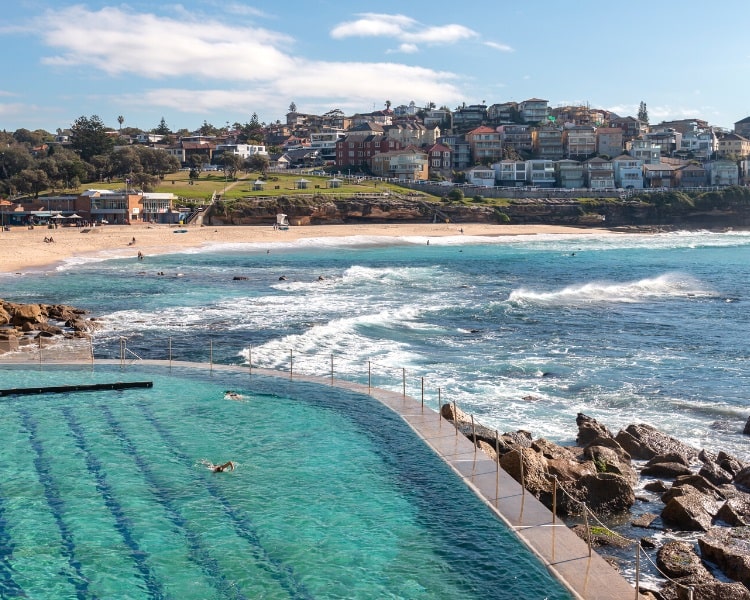 The popular Bronte Baths swimming area is located at the southern end of Bronte Beach, and contrary to nearby Bondi Icebergs, Bronte Baths is completely free.
Built in the late 1880's, Bronte Baths is one of the oldest ocean pools on the New South Wales coastline, with the initial design of the pool still very much intact.
The pool itself is a bit oddly shaped, but for those keen to do lap swimming, there are clear 30 metre lane markings in the middle.
8. Wylie's Baths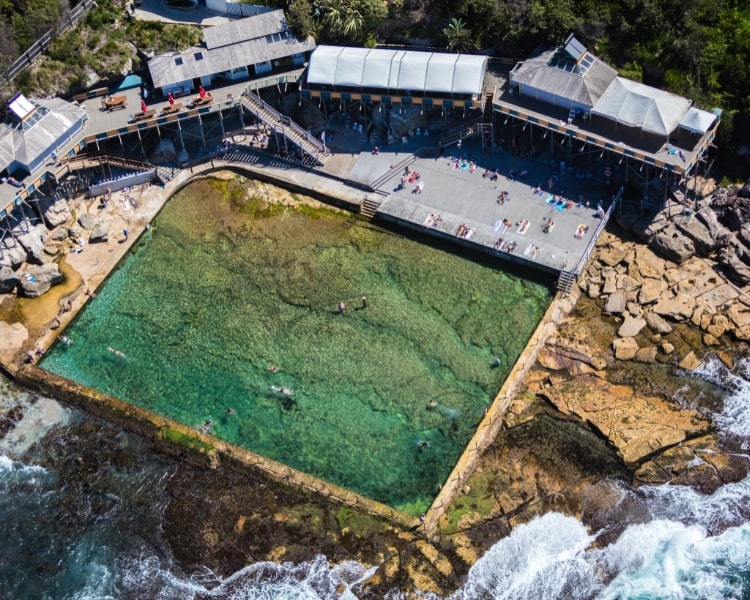 Located just south of Coogee Beach, Wylie's Baths is one of Sydney's most beautiful ocean pools, established in 1907 by Henry Alexander Wylie, a champion long distance swimmer.
Wylie's Baths is significant, because it was the first mixed gender bathing pools in Australia, and it was also the site of the first Australian Swimming Championships.
Today, Wylie's Baths is a not-for-profit, community swimming pool where, for a small fee, you can go for a relaxing swim in stunning surroundings.
9. Mahon Pool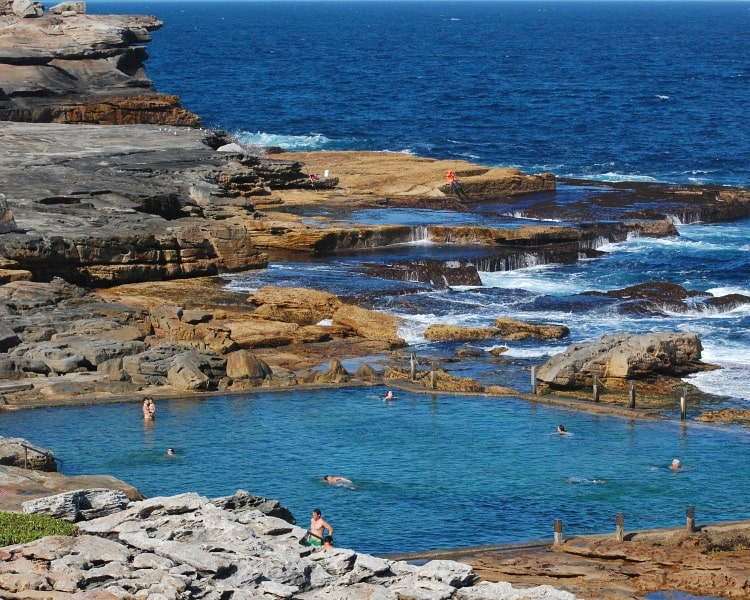 Mahon Pool is located a few hundred metres north of Maroubra Beach, built in the 1930's as a naturally formed seaside rock pool.
Due to its location away from the beach and close to the ocean, Mahon Pool is still a bit of a secret swimming spot in Sydney, where the locals can enjoy a quiet swim with fantastic views.
A car park on Marine Parade is conveniently located a short stroll away from the ocean pool, with toilets, showers and change rooms also nearby.
10. Shelly Beach Ocean Pool

Cronulla Beach and the Cronulla Peninsula are home to several tidal rock pools, but the Shelly Beach Ocean Pool might well be the best one.
Similar to nearby Oak Park Rock Pool, Shelly Beach Ocean Pool starts of as a small beach and evolves into a swimming pool as you walk towards the ocean.
With Shelly Park and a playground right behind the pool, a visit to Shelly Beach Ocean Pool makes for a great day out.