Last updated: February 21, 2022
The Palm Jungle Loop Track in Royal National Park is a fascinating 8.5 km walking trail through various different types of landscapes and sceneries.
This moderately challenging trail takes in thriving rainforest, beautiful coastal views and scenic cliff tops, with a visit to Burning Palms Beach as a welcome bonus on a warm day.
We enjoyed the Palm Jungle Loop Track so much that we have it included on our list of best hikes in Royal National Park.
Palm Jungle Loop Track
Distance:
8.5 km (circuit)
Duration:
3 hours (depending on stops)
Grade:
Moderate (steep sections)
Dogs:
Not allowed
The Palm Jungle Loop Track starts and finishes from the historic Garawarra Farm area in the southern part of the Royal National Park (see map location).
To get there, turn into Garie Road from Sir Bertram Stevens Drive, followed by a right turn into Garawarra Farm Road. Note that this road isn't very well maintained and does have quite a few potholes, but you don't need a 4WD vehicle to conquer it.
After a short drive, less than 2 km, you will arrive at a surprisingly large car parking area. A $12 parking fee applies for the Royal National Park, and you can pay this at one of the ticket machines.
The Garawarra Farm Car Park is also the starting point of the walk to Figure Eight Pools and can get very busy. But the area is actually quite large so you shouldn't have any issues finding a spot to park your car.

Palm Jungle Loop Track Notes
The Palm Jungle Loop Track is approximately 8.5 km in length, and is easy to follow with a well maintained walking path, sections with boardwalks, and good signage.
It's a moderately challenging walking track with a couple of steep sections, but anyone with a reasonable level of fitness and good hiking shoes can undertake this enjoyable trail.
In our track notes, we are describing this walk along the following landmarks, highlights and milestones, walking in a clockwise manner:
Burgh Ridge
Burning Palms Beach
Palm Jungle
Werrong Lookout
Garawarra Ridge
Here is a map of the Palm Jungle Loop Track:

1. Burgh Ridge
Once you've parked your car at the Garawarra Farm car park, look out for the signpost as per the image further above. That is where this loop track starts and finishes.
You can either go clockwise or anti-clockwise, but we recommend going clockwise to prevent having to do the steep Burgh Ridge climb from Burning Palms Beach back up to Garawarra Farm at the end of the walk.
To go clockwise, simply choose the left path at that signpost, and the trail heads straight into the bush along a well maintained path, various staircases, and sections with metal boardwalks.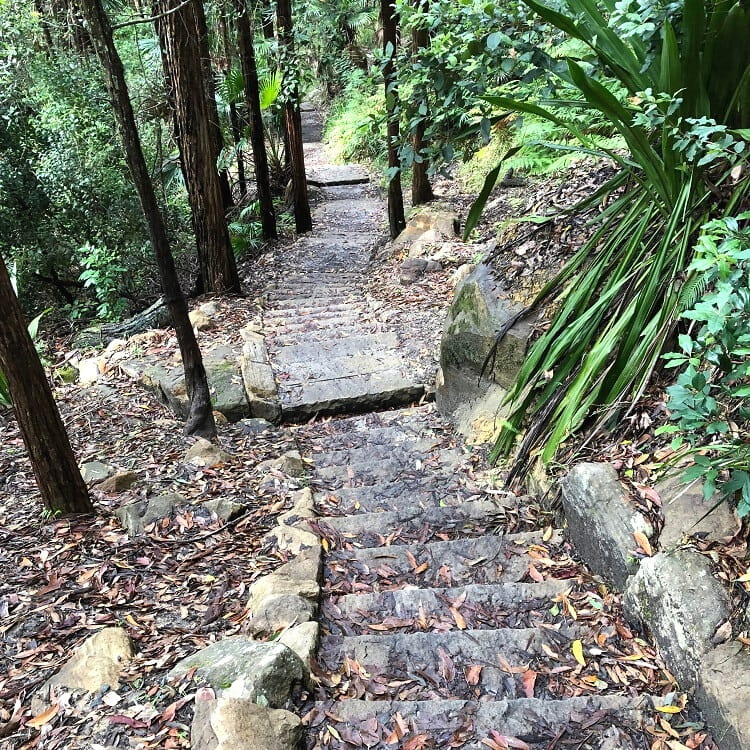 The forest scenery along this descent is very pretty with lots of large gum trees and angophora trees, creating this pleasant lush atmosphere.
Once the path leaves the forest behind, you will start seeing the first glimpses of Burning Palms Beach from far away.
2. Burning Palms Beach
The path continues downhill on boardwalk and soon arrives at the junction with the Coast Track, the 26 km long hike between Bundeena in the north and Otford in the south.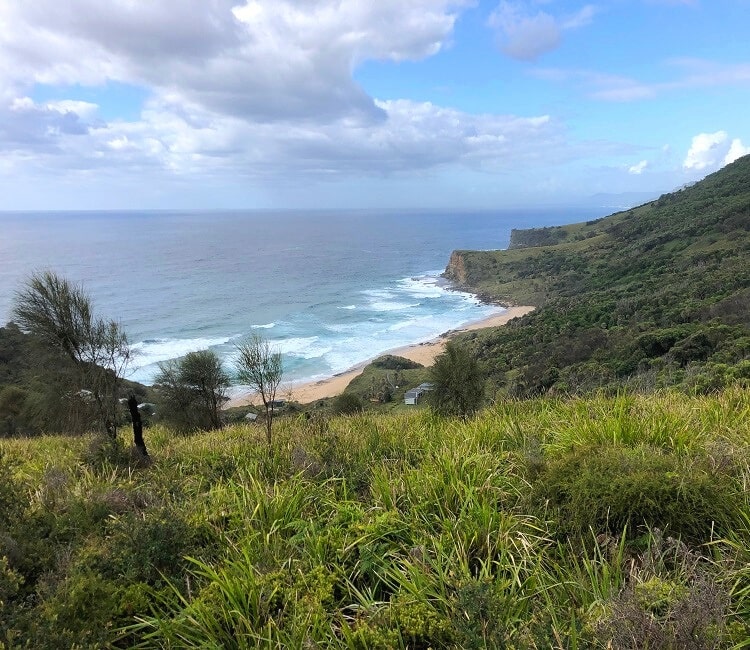 At this junction, you will need to make a right turn to continue the main path which will now be running behind beautiful Burning Palms Beach.
Burning Palms is a 500m wide strip of sand with its own surf life saving club. The beach is considered quite hazardous, so it's best to not go too far in when it is unpatrolled.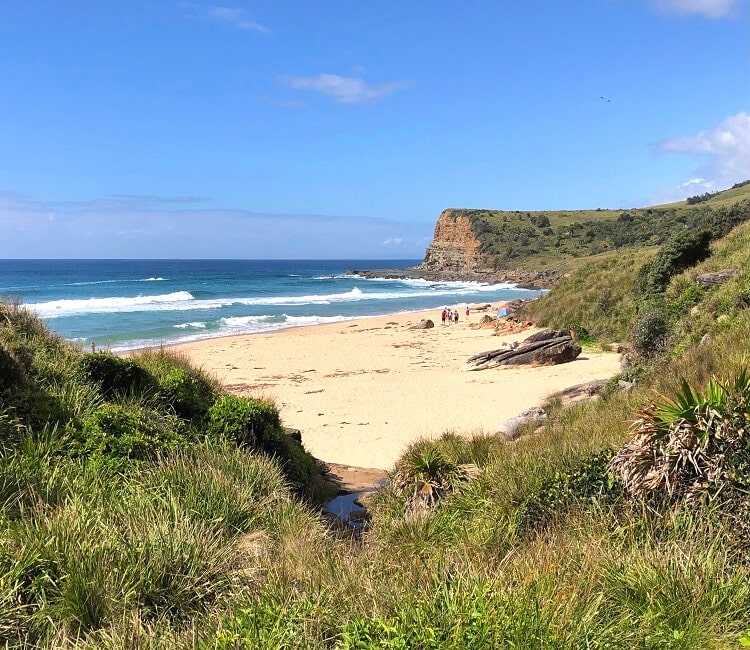 Note that Burning Palms Beach is also the access point to the popular Figure Eight Pools.
If you do wish to go there, it's important to check the tides to make sure it's safe and that the pools are actually accessible and visible.
3. Palm Jungle
From Burning Palms Beach, the trail continues southbound through a patch of forest followed by a section of beautiful open scenery with the coastline on your left and high cliffs on your right.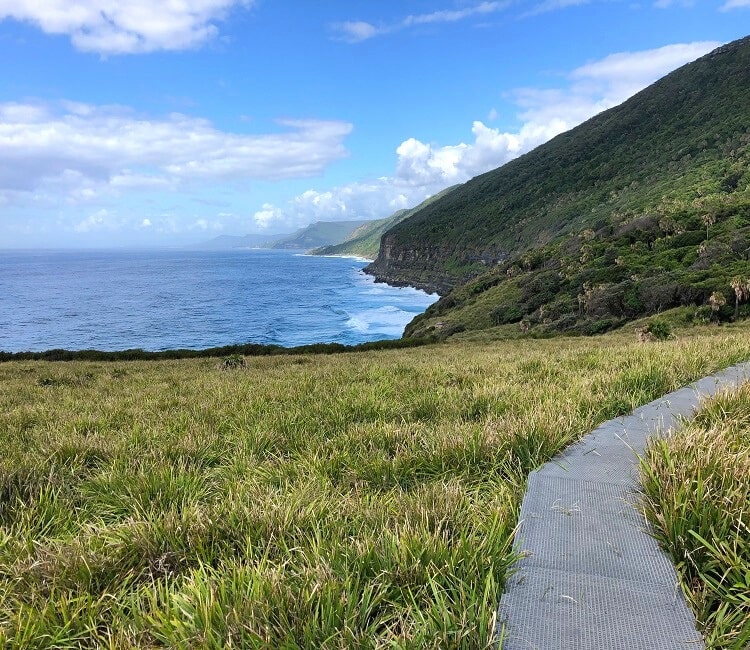 The views along this stretch of the walk are pretty amazing, and on a clear day you can also see the Sea Cliff Bridge further south.
The track then soon arrives at the start of the Palm Jungle, which is also signposted. A small information board explains more about this fascinating section in Royal National Park.

The access point to the Palm Jungle is literally like stepping into a completely different world. The contrast in scenery is quite remarkable.
From the open coastal landscape, the path now continues through a patch of tropical jungle, slowly climbing back up to the top of the ridge.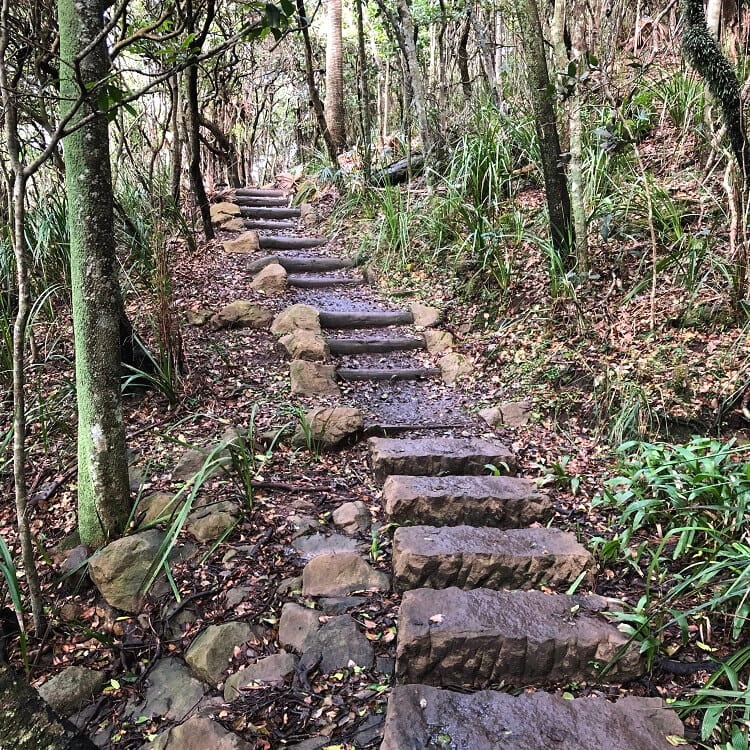 This ascent however occurs over a stretch of 2 km, so it's not as steep as the stretch between the car park and Burning Palms Beach.
Please be aware though that because the Palm Jungle is a very humid environment, there are leeches present, particularly after a period of rain.
So, if the track is muddy, do keep an eye on your shoes, socks and legs, as you make your way through this otherwise beautiful part of the national park.
4. Werrong Lookout
Just before the path arrives at the top of the ridge, make sure to check out the Werrong Lookout.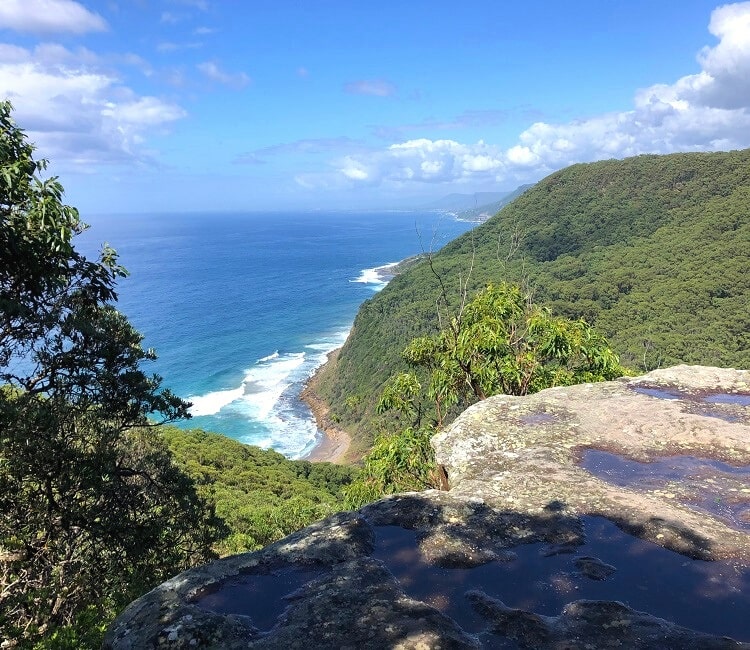 This unofficial lookout isn't actually signposted, but it is clearly visible on your left, so do keep an eye on it.
It only takes a very short detour to get to this lookout, and the views of Werrong Beach, the ocean and the surrounding bushland are just sensational.
5. Garawarra Ridge
From this lookout, it's a only a few hundred metres until the track arrives at the Garrawarra Ridge junction where you will need to make a right turn to complete the loop.

This last stretch is approximately 3 km long and is mostly flat. It's a very easy walk back to the car park, and may even be considered a little bit boring compared to the rest of the track.
That said, it's a lovely unpretentious forest trail and a great way to warm down from all the climbing along the Palm Jungle section.
If you enjoyed this walk, check out the
Curra Moors Loop Track
, which is quite similar, with a good mix of panoramic coastal views and scenic bushland.