Last updated: March 23, 2022
Pulpit Rock near Blackheath in the Blue Mountains is a large cliff edge with three lookout points spread across different levels. The lookouts are connected via a path with several sets of stairs.
An unsealed road and a short walking path will get you to the Pulpit Rock Lookout, offering panoramic views of the Grose Valley and beyond.
Keen to do a bit of hiking nearby? The Pulpit Rock Track is an exciting bushwalk that starts from the lookout. Read on to find out more!
The Pulpit Rock Lookout is located near Blackheath in the Blue Mountains. From the Great Western Highway, turn into Hat Hill Road and follow the signs to the lookout.
Keep in mind that the last stretch is an unsealed road with a few challenging bumps, but it can easily be conquered with a regular 2WD vehicle.
There is a small car park at the end of the road, but it does fill up quickly on busy days. From the car park it's an easy 15 mins walk to the lookout.
The official address of the Pulpit Rock Lookout (map):
Pulpit Rock Track
Blackheath NSW 2570

The Pulpit Rock lookout was first opened to the public in 1935 by Ernest Buttenshaw, the Minister for Lands in the New South Wales government.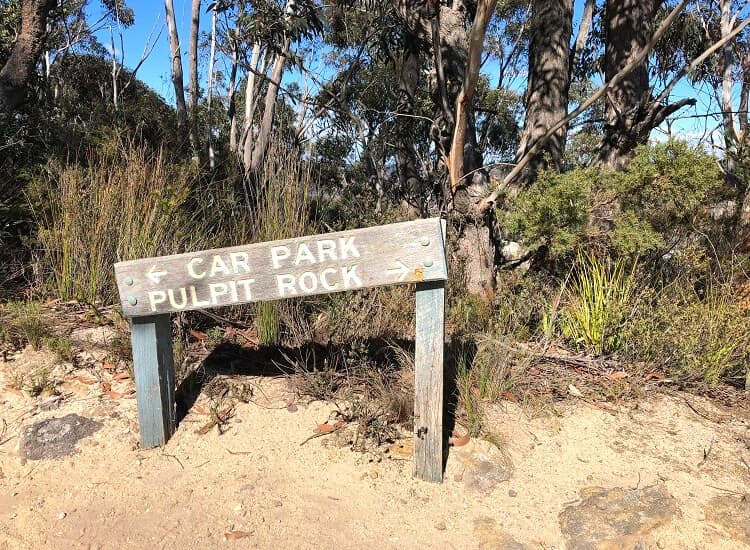 What's great about Pulpit Rock is that it is a multi-tiered lookout with several platforms on different levels.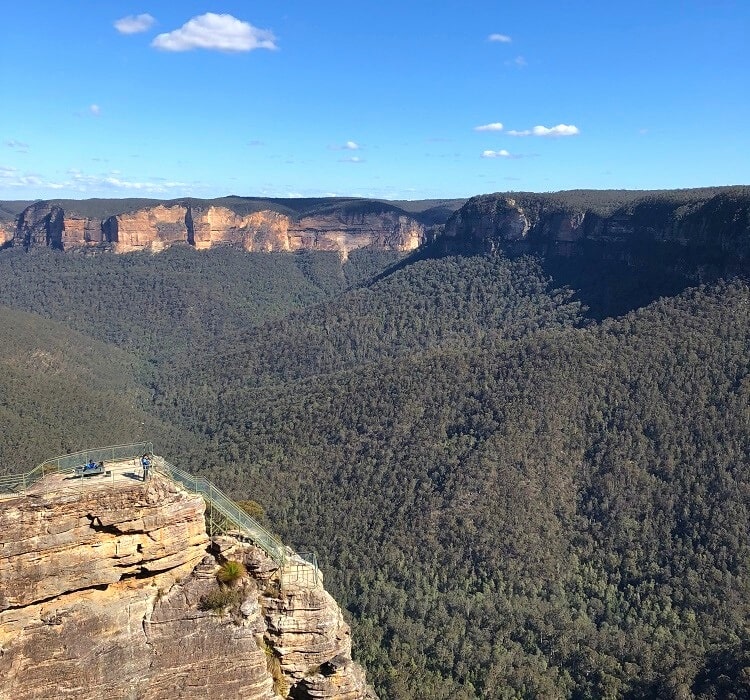 A walking path with stairs connects the platforms.
Each platform offers a different perspective of the Grose Valley and all of them combined results in near 360-degree views of the surrounding scenery.

It's not difficult to spend a few hours at Pulpit Rock to take in the panoramic views of the valley and mountain tops on the other side.

And without the big crowds, there is more opportunity to really take in the views, and also to practise those photography skills, especially at sunset or sunrise.
The Pulpit Rock walking track is a spectacular 3.5 km bushwalk between Pulpit Rock and Govetts Leap, following the edge of the cliff around Grose Valley.
This track passes several lookout points, with each lookout offering different views of the valley and waterfalls in the area.
This map gives you an idea of where this track is located:

Pulpit Rock Track
Distance:
3.5 km (one way)
Time:
2 hours
Grade:
Moderate (some steep sections)
Dogs:
Not allowed
Closer towards Govetts Leap, the track intersects with the Popes Glen Track, which follows the Popes Glen Creek back into Blackheath.

From Govetts Leap, it's possible to extend this bushwalk adventure by heading to the Evans Lookout via the Cliff Top walking track.
This walking track passes the top of the Govetts Leap waterfall and the Barrow Lookout, from where you can see the waterfall from close by.