Last updated: July 29, 2022
Reef Beach at Dobroyd Head in Sydney's North Harbour is a secluded strip of sand, with scenic views of the Harbour and Manly Cove on the opposite side.
Let's find out more about this scenic beach that many don't know about!
Reef beach can be accessed via the iconic Spit to Manly walk. The section where the beach is located is called the Reef Beach Track.
If you're not hiking and just want to visit the beach, the best spot to park your car is on Beatty Street (see image location), from where it's only a short stroll (about 400 metres) to the beach (see map below).
Another good option is to park your car at Tania Park on Dobroyd Scenic Drive (see map location), and make your way to the beach from there, which is also a short walk. Tania Park has a lot of parking available.
Various bus routes pass through Balgowlah Heights from Manly and from the city via Neutral Bay. Check the bus timetables on the NSW Transport Info website too plan your day.

What makes Reef Beach so attractive is its secluded location on Sydney's North Harbour. That, combined with the beautiful views, makes this spot a wonderful beach to go for a swim.

Facing northeast, towards Manly Cove, the beach is only 80 metres long and not very deep. The beach is usually quiet and clean, and is surrounded by bushland and rocky platforms.
Just behind the beach runs a wooden walkway with a bench that is part of the Spit to Manly walking track and the Manly Scenic Walkway.
At low tide, Aboriginal rock carvings are visible, but you would need to go and look for them.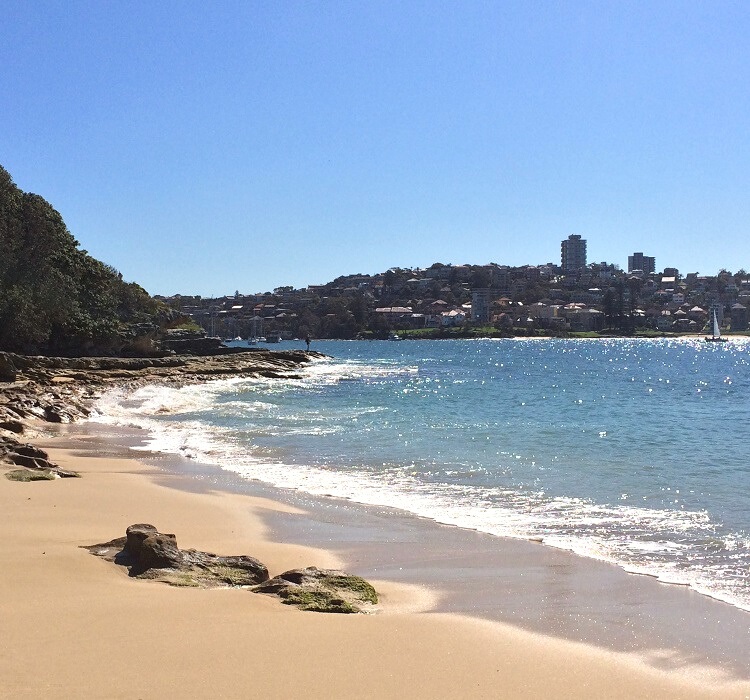 During the 1970s and 1980s, Reef Beach was a popular nude beach in Sydney, with big crowds of nudists and naturists visiting the beach on those warm summer days. But since 1993, nude bathing has been prohibited.
Since then, Reef Beach has been a peaceful and somewhat secretive spot, perfect for sunbathing and swimming.
For many locals, this is perhaps for the better, as it's becoming increasingly challenging to find a quiet beach in Sydney on the weekends.

Nearby beaches are Forty Baskets Beach further north, and Washaway Beach and Clontarf Beach towards the south and west. These are all on the Spit to Manly walk.
Toilet and shower facilities are available a bit further behind the beach.