Situated only 30 km south of the Sydney CBD, the Royal National Park is a popular recreational weekend destination for local Sydney-siders. And for good reasons, because Australia's oldest national park has so much to offer.
Beautiful walking tracks, isolated beaches, various small waterfalls, scenic viewing points, the Royal National Park truly is an amazing place to explore.
In this visitor guide you will find essential information to help you make the most of your visit to this unique and popular national park.
About the Royal National Park
The Royal National Park was established in 1879 as Australia's first and the world's second national park.
It was originally named National Park, but was renamed to Royal National Park in 1955 after Queen Elizabeth II passed through on her way to Wollongong during her Australia tour in the year 1954.
The park was included in the Australian National Heritage List in December 2006, to acknowledge the rich concentrations of various plant species that support a wide array of birds, reptiles and butterflies.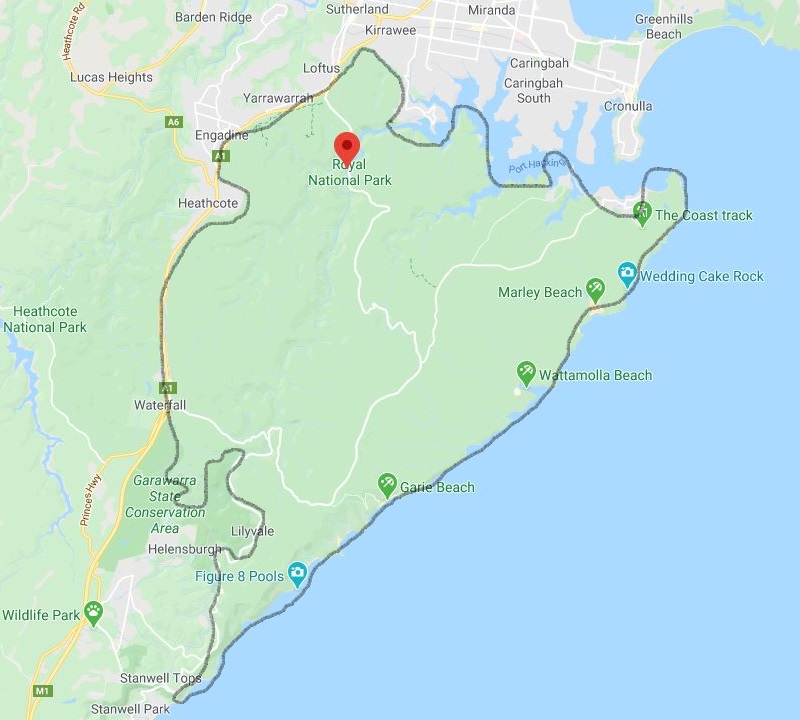 How to Get to the Royal National Park
The Royal National Park is easily accessible by car as well as by public transport.
1. Driving
By far the most convenient way to access and explore the Royal National Park is by car. Travelling by car allows you to visit not only the major sights and walking tracks, but also the lesser known spots, at your very own pace.
Entry to the park is $12 per vehicle per day, to be paid either at the seasonal ticket booths or at one of the coin and card operated pay machines. If you're just driving through, there is no requirement to pay.
The park has two entry points along the Princess Highway, and one entry point at Otford in the southern end of the park.
Loftus
From north to south, the first entry point is at Loftus, just south of Sutherland. This entry point feeds into Farnell Ave which later changes into Sir Bertram Stevens Drive.
Use this entry point to visit Winifred Falls, Bundeena, Jibbon Beach, Wedding Cake Rock and Wattamolla.
Waterfall
The second entry point is at Waterfall, which feeds into McKell Ave. Use this entry point to visit the Forest Path, Burning Palms, Figure 8 Pools, North Era Campground and Garie Beach.
Otford
The entry point at Otford feeds into Lady Wakehurst Dr. Use this entry point to visit Otford Lookout, Werrong Beach and the walking track to Figure 8 Pools.
Please note that all major roads in the Royal National Park are connected, so in that sense it doesn't really matter which entry point you choose.
2. Public Transport
Just like the Blue Mountains, the Royal National Park also has a train line running through it. Trains stop at several stations along the T4 line.
These train stations are, from north to south, Loftus, Engadine, Heathcote, Waterfall and Helensburgh. Otford train station is on the South Coast Line via Helensburgh.
Another way to access Royal National Park is by ferry from Cronulla to Bundeena, which can be used as the starting point of several walking tracks, such as the Jibbon Beach loop track and the Coast Track.
Please note that this is a private ferry service, which means you can't use your Opal card for payment.
The Best Walks in the Royal National Park
For most visitors to the Royal National Park, the main reason to go there is to enjoy the beautiful outdoors. And the best way to enjoy the natural goodness this park has to offer, is by doing one of the various walking tracks.
Check out our guide to the best walking tracks in the Royal National Park, which includes short and scenic coastal walks, as well as exciting bushwalks.
Three top rated walking tracks:

Discover Beautiful Beaches in the Royal National Park
Because the Royal National Park is situated along the coast, it's no surprise that you can find some great beaches there. What most of these beaches have in common is that they are quite isolated, and you'd have to do a bit of hiking to get to them.
Have a look at our list of 8 beautiful beaches in the Royal National Park, including details on how to find them.

Do the Coast Track From Bundeena to Otford
One of the most iconic hikes in the greater Sydney region is the 26km long Coast Track between Bundeena and Otford in the Royal National Park. From scenic lookouts and pretty waterfalls, to isolated beaches and swimming spots, the Coast Track is a once in a lifetime experience.
We have written a detailed guide about the Coast Track, including highlights, details on how to get there, and information around where to stay overnight.

Discover Wattamolla Beach
A popular destination in the Royal National Park for weekend visitors is Wattamolla Beach, a beautifully isolated spot that is also home to a waterfall, a large lagoon, and a scenic lookout point.
Check out our article about Wattamolla Beach with pictures of all the highlights, details on how to get there, and a list of nearby walking tracks.