Last updated: June 16, 2020
Starting at the famous Golden Stairs, the Ruined Castle Walk is a popular bushwalking track near Katoomba that brings you to one of the most unique landmarks in the Blue Mountains.
Enjoy scenic views of Jamison Valley, the Three Sisters, Castle Head and Mount Solitary as you hike through lush thriving rainforest.
Cover photo: IG/buzzystar
Ruined Castle Walk
Distance:
7.5km (return)
Time:
4-5 hours
Grade:
Moderate / hard (very steep sections)
Dogs:
Not allowed
Ruined Castle Walking Track
The Ruined Castle walk starts at the small Golden Stairs car park on Glenraphael Drive.
To get to that car park, turn into Glenraphael Drive from Cliff Drive (close to Scenic World) and follow this dirt road for about ten minutes until you get to the Golden Stairs sign.

This is the starting point of the Ruined Castle walk and the Mount Solitary walk. It also connects with the famous Federal Pass walking track which goes the other way to Leura.
Please note that Glenraphael Drive is not very well maintained and has lots of nasty potholes. If you don't have a 4WD, it's essential that you drive very carefully to avoid damage to your car.
Golden Stairs
The Golden Staircase awaits you as soon as you head into the bush right at the starting point of the Ruined Castle Walk.
Because you're going downhill, it may not feel all that challenging at first. But heading back up will definitely feel like an intense workout so make sure you keep some water for that last stretch of the walk.
Halfway the Golden Stairs is the Botting's Lookout which offers panoramic views of Jamison Valley, Katoomba Landslide, Echo Point and the Three Sisters.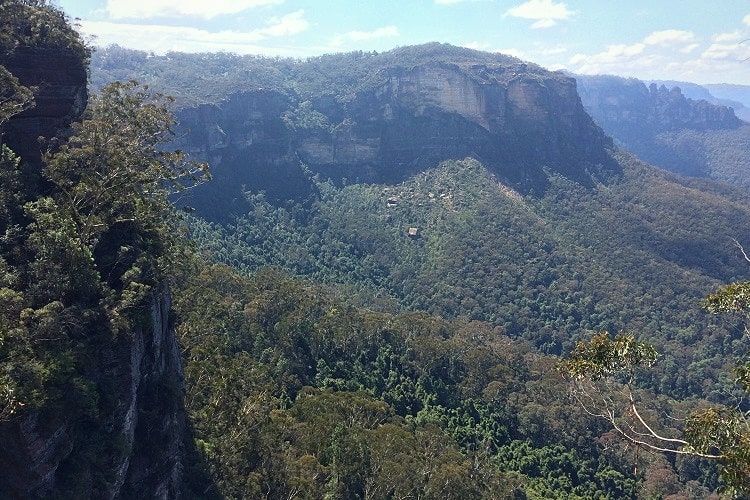 This lookout was named after Walter Botting, a Blue Mountains City Council Ranger and pioneer track maker in the Katoomba area.
The track quickly descends into the valley where you will enter a whole new world of thriving, lush rainforest. It's an absolute delight hiking through this refreshing scenery.
It's hard to imagine that this section of the track was once part of an old coal mining route going through the Jamison Valley in the 19th century.
Castle Head
After about an hour of hiking through the rainforest, turn right at the intersection going up the hill towards the Ruined Castle. As you get higher up, the majestic sight of Castle Head will start to appear behind you.

Castle Head is a headland on the Narrow Neck Peninsula just south of Katoomba. It was named Castle Head because it looks down on the Ruined Castle.
If you have some time left on the day, it's strongly recommended to visit the Cahill's Lookout nearby. This lookout offers great views of the Megalong Valley and the Narrown Neck Peninsula, and the Ruined Castle can also be seen.
This lookout makes it so much easier to get an understanding of where everything is located in relation to each other.

Ruined Castle
As you get closer to Ruined Castle, you will see several boulders that look like they don't belong there at all.
And that's exactly what makes the Ruined Castle so fascinating. It's a massive rock formation in the middle of nowhere, located on top of a ridge between Castle Head and Mount Solitary. Go figure!

Sitting on top of Ruined Castle, you can get a good feel of the surrounding scenery, with Jamison Valley below, Castle Head to the north and Mount Solitary on the opposite side. It's a beautiful and somewhat surreal landscape.
The track continues around the Ruined Castle via two steep sections back down into the valley. At the next intersection, turn left heading back towards the Golden Staircase and Katoomba.
Mount Solitary
If you do have enough time, energy and water, you could also decide to turn right at this intersection, heading to Mount Solitary. This is a hard walk that takes you all the way to the top of Mt Solitary, suitable for experienced bushwalkers.
While the views from the mountain are sensational, this walking track passes through very remote areas with sections that are quite hard to navigate.
Head into Glenraphael Drive in Katoomba and park your car at the Ruined Castle Walk sign. It's a tough dirt road so please be careful if you don't have a 4WD.
The last section of the walk is a loop. Some people return to where they came from once they've visited Ruined Castle. But you can actually keep going straight because the track loops back to the intersection where you turned right to climb up to visit Ruined Castle.

Google Map: