Last updated: September 12, 2023
The scenic walk from Rushcutters Bay to Rose Bay is a 5.5 km trail through some of Sydney's most exclusive suburbs, mostly following the coastline of Sydney Harbour.
This relatively easy walking track takes in beautiful parks, quiet beaches, and picturesque bays, with spectacular Harbour and city views to enjoy from start to finish.
The photo opportunities are endless, so bring your camera and your hiking boots, and get ready to conquer one of Sydney's finest Harbour trails.
Rushcutters Bay to Rose Bay
Distance:
5.5 km (one way)
Duration:
3 hours (depending on stops)
Grade:
Easy
You can start this walk either in Rushcutters Bay or in Rose Bay. If you're driving, Rose Bay has the best options for parking.
If you prefer public transport, Kings Cross train station is only a short stroll away from Rushcutters Bay Park. There are also various bus stops in Rushcutters Bay and Darling Point. Use the Trip Planner website to map out your best itinerary.
Once you've completed the walk at the Rose Bay end, catch a ferry back to Circular Quay, and make your way home from there.
Below is a handy map of the walk with highlights. You can grab a copy of that map by downloading the brochure from the Woollahra municipal council website.

Rushcutters Bay to Rose Bay Track Notes
The beautiful trail from Rushcutters Bay to Rose Bay can roughly be divided into two sections:
Rushcutters Bay to Double Bay
Double Bay to Rose Bay
Both sections take about 1.5 hours to complete at an average pace, including various stops for sightseeing.
The first section begins at Rushcutters Bay Park and brings us to Double Bay Beach and the Double Bay shopping centre. The second section continues from Double Bay to the Rose Bay ferry wharf, past Point Piper.
1. Rushcutters Bay to Double Bay
The walk officially starts at Rushcutters Bay Park, a beautiful green space facing Sydney's largest city marina.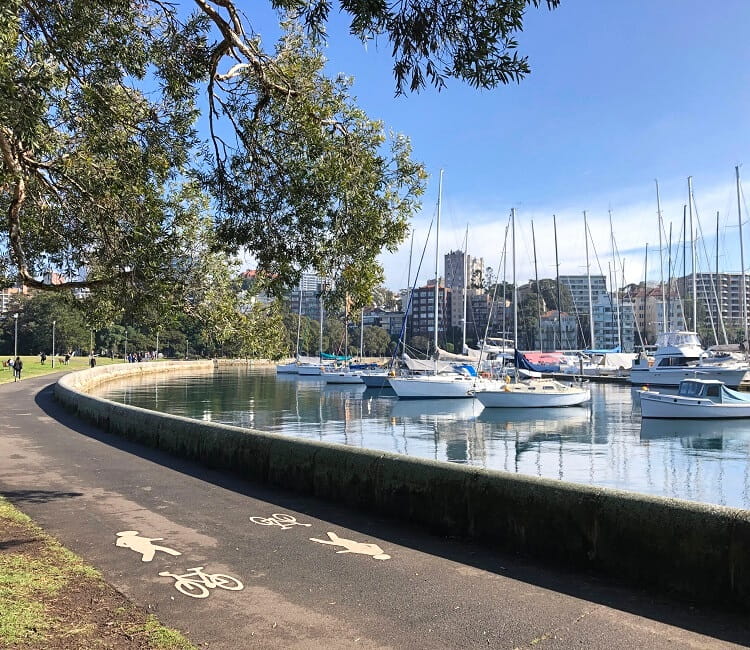 The park is a great spot for exercising, relaxing, walking the dog, or for simply enjoying the beautiful Harbour views.
The track continues around the bay towards Yarranabbe Park, another scenic park with great views of Garden Island and the Sydney Harbour Bridge.

This park is part of Darling Point, an interesting suburb with many high-rise apartment blocks and various impressive old mansions.
McKell Park
From Yarranabbe Park, rather than continuing to Steyne Park in Double Bay, it's worth doing a little detour to McKell Park, located behind the Darling Point ferry wharf.
Mckell Park is quite a unique park built around the ruined foundations of various historic properties.

It's a beautiful spot to wander around, with panoramic Harbour views to enjoy and various information boards to learn more about the history behind the park.
Steyne Park
From McKell Park, follow Darling Point Road and Marathon Road to Steyne Park in Double Bay. From this park, continue along the shoreline past Double Bay Beach.

If you're feeling hungry or just want to have a nice coffee, the Double Bay shopping centre is a good opportunity to have a break.
You can access the shopping centre via Beach Road and Galbraith Walkway.
2. Double Bay to Rose Bay
From Double Bay, the walking track continues along New South Head Road, before heading down to the Murray Rose Pool (previously known as Redleaf Pool) and Seven Shillings Beach.

Access to this popular pool is via a few sets of stairs at the iconic Woollahra Municipal Council building. Enjoy the scenic views as you go down to the pool and the beach.
Point Piper
After a short stroll along the beach, make your way back up to New South Head Rd via the public stairs that connect with St Mervyns Avenue.
From New South Head Rd, the walk continues along Wolseley Road, exploring the suburb of Point Piper.
The two highlights in Point Piper that are worth a visit are Duff Reserve and Lady Martins Beach.

Duff Reserve is a small, somewhat hidden, green space right at the water, with fantastic views of Sydney Harbour. To get to this pretty reserve, look for the signpost and descend the stairs.
A bit further down along Wolseley Rd is Lady Martins Beach, one of the many secluded beaches in Sydney, where you can go for a quiet swim without the big waves. At low tide, that is.
Rose Bay Park
The track leaves Point Piper behind via Wyuna and Wunulla Road.
Towards the end of Wunulla Road, take the steps down, heading into Rose Bay Park behind Bellamy Beach. This is a beautifully quiet spot in Rose Bay, perfect for a relaxing walk, a quick swim, or a kayak session.

From Rose Bay Park, follow the promenade along New South Head Rd towards Lyne Park and the Rose Bay ferry wharf, which marks the end of this highly enjoyable walking trail.
The walking track from Rushcutters Bay to Rose Bay is not as well-known as other walks in the Sydney Harbour area, which is a pity because it's an absolute gem.
What's interesting is that this walk forms part of a network of various trails that allow you to walk from the city all the way to Malabar Beach, following the coastline of Sydney's eastern suburbs.
Here is a list of those walks (from west to east):
Opera House to Rushcutters Bay
Rushcutters Bay to Rose Bay
Rose Bay to Watsons Bay (including the Hermitage Foreshore Walk)
Watsons Bay to Bondi Beach (including the Federation Cliff Walk)
Maroubra Beach to Malabar Beach (via the Malabar Headland)
The first four walks (between Bondi Beach and the Harbour Bridge) are also part of the 80 km hike between Bondi Beach and Manly Beach.
It's clear, one of the biggest perks of living in Sydney is all the beautiful coastal walks we can choose from!