Last updated: July 5, 2023
Sydney is not just great for hiking; it's also the perfect city to go out for a nice run. Blessed with an almost ideal climate, Sydney is home to several scenic running tracks that take in beautiful bays, parks, ocean cliffs, and famous landmarks.
Sydney also organises various fun runs each year to encourage people of all ages and fitness levels to go out and have a go at running.
These runs are typically associated with a charity, which is another good reason to participate in one or more of these events. Scroll further down for a list of some of these runs organised throughout the season.
Top 10 Sydney Running Routes
Below are our ten favourite scenic running and jogging tracks in Sydney. Depending on your fitness level, you can do smaller sections of these routes or add a few more kilometres to get your sweat on.
Further below, you can find a list of fun runs scheduled for this year.
1. Glebe Foreshore Track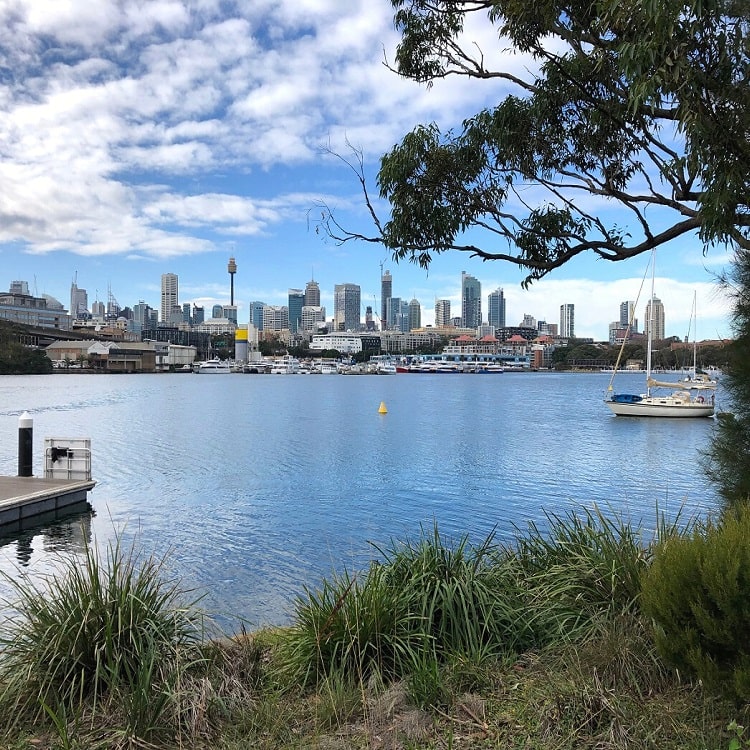 The loop around Blackwattle Bay and Rozelle Bay, taking in the Glebe Foreshore and the Anzac Bridge is a popular track for weekend runners.
The loop is around 5 kilometres long and takes about 30-40 minutes to complete. The Anzac Bridge is certainly a challenge as it's pretty steep, but once you're halfway and on your way down, you will feel like a million dollars.
Parking is available at the Glebe Foreshore Parks or otherwise at the Sydney Fish Market.
2. Opera House, Botanic Garden and the Domain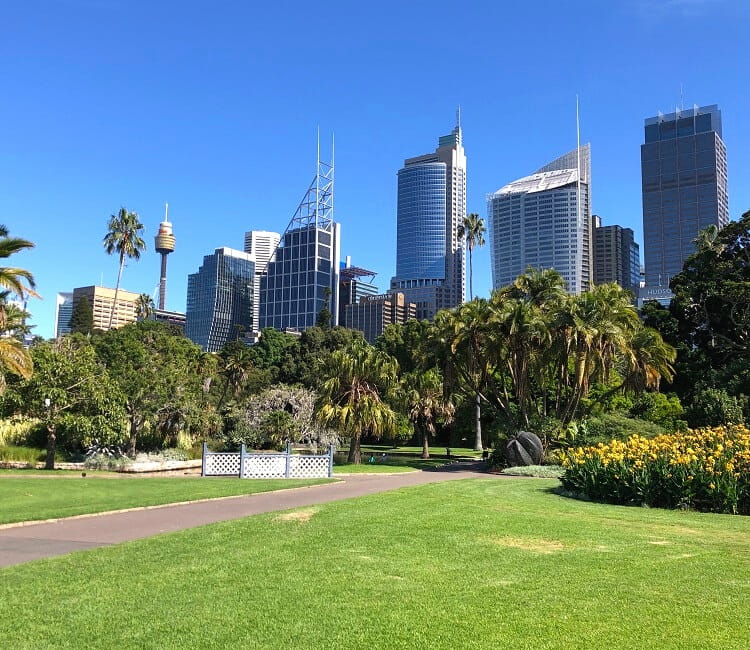 If you've ever worked in the city, there's no doubt you've seen the many joggers and runners doing their workouts at lunchtime.
What better way to spend your afternoon break than with a refreshing run in the Sydney CBD via the Opera House, Mrs Macquarie's Chair, the Botanic Gardens and the Domain.
You can make this run as short or as long as you like. With such fantastic scenery and with so many fellow runners around you, motivation will not be an issue.
3. Bondi To Coogee (or Bronte)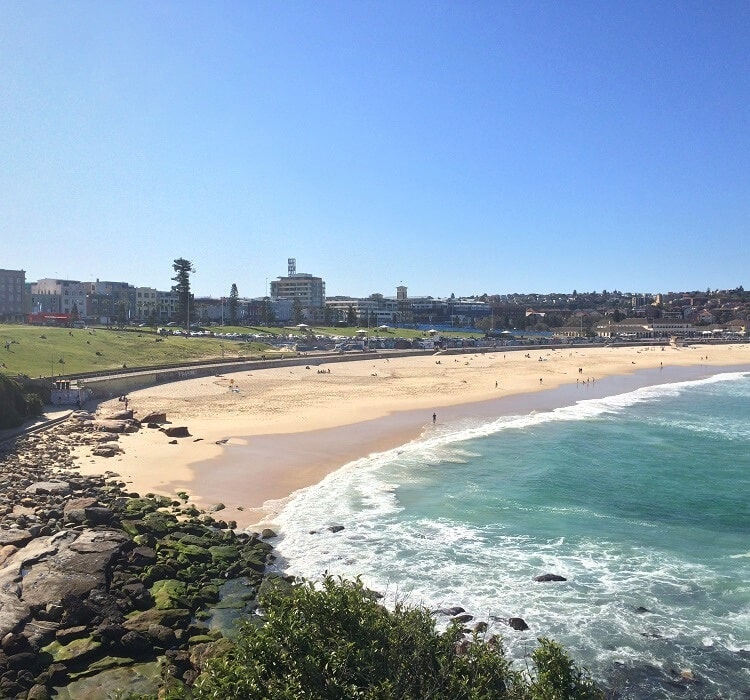 Running between Bondi Beach and Coogee Beach is an amazing experience and is not as hard as some may think. The scenery along Sydney's coastline doesn't get any better, which certainly gives you a boost.
The track between Bondi and Coogee is approximately 6 km and should take around 50 minutes to complete. If this is a bit too long, you can try the Bondi to Bronte track, which is around 2.5 kilometres.
Be mindful that it gets very busy on the weekends with tourists and daytrippers, so it's recommended to go early in the morning if you want to make the most of your workout.
4. Harbour Bridge and Lavender Bay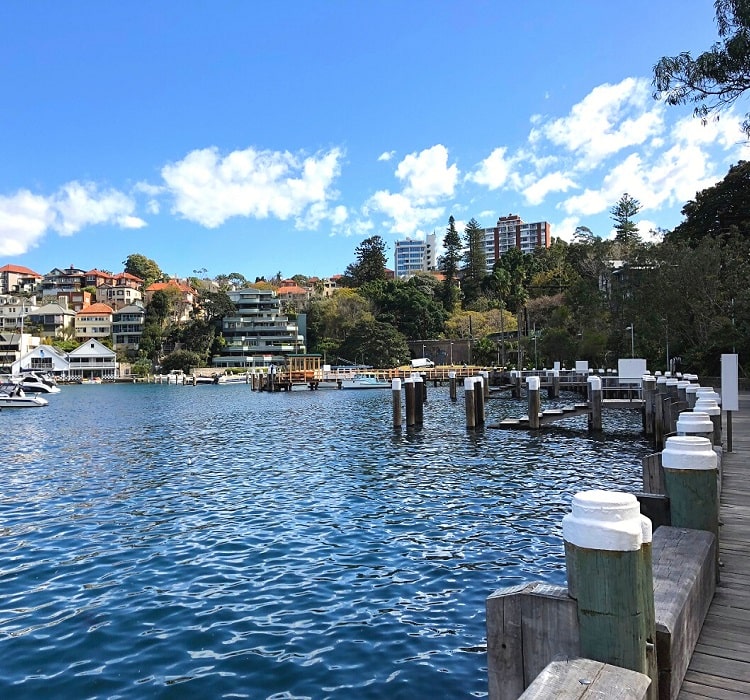 If you're a true Sydney-sider, you should run or walk the Harbour Bridge at least once in your life.
The walkway gets a bit noisy with traffic, but you will feel great knowing you're running across one of Sydney's most iconic landmarks.
At the other side of the bridge, make your way to Luna Park and continue running around Lavender Bay. If you're feeling very energetic, you can go a bit further and run around McMahons Point.
Otherwise, you can go through Wendy's Secret Garden and return to the city via Lavender Street, Alfred Street, and the bridge. If you have time, it's worthwhile running under the bridge and taking in a bit of Kirribilli.
5. The Bay Run Around Iron Cove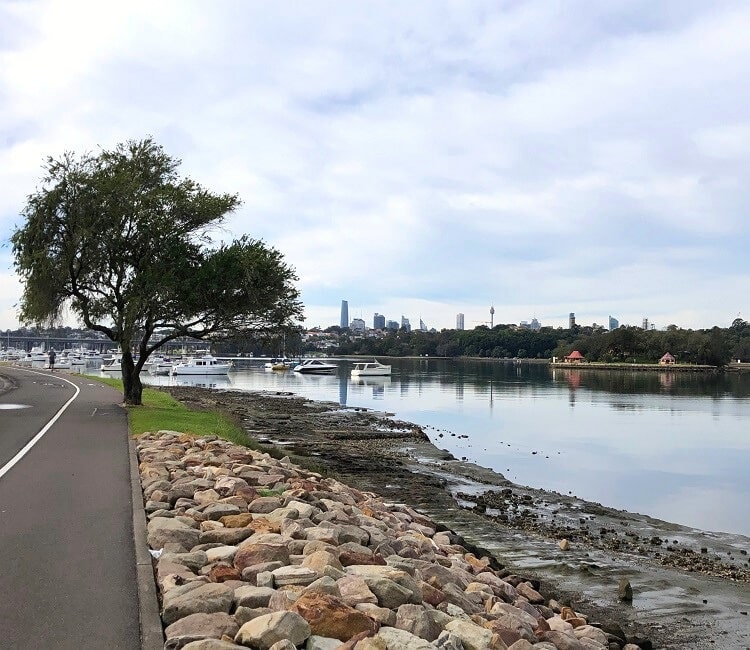 The Bay Run is one of Sydney's most popular running tracks.
This relatively easy 7 km long track takes you along the beautiful shores of Iron Cove Bay in Sydney's inner west.
Do the loop three times, and you're ready for the Sydney half marathon!
Please note that on the weekends, especially when the sun is out, the Bay Run does get quite busy with walkers, joggers and cyclists.
6. Manly to North Head

The running track from Manly to North Head is perhaps not the most obvious choice when you want to go for a run, but the incredible views make it worthwhile.
Start in Manly and make your way to Shelly Beach. From there, find the track that leads to North Head. This bit is not the easiest track to run as it's going uphill, so some running fitness is expected.
The panoramic views you'll get to enjoy once you're at the top are amazing. The run downhill back to Manly is a lot easier, especially knowing that many cafes are awaiting you, not to mention the beaches.
The whole round trip is around 9.5 km and forms part of the 20 km Manly Scenic Walkway, which includes the Spit Bridge to Manly walking trail.
7. Pyrmont and Darling Harbour

Apart from Pyrmont locals, not many people know how fantastic the Pyrmont waterfront is. Great for a casual evening stroll or a comfortable short run.
Start at Bank Street and follow the landscaped shoreline that runs past Waterfront Park, Pirrama Park, Pyrmont Point Park, Jones Bay and the Maritime Museum in Darling Harbour.
If it's not too crowded, why not cross the Pyrmont Bridge and loop around Darling Harbour before returning to your starting point.
8. Centennial Park Run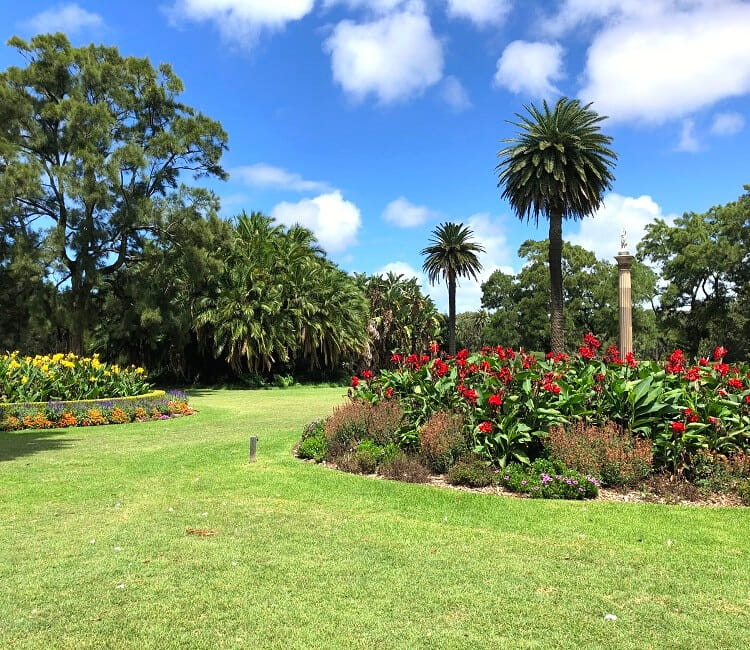 Centennial Park is a favourite spot to go for a run or a walk for so many local Sydney-siders. Nestled between the Sydney CBD and Bondi Beach, Centennial Park always feels like an escape from the city.
Running here is easy, with a flat 4 km circle track. If you're feeling a bit more energetic, go and explore the centre of the park too, with lots of different routes and ponds to discover.
9. River Walk in Sydney Olympic Park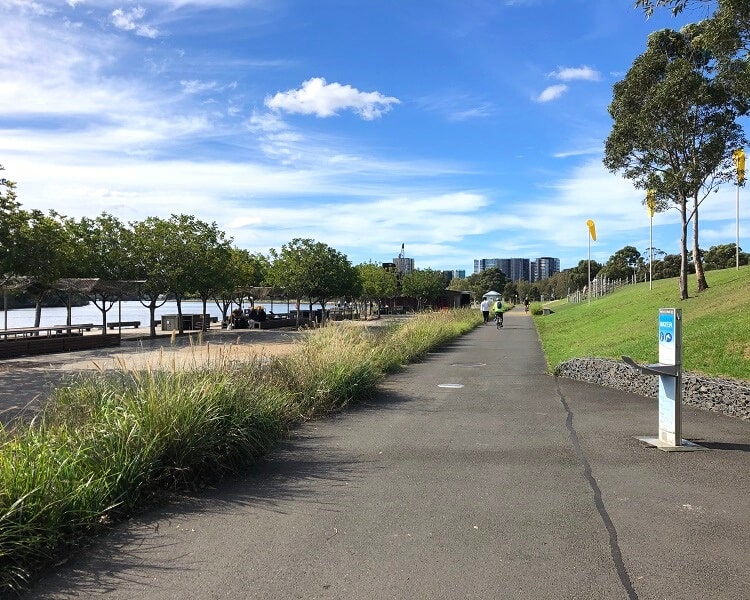 The scenic River Walk in Sydney Olympic Park starts at the Olympic Park ferry wharf at the northern tip of Wentworth Point and follows the shoreline all the way to the Silverwater Bridge.
This fantastic walking track and running route passes Newington Park, the Newington Armery, Blaxland Riverside Park, and Wilson Park.
10. Manly Lagoon to Shelly Beach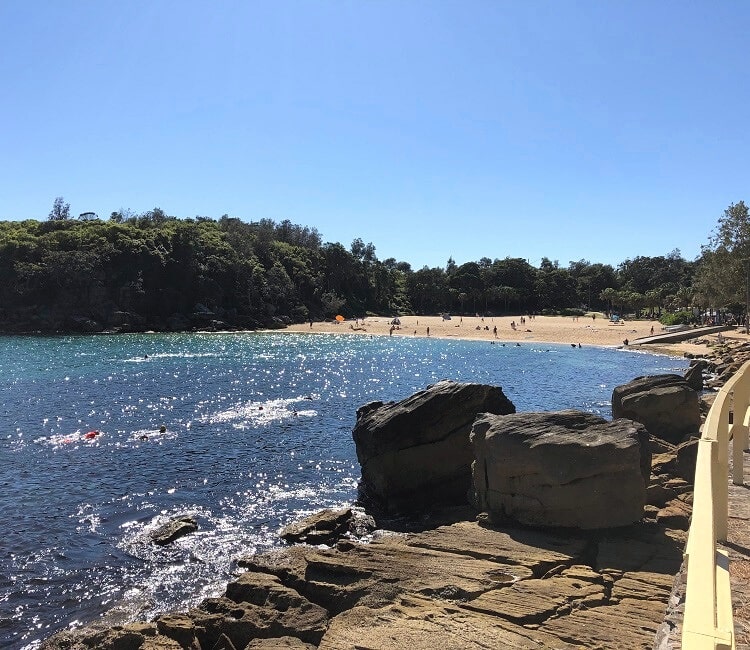 This scenic route starts from the Manly Lagoon Reserve at the north end of Queenscliff Beach and continues all the way to Shelly Beach, south of Manly Beach.
For the most part, the path along the oceanfront is quite wide, with enough space for pedestrians and parents with prams.
Things can get a little more cramped and busy towards Shelly Beach, though, especially during weekends, but on an average weekday, there should be enough space to get a good workout in.
If this running route is a bit short, you can extend it at the Queenscliff end and continue running to Freshwater Beach and Curl Curl Beach.
If you're serious about running, it may be worth investing in a sports watch. Have a look at our list of recommended
GPS watches for hiking and running
for some good options.
Sydney offers several fun runs that are organised throughout the year. These runs often have different distances you can sign up for to accommodate running enthusiasts of all fitness levels.
Whilst there are often prizes to be won with these runs, participating and having lots of fun is much more important.
What's great is that you can also run for a good cause. Open an online donation page and start promoting your upcoming challenge and the cause you're running for.
Here are some of the most popular fun runs in Sydney.
1. Neuroblastoma Run2Cure
Organised by volunteer charity Neuroblastoma Australia, the Neuroblastoma Run2Cure involves a 21 km, 10 km, 5 km, 3 km and 1 km fun run/walk to raise funds for Children's Cancer Institute, Cancer Council NSW and The Kids' Cancer Project for research into neuroblastoma.
Sunday 7 April 2024 – The Domain
2. Sutherland 2 Surf
The Sutherland2Surf is a 2 km, 5 km and 11 km long fun run and walk hosted by the Wanda Surf Life Saving Club. Run or walk from Sutherland to Cronulla and raise funds for a charity.
Sunday 16 July 2023 – Sutherland
3. Sydney Harbour 10K & 5K
One of the most popular running events in Sydney, the Sydney Harbour 10K & 5K starts and finishes in The Rocks. Running or walking, competitive or social, it's entirely up to you, but a great atmosphere is guaranteed.
Sunday 23 July 2023 – The Rocks, Sydney
4. City 2 Surf
Famous around the world, the City2Surf race draws massive crowds each year in August. No less than 85,000 runners and joggers make their way from the city to Bondi Beach. Enter as an individual or a team, and raise money for your chosen charity.
Sunday 13 August 2023 – Sydney