Last updated: June 29, 2021
Sirius Cove Reserve is a dog-friendly hideaway in the suburb of Mosman in Sydney's lower north shore. Often referred to as Little Sirius Cove, this charming spot is home to a quiet beach, a playground and a large picnic area.
It's also a great starting point for the walking trail going east to Taronga Zoo, Bradleys Head and Chowder Bay, or going west to Cremorne Point.
The reserve is located at the end of Sirius Cove Road in Mosman (map location).
If travelling by car, the reserve has a designated parking area. If this is at full capacity, try suburban street parking nearby.
A more fun way to travel however is by ferry. The closest ferry stops are the South Mosman and Mosman Bay wharves west of Sirius Cove, and Taronga Zoo wharf east of Sirius Cove. It's a short walk (up to 20 mins) from these wharves.

Alternatively, travelling by bus is also an option. Check the bus timetable on the NSW Transport Info website for more details.
Sirius Cove can also be reached via the walking trail along the shoreline that leads to Taronga Zoo and Bradleys Head. Cremorne Point on the other side of the bay is a bit further away.
Sirius Cove Reserve and Beach
Quietly tucked away in one of the many lower north shore bays, Sirius Cove Reserve is a peaceful little paradise with excellent facilities for the whole family, including the dog.
Yes, Sirius Cove is one of the best places in Sydney to let your dog run around and go for a little splash.

Sirius Cove was named after HMS Sirius, the flagship of the First Fleet that arrived in New South Wales at the end of the 18th century.
Located right at the end of Sirius Cove Rd in Mosman, west of Taronga Zoo, the reserve has a spacious setup and is equipped with picnic tables, a fenced playground for children, a drinking fountain and a toilet/shower block.
Protected by a sandstone wall, the 250m wide beach is facing south to a deep bay that flows into Sydney Harbour. The water is usually very quiet and shallow and therefore perfect to walk into with your dog without getting too wet.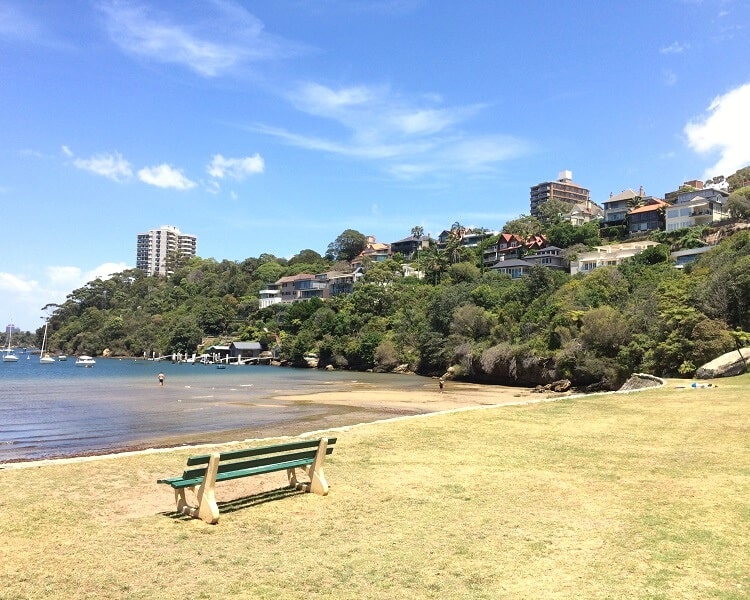 Dogs are permitted off leash in the park, on the beach and in the water all day from Monday to Friday. On Saturdays, Sundays and Public Holidays this is restricted to non-peak hours before 9am and after 4pm.
Dogs love hanging out in friendly Sirius Cove but please be mindful of other visitors when letting your dog out running.
Curlew Camp
An interesting fact about Sirius Cove that many don't know about is that in the late 19th century various leading Australian artists used to come there to do their work. Some of their most famous paintings were actually created right there.
Curlew Camp, as it was called, became a famous gathering spot for artists, writers and musicians. The camp was located at Little Sirius Cove, just around the corner of Sirius Cove.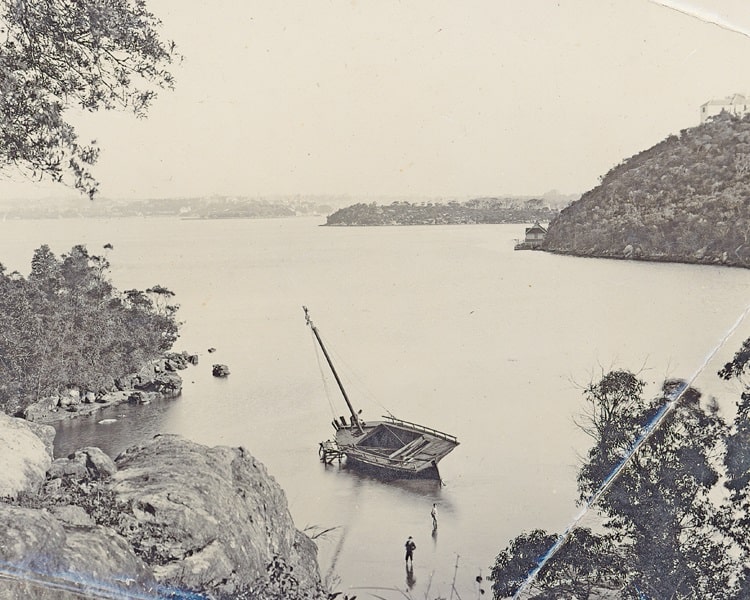 The "Curlew Camp Artist's Walk" is the walking trail from South Mosman Ferry Wharf towards Taronga Zoo that the artists followed to get to the camp.
The camp was ultimately abandoned in 1912 when the area was chosen to build the new Taronga Zoo, but the historical significance of Curlew Camp however has always remained.
Walking Tracks and Beaches Nearby
Sirius Cove Reserve can easily be accessed by foot via the foreshore walking trail that takes in places like Cremorne Point, Mosman Bay, Taronga Zoo, Bradleys Head and Chowder Bay.
1. Go East: Whiting Beach, Athol Bay and Bradleys Head
If you're visiting the reserve and feel like hiking, it's best to head east towards Taronga Zoo and Bradleys Head. The starting point of this scenic trail is located at the eastern end of the beach.
Climb up the stairs and follow the path towards Little Sirius Cove and Little Sirius Point at the tip of the bay.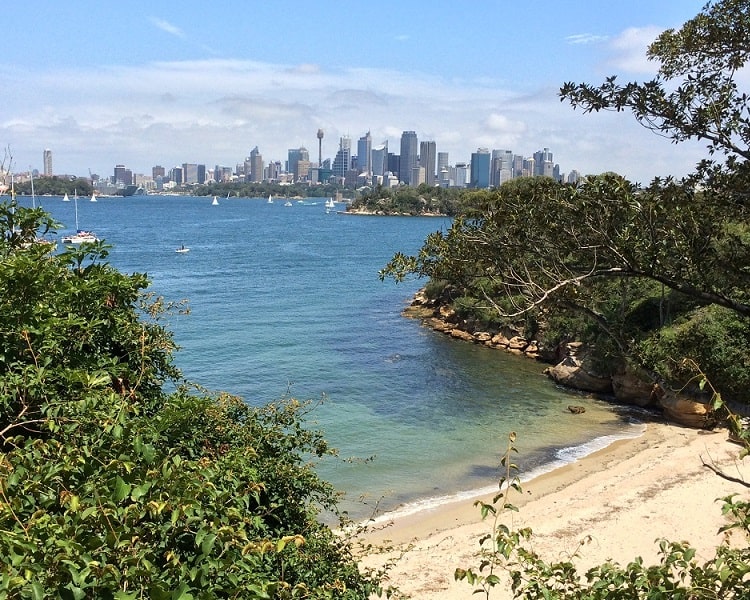 Just around the corner of Little Sirius Point is Whiting Beach, a small, south-facing strip of sand with densely vegetated slopes, right in front of Taronga Zoo.
Continue the walking trail past Taronga Zoo Wharf and you'll soon arrive at Athol Bay, another quiet and secluded beach. From Athol Bay, follow the beautiful Bradleys Head Walking Track ending at Bradleys Head.

The foreshore walking trail doesn't have to end there though. If you still have energy you can continue all the way to Chowder Bay and Balmoral Beach.
2. Go West: Mosman Bay and Cremorne Point
From Sirius Cove Reserve, you can also go the other direction, towards Mosman Bay and Cremorne Point.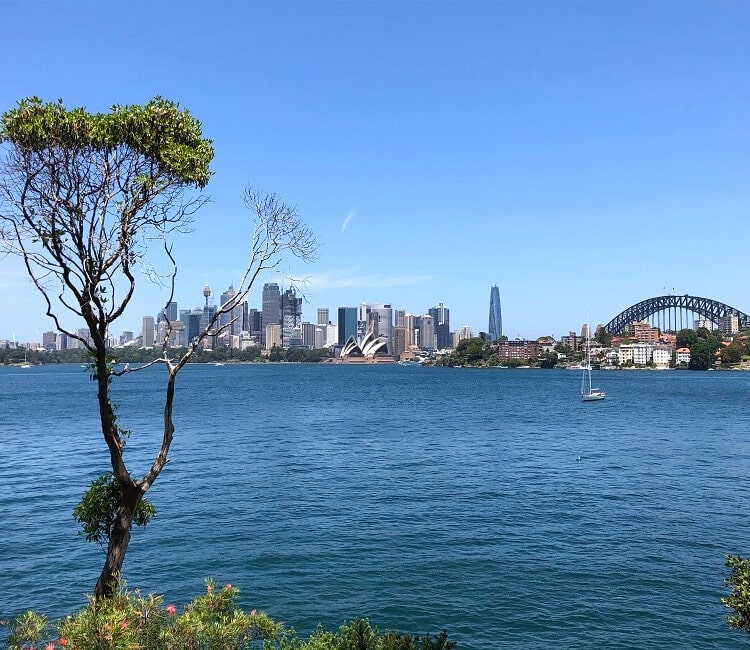 Follow Curlew Camp Road and look out for the sign that says "Curlew Camp Walk". This walking trail goes through quiet suburban streets to Mosman Bay followed by Cremorne Point.
The easy 3km foreshore circuit trail around Cremorne Point offers beautiful views of Mosman Bay, Sydney Harbour and the city skyline.
The reserve has a small parking area, but that fills up quickly on sunny days. Free street parking is available nearby.