Last updated:
The Spit Bridge to Manly walk is a beautiful 10km coastal walk, boasting quiet inner harbour beaches, native bushland, picturesque bays and panoramic ocean views.
The walk forms part of the famous 20km Manly Scenic Walkway that runs from the Spit Bridge all the way to Manly North Head.
Spit to Manly Walk
Distance:
10 km (one way)
Time:
3-5 hours
Grade:
Moderate
Dogs:
Not allowed on some sections
In general, public transport is recommended, but there are a few options if you prefer to go by car. With your Opal card you can use unlimited public transport for only $2.80 on Sundays.
Car:
You can park your car north of the bridge at Battle Boulevard, or south of the bridge at the Spit Bridge Reserve. Use a taxi or public transport to return to your car. If you do the walk in the other direction, there are quite a few reasonably priced car parks in Manly.
You can also cut the walk short and park at Clontarf Reserve or at Tania Park, next to Dobroyd Head, which has a free parking area.
Public Transport:
Catch a bus from the city to the Spit Bridge. In Manly you can either catch a bus or a ferry back to the city, and then the bus back again to the bridge. Check bus and ferry services on the NSW Transport Info website.
The Spit Bridge is located in The Spit and carries Spit Road to connect the suburbs Mosman and Seaforth. The Spit Bridge, completed in 1958, is a bascule bridge and its middle section can be raised to allow ships to get through.
The bridge has played a crucial role in the development of the northern suburbs and forms the gateway to the beaches up north.
The Spit Bridge replaced an old wooden bridge that wasn't suitable anymore to handle the increasing traffic.

Now, more than half a century later, the bridge (including Spit Rd and Military Rd) often gets heavily congested with traffic and plans exist to build a tunnel.
The Spit is a beautiful place to hang out for a few hours, with lots of water based action, picnic areas with BBQs, a few restaurants and a playground. Find the Spit Bridge opening times on the Roads & Maritime website.
The official starting point of the Spit to Manly walk is right at the northern end of the bridge. You can get there by walking down the hill from Battle Boulevard, towards the water.
You will then follow the path under the bridge that will lead to Ellery's Punt Reserve. From there, keep following this shore path that winds around Fisher Bay and Sandy Bay.
1. Clontarf Reserve
The Clontarf Reserve is a beautiful park area on Sandy Bay Road in Clontarf, with excellent picnic and BBQ facilities, a cafe and restaurant (Clonny's), playgrounds, toilets and showers and quiet stretches of beach.

The park also has plenty of large trees that offer shade on very sunny days. The large paid parking area quickly fills up in the weekends. The beach right in front of the park has a netted swimming area and is perfect for children.
To continue the Spit Bridge to Manly walk, simply follow the shoreline further north towards Clontarf Point, Lexi Beach and Castle Rock Beach.
2. Castle Rock beach
Castle Rock Beach is a small (and not very well known) secluded beach that you can reach via a short walk down from the Spit to Manly track. It's the perfect beach for those looking for a quieter beach experience, away from the large sun-bathing crowds.
There are also no facilities here so make sure you bring your own food and drinks if you're planning to hang around here for a while.
If you're going to Castle Rock Beach by car, street parking is available at Ogilvy Road. Just don't tell anyone.
3. Grotto Point Lighthouse
The next major point of interest on the Spit Bridge to Manly walk is Grotto Point and the Grotto Point Lighthouse.
Be careful, the walking trail to the lighthouse can be very easily missed. You actually need to go off the main route to go see the lighthouse and this is not very well signposted.
About 5-10 minutes after Castle Rock Beach, you'll see an intersection with 4 different directions to choose from.
If you go straight, you'll continue the main Spit Bridge to Manly walking trail. To visit the lighthouse, you need to turn right and walk for about 10 minutes.

The 8 metres high white lighthouse was commissioned in 1911 to help navigate ships entering Sydney Harbour. The tower itself is closed but the grounds are open to the public.
The walk to the lighthouse and the views across Middle Harbour make this a very enjoyable visit.
It's good to point out though that this side trip requires an extra 30 minutes so if you're short on time, you could simply come back to visit the lighthouse another day.
Back on the main track, just a few minutes later, you will come across some very well preserved aboriginal rock engravings. Watch out for boomerangs, a giant kangaroo, a whale and small fish that are clearly visible along a short side track.
4. Washaway Beach
Just east of Grotto Point is another "secret" beach, Washaway Beach. Perhaps even more secretive than Castle Rock Beach, the beach is called washaway because it can literally vanish with high waves.
This beach is not signposted and is extremely easy to miss. From the track to Grotto Point, you need to turn left into a side track.

From there it's another 5 minutes before you see the beach appearing. But even when you're there, you will find it hard to actually get onto the beach as the cliffs are quite high.
To enter the beach, you need to climb down the cliff, around halfway the beach. Many years ago, beach goers actually tried to engrave a makeshift ladder in the rocks to make it easier to get onto the beach.
It is still very tricky to climb down so be careful and bring someone with you, just in case something happens and you're in need of help.
Washaway Beach used to be a nude beach and you may still bump into scarcely dressed sunbathers, so be warned if that's not your thing.
5. Crater Cove and Arabanoo Lookout at Dobroyd Head
Walking away from Grotto Point, towards the north, the track leads to Dobroyd Head. You will soon see a sign for the Crater Cove Lookout, located at the big car park at Tania Park.
This fenced lookout offers panoramic views across Sydney Harbour, facing North Head, South Head and the wider ocean.

This is a popular vantage point for the Sydney to Hobart race, that starts in Sydney every year on Boxing Day.
If you look all the way down, you'll see (remains of) old houses that were built during the great depression, and old shacks and huts that are still inhabited today.
A short walk further north is the Arabanoo Lookout with even more great views across the Harbour and Manly. The lookout was named after Arabanoo, the first Aboriginal man that lived among European settlers.

From the Arabanoo lookout, continue the Spit to Manly walk through fine bushland, slowly winding down, back to the shoreline.
6. Reef Beach and Forty Baskets Beach
Reef Beach is a small strip of sand with large rocks facing Manly Cove and the Ferry terminal further north.
This is another quiet beach that was once a nudist beach. The views are great, especially from the boardwalk right behind the beach.

Forty Baskets Beach is a family-friendly beach located about 0.5 km further up the Spit to Manly walking trail.
The beach is protected from large waves which makes swimming very pleasant. Around the beach you'll find picnic areas, a little playground, toilets and showers.
7. North Harbour Reserve
Not too much further north from Forty Baskets, you'll find the North Harbour Reserve. This reserve is a large open parkland with electric BBQs, a playground, basketball court and picnic tables.
It's also a popular spot for wedding ceremonies.
8. Manly Cove and The Corso
With Manly now in sight, keep following the beautiful shoreline until you end up at Manly Cove Beach and Manly Wharf.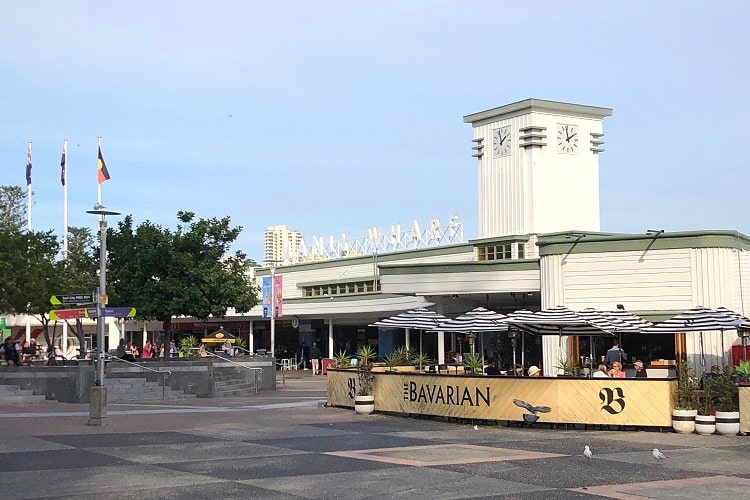 If you have time left, make sure you go out and enjoy yourself in Manly with so many things to see and do. There are beaches on both sides of The Manly Corso, with the beaches on the ferry wharf side much quieter and family friendlier.
There is also lots of shopping to be enjoyed at The Corso, and many cafes and restaurants to choose from for a well deserved bite and coffee, or perhaps even a cold beer.
The Spit Bridge to Manly walk is actually part of the longer Manly Scenic Walkway which is almost 20 km long. This epic hiking trail also includes a 9.5km circuit track around Manly North Head.
It will take around 3 to 5 hours to complete, so if you're keen to do the complete walk, you'll be hiking for at least 6 hours. Are you up for the challenge?

The Spit to Manly walk is one of the finest and most diverse walking trails that Sydney has to offer. Because this walk is relatively long, it's best to prepare yourself a bit beforehand, especially on warm days.
Make sure you bring enough water and snacks, and familiarise yourself with the route. You can decide to do the full walk (one way, or return), or you can split up the walk and do parts of it on different days.
Including travel time to and from the starting point, this walk is pretty much a full day adventure. The walk itself is absolutely stunning and Manly is a great place to hang out and to have lunch.
Spit to Manly Map and Route
Start this beautiful trail either at the Spit Bridge or in Manly (Manly Cove side).

Google Map: