Last updated: July 13, 2023
Sydney certainly has no shortage of popular tourist attractions, historical landmarks, natural sights, and other beautiful places to visit.
But some of these spots are a bit harder to find than others, so much so that even the locals often do not know about them.
From old shipwrecks and heritage-listed bridges to urban mangroves and secret viewing points, we have listed 17 hidden gems in Sydney that are very much worth exploring.
Top 17 Sydney Hidden Gems
In no particular order, here are 17 beautiful hidden gems in Sydney that are still a bit of a secret.
1. The Bible Garden
Most visitors to the Palm Beach peninsula will be familiar with the Barrenjoey Lighthouse and the incredible views that can be enjoyed from the top of the headland.
But for even better views, the Bible Garden is where you need to go. It's a beautiful hidden spot overlooking the main beach from the south.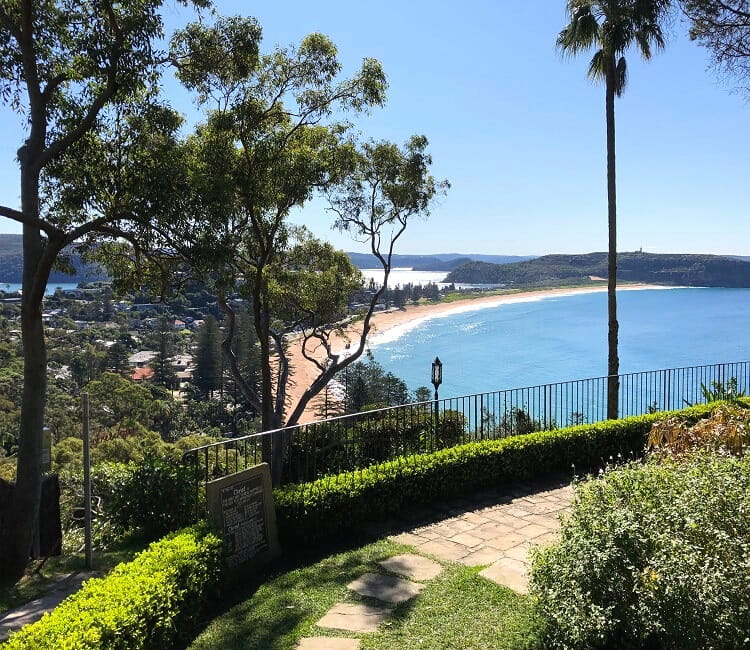 The garden itself is small, but beautiful and peaceful. It's a Christian garden consisting of a series of grassed terraces that lead to a viewing platform that offers spectacular district views.
Keen to discover more of these unique gardens? Check out our complete list of gardens in and around Sydney for some great options.
2. Sphinx Memorial
The Sphinx Memorial is a sandstone monument built in the 1920s to commemorate those who died in service or were killed in World War I from 1914 to 1918.
This unique structure was built by a returning soldier, Private William T. Shirley, as a token of respect for his fallen comrades. Following restoration, the monument was rededicated in November 1995.

The memorial takes the form of a sphinx and accompanying pyramids, and is approximately 1/80th the size of the Great Sphinx of Giza in Egypt.
The Sphinx Memorial is located close to the North Turramurra access point to Ku-ring-gai Chase National Park. This memorial is also one of the highlights along the Sphinx Memorial to Bobbin Head walking track.
3. Rose Seidler House
Designed and built by Austrian-born Australian architect Harry Seidler in 1950, the Rose Seidler House is a heritage-listed house museum in the Sydney suburb of Wahroonga.
Initially built for Harry Seidler's parents, the Rose Seidler House was widely considered a futuristic residence, creating a bold and optimistic vision for a new way of suburban living.

In 1950, once word spread about the newly built Rose Seidler House, it quickly became the "most talked about house in Sydney". More than seventy years later, it's still considered an architectural icon.
The Rose Seidler House is now managed by Museums of History New South Wales and is open to visitors every Sunday from 10 am to 4 pm.
4. Manns Point
Manns Point is located at the southernmost tip of the Greenwich peninsula, facing Sydney Harbour and the Parramatta River.
It's a small park area that extends to an incredible lookout point from where you can enjoy fantastic views of the city skyline and the various headlands and islands in the Harbour.

While this is one of the better viewing points in Sydney, strangely enough, it's still a bit of a hidden gem. Perhaps that's because it's quietly hidden away from the more popular tourist sights.
Keen to visit more beautiful viewing points? Check out our complete list of scenic lookouts in Sydney to catch the best views.
5. The Coal Loader Platform
Opened in 2018, the Coal Loader Platform is a modern green roof initiative and is now one of Sydney's largest publicly accessible green roof spaces.
It forms part of the Coal Loader Centre for Sustainability in Waverton, a hub and community meeting point for North Sydney Council's range of sustainability initiatives.

The unique sandstone platform structure is designed to be a multi-purpose recreational space, with spectacular Harbour views as a welcome bonus.
Keen to visit this hidden gem? Check out our guide to Balls Head Reserve, which also includes a side trip to the Coal Loader.
6. Sawmillers Reserve
There are many reasons to visit Sawmillers Reserve in McMahons Point, but what makes this peaceful reserve so fascinating is the old shipwreck stuck right at the shoreline.
The reserve is located on the site of a former timber mill which had its most productive years at the end of the 19th century and during the first few decades of the 20th century.

The site was vacated entirely in the 1980s, and as a result of residential action, the cleared land was transformed into a public reserve.
Sawmillers Reserve has retained some relics from the former mill site, with the wrecked Maritime Services barge as the most eye-catching of them all.
7. Wendy's Secret Garden
A list with secret hidden gems is not complete without including Wendy's Secret Garden in Lavender Bay, north of Sydney.
Admittedly, this beautiful garden is not so secret anymore, especially with the rise of social media over the years. Nonetheless, visiting this secluded and hidden spot is a fantastic experience.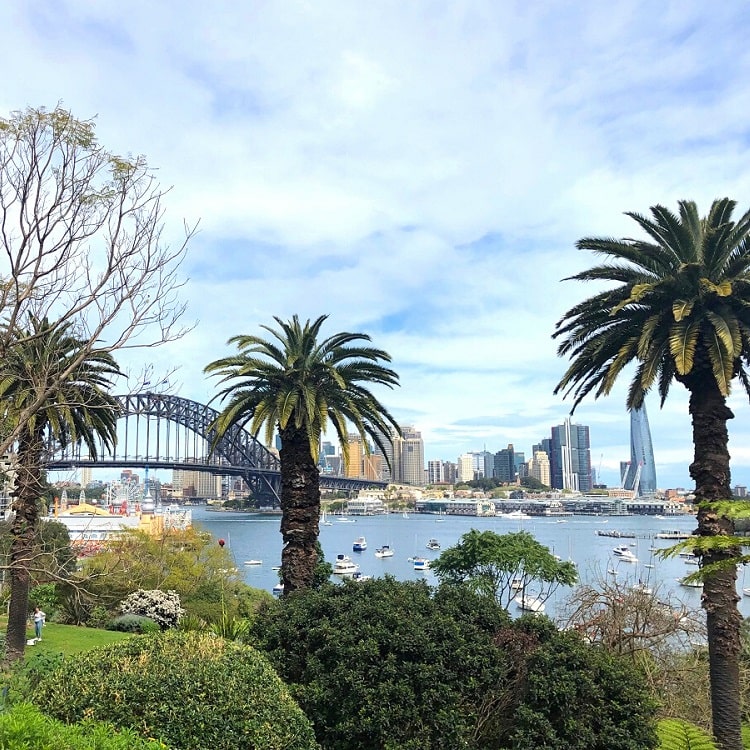 Created by Wendy Whitely in the 1990s, the garden now forms part of the Lavender Bay Parklands, a collection of green spaces and parks in and around Lavender Bay.
Keen to visit this hidden spot? Check out our guide to the Lavender Bay walking track, which also takes in this beautiful secret garden.
8. Harbour Bridge Pylon Lookout
While we believe that the Pylon Lookout on the Sydney Harbour Bridge is one of the best tourist spots in Sydney, this little gem is still very much unknown.
It doesn't help that the entrance to this museum and lookout combination is hidden away in one of the four pylons of the Harbour Bridge.

But paying the entrance fee to the Pylon Lookout is something you won't regret because the views from the top are absolutely stunning, and the small museum inside is a delight too.
Keen to visit this hidden gem? Check out our guide to the Harbour Bridge Pylon Lookout with all the details and more photos.
9. Queens Beach
As you might already know, Sydney Harbour is home to many small and even secret beaches, hidden away from suburban streets.
One of those gorgeous little beaches is Queens Beach in Vaucluse, which can be found along the popular Hermitage Foreshore walking track.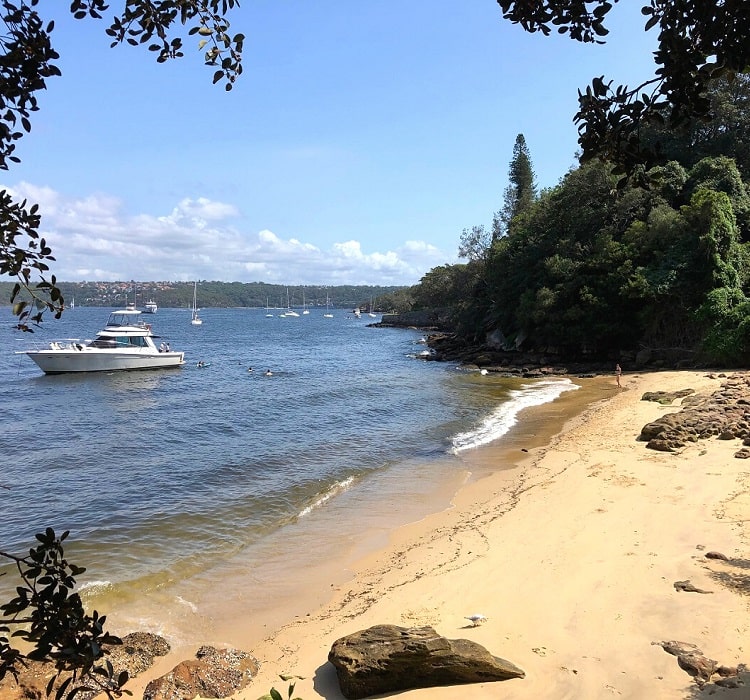 When we say small, we aren't kidding. You may not even see it at high tide. But if you walk a little further north, Milk Beach is another beautiful beach with a bit more space to sunbathe.
Keen to discover more of these hidden strips of sand? Check out our complete list of secluded beaches in Sydney where you can still go for a quiet swim.
10. Paddington Reservoir Gardens
The Paddington Reservoir Gardens is one of those hidden gems in Sydney that we all know about and have seen pictures of but have never actually been to.
It's a state heritage-listed site that kind of looks as if it belongs in Rome, together with all the other ruins you can find there.

Paddington Reservoir Gardens incorporates the former Paddington Reservoir, which was part of Sydney's third water supply system in the 19th century.
The site was opened in 2009 in its current form, and has become an interesting mix of the original reservoir's foundations, boardwalks, and garden beds built in and around it.
11. Fred Hollows Reserve
The Fred Hollows Reserve is a unique 2-hectares natural park area in Randwick, covering Glebe Gully between Alison Road and Clovelly Road.
An exciting walking track runs through the reserve, including various boardwalks and a footbridge, allowing visitors to experience the different types of vegetation that exist there.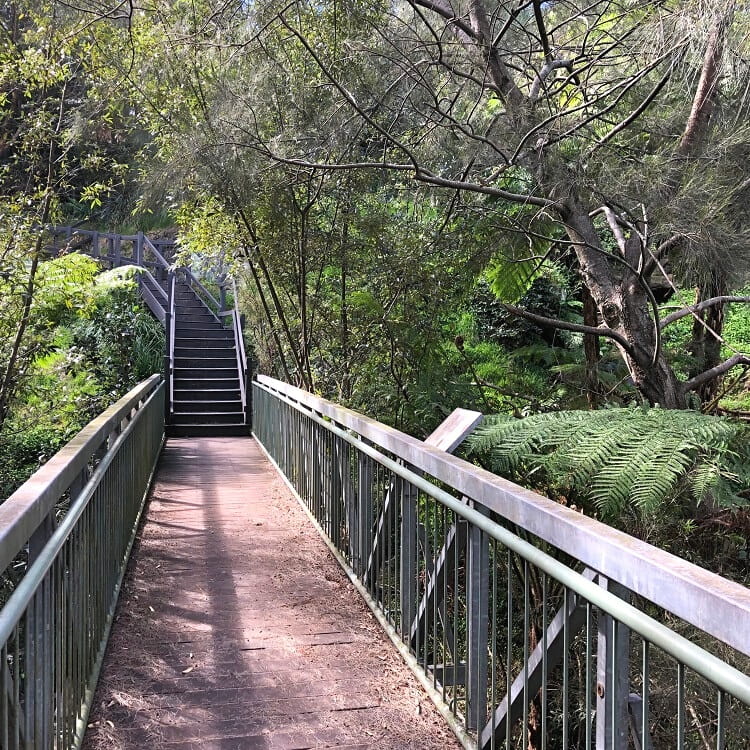 There are a few benches and viewing points along the walkway, where visitors can take their time to enjoy the beautiful and peaceful scenery of this reserve.
The walkway can be accessed from Alison Rd to the south or Bligh Place to the north. It's such a lovely little escape from the busy suburban streets nearby.
12. Kokoda Track Memorial Walkway
Located in Rhodes Park in the suburb of Concord West, the Kokoda Track Memorial Walkway is an almost 1 km long memorial walking path between Rhodes Station and Concord Hospital.
It officially opened in 1996 as a tribute to the Australian troops who fought in Papua New Guinea in 1942 during the Kokoda Track campaign.

The walkway runs through a parkland area and passes several audio-visual information stations, each describing a significant place or military engagement of the campaign.
The centrepiece of the walkway is a circular area marked by a set of granite walls with large photographic images of the campaign sandblasted on them.
13. Shipwrecks of Homebush Bay
Homebush Bay appears to be the final resting place of several shipwrecks that were once part of an old shipwreck yard where they were meant to be decommissioned and disposed of.
Four abandoned freighters are still visible, with the most remarkable shipwreck being the SS Ayrfield, which has slowly evolved into a floating forest.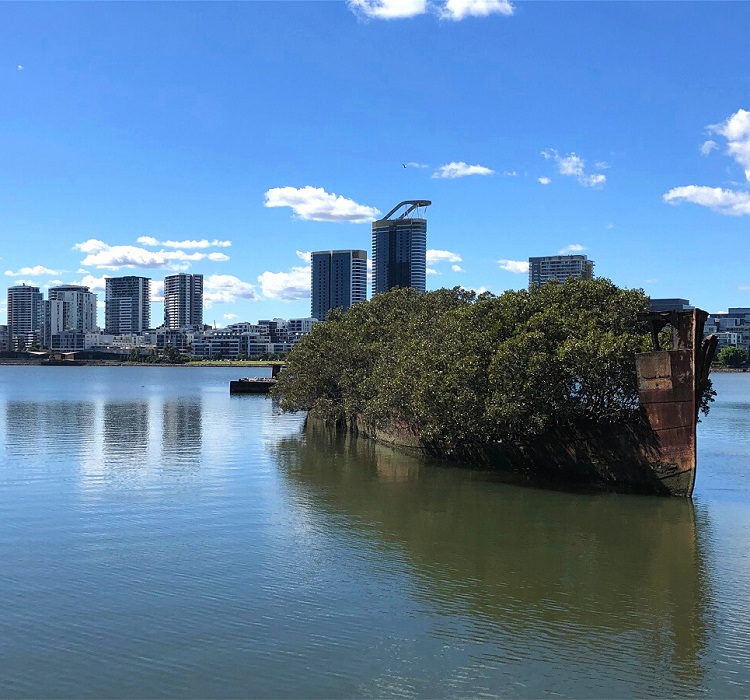 Nature seems to be taking over these wrecks, leaving Sydney with a popular photography location. The best way to go and see these shipwrecks is by walking along the Waterbird Refuge in Sydney Olympic Park to The Promenade in Wentworth Point.
Keen to discover this hidden gem? Check out our guide to the shipwrecks of Homebush Bay with all the important details.
14. Badu Mangroves
The Badu Mangroves ecosystem is located in Sydney Olympic Park adjacent to Homebush Bay, with Bicentennial Park to the south and the Waterbird Refuge to the north.
A network of boardwalks navigates through these mangroves, allowing visitors to experience this fascinating ecosystem from close by.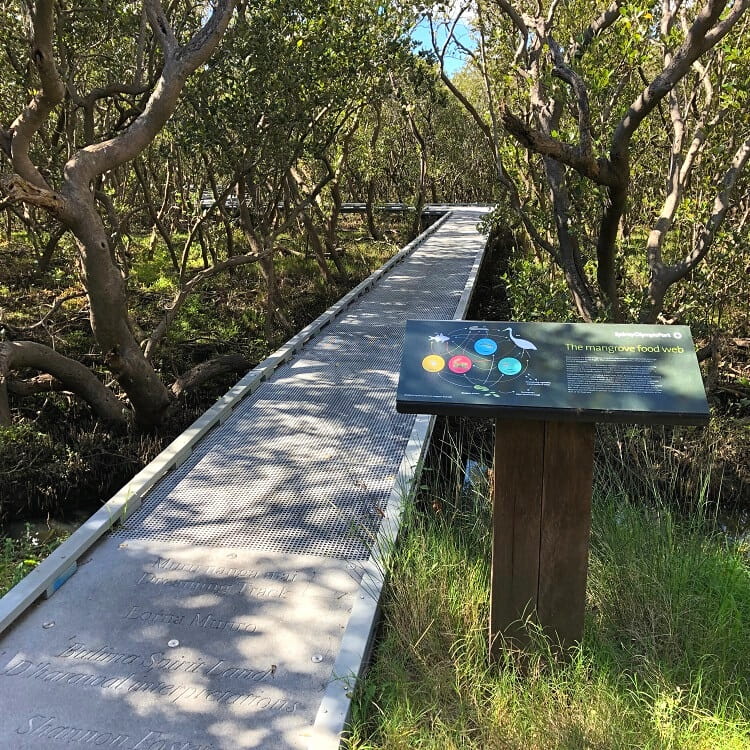 The history behind this hidden spot is fascinating. The mangroves were left behind during the land reclamation projects of the Homebush Bay area throughout the 19th and 20th centuries.
Today, the Badu Mangroves form the largest remaining intertidal wetland on the Parramatta River. It is now flourishing again, with various flora and fauna species thriving in the area.
15. Brickpit Ring Walk
Even though the Brickpit Ring Walk is quite a large structure in Sydney Olympic Park, it's still a bit of a hidden gem many Sydney-siders have never heard of or been to.
It's essentially an elevated circular walkway built above a large pond where once a flourishing brickyard was located.

When Green and Golden Bell Frogs were discovered at the site in preparation for the 2000 Summer Olympics, it was transformed into a water storage and frog habitat. Years later, the walkway was built to allow visitors to learn more about the current and historical use of the site.
Keen to visit this hidden gem? Check out our guide to the Brickpit Ring Walk with essential information and lots of photos.
16. Knapsack Viaduct
We've arrived in the Lower Blue Mountains, where you can find the impressive Knapsack Viaduct in the Glenbrook area by following an exciting walking track.
This sandstone arch bridge is an incredible piece of historical engineering, quite literally hidden away from plain sight.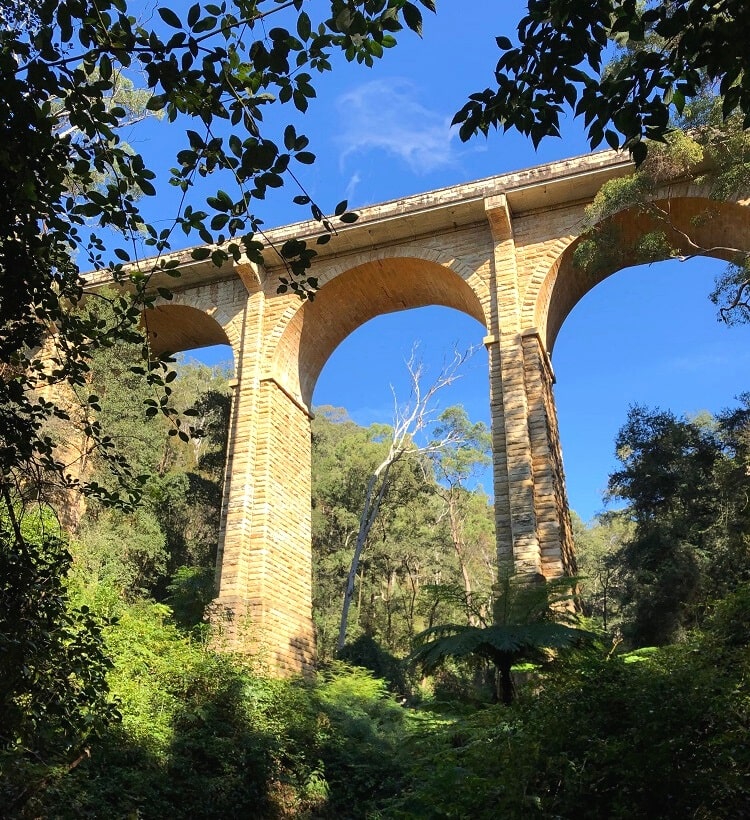 The viaduct was built in the second half of the 19th century as part of the Lapstone Zig Zag railway between the Emu Plains and Blaxland train stations.
This railway closed in 1892, but the viaduct and other old relics are still there and can be discovered by doing a moderately challenging bushwalk.
Keen to explore this unique spot? Check out our guide to the Lapstone Zig Zag walking track and Knapsack Bridge for the full story.
17. Lennox Bridge
The second hidden gem in this area is the Lennox Bridge on Mitchells Pass, which used to be the main road into and over the Blue Mountains, long before the Great Western Highway was built.
The Lennox Bridge isn't too far from the Knapsack Viaduct, which makes exploring both historical places a great day adventure.

The stone arch bridge over Lapstone Creek was constructed in the first half of the 19th century and can still be crossed by car today.
A small car park at the eastern end of the bridge allows visitors to do a bit of exploring. Mitchells Road is one-way, so you will need to drive in via the Great Western Highway in Blaxland.