Last updated: September 14, 2023
Despite Sydney's strong population growth in recent times, Australia's most beautiful city is still home to a great number of beautiful parks.
Sydney-siders have always loved the outdoors, and the best way to enjoy that outside breeze, fresh air, and sunshine is by visiting one of the many parks in and around the city.
To help you find a destination park where you can wander around, go for a run, enjoy scenic views, or simply relax with family and friends, we have compiled a list of 19 beautiful parks in Sydney.
Below are 19 of the best parks in the Greater Sydney area, listed in geographical order, from North Sydney to the CBD, the Eastern Suburbs, and Sydney's west.
With each picture, you will find a link to the exact map location of that particular park to help you plan your day out in Sydney.
1. Carradah Park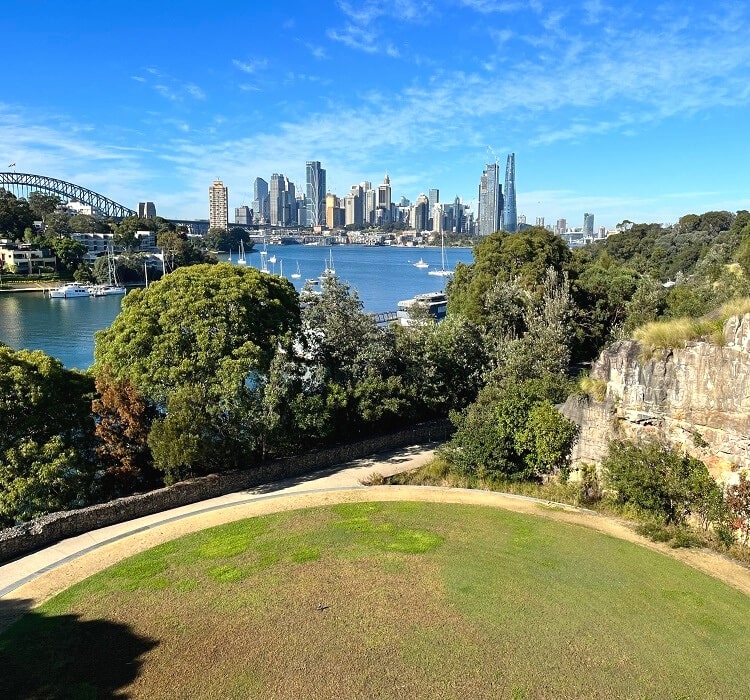 Named after a local Cammeraygal man, Carradah Park in Waverton is a large public open space built on a former industrial site.
The park is home to various interconnected walking trails, stairs, and lookout platforms, which makes the park an excellent destination for sightseeing and exploring.
Carradah Park is home to one of Sydney's prettiest lookout points, Berrys Bay Lookout, which offers superb views of the Harbour Bridge, the Sydney CBD skyline, and Balls Head Reserve located next to the park.
If you'd like to visit this beautiful park in Sydney, make sure you read our guide to Carradah Park and Balls Head Reserve, with all the important ins and outs.
2. Lavender Bay Parklands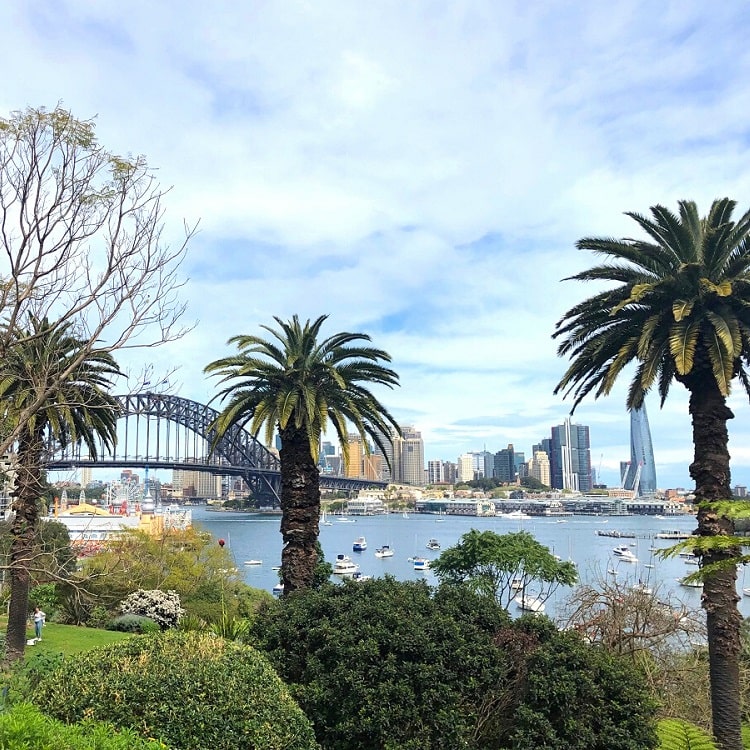 The Lavender Bay Parklands is a collection of green spaces and parks in and around Lavender Bay, including Watt Park, Clark Park, Quibaree Park and the Lavender Bay Foreshore.
These parks are all quite different, so it's worth spending a few hours in Lavender Bay exploring all of them.
One of the highlights of the Parklands is Wendy's Secret Garden, a green oasis of native plants, fig trees, beautiful flowers and a thriving community of birds.
The best way to visit this beautiful spot is by following the shoreline of Lavender Bay from the Milsons Point ferry wharf. The views along the way and from the garden are stunning.
3. Barangaroo Reserve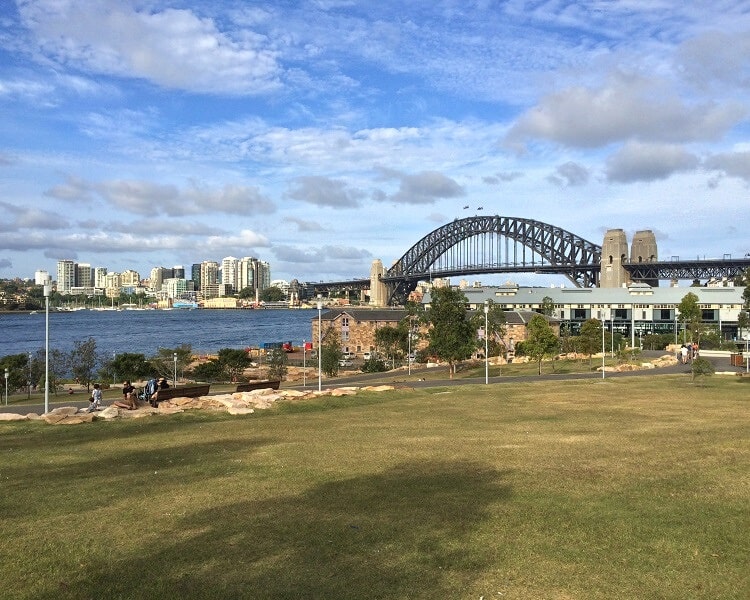 Barangaroo Reserve is a modern Sydney Harbour foreshore park, part of a transformation project that has changed an old and ugly industrial site into a thriving business, entertainment, and leisure precinct.
After years of design and development, Barangaroo Reserve is now a beautiful 6-hectare waterfront park with a large man-made hill in the middle. It is home to over 75,000 planted trees, palms, ferns, shrubs, and other plants.
The Reserve consists of several walking paths spread over multiple levels. There is no set start and end point, so you can just wander around and enjoy the pretty surroundings and Harbour views.
Barangaroo Reserve is easily accessible from Cockle Bay and Barangaroo in the south and The Rocks and Circular Quay in the east. The closest train station is Wynyard, which provides direct pedestrian access to Barangaroo.
4. Royal Botanic Garden Sydney

Established in 1816, Royal Botanic Garden Sydney is a 30 hectares large oasis, located in the heart of the city.
The park is Australia's oldest botanic garden and scientific institution, home to a great collection of plants from all around the world with a focus on Australia and the South Pacific.
The best way to explore the unique beauty, heritage and plant diversity of the Royal National Park is by simply wandering around. The picture-perfect views of the Habour and city skyline are a bonus.
With its location right next to the CBD, the Royal Botanic Garden is easily accessible by train, with St James, Martin Place, and Circular Quay train stations nearby.
5. Hyde Park

Located on the eastern fringe of the Sydney CBD, heritage-listed Hyde Park is Sydney's oldest public parkland. The park extends to the Domain and the Royal Botanic Garden further north.
Hyde Park breathes history, with several historic buildings along the park's boundaries, such as the Supreme Court of New South Wales, St James Church, Hyde Park Barracks, and St Mary's Cathedral.
The park is also home to the ANZAC War Memorial, a heritage-listed monument and museum located near Liverpool Street.
6. Rushcutters Bay Park

With a picture-perfect Harbour-side location, Rushcutters Bay Park is a beautiful green space with a foreshore walking trail that continues along the bay to Yarranabbe Park.
The park has everything a Sydney-sider would expect from a park, with a large sports field, a fitness station, a playground, a kiosk, restrooms, and best of all, scenic Harbour views.
Dogs are also more than welcome at Rushcutters Bay Park, unleashed between 3:30 pm and 10:30 am, and on a lead at all other times.
The park is also the starting point of the walking trail from Rushcutters Bay to Rose Bay, one of Sydney's finest Harbour-side walks.
7. McKell Park

As small and hidden as McKell Park in Darling Point may be, it is a stunning and rather unique park that deserves a mention in this list of great Sydney parks.
McKell Park is unique because of its beautifully manicured lawns and idyllic location on the Harbour, making it the perfect spot for weddings and other private social events.
The park was built on the foundations of large historical mansions that were demolished in 1983. Some of the walls and stonework in the park are part of the original foundations.
The best way to get to this park is by ferry, as the Darling Point ferry wharf is right in front of the park. Otherwise, lots of street parking is available in the suburban streets nearby.
8. Robertson Park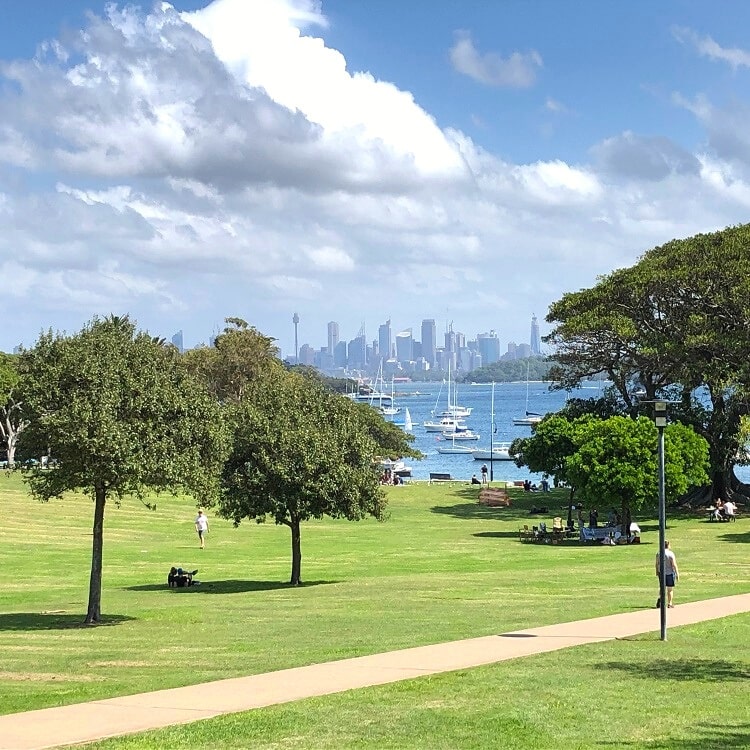 Robertson Park is situated in the centre of Watsons Bay, one of Sydney's top tourist destinations. It's a family-friendly place with public toilets, tables, and playgrounds.
The park offers great views of Sydney Harbour on one side and the Tasman Sea on the other side. And with a few secluded beaches and several cafes nearby, it's easy to spend a whole day in this scenic area.
Be mindful that Watsons Bay gets very busy on the weekends, which makes parking your car quite a challenge. Luckily, Watsons Bay has a ferry wharf with frequent ferry services travelling to and from Circular Quay.
The best way to experience the beauty of Watsons Bay is by following a 4.5 km circuit walk from Robertson Park to South Head via Camp Cove and back via The Gap.
9. Cooper Park

Peacefully tucked away in Bellevue Hill just north of Bondi Junction in Sydney's eastern suburbs, Cooper Park is a large bushland reserve with various walking paths, bridges, picnic spots and recreational facilities to enjoy.
A small but largely natural creek runs through the middle of the park, with the hills and cliffs around the creek supporting a wide variety of native trees and shrubs. Walking around in Cooper Park feels a bit like you've landed in a hidden rainforest.
Dogs are very welcome in Cooper Park, but they must be on a lead, with a timed off-leash area available in the western part of the park, close to the tennis courts.
10. Trumper Park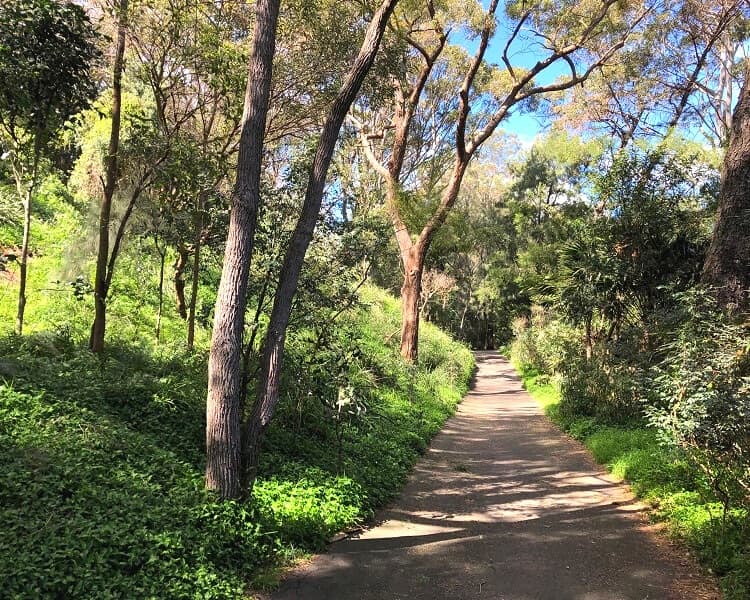 Named after local cricket legend Victor Trumper, picturesque Trumper Park in Paddington is home to a cricket oval and various walking trails that can be accessed via the surrounding suburban streets.
Originally named Hampden Park Oval, the cricket oval on the western end of the park is built on reclaimed swampland. On the eastern side of the park is a tennis centre, along Quarry Street, which is also a good spot to park your car if you wish to explore Trumper Park.
Trumper Park looks and feels very similar to Cooper Park in Bellevue Hill, a pocket of scenic bushland that is perfect for a refreshing morning walk.
Dogs are also welcome in the park on a lead, but please note that they are not allowed to access the oval, no matter how tempting that may be.
11. Centennial Park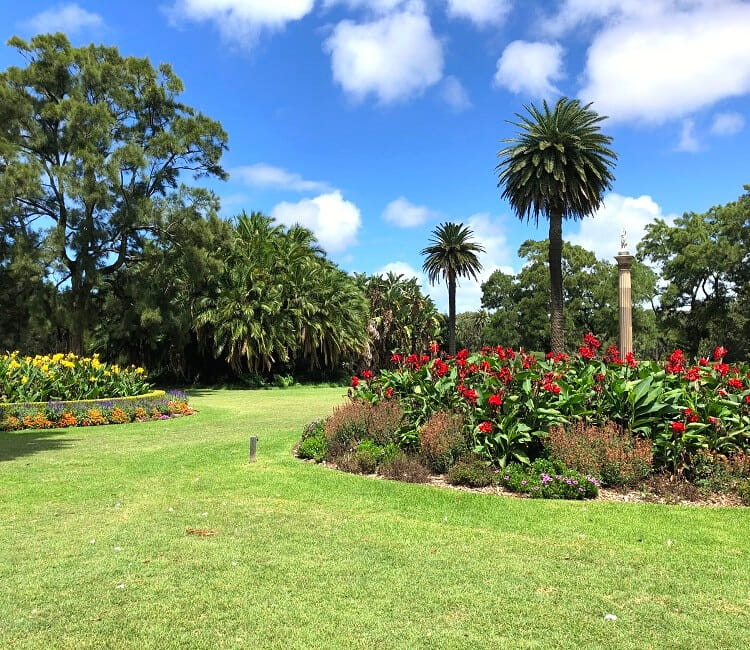 Opened to the public in 1888, Centennial Park is Sydney's playground in the inner east, consisting of 189 hectares of wide-open spaces for recreation and leisure.
It was designed as a people's park for the enjoyment of all residents of New South Wales, characterised by gardens, ponds, statues, and wide avenues.
Interestingly, Centennial Park was also used as the site to mark the federation of the Australian colonies, and the inauguration of the Commonwealth of Australia on 1 January 1901.
The park is part of the Centennial Parklands, which also includes Moore Park and Queens Park. It is one of Australia's most popular and historic public areas, with more than 30 million people visiting each year.
12. Bronte Park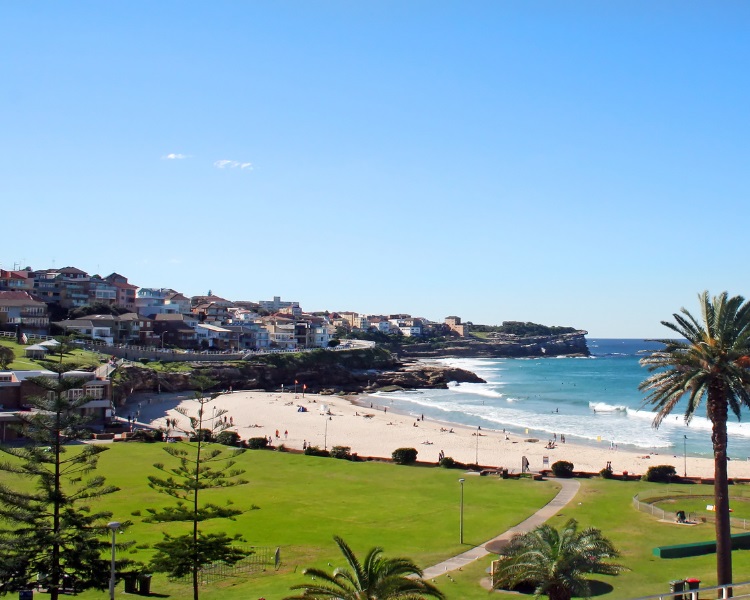 Peacefully tucked away behind Bronte Beach, halfway the famous Bondi to Coogee coastal walk, Bronte Park is a large, family-friendly green space, offering the perfect mix of shaded seating, swimming, and surfing.
Bronte Road next door is lined with a range of different cafes and restaurants, where you can either sit down and relax or order takeaway so you can eat your lunch in the park overlooking the ocean.
Note that Bronte's water conditions can be rough sometimes, so it's important to follow the directions of surf life savers. Bronte Baths, at the south end of the beach, has a saltwater rock pool for swimming & sunbathing.
If you're not walking to Bronte Park via the coastal trail, there is a bus stop right next to the park, in addition to paid street parking options.
13. Sir Joseph Banks Park

Sir Joseph Banks Park in the suburb of Botany is a bit of a hidden gem that is still very much unknown to so many Sydney-siders.
Constructed in the 1980s, the park features a couple of ponds surrounded by a gentle dune system and a forest of gum trees that provide lots of shade.
The facilities at Sir Joseph Banks Park are fantastic, with a large playground, picnic tables, a sports ground, public toilets, and many paved and unpaved walking paths to explore and enjoy.
There are a couple of parking areas at the various park entrances; otherwise, parking in the nearby suburban streets is never an issue.
14. Sydney Park

Located in St. Peters, bordered by Alexandria and Erskineville, Sydney Park is a 40ha large recreational area characterised by open recreation spaces, rolling hills, thriving wetlands, and historic chimneys.
What you may not know is that Sydney Park used to be a large landfill and an industrial brick-making site, and as such, the park is declared a contaminated site. But don't let that deter you because the park is considered safe.
Sydney Park is now home to a large children's playground, various cycle and walking paths, picnic areas, a cricket and AFL oval, and so much more.
What's great is that Sydney Park is also very dog-friendly, so make sure you bring your four-legged family member along.
15. Pirrama Park

Award-winning Pirrama Park in Pyrmont is a stunning Harbour-side green space with exceptional landscaping as the stand-out feature.
This popular park is now home to grassy areas, wide walking paths, a large playground, BBQ and picnic facilities, public toilets, and a handful of cafes.
The Pirrama Park area used to be a base for the water police, but the City of Sydney purchased the site in 2005 and subsequently transformed it into a gorgeous Sydney park.
Whilst the park has limited street parking available, it is easily accessible by public transport, with bus stops and a light rail stop nearby.
16. Glebe Foreshore Parks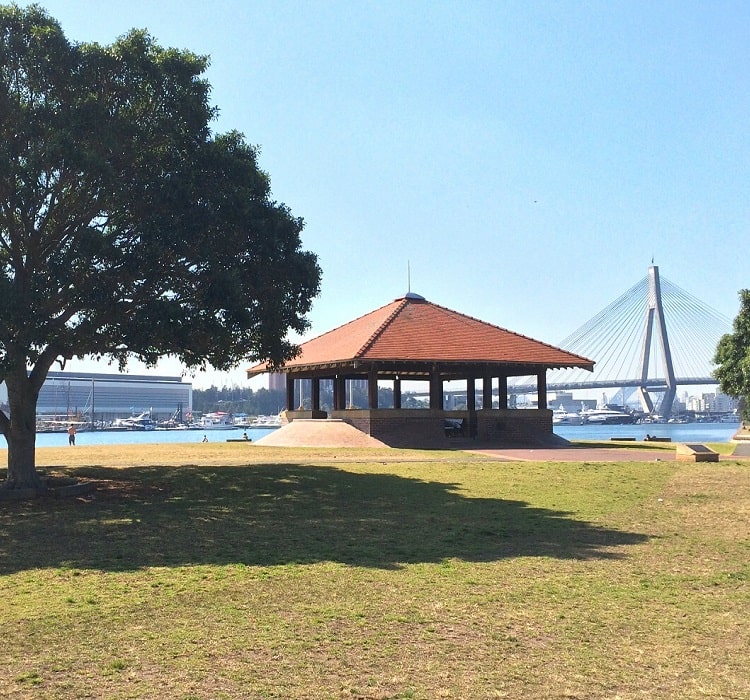 The leafy inner-west suburb of Glebe is home to four interconnected parks located along the popular Glebe Foreshore walking track.
Covering more than 16 hectares, Bicentennial Park, Federal Park, Jubilee Park and Blackwattle Bay Park are home to large open grassland areas, playgrounds, picnic areas, sports fields, wetlands and off-leash sections.
The views of the bay against the backdrop of the city skyline and the Anzac Bridge make this area quite a special place to be.
17. Ballast Point Park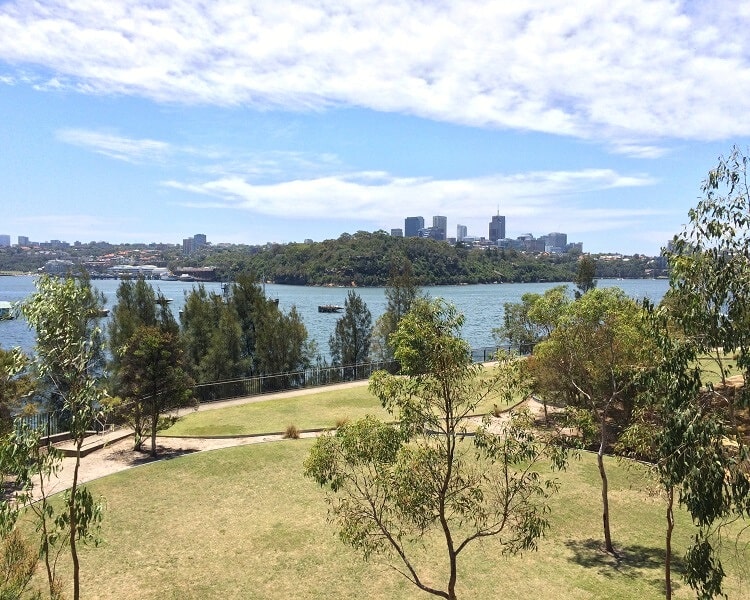 Located in Birchgrove on the very tip of the Balmain Peninsula, Ballast Point Park is a recreational 2.6ha park where visitors can wander through Sydney's rich history while enjoying panoramic Harbour views.
After seven years of designing and constructing, Ballast Point Park was officially opened to the public in 2009.
The park's unique design combines elements of the history of the area with excellent park facilities such as walking paths, a playground, picnic areas and access for cyclists.
Ballast Point Park has a small car park, which fills up quickly on sunny days. Public transport will also get you there, with bus stops nearby, and the Balmain ferry wharf just around the corner of the park.
18. Bicentennial Park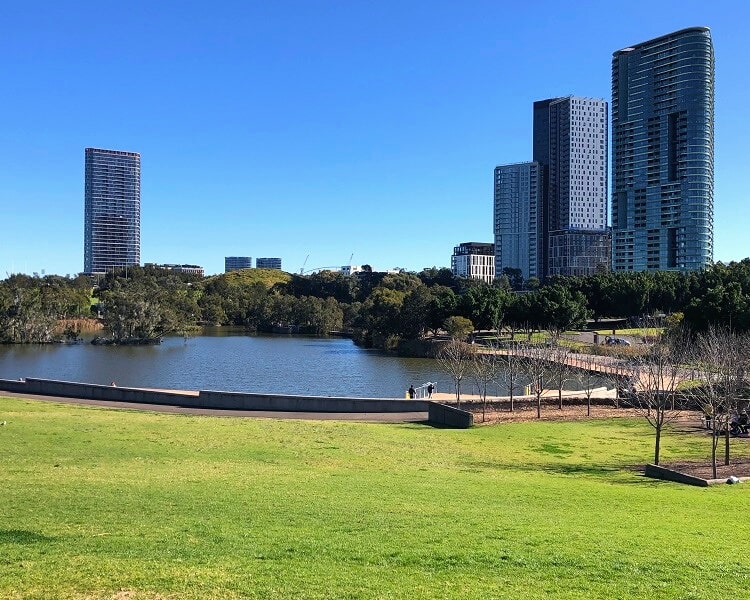 With 40 hectares worth of scenic parkland, Bicentennial Park is perhaps one the most popular, and also biggest, parks in the Greater Sydney area.
Bicentennial Park is an excellent family weekend destination and is one of the big drawcards of living in the growing suburb of Sydney Olympic Park.
One of the highlights in Bicentennial Park is the Treillage Tower, which provides panoramic views of the surrounding wetlands, the Olympic Park residential towers and sports stadiums, and even the Sydney CBD skyline.
With such an enormous size, there is plenty to see and do for the whole family. Enjoy a picnic at the lake, go cycling or walking on the various pathways, follow the boardwalk above the mangroves, or grab a bite at the Waterview cafe.
19. Blaxland Riverside Park

Blaxland Riverside Park is a hugely popular pocket of parkland in Sydney Olympic Park, home to a unique play space with various play areas for children to enjoy.
The park is spread over three hectares, and besides the play areas, the park also offers walking and cycling paths, picnic areas, a waterfront cafe, and so much more.
While there is a large car parking area at Blaxland Riverside Park, this area can fill up very quickly on the weekends.