Last updated: June 9, 2022
Skateboarding is a fantastic way to be active and social, while also improving your coordination, balancing and agility skills. Sydney, however, isn't the most suitable city to go skateboarding on the streets.
Luckily though, for Sydney and New South Wales residents, the number of skate parks in and around our wonderful city is growing, with more facilities being built in various suburbs and parks.
We have shortlisted ten of the best skate parks in Sydney that are very much worth checking out, based on insider reviews, features and facilities.
Top 10 Sydney Skateparks:
| | Skate Park | Where |
| --- | --- | --- |
| 1 | South Eveleigh Skatepark | Eveleigh |
| 2 | Sydney Park Skate Park | Erskineville |
| 3 | Five Dock Skate Park | Five Dock |
| 4 | Bondi Skate Park | Bondi Beach |
| 5 | Fernside Skatepark | Waterloo |
| 6 | Mona Vale Skate Park | Mona Vale |
| 7 | Greenhills Skate Park | Kurnell |
| 8 | Meadowbank Skate Park | Meadowbank |
| 9 | Oran Park Skate Park | Oran Park |
| 10 | Macquarie Fields Skate Park | Macquarie Fields |
Skate parks are fun places to hang out, but they are also places where space is limited and where space needs to be shared with others. In addition, skateboarding is also a sport that carries risks.
What you will find, when visiting a skate park, is that most people are very supportive, respectful and welcoming. A skate park etiquette helps with establishing that common understanding and camaraderie.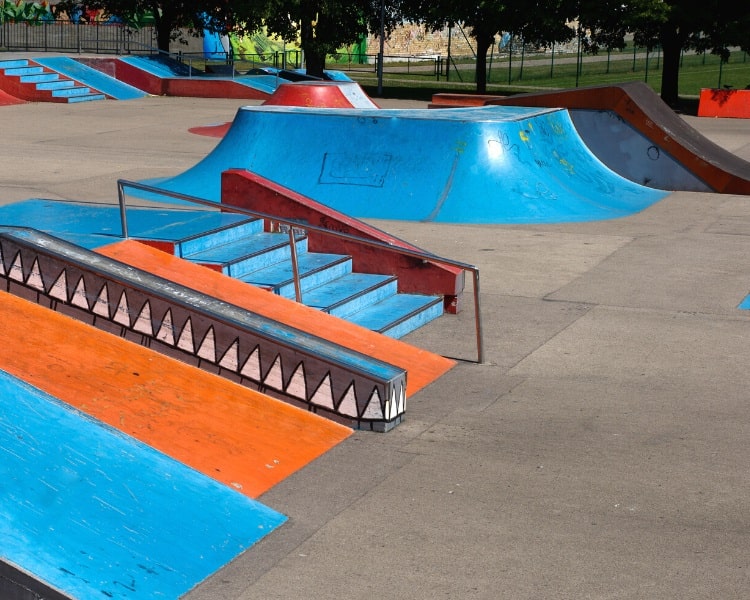 Here are a few things to keep in mind when visiting a skatepark.
Pick the right skate park:
If you're a beginner, choose a beginner-friendly skate park. If you're an experienced skater and you want to go all out, pick a more challenging skate park. Do a bit of research beforehand.
Prepare before you go:
If you're going to a skate park you've never been to before, suss it out before jumping in. Check out the vibe, the runs, the flow, and then go and join in.
Master the basics:
Before entering a skate park, make sure you're able to at least master the very basics of skateboarding.
Move out of the way:
When you're not skateboarding, or not preparing for a run, don't occupy the hot spots. Move aside until you're ready for your next move.
Follow the lines:
Skate parks typically have a flowing design, meaning skaters can follow the same lines to avoid collisions. Observe and follow the lines.
Don't comp:
Comping means closely following another skater and copying or better their moves and skills. This is distracting and uncool.
Don't snake:
Do not, intentionally, get into someone's way when this other person is doing a run. This is highly uncool.
Look after your board:
If you happen to lose your board, grab it immediately and move aside. If your board happens to be thrown into the air following a failed trick, call it out loud to warn your fellow skaters.
Here we go, our top 10 skate parks in the greater Sydney area.
1. South Eveleigh Skatepark
The South Everleigh Skatepark was opened in 2019 and still has that nice shiny look. It is located in the Australian Technology Park between Redfern and Erskineville, easily accessible by public transport.
The well-planned design of the park creates an urban street plaza vibe that works really well between the modern office buildings in this small business district. The park also has lights on till late.
South Eveleigh Skatepark is suitable for all skill levels, but since it's a rather small space and it can get quite crowded, an intermediate skill level will work in your favour if you're going there during busy hours.
Check out this video of South Eveleigh Skatepark:
2. Sydney Park Skate Park
Opened in 2020, the skate park as part of Sydney Park in Erskineville is another brand new skateboarding venue that is now claimed to be the largest in Sydney.
What's great about this skate park is that it is suitable for all skill levels, with separate zones to suit beginners, intermediate, and advanced skaters.
The flagship feature is a 3 metres deep flow bowl for advanced skaters and riders, whereas the beginners bowl will appeal to those trying to up their skills. There is also a section with street-style obstacles suitable for the more technical skaters. The park has lights on until 9 pm.
Check out this video of Sydney Park Skate Park:
3. Five Dock Skate Park
The Five Dock Skate Park has been around for many years and is still one of the most popular skateboarding venues in the greater Sydney area.
The park has had several facelifts and upgrades over the years and is now a state-of-the-art skatepark that experienced skaters will enjoy.
The park consists of three big bowls that are connected, creating a smooth flow with nice and clean transitions. It can get a bit crowded sometimes though, and you'll have to share the park with other skateboarders, BMX riders, scooters and rollerbladers.
Check out this video of Five Dock Skate Park:
4. Bondi Skate Park
Bondi Beach is home to one of Sydney's most famous skateboarding venues, the Bondi Skate Park. Located right next to the beach, Bondi Skate Park consists of two bowls, one small and deep, and the other one much larger but not as deep.
This world-class venue has hosted several events and competitions over the years, including the popular Bowl-A-Rama event.
Bondi Skate Park has a fantastic vibe and will suit intermediate and advanced skateboarders, but anyone with the right attitude is of course more than welcome.
Check out this video of Bondi Skate Park:
5. Fernside Skatepark
Also known as Waterloo Skatepark, Fernside is an original street-style skate plaza with lots of different obstacles, such as blocks, ledges, rails, stairs, and also a half-pipe to conquer.
Fernside will suit skateboarders of all levels, with lots of room to practise your tricks without interrupting others. It can get a bit busy there though, but overall the atmosphere is very positive and welcoming.
Check out this video of Fernside Skatepark:
6. Mona Vale Skate Park
The Mona Vale Skate Park on the Northern Beaches has been around for a few years but was renovated in 2016, and is now considered one of the best skateparks in Sydney.
The park was designed by Convic who happen to be very good at creating street-style skate plazas (the Eveleigh skate park was also designed by them), and the Mona Vale skate park is one of their best designs. It features various obstacles, a mini bowl, and a refurbished ramp, and overall the flow of the park is very nice.
Beginners will be comfortable improving their skills in the easier section, while more advanced skateboarders have lots of space to showcase their tricks.
Check out this video of Mona Vale Skate Park:
7. Greenhills Skate Park
The modern Greenhills Skate Park in Kurnell in the Sutherland Shire is another fantastic skateboarding area designed by Convic. It has all the features that will appeal to both beginners as well as advanced skaters.
It's a rather spacious skate park with a large bowl, a snake run area, and a street-style section with your typical skateboarding obstacles.
Check out this video of Greenhills Skate Park:
8. Meadowbank Skate Park
Meadowbank Skate Park is located in Meadowbank Park along the Parramatta River in the City of Ryde and was opened in 2019 after the completion of a multi-million dollar project.
It features an Olympic-standard competition bowl, a flow bowl, and lots of obstacles for the technical skaters to practise their skills and tricks. There is also a flat track that goes around the skate park where kids and beginners can go and enjoy some basic skateboarding.
Check out this video of Meadowbank Skate Park:
9. Oran Park Skate Park
One of Sydney's newest skateparks is the one in Oran Park, a modern skateboarding venue with a great variety of obstacles, bowls, ramps, and so much more. It's part of a larger park with a basketball court, table tennis tables and playground all in the same place.
A huge drawback of this skate park though is that public transport to get there isn't the best, with the nearest train station quite far. So if you have a car, that's great, because you're going to need it. It's worth driving there though because the park is pretty good. It does get busy, especially on the weekends.
Oran Park Skate Park will suit beginners, intermediate and advanced skaters, with lots of space for everyone to do their thing. The park has lights too, and they seem to stay on till late.
Check out this video of Oran Park Skate Park:
10. Macquarie Fields Skate Park
Macquarie Fields Skate Park is a reasonably large concrete skateboarding venue with a street-style section, various ramps and a big bowl. The design is great with a nice and smooth continuous flow.
There is lots of space for beginners to improve their skills, while more advanced skateboarders will appreciate the ramps and bowls. There are lights too, which stay on till late.
Check out this video of Macquarie Fields Skate Park: