Last updated: June 27, 2022
We have listed the top 15 things to do in Kiama and surrounds, from scenic coastal walks and lookouts to beautiful beaches and trendy markets.
Kiama is a town in the Illawarra region of New South Wales, located about 120 km south of Sydney. The town and surrounding area are characterized by beautiful coastal cliffs, scenic beaches, and panoramic vantage points.
Read on, as we reveal our top 15 attractions and activities in and around the coastal township of Kiama, one of Sydney's best day trip destinations.
Top 15 Kiama Attractions and Activities
In no particular order, here is our top 15 things to do in Kiama and its surrounding area.
1. Kiama Coast Walk
The Kiama Coast Walk is a 22 km long coastal walking track between Minnamurra River in the north and Gerringong in the south.
It is one of the most scenic coastal walks in New South Wales, with fantastic scenery to take in, including stunning beaches, dramatic rock formations, and incredible ocean views.

But if the distance of this fantastic walking trail throws you off a bit, don't worry, because you don't have to do the entire 22 kilometres.
The walk can roughly be divided into three sections, and if you prefer to stay close to Kiama, it's recommended to do the stretch between the Kiama Blowhole and Loves Bay.
Also worth noting is that sections of this walk are a shared pedestrian and cycle path. If you love cycling, check out the Thirroul to Kiama route, a popular 60 km long bike ride.
2. Cathedral Rocks
Cathedral Rocks are a fascinating and distinctive set of rock formations located just south of Jones Beach.

The volcanic rock formations are the result of years of erosion, and they can be best viewed from the various vantage points on the headland.
Note that Cathedral Rocks are at their best during sunrise, so bring your camera, settle in, and get ready for an amazing spectacle as the sun rises over Kiama.
3. Kiama Lighthouse
Built in the 1880's, the Kiama Lighthouse is one of the most iconic, recognisable and historic landmarks on the NSW South Coast.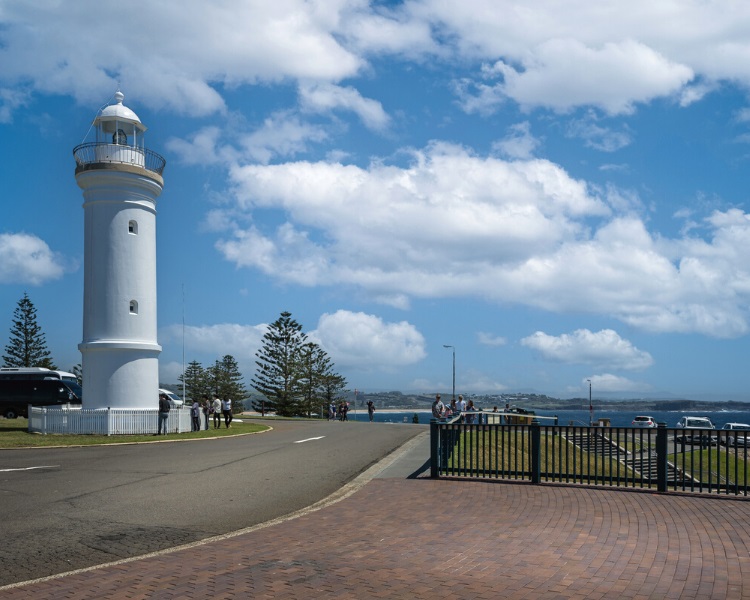 The active lighthouse, also known as Kiama Light or Kiama Harbour Light, sits at more than 136 metres above sea level, and today also includes a museum and tourist information centre.
It's hard to miss the lighthouse, as it occupies a prime position on Blowhole Point just south of Kiama Harbour, only moments away from the Kiama Blowhole.
4. Kiama Blowhole
Perhaps the most popular tourist attraction in Kiama is the famous Blowhole, which attracts thousands of tourists to this small town every year.
And while Kiama has so much more to offer than just this sea-cave blowhole, it is indeed a very impressive sight that you should put on your list of Kiama things to do.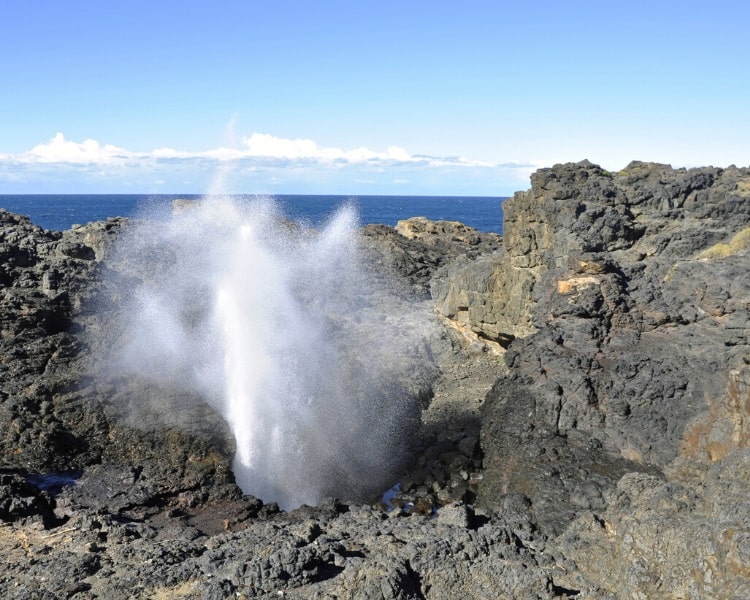 What many visitors to Kiama don't realise though is that there is in fact a second blowhole not too far away. It's smaller, but it's just as pretty and without the crowds.

You can find this "little blowhole" on Marsden Head between Kendalls and Easts Beach, accessible via the Kiama Coast Walk or otherwise Tingira Crescent (see map location).
5. Kiama Beaches
It's no surprise that Kiama has lots of great beaches to choose from, ranging from family-friendly strips of sand to popular surf beaches.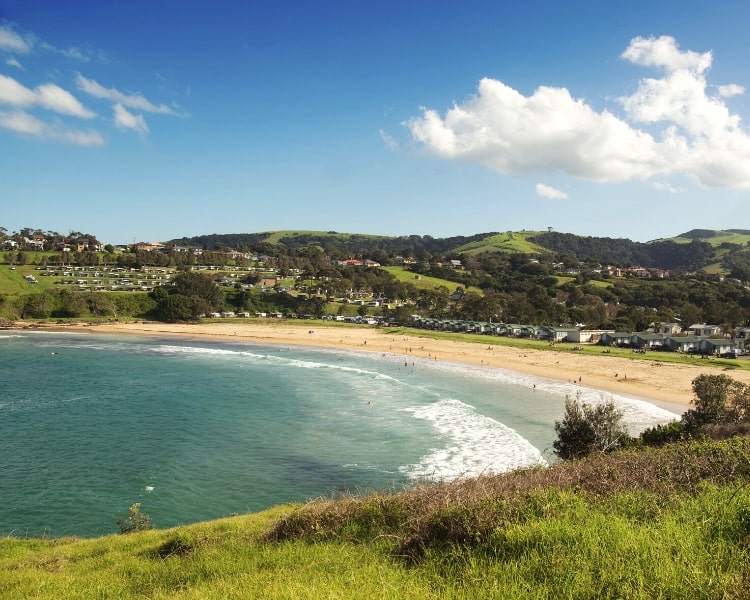 Some of the most popular beaches along the greater Kiama coastline are, from north to south, Jones Beach, Bombo Beach, Kiama Surf Beach, Kendalls Beach and Easts Beach.
A good way to explore these beaches is by walking the Kiama Coast Walk as mentioned above, which passes all of these fantastic beaches.
6. Ocean Pools
If you're more of a classic rock pool swimmer than a beach-goer, you're in luck, because the Kiama region is home to no less than four ocean pools.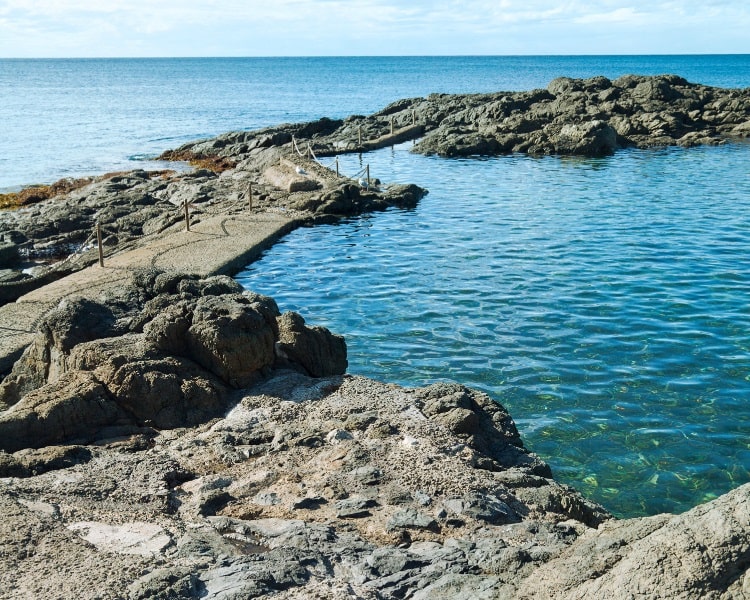 The most popular one is the Blowhole Point Rock Pool located only moments away from the blowhole. The nearby Continental Pool, on the other side of the Harbour at the north end of Black Beach Reserve, is another popular swimming spot.
Also worth mentioning is the Gerringong Boat Harbour Rock Pool at the southern end of Gerringong Beach, a family-friendly ocean pool with a sandy pool floor.
7. Minnamurra Lookout
Kiama has no shortage of scenic coastal vantage points, and if we had to pick one as our favourite then it would be the Minnamurra Lookout.

The Minnamurra Lookout is located on the Minnamurra Headland, also referred to as Minnamurra Point, north of the Kiama town centre, and offers panoramic views of the river, Stack Island, the coastline and the ocean.
The lookout is surrounded by large, open grassy areas, which adds to the experience.
8. Kiama Markets
If you love scouring markets and boutique shops on the weekends, Kiama is not going to disappoint.

The most popular market event is the Kiama Seaside Markets that happens on the third Sunday of every month, brought to you by the Kiama & District Business Chamber. The market typically hosts more than 100 stalls against the backdrop of Kiama Harbour, selling arts, crafts, clothing, jewellery, collectables, produce, and so much more.
Another market worth visiting is the Kiama Farmers Market, which is held every Wednesday afternoon at Kiama Surf Beach.
9. Whale Watching
With a beautiful and mostly unspoiled coastline, it's no surprise that the greater Kiama area is the perfect location to try and spot some whales and dolphins.
While it's easy to pick a good spot anywhere along the coast, there are two dedicated whale watching platforms to be found in the Kiama area.

The Minnamurra Whale Watching Platform is located north of the Kiama town centre, and the Gerringong Whale Watching Platform is in the village of Gerringong just south of Kiama.
The best time to see whales is during June and July when they migrate north to warmer waters, and from September to November when they migrate back southbound.
10. Bombo Headland Quarry
The Bombo Headland Quarry is a unique geological site just north of Kiama, consisting of unusual basalt walls and columns that make the headland look like a moon landscape.

As the name suggests, the site is a former quarry and the fascinating rock formations are a result of the blue metal quarrying that took place at the end of the 19th century in addition to the continuous erosion.
Similar to Cathedral Rocks, the Bombo Headland Quarry is the perfect location to unleash your photography skills, especially during sunrise.
11. Bonaira Native Gardens
The Bonaira Native Gardens are a bit of a hidden gem in the Kiama area, a green oasis with beautiful native flora and fauna to discover.

Walking paths run through the gardens that can be explored by foot and by bicycle, with various benches and picnic areas to make the most of it.
You can find the Bonaira Native Gardens on Allambie Crescent off Bonaira Street, only metres away from Kendalls Beach.
12. Minnamurra Falls
Minnamurra Falls is a beautiful two-tiered waterfall on the Minnamurra River, quietly tucked away in a thriving rainforest in Budderoo National Park.
A scenic, moderately challenging walking track leads to this water spectacle, with a generously sized viewing platform situated right in front of it.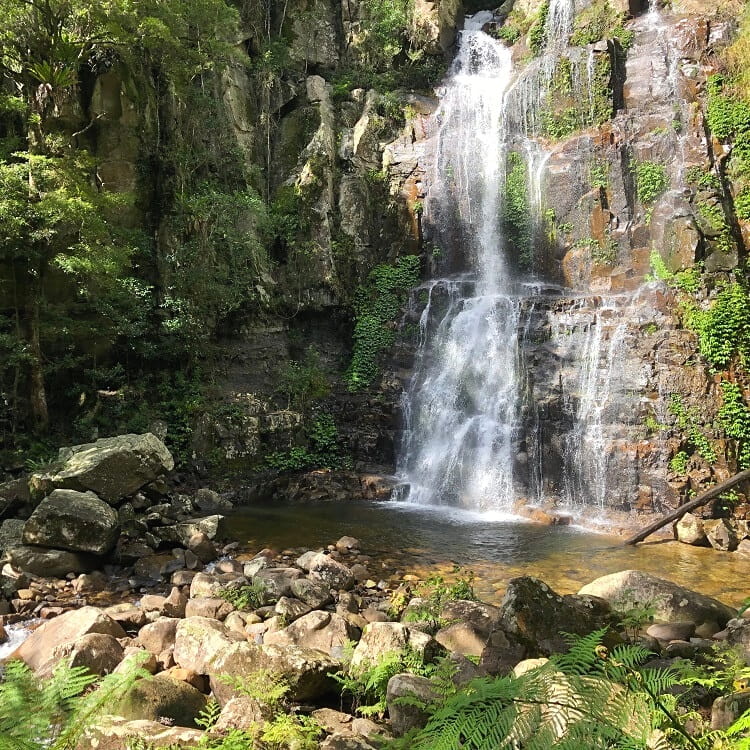 This walk, with a few steep sections, starts from the Minnamurra Rainforest Centre, which is located approximately 16 km west of Kiama.
Read our guide to Minnamurra Falls with more practical information and photos of the walk and the waterfall.
13. Jamberoo Action Park
Jamberoo Action Park is a large themed water park "where you control the action". It is located in a village that goes by the same name, and is only a 15 minute drive from Kiama.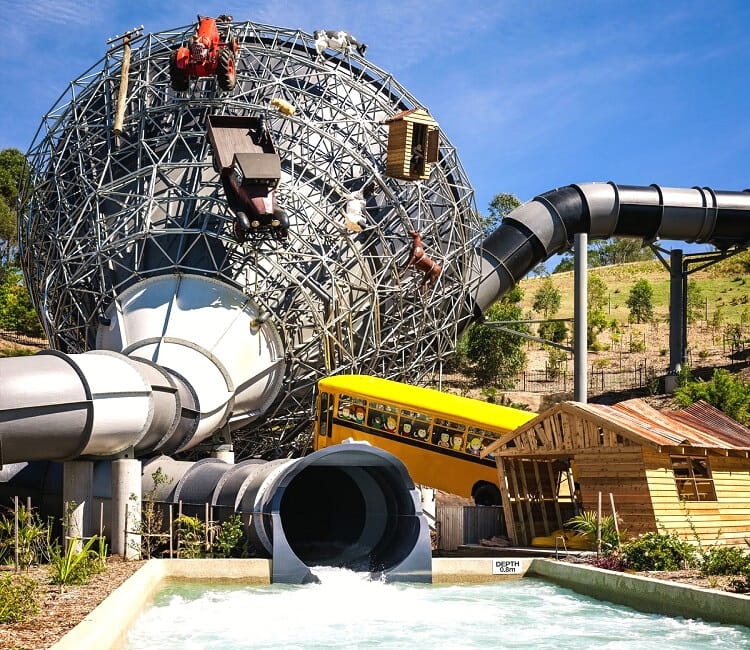 The theme park offers world-class rides and attractions, such as the Funnel Web and the Perfect Storm, in a well-maintained natural setting between the mountains and the ocean.
The reasonably affordable admission prices cover all rides, attractions, and parking facilities, so get your mates or loved ones together for a fun and exciting day out.
14. Saddleback Mountain Lookout
The popular Saddleback Mountain Lookout is only a short drive away from Kiama and offers fantastic district views as far as Sydney on a clear day.

This spectacular lookout is located at the end of Saddleback Mountain Road where you will find a car park. From there it's a few hundred metres of easy walking to the three viewing platforms (see map location).
All three viewing platforms, the Northern, Western, and Southern viewing platform, offer different views, so it's worth exploring all of them.
15. Berry
A day trip to, or weekend getaway in, Kiama is not complete without a detour to nearby Berry, a small historic town only a short 20-minute drive away from Kiama.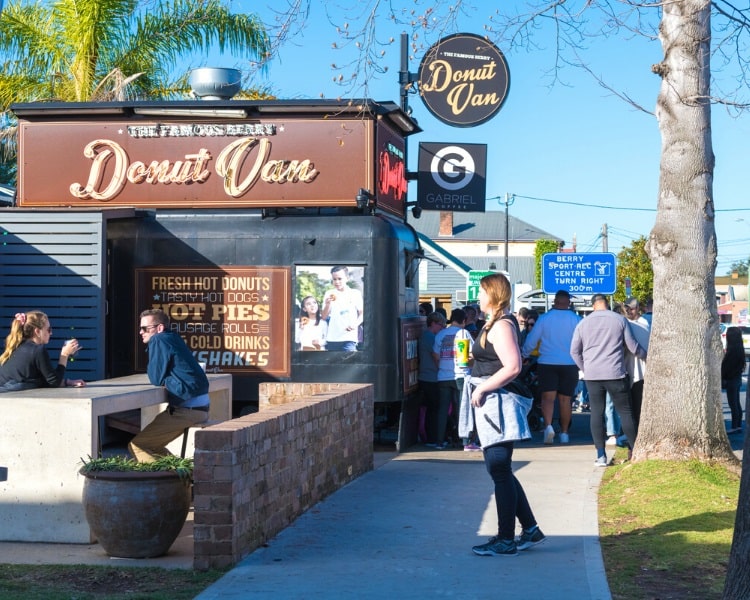 It's a lovely country town that deserves to be a day trip destination in its own right, with quality restaurants, heritage buildings, boutique shopping, and beautiful scenery to take in.
If you're going there for just a couple of hours, head to the main street where you will find a great collection of shops, restaurants and cafes.
Kiama is a seaside town in the Illawarra coastal region of New South Wales, just south of Wollongong and north of Nowra. The local Aboriginal people of the Illawarra region are the Wodi Wodi people, who are a sub group of the Dharawal people who are united by the Dharawal language.
The town has long been one of the most popular NSW coastal destinations, and for good reason. While the town is mostly known for the Kiama Blowhole, there are so many more things to do in Kiama that often get overlooked.

The beaches are plentiful and are among some of the best beaches in New South Wales. Various lookouts, unique rock formations and geological sites, excellent food options and other towns nearby make Kiama the perfect weekend and day trip destination.
The town of Kiama has the 2533 postal code and currently has a population of just under 10,000 lucky residents.
How to Get to Kiama
Kiama is very easy to get to, by car as well as by train.
1. Drive
You can drive to Kiama from Sydney in less than two hours.
Depending on where you're driving from, you can choose between the M1 Motorway past the Royal National Park, or the M31 Hume Motorway past Campbelltown. Both these routes go to Kiama via Wollongong.
From Wollongong, you continue on the M1 Motorway followed by the A1 Princess Highway to Kiama.
2. Train
Kiama does have a train station which is serviced by the SCO South Coast line, which travels from Bondi Junction to Kiama, via Central, Sutherland, Thirroul and Wollongong.
From Sydney Central Station to Kiama Station takes just under 2.5 hours. It's certainly not a short trip, but it's comfortable, and Kiama Station is conveniently located in the centre of town.
Where to Eat in Kiama
There are quite literally plenty of places to eat in Kiama, from trendy cafes to fish and chips to fine dining, catering for different budgets and preferences.
Here are a few suggestions for you to consider:
Miss Arda:
A lovely cafe in the heart of Kiama offering tasty food with middle eastern inspiration. Miss Arda is located at 62 Terralong Street.
Diggies:
A modern venue offering typical Australian breakfast, brunch and lunch food options, a stone's throw away from the lighthouse. Diggies is located at 1 Blowhole Point Road.
Penny Whistlers:
A trendy and modern Australian cafe that combines relaxed seaside vibes with delicious breakfast, brunch, lunch and dinner food options. Penny Whistlers is located at 5/31 Shoalhaven Street overlooking the Harbour.
If you prefer to play by ear, as we do, simply go for a wander on Manning Street and Terralong Street for the best cafe and restaurant options.
Hopefully this guide to the best things to do in Kiama was useful, please enjoy your trip to the Illawarra and travel safely.
Here are some more destination guides: