Last updated: July 25, 2022
We have listed the top 10 things to do in Narrabri and surrounds, from scenic walking tracks and lookouts to educational museums and unique sights.
Narrabri is a small town in the North West Slopes region of New South Wales, located approximately 550 km northwest of Sydney. Surrounded by various national parks, the town is the perfect base for outdoor enthusiasts.
Read on, as we reveal our top 10 attractions and activities in and around the rural township of Narrabri, one of Sydney's best weekend getaways.
If you're keen to do all of the below 10 attractions, you're going to need at least four days and three nights, including travel to and from Sydney.
These are three great motels in Narrabri:
Top 10 Narrabri Attractions and Activities
Here is our top 10 things to do in Narrabri and the surrounding area, including Mount Kaputar National Park and Pilliga Forest.
1. Australia Telescope Compact Array
One of the most fascinating tourist attractions in Narrabri is the Australia Telescope Compact Array, operated by CSIRO's Australia Telescope National Facility.
The Compact Array consists of six dishes, or antennas, that work together as one giant telescope. Five of the six antennas can be moved in different directions, whereas the sixth is fixed.

The visitor centre is located next to the rail track that moves the five dishes, with ample parking and toilet facilities available. It is mostly self-guided, with lots of information to absorb through various displays. The surrounding landscape is also wonderful, with kangaroos greeting you on your drive into the complex.
The visitors centre is open from 8 am to 5 pm daily, with night photography bookings available after 5 pm. When visiting, don't forget to put your phones on flight mode with WiFi turned off.
2. Sawn Rocks Walking Track
Sawn Rocks is a unique and spectacular geological rock formation located in the northern section of Mount Kaputar National Park.
It is essentially a cliff face that looks like a wall of giant organ pipes, formed as a result of the national park's volcanic past. A short and mostly paved walking track leads to a lookout from where you can see the entire formation.

From the lookout, the path continues down to the gully floor where you can see several gigantic pentagon-shaped boulders (that have broken off) from close by, which is quite a surreal experience.
Note that the walking track to the Sawn Rocks lookout is wheel-friendly, although the path is not entirely flat and does have a few bumps.
The Sawn Rocks picnic area can be accessed via Killarney Gap Road, a 30-minutes drive from the Narrabri town centre (see map location).
3. Mount Kaputar Summit Lookout
Once part of an extinct volcano, Mount Kaputar is a mountain with an elevation of approximately 1,500 metres above sea level. The mountain is the centrepiece of Mount Kaputar National Park.
A short and easy walk via a wooden staircase leads to the summit of Mount Kaputar from where you can take in incredible 360-degree views. It is believed that on a clear day, you can see 10% of New South Wales from the summit.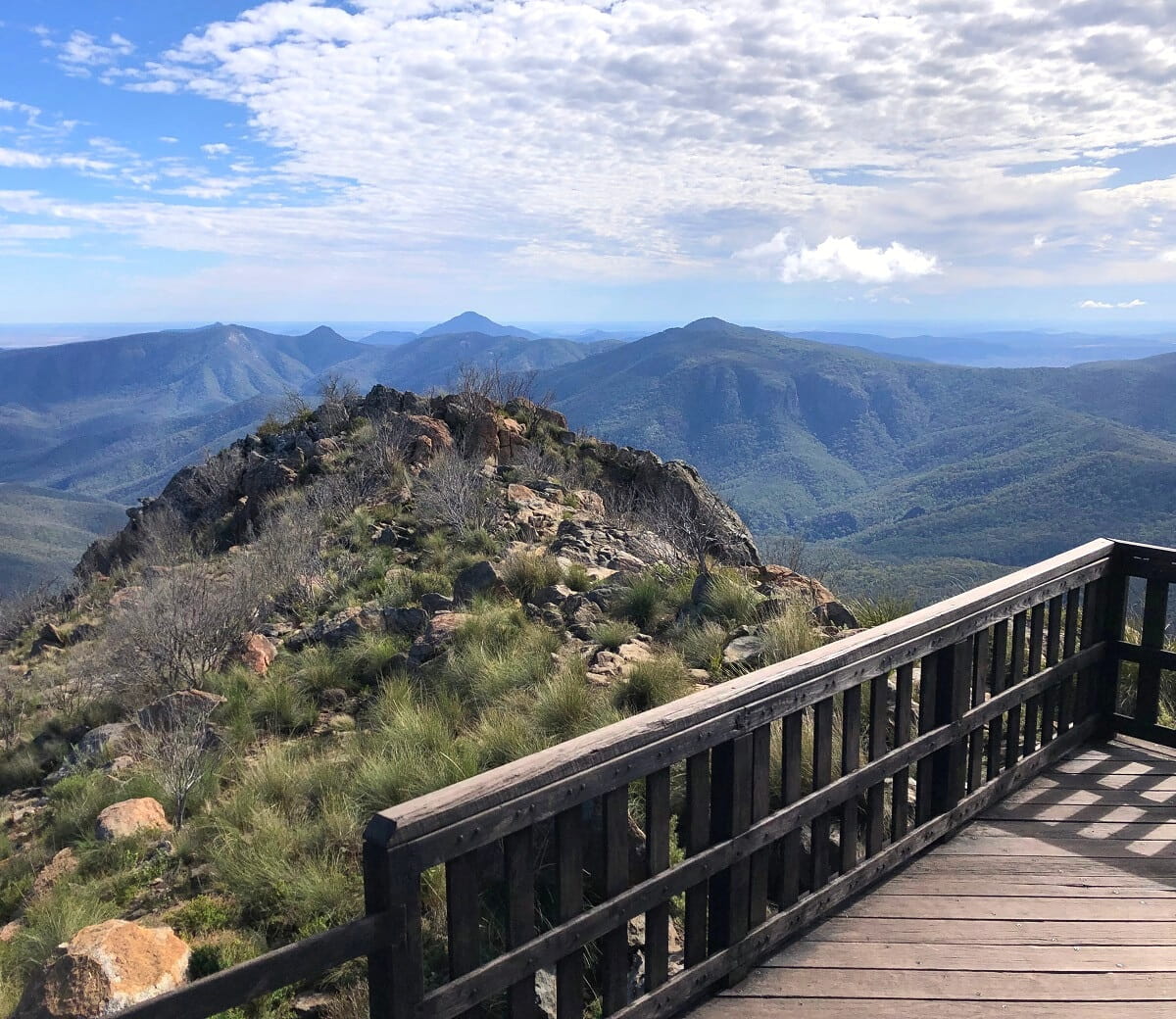 The winding road to get to the summit is partly unsealed but overall is in good condition. At the summit, you will find a reasonably sized car park.
The Mount Kaputar Summit Lookout is located at the very end of Kaputar Road, in the southern section of Mount Kaputar National Park, a one-hour drive from the Narrabri town centre (see map location).
4. The Governor Summit Walking Track
Mount Kaputar National Park is home to various walking tracks and lookouts, and one could easily spend two, or even three, full days there.
However, a third Mount Kaputar National Park highlight we would specifically like to include on this list of things to do in Narrabri is The Governor Summit Walking Track, also known as Corrunbral Borawah.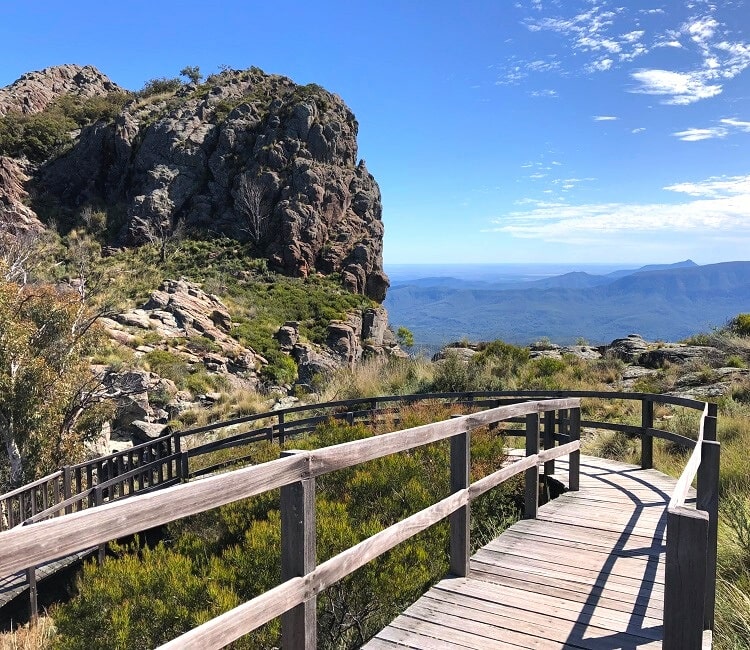 This 2 km return walk first leads to a lookout that offers panoramic mountain views. From that lookout, the track continues via boardwalks, ladders, and sections of rock scrambling to the summit of The Governor, with even better views to enjoy.
The Governor Summit Walking Track can be accessed via Kaputar Road, and is located just before the Mount Kaputar Summit (see map location).
5. Pilliga Forest Lookout Tower
From Mount Kaputar National Park, we now travel south to Pilliga Forest, also commonly referred to as the Pilliga or the Pilliga Scrub.
The Pilliga is made up of various nature reserves, conservation areas, and national parks. The area is essentially a large native forest that in total spans over 5,000 square kilometres, and acts as a refuge for wildlife including hundreds of bird species.

One of the must-see highlights in the Pilliga is the Pilliga Forest Lookout Tower, located in the central part of the forest. Visitors can climb up the steel tower and take in fantastic district views from the platform at the top.
The Pilliga Forest Lookout Tower can be accessed via Burma Road (unsealed) off Newell Highway, a one-hour drive from the Narrabri town centre (see map location).
6. Sculptures in the Scrub Walking Track
The next attraction in the Pilliga Forest that is worth a visit is the Sculptures in the Scrub walking track.
This is a 3 km return walking trail featuring several award-winning sculptures that celebrate Aboriginal history and culture.

The trail is located within the Timmallallie National Park which in turn is located in the heart of the Pilliga Forest.
The Sculptures in the Scrub walking track can be accessed via Rocky Road and Top Crossing Road (both unsealed), an 80-minutes drive from the Narrabri town centre (see map location).
7. Sandstone Caves Walking Track
The Pilliga Sandstone Caves are a set of impressive sandstone hills and caves, with some containing Aboriginal rock engravings.
An easy 1.7 km circuit walk, starting from the car park, takes you through the forest to those caves spread out over a few hundred meters.

The Pilliga Sandstone Caves are absolutely beautiful, and even though it's only a short walk, you might end up spending a fair bit of time there exploring the unique rock formations.
The Sandstone Caves Walking Track can be accessed via Yaminba Trail off Newell Highway, a one-hour drive from the Narrabri town centre (see map location).
Please note that the Sandstone Caves aren't signposted on Newell Highway, at the request of Aboriginal Elders. Since Newell Highway has a speed limit of 110 km per hour, it's important to not do sudden stops to locate the unsealed road marked as Yaminba Trail. Prepare yourself, and make sure you have the exact location set in your GPS navigation.
8. Pilliga Artesian Bore Bath
The Pilliga Artesian Bore Bath is a swimming pool filled with hot mineral water of the bore, set at a beautiful 37 degrees year-round.

The bore was constructed in 1902 as a permanent town water supply following a severe drought at the turn of the century. In 1980, the present-day pool was built for recreational purposes.
The Pilliga Artesian Bore Bath can be accessed via Pilliga Road, a one-hour drive from the Narrabri town centre (see map location).
9. Narrabri Lake
The Narrabri Lake, located in the western part of Narrabri, was once not much more than a swamp but is now a recreational lake area, popular with bird watchers, joggers, canoeists, and picnickers.

There is a 3 km long walking trail that goes all the way around the lake, with lovely views to take in, particularly at sunset and sunrise.
At the Mooloobar Street end of the Lake, you will find a pirate park, picnic tables, and BBQ facilities, great for a relaxing afternoon outside.
10. Old Gaol Heritage Museum
The heritage-listed Narrabri Old Gaol Heritage Museum opened as a gaol and residence in 1882 and continued to operate as such until 1982.

It is now a small museum and family history research centre, with various historical exhibits mounted in the cells, the outbuildings, and the exercise yards. It offers an interesting insight into what life was like in the past.
The Old Gaol Heritage Museum is located at 2 Bowan Street and is open on Wednesdays from 10 am to 2 pm and on Saturdays from 9 am to 1 pm.
Narrabri is a locality in the North West Slopes region of New South Wales, and is part of the Narrabri Shire local government area. The town can be accessed via the Newell Highway (A39) and the Kamilaroi Highway (B51).
The local Aboriginal people of Narrabri are the Kamilaroi people (also known as Kamilaroi or Kamillaroi), whose lands extend from the Hunter Valley to Central/North West and Southern Queensland.
The Narrabri region is the heart of the Namoi Valley and is home to thriving agricultural industries, producing cotton, wheat, beef, and lamb. The most notable natural attractions near Narrabri are Mount Kaputar National Park and Pilliga Forest.
When you arrive in Narrabri, it's a good idea to visit the Narrabri Region Visitor Information Centre. There, you will find lots of information about the area, the best attractions, and the local history. The building, located at 103 Tibbereena Street, is very recognisable and has ample parking.

How to Get to Narrabri
Despite the distance, Narrabri is reasonably easy to get to by car. Travelling by train is also possible, but will take a bit longer.
1. Drive
If you love a good road trip, the drive to Narrabri is not going to disappoint.
The quickest way to drive to Narrabri from Sydney is via the M1 to Newcastle, followed by the Hunter Expressway (M15), the New England Highway (A15), and the Kamilaroi Highway. That's a long but quite relaxing 6-hour drive.
Note that you have the option to do a quick detour to Tamworth for lunch, which isn't too far away.

Another way to drive to Narrabri is via the Blue Mountains to Mudgee, followed by the Castlereagh Highway (B55) to Mendooran, the Newell Highway (A39) to Coonabarabran, and then onto Narrabri through Pilliga Forest.
This drive is just over 7 hours and might be a good idea for the return trip with different scenery to enjoy.
2. Train
Narrabri has a train station which is serviced by the Northern Tablelands Express, a train service operated by NSW TrainLink.
The trip from Sydney Central to Narrabri Station takes approximately 7.5 hours, and bookings can be made on the Transport NSW website.
Where to Eat in Narrabri
While certainly not a foodies paradise, there are plenty of options to choose from when it comes to cafes, restaurants, and pubs, catering for different budgets and preferences.
Here are a few suggestions to consider:
Club Narrabri:
The local RSL Club, home to the popular Outback Shack restaurant which serves a variety of meals in a uniquely decorated setting. Club Narrabri is located at 7 Maitland Street.
On Lee:
Good quality Chinese and seafood restaurant serving lunch specials and dinner. On Lee is located at 64 Maitland Street.
Coogle Cafe:
Trendy coffee shop set next to a garden store, serving whole food and clean eating options. Coogle Cafe is located at 13 Doyle Street.
If you prefer to just wing it, simply wander along Maitland Street where you will find plenty of cafe and restaurant options.
Hopefully this guide to the best things to do in Narrabri was helpful. Here are some more destination guides: