Last updated: August 31, 2023
A guide to the 15 best things to do in Orange and its surrounding area, from walking tracks and lookouts to wineries and waterfalls.
Orange is a town in the Central Tablelands region of New South Wales, located 250 km west of Sydney. The city and surrounding area are characterised by rolling hills, large vineyards, heritage buildings and national parks.
Keep reading, as we reveal the top 15 attractions and activities in and around the city of Orange, one of Sydney's best weekend getaway destinations.
To do all of the below 15 attractions and activities, it is recommended to book accommodation for two or three nights.
These are two great hotel options in Orange:
Top 15 Orange Attractions and Activities
Here is our top 15 things to do in Orange and surrounds, ordered such that they can fit into a three- or four-day itinerary.
1. Wineries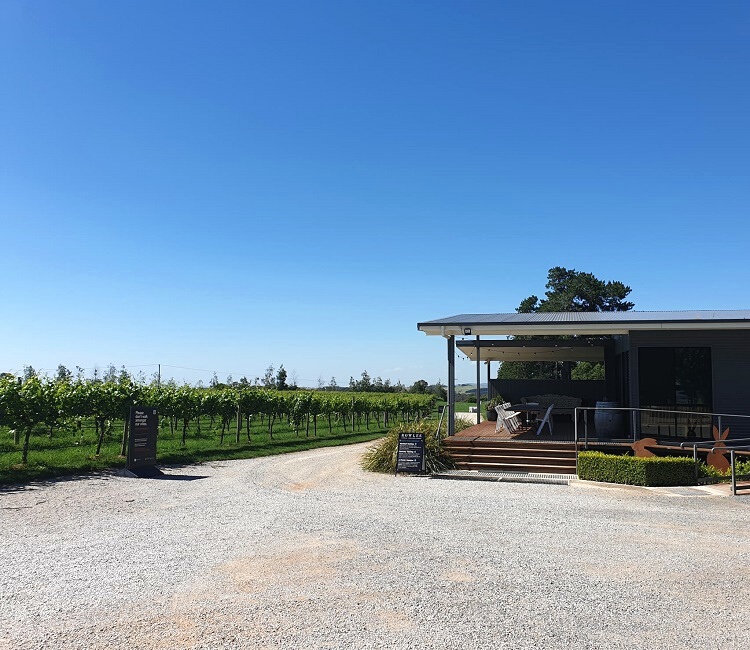 Orange is well known for its many established wineries, and a wine-tasting session should be on top of everyone's list of things to do when visiting the Central Tablelands.
If you've never done a wine-tasting experience before, it's a pretty casual affair. You sit down at a table in a cosy cellar door where a staff member will serve you five or so of their wines while also telling you more about their vineyard.
Wine tasting typically costs around $10-$20 per person, which sometimes gets refunded if you end up purchasing one or more bottles.
There are many wineries you can visit to do a wine-tasting session in the Orange area, but here are a few recommendations:
Rowlee Wines
Nashdale Lane Wines
Mortimers Wines
2. Orange Regional Museum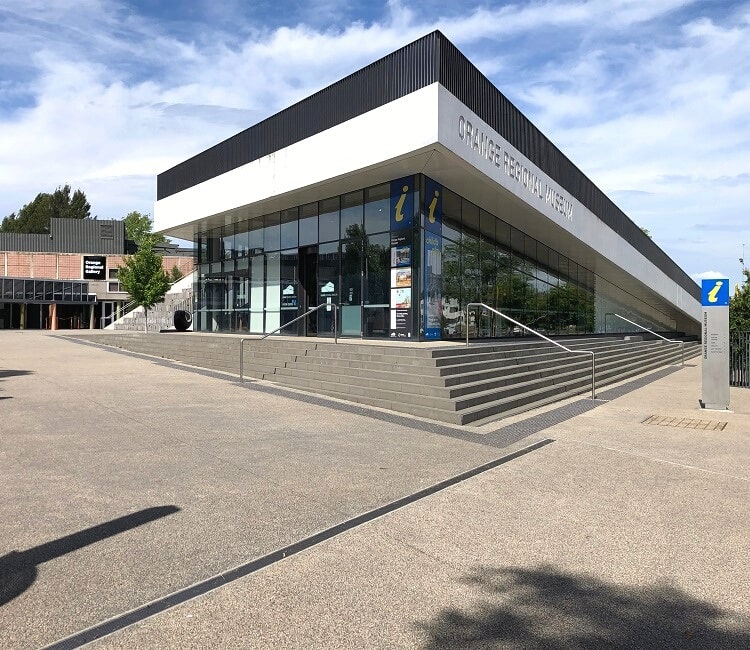 The Orange Regional Museum interprets the stories, cultures and places of the region through temporary and permanent exhibitions and a range of artifacts.
It's an award-winning museum that covers Aboriginal culture and history, local people, gold mining, sports, wartime, local industries such as wine and wool, and much more.
Also worth mentioning is the interesting architecture of the building where the Orange Regional Museum is housed. It's a modern building with a grass roof you can walk onto from one side.
The museum is free of charge, with the Orange Visitor Information Centre also housed in the same building.
3. Orange Botanic Gardens

Measuring 17 hectares in size, the Orange Botanic Gardens offer a collection of native and exotic plants that you can explore through various walking paths.
Opened in 1988 and located north of the town centre, the Orange Botanic Gardens are managed by the Orange City Council with help from various volunteer groups.
While the Orange Botanic Gardens may not be as impressive as, for example, the Royal Botanic Garden Sydney or the Blue Mountains Botanic Garden, it's still worth visiting for a relaxing couple of hours.
4. Cook Park

Cook Park is located on Summer Street in Orange's town centre and is a heritage-listed, 4.5-hectare large green space.
The area was officially named Cook Park in 1882 and has undergone several upgrades ever since.
There are quite a few notable historical features in the park to explore, such as a band rotunda, an ornamental lake, iron gates, a cottage, a conservatory, several gardens, and so much more.
Cook Park is easy to get to, as it is located in the centre of town, and is a great spot to wander around after lunch or dinner.
5. Cider Tasting

Most people visiting Orange will go to at least one vineyard to do a wine-tasting session, but Orange is also a great destination to try high-quality, locally brewed cider.
One of the better places to visit for a cider-tasting experience is Small Acres Cyder, located 10 km east of the Orange city centre.
They produce delicious cider made with the fresh juice of locally grown apples and pears, using traditional methods of authentic cider production. Book a tasting session and enjoy a selection of premium still and sparkling ciders.
Another great wine and cider drinking venue is the Skybar at Borrodell Estate, moments away from Lake Canobolas Reserve, which also offers long lunches.
6. Arch Cave

The incredible Arch Cave is located within Borenore Karst Conservation Reserve, a quiet and unique protected area that is home to ancient caves, walking tracks, and picnic areas.
There are three known caves to be explored in Borenore Karst Conservation Reserve:
Arch Cave
Verandah Cave
Tunnel Cave
The most impressive cave to visit is the Arch Cave, which also happens to be located close to the main car park.
From that car park, a short loop walking trail, called the Arch Loop Track, leads to and through this cave, with fantastic views to enjoy from inside and outside this impressive natural structure.
7. Verandah Cave

The second most impressive cave in Borenore Karst Conservation Reserve is the Verandah Cave (see map location).
This cave, as well as the smaller Tunnel Cave, can be reached via a 7 km return walking track, starting from the same car park.
Be mindful, though, that both these caves are less impressive than the Arch Cave, so you won't miss much if you skip this walking track.
Also note that the walk to these two caves isn't very inspiring. Therefore, we only recommend visiting the Verandah and Tunnel caves if you have time to spare and feel like hiking.
8. Towac Pinnacle lookout

The scenic Towac Pinnacle Lookout, on the east side of Mount Canobolas, southwest of Orange, offers fantastic district views over the Towac Valley and beyond (see map location).
A short but steep walking track leads to this lookout, with a fenced platform located on top of a rock formation.
The views from the lookout are the best at sunrise or sunset, with the nearby reserve offering picnic shelters, toilets and barbeques.
9. Federal Falls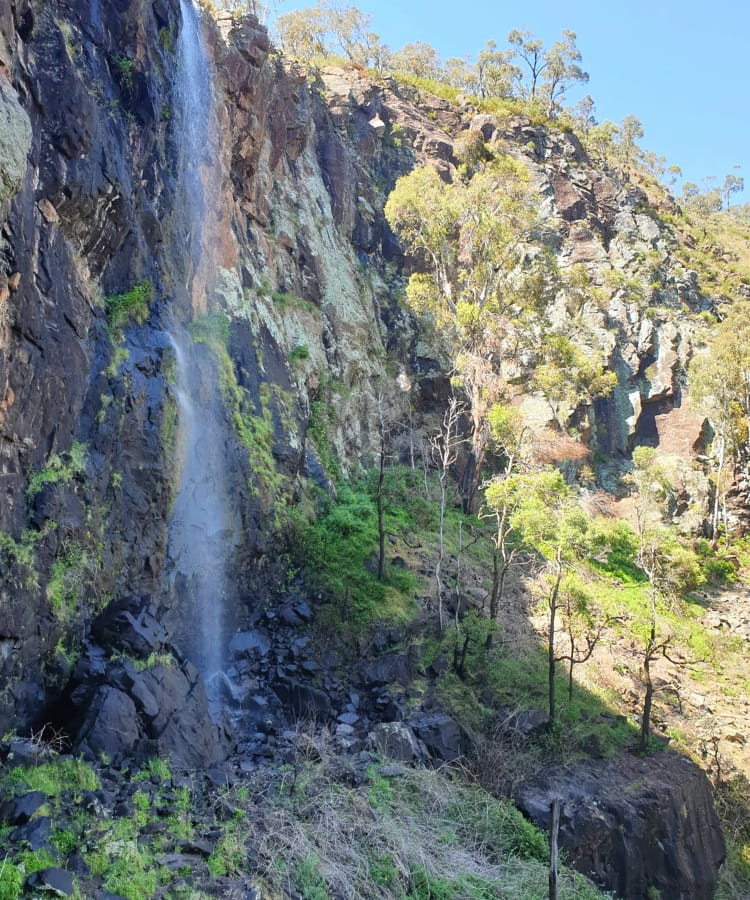 A visit to Orange is not complete without conquering the scenic walk to Federal Falls, located in the Mount Canobolas State Conservation Area.
Completing a 4 km loop walking track, plus an additional 700 metres to the waterfall, is what it takes to get up close and personal with this impressive water spectacle.
The walking track starts and finishes at the Federal Falls Campground and is reasonably easy to do; however, the last bit to the actual waterfall is a very steep descent to the base.
10. The Walls Lookout Mount Canobolas

Only a short drive from the Federal Falls Campground is the Walls Lookout, which offers panoramic district views from a newly built viewing platform.
From the parking area, you can find the short walking path heading east that leads to this impressive lookout point (see map location).
If you feel like hiking, this is also the starting point of the popular Nature Track Loop, which takes in a couple more vantage points on Mount Canobolas.
11. Lake Canobolas Reserve

Lake Canobolas is located at the foot of Mount Canobolas, a large and peaceful water reservoir created by a dam and fed by Molong Creek.
The Lake Canobolas Reserve is popular with local residents and offers plenty of activities, such as swimming, cycling, sailing, canoeing and walking.
It's open daily to visitors with a reasonably sized car park that can be accessed from Lake Canobolas Road in Nashdale.
12. The Falls Lookout

Also referred to as The Falls Water Falls, the cascades at the Falls Lookout in Mullion Range State Conservation Area are an impressive water spectacle, especially after a period of heavy rain.
The car park on Ophir Road, from where you can start the walking track to this lookout, isn't very well signposted, but here is the map location to help you navigate.
The walking track is only 400 metres one way and is very easy to follow. The lookout is located right in front of the cascades and offers fantastic views.
13. Fourth Crossing

Continuing northbound on Ophir Road, you will find the Fourth Crossing Picnic Area, with the car park located just past the crossing of Summer Hill Creek on the left side of the road.
While there are a few interesting walking tracks to explore in the area, the main attraction near the picnic area would be the scenic Cascade Falls.
To get there, follow a short walking track through bushland that starts from the other side of the road (see map location).
The trail leads to a flat rocky area from where you can take in fantastic views of the waterfall and surrounding area.
14. Ophir Goldfields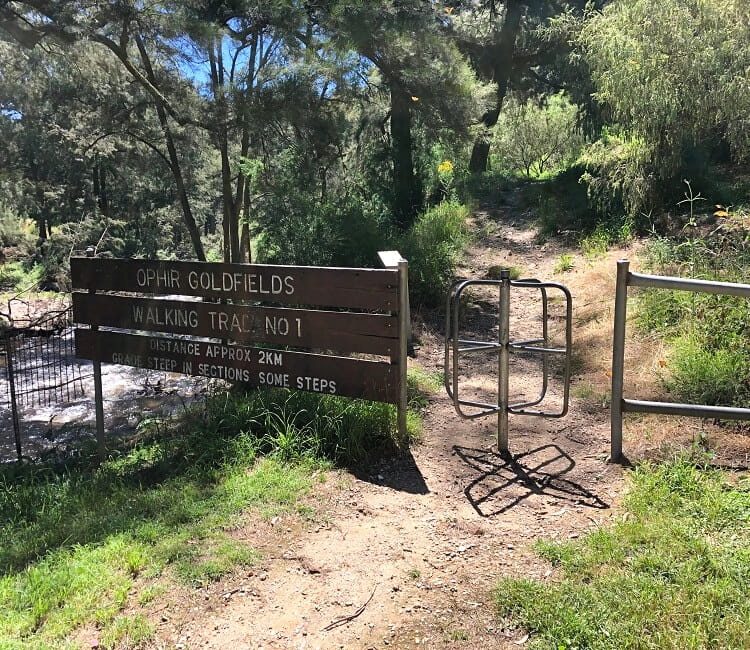 The Ophir Goldfields, and also the previous two sights on this list of things to do in Orange, are located in the rural locality of Ophir, northeast of the city of Orange.
It was in Ophir where gold was first discovered in New South Wales back in 1851, which in return led to the Australian gold rushes.
To learn more about the fascinating history of Ophir and the gold mining that took place there, make your way to the Ophir Reserve Campground on Lower Lewis Ponds Road (see map location).
Various information boards at the camping ground explain more about the area and how to find some of the shafts and tunnels from the past.
It's recommended to do the first section of Ophir Goldfields Walking Track 1 along the creek, which includes a few of these tunnels. If you do have the time, this walking track loops back to the car park, with more tunnels and shafts.
15. Mount Panorama

This one is a bit of a drive outside Orange, but when travelling to or from Orange, a visit to Mount Panorama is a must, especially for those who've never been there before.
Although Mount Panorama is generally considered Australia's most famous racing track, it is also a Scenic Drive and a public road.
Halfway through the race track is a viewing platform and boardwalk where you can park your car and take in the area's scenic views.
Mount Panorama is located only a short distance from the Bathurst town centre and a 50-minute drive from Orange.
Orange is a small city in the Central Tablelands region of NSW, approximately 250 km west of the Sydney CBD, 120 km west of Lithgow, 55 km west of Bathurst, and 140 km south of Dubbo.
The scenery surrounding the city of Orange is characterised by rolling hills, large vineyards, and national parks, with nearby Mount Canobolas being a significant landmark with a peak elevation of almost 1,500 metres.
The local Aboriginal people of the Orange region are the Wiradjuri people, the largest Aboriginal group in New South Wales.

Orange was officially established as a village in 1846 and was named in honour of King William II of the Netherlands. With the discovery of gold in nearby Ophir and increased agricultural activity in the following years, the town experienced significant growth in the second half of the 19th century.
In 1877, Orange was connected to Sydney via the railway, and in 1946, Orange was officially upgraded to a minor city. Today, the city of Orange has the 2800 postal code and has a population of approximately 40,000 residents.
How to Get to Orange
Orange is reasonably easy to drive to by car, and travelling by train is also an option.
1. Drive
From Sydney, the drive to Orange is just over 250 km long and takes roughly four hours.
It's an easy route that starts with the M4 Motorway, followed by the A32 Great Western Highway through the Blue Mountains to Bathurst, and then the A32 Mitchell Highway to Orange.
2. Train
Orange has a train station, which is serviced by regional trains. The trip from Sydney Central Station to Orange Station takes just under 5 hours on a weekday and travels via Lithgow.
While this might not be a short trip, it is comfortable, and Orange Station is conveniently located in the centre of town.
Where to Eat in Orange
Orange is a well-established food and wine region in New South Wales and Australia, so if you're visiting Orange to enjoy its rich food and wine culture, you will not be disappointed.
There are countless cafes and restaurants to be found in and outside the city of Orange, from renowned fine dining establishments to a wide variety of excellent pubs.
Here are a few suggestions to consider:
Charred Kitchen & Bar:
Unpretentious and cosy fine dining spot on New Street with a playful menu and an extensive wine list.
Carriers Arms Hotel:
Lively pub in the centre of town with a great atmosphere and good food. But with so many pubs in Orange, go ahead and try a few different ones.
Raku Izakaya:
Modern authentic Japanese Restaurant on Summer Street. Indulge in a great variety of dishes designed to share.
If you're staying in the centre of town, simply go for a wander along Summer Street and nearby streets to find some great cafes, restaurants, and pubs.
Hopefully this guide to the best things to do in Orange NSW was useful, and that it helps with planning your next trip to the Central Tablelands region.
Here are some more destination guides: