Last updated: November 2, 2023
A complete guide to the best things to do in Port Macquarie, from coastal tracks, beaches and waterfalls, to museums, scenic lookouts, and great food.
The Port Macquarie region is a tourist-friendly destination on the Mid North Coast, located at the mouth of the Hastings River, halfway between Sydney and the Gold Coast.
The town of Port Macquarie is known for its unique coastal and river setting, complemented by an unspoilt hinterland and a moderate climate. This makes Port Macquarie the perfect location for a short holiday, with lots of things to see and do.
Up for a fun long weekend away? Keep reading, as we will reveal our top 17 attractions and activities in Port Macquarie and the surrounding area.
Top 17 Attractions and Activities
Starting with the Koala Hospital, here is our list of top things to do in Port Macquarie.
1. Koala Hospital

The Port Macquarie Koala Hospital is a not-for-profit wildlife rehabilitation facility that has been rescuing and rehabilitating koalas since 1973.
The Koala Hospital is a must-visit when staying in Port Macquarie. Entrance is free, and you'll get to see koalas from close by during your self-guided visit.
Besides visiting the hospital and learning more about koalas, there are other ways to get involved. You can apply to volunteer, become a supporter, report a sighting, or simply make a donation.
2. Port Macquarie Museum

The Port Macquarie Museum is a small history museum located in the centre of town, home to various collections recording Port Macquarie's and Australia's cultural and social history.
The museum holds a collection of over 20,000 objects, 10,000 archive items, and 100,000 photographs. Their collections tell the stories of Port Macquarie's rich history and heritage.
We found the Port Macquarie Museum to be highly interesting and were pleasantly surprised by the setup, the many objects on display, and the overall friendliness of the staff.
3. The Breakwall

The Breakwall is an iconic attraction in Port Macquarie, located in the northern part of town just west of Town Beach.
Facing the Hastings River, the Breakwall is a walking path along the water, decorated with large, painted rocks. Some of the artworks (a good mix of quotes, one-liners, and memorials) are very pretty, and some of them will surely catch your attention.
It's a great spot to visit in the evening, with a large holiday park, a playground, a skate park and various cafes and restaurants nearby.
4. Flagstaff Lookout

The Flagstaff Lookout is located on a headland (Flagstaff Hill) between Oxley Beach and Town Beach, accessible via a short walking trail from William Street.
The viewing platform stands where a signal station and beacon site were established in 1821. The flagstaff at the lookout is original and serves as a monument.
While the views from the Flagstaff Lookout aren't incredible by any means, it's a fun walk up the hill and a nice little detour from the coastal walk.
5. Port Macquarie Coastal Walk

The Port Macquarie Coastal Walk is a 9 km walking trail along the coastline of Port Macquarie, between Town Green Park and the Tacking Point Lighthouse.
The scenery along the walk is beautiful, taking in several beaches, patches of rainforest, and various bays and headlands.
There is, of course, no need to do the entire Port Macquarie Coastal Walk. Instead, you can do smaller sections of the walk to get a good impression of the beautiful coastline.
6. Sea Acres Rainforest Boardwalk

Located only a short drive from the Port Macquarie town centre, the Sea Acres Rainforest Centre, within the Sea Acres National Park, offers a unique rainforest experience.
The highlight is the 1.3 km boardwalk that runs through the rainforest canopy, allowing visitors to get a good sense of what a rainforest is, with lots of birds and other animals to spot.
The Sea Acres Rainforest Boardwalk, including the little shop and cafe, is a lovely attraction in Port Macquarie, for kids and adults.
7. Tacking Point Lighthouse

Constructed in 1879, the Tacking Point Lighthouse is the 13th oldest lighthouse in Australia. It was built following a series of ship wreckings in the 19th century in the Tacking Point area.
Design by New South Wales colonial architect James Barnet, the lighthouse sits atop a rocky headland, with fantastic coastal and ocean views. It is still in operation today.
While the Tacking Point Lighthouse is an interesting enough structure, the coastal scenery surrounding it makes it a picture-perfect attraction in Port Macquarie.
8. Watonga Rocks

One of Port Macquarie's prettiest beaches is Lighthouse Beach, a 9 km long stretch of south-east facing sand with plenty of space for swimmers, sunbathers and dog owners.
The Watonga Rocks are an interesting rock formation that makes visiting Lighthouse Beach even more worthwhile. The shape and colours of the rocks, where the sand meets the water, make this rock formation quite a unique sight.
The easiest way to visit Watonga Rocks is to park your car on Matthew Flinders Drive just south of the lighthouse and then access Lighthouse Beach from there.
9. Hastings River Cruise

The Hastings River plays a prominent role in Port Macquarie's landscape, and doing a cruise on this river is a great opportunity to see that landscape from a unique perspective.
Local cruise operators like Port Jet and Cruise Port Macquarie run various types of cruises daily, such as dolphin and whale spotting cruises, sunset cruises, and morning river cruises.
If a cruise is not on the cards, perhaps consider catching a ride on the Hastings River Ferry. Cars only pay a small amount, while pedestrians can cross the river for free.
10. Billabong Zoo

First opened in 1986, the popular Billabong Zoo is a Koala and wildlife park located only a short drive west of the Port Macquarie town centre.
The zoo started as a koala breeding centre and has, since its inception, evolved into a common wildlife park with a great variety of animals as residents, in addition to zoo talks, animal encounters, and feeding sessions.
Billabong Zoo is open daily from 9 am to 5 pm, with tickets to be purchased online or simply at the front desk.
11. North Brother Lookout

If you're driving to Port Macquarie from Sydney, it's a good idea to visit the North Brother Lookout, approximately 40 km south of Port Macquarie.
The lookout is located on a mountain named North Brother, which forms part of the Three Brothers, with Middle and South Brother being the other two mountains.
The views from the North Brother Lookout on a clear day are fantastic, with Port Macquarie's beaches visible in the distance.
12. Old Bottlebutt Tree

The impressive Old Bottlebutt tree is the largest Red Bloodwood tree in the southern hemisphere, located within the Burrawan State Forest.
This state forest is a sustainably managed forest used partly for timber production and partly for conservation purposes.
The Old Bottlebutt tree can be visited via a family-friendly 600 metres long loop trail, with a timber viewing platform and seating at the base of the tree.
The tree is a 30-minute drive from Port Macquarie via well-maintained unsealed roads within the forest (see Google Maps location).
13. Bago Maze and Wine

The Bago Maze and Winery is a family-run farm showcasing local wine and produce from the Mid North Coast in New South Wales. Bago is a winery that produces its wine and grows its own grapes on-site.
Nestled in a picturesque valley with acres of vines, visiting Bago is a fun experience. Do a wine-tasting session in the cellar door, or try a mixed cheese and meat platter while overlooking the vineyard.
And if wine tasting isn't your thing, the well-presented hedge maze between the vineyards is a worthwhile attraction in itself.
14. Ellenborough Falls

Ellenborough Falls is a stunning 200 metres high waterfall on Ellenborough River on the Bulga Plateau in the village of Elands. It is the tallest single-drop waterfall in the state of New South Wales.
It's easy to spend a half-day at Ellenborough Falls as there is quite a bit to do. A steep walking track leads to the base (where you can swim), and another walking trail leads to a lookout on the other side of the valley, from where you can see the entire waterfall.
If you don't want to hike, there is also a fantastic lookout platform right next to the car park, which offers superb views of the waterfall.
15. Rawson Falls

A second waterfall that is worth visiting when in Port Macquarie is Rawson Falls, accessible via a moderately challenging and steep 5 km return walk.
Rawson Falls is smaller and not as spectacular as Ellenborough Falls, and it's also harder to access with a more challenging hike down into a forest.
If you do have extra time to spare, by all means, go and visit Rawson Falls; it's a beauty. However, if you've been to Ellenborough Falls and don't feel like hiking, it's okay to skip this waterfall.
The waterfall is located within the Boorganna Nature Reserve, an hour's drive from Port Macquarie via well-maintained roads (see Google Maps location).
16. Day Trip to South West Rocks

South West Rocks is a small coastal town just east of where the Macleay River meets the ocean, and an easy 50 minutes drive north of Port Macquarie.
The town, including the nearby national parks and beaches, is a popular, family-friendly seaside holiday escape.
Top attractions in South West Rocks include the Trial Bay Gaol, the Captain Cook Lookout, the Smoky Cape Lighthouse, and South Smoky Beach.
Read our guide with the best things to do in South West Rocks for a complete outline of the most popular attractions and activities.
17. Day Trip to Nambucca Heads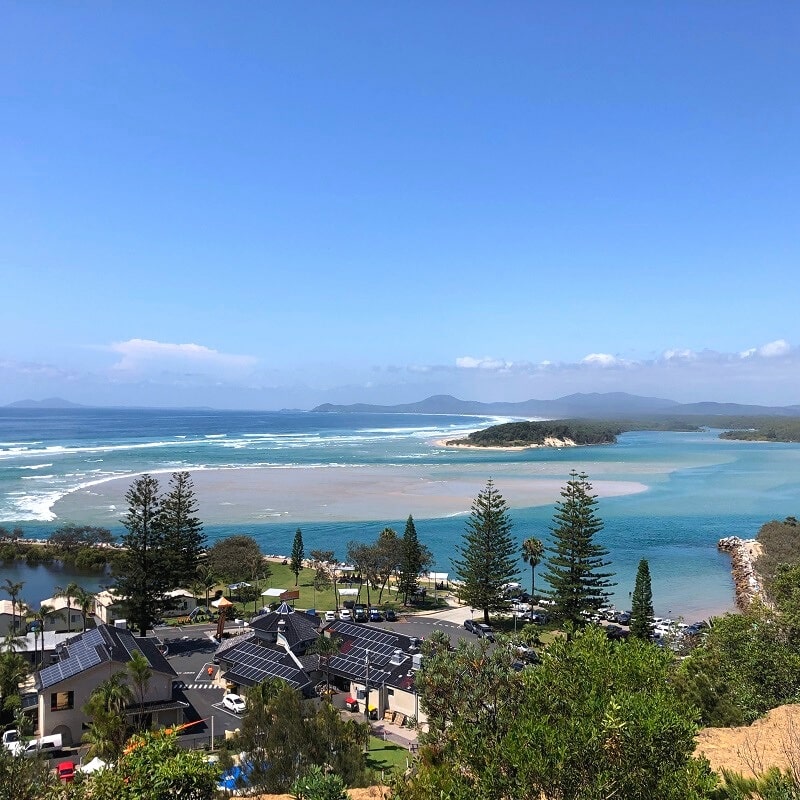 A bit further north from South West Rocks up the Pacific Highway is the beautiful coastal town of Nambucca Heads, located at the mouth of the Nambucca River.
The greater Nambucca Valley is a traditional holiday destination, with an expansive coastline, a river that offers plenty of entertainment, and a scenic valley with lovely hills and small villages.
Top attractions and activities in Nambucca Heads include the Nambucca River, the V-Wall, Wellington Rocks, the Rotary Lookout, and Shelly Beach.
Read our guide with the best things to do in Nambucca Heads for a complete outline of the most popular attractions and activities.
To make the most of your visit to Port Macquarie, it's recommended to stay at least two nights in or close to town.
Here are 4 great accommodation options in the area:
Port Macquarie is a coastal town in the Mid North Coast region of New South Wales, located at the mouth of the Hastings River, approximately 390 km north of Sydney and 530 km south of Brisbane.
The town was named after the Governor of New South Wales, Lachlan Macquarie, by explorer and surveyor John Oxley in 1818 when he reached the Pacific Ocean from the interior. In 1821, Port Macquarie was established as a penal settlement as a replacement for Newcastle.

Port Macquarie is widely known for its extensive waterways and beaches, but also for its koala population, with both the Billabong Zoo and the Koala Hospital caring for and breeding koalas.
The traditional custodians of the land on which Port Macquarie is located are the Birpai people (also referred to as Birrbay, Biripi, and Birippi).
Port Macquarie has a population of around 50,000 people, carries the postcode 2444, and is part of the Port Macquarie-Hastings Council.
How to Get to Port Macquarie
Being so close to the Pacific Highway, Port Macquarie is incredibly easy to drive to from Sydney, Gold Coast and Brisbane.
From Sydney, it will take approximately 4 hours and 20 minutes to drive to Port Macquarie (excluding breaks), mainly via the Pacific Highway.

As mentioned above, before approaching Port Macquarie, it's a good idea to visit the North Brother Lookout.
From there, you can take the more scenic route into Port Macquarie via Ocean Drive along the coast.
Where to Eat
While we wouldn't call Port Macquarie a foodie's haven, there is plenty of choice when it comes to cafes, restaurants and pubs when spending your holiday break in the Port Macquarie area.
A popular area where you will find a good variety of food options is the town centre north of William Street and west of Murray Street.
This is also the precinct where Port Central (shopping mall) and Glasshouse (performance art theatre) are located.
Here are some great dining options in Port Macquarie:
Hopefully this guide to the best things to do in Port Macquarie was helpful. Here are a few more destination guides you might like: