Last updated: September 8, 2021
Whale Beach is a picturesque, 600 metres long strip of sand in the Northern Beaches region, just south of Palm Beach.
Not as well known as its bigger neighbour, Whale Beach is therefore usually much quieter, with a pleasantly secluded atmosphere.
If travelling by car, turn into Surf Road (see map location) from Whale Beach Rd, which leads to The Strand right behind the beach.
The Strand has lots of paid parking available.

Public transport is also a good option.
Catch the City to Palm Beach bus which stops at various places nearby Whale Beach. Check the bus timetable on the NSW Transport Info website.
Whale beach is one of our favourite beaches in the Sydney area. It's a very pretty beach that doesn't get as crowded as some of Sydney's most popular beaches.
And with Palm Beach just around the corner there are enough cafe's, restaurants and other facilities nearby to enjoy a great day out.
Check out our Palm Beach guide with a complete list of things to do in this beautiful area of Sydney.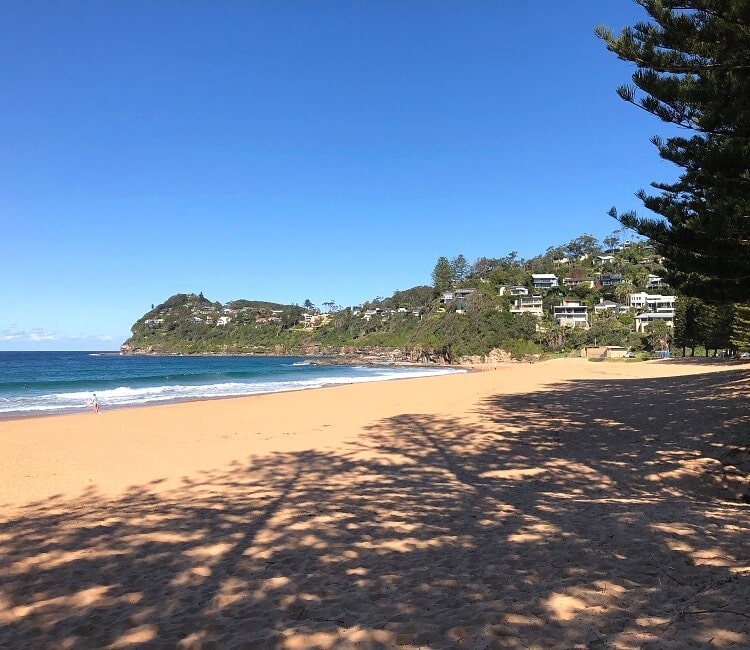 It's still unknown where Whale Beach got its name from. Some say it's the shape of the beach and the bay that gave it its name. Others say that a whale beaching occurrence happened there a long time ago.
Just like many other beaches in Sydney, Whale Beach also has a man-made rock pool. Whale Beach Rockpool is 25 metres long and is located at the southern end of the beach.
Careel Head and Little Head
The beach is around 600 metres in length and is surrounded by two 40 metres high sandstone headlands: Little Head at the north end and Careel head at the southern end of the beach.
You can get to Careel Head via Rayner Rd off Whale Beach Rd and enjoy some spectacular views. Look out for Careel House, a heritage listed single storey bungalow, made in 1931 entirely from sandstone blocks.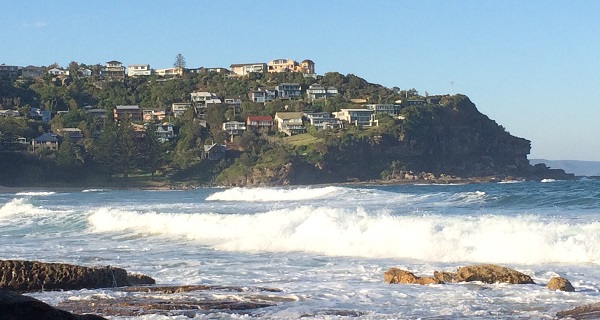 Just a bit further south is Bangalley Head, part of Careel Head Reserve, which is also worthwhile visiting when you're in the area.
Little Head also offers great views, although it lacks a purpose-built lookout platform. Follow Whale Beach Rd to the north and just at the junction with Norma Rd is the best spot to enjoy panoramic views of the beach and ocean.
Whale Beach SLSC
Whale Beach also has its own surf life saving club, formed in 1937, with a very prominent and recognisable club house.
The beach can actually be quite hazardous at times with strong rips, so despite the fact that it's not the busiest beach in Sydney, the surf life savers are definitely much needed.
Swimming
Swimming can be great fun at Whale Beach, but as mentioned, please be mindful that the water is usually not very calm.
So if you're looking for a quiet swim, this particular beach with its strong waves may actually not be the best spot.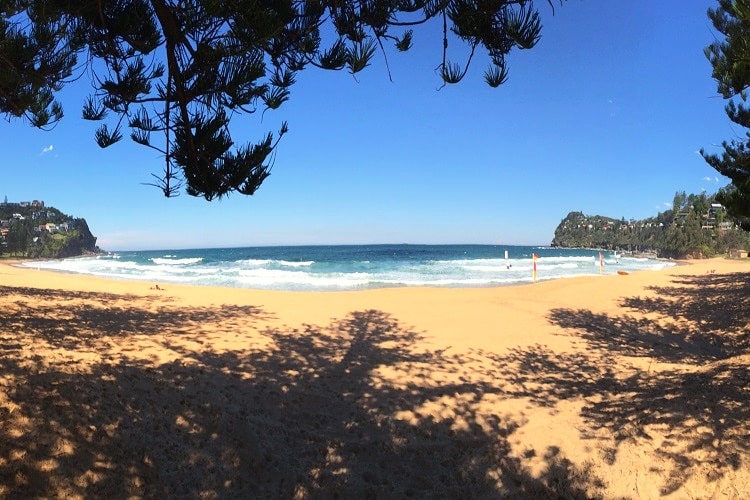 Always swim between the flags and avoid the southern and northern ends of the beach as that's where the dangerous rips are.
Alternatively, you can check out the rock pool further south to do a few lanes.
Surfing
Whale beach has excellent surfing conditions with on average 1.6m waves, especially at the north end but also at the south end. Body surfing is also very popular here.
Fishing
The best spot to go fishing is at the rocks north of the beach.
That may not be the best location for the inexperienced though, as the waves there can be quite overwhelming at times.
Nearby Beaches
Palm Beach is not the only beach nearby, so if you feel like a day of beach hopping, go ahead and discover Sandy Beach, Snapperman Beach, Paradise Beach, and Clareville Beach.
Restaurants and Cafe's Nearby
While not as busy as Palm Beach, there are a few restaurants and cafe's close by, and also a little kiosk right at the beach.
For more formal dining and official functions, head to Moby Dicks on Whale Beach Road. Further north, Jonah's Restaurant on Bynya Road offers the best views over the beach.
Whale Beach Facilities:
Toilets & showers (southern end of beach)
Picnic and BBQ facilities
Rock pool
Play ground
Surf live savers
If you're driving up from the city or Manly, turn into Whale Beach Rd from Barrenjoey Rd. After approximately 1 km, make a sharp turn into Surf Road which leads to The Strand at the beach.