Last updated: January 8, 2021
Choosing where to stay in Sydney for your upcoming holiday can be challenging task. Your hotel and also the area you're staying in can make or break a holiday. This is particularly true for Sydney since the layout of the city is rather complicated.
We've made the process of deciding where to stay in Sydney a bit easier by identifying the five best places and areas in and close to the city.
In addition, we've selected some of the best hotels in these areas. Hotels in different price categories, catering for all types of travellers.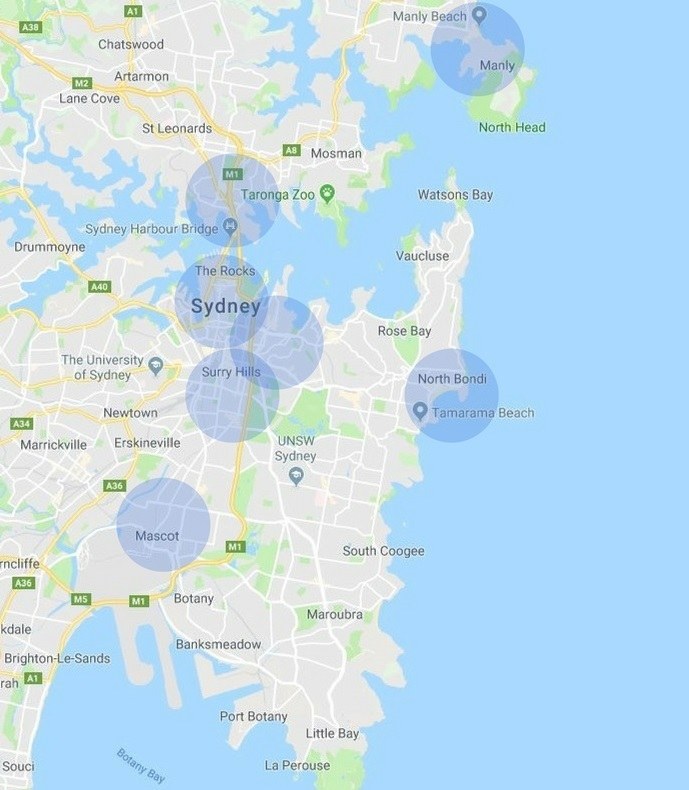 While perhaps not the most efficient or affordable, public transport in and around Sydney can get you to most of the tourist attractions and beyond in comfort.
Trains and buses will get you to all the major Sydney CBD tourist attractions, while most of the Harbour destinations such as Manly, Taronga Zoo and Watsons Bay are serviced by ferries. The Blue Mountains is serviced by the Blue Mountains train line.
Opal Card
You can use most of Sydney's public transport, such as trains, buses and ferries, with the Opal card, an electronic ticketing system based on a "pay-as-you-go" concept.
The biggest perk of the Opal card is the Weekend travel cap, allowing travellers to use unlimited public transport for less then 10 dollars for the whole day.
Opal Cards can be purchased online as well as from retail outlets at Sydney Airport, train stations and from news agencies and convenience stores.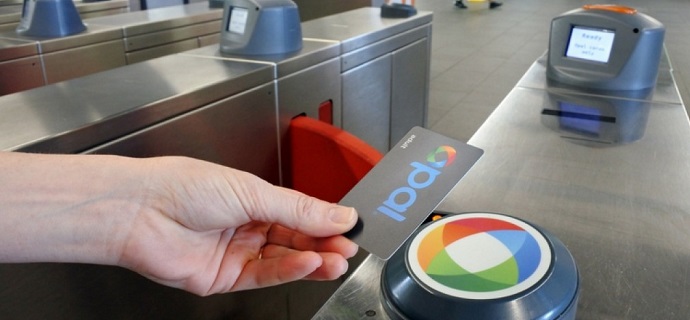 From Sydney International Airport it's four stops and from Domestic Airport it's only three stops to Central Station. However, International and Domestic are on the Airport Link train line which carries a surcharge because these stations are privately owned.
If you're travelling with a group of people, using a taxi or an Uber may turn out to be more economical. However, the airport train line is very convenient and takes you right into the city.
Read more info about how to get around in Sydney by public transport on the City of Sydney website. Use the Trip Planner to get exact details around how to get from one destination to another in and around Sydney.
Find out where to stay in Sydney, the best areas and suburbs, and the best hotels.
Note:
Looking for affordable accommodation that is close to everything? Check out our list of best budget hotels in the Sydney CBD.
Looking for great hostel options in Sydney? Check out our list of best Sydney hostels.
Mascot is a suburb located next to the airport. While Mascot may not be on top of people's lists of best places to stay in Sydney, this booming Sydney suburb is home to some great hotels, surrounded by a variety cafes and restaurants and with a large supermarket nearby.
The biggest draw card of Mascot is its perfect location. Mascot is on the airport train line, one stop away from Domestic and two stops away from International airport.

Even better, Mascot is only eight minutes and two stops away from Sydney Central Station. In addition, a good quality hotel room in Mascot is half the price of a hotel room in the CBD.
Mascot is a relatively big suburb, but the best area to stay in is the train station precinct. This is where all the hotels, cafes and restaurants are, and also a big supermarket and, of course, the train station.
If you're an absolute beach fanatic and you want to experience firsthand what the true Ozzie beach lifestyle is all about, then staying in Bondi for your Sydney holiday may well be your best choice.
The beach at Bondi is absolutely stunning, not to mention the beautiful coastal walk from Bondi to Coogee Beach.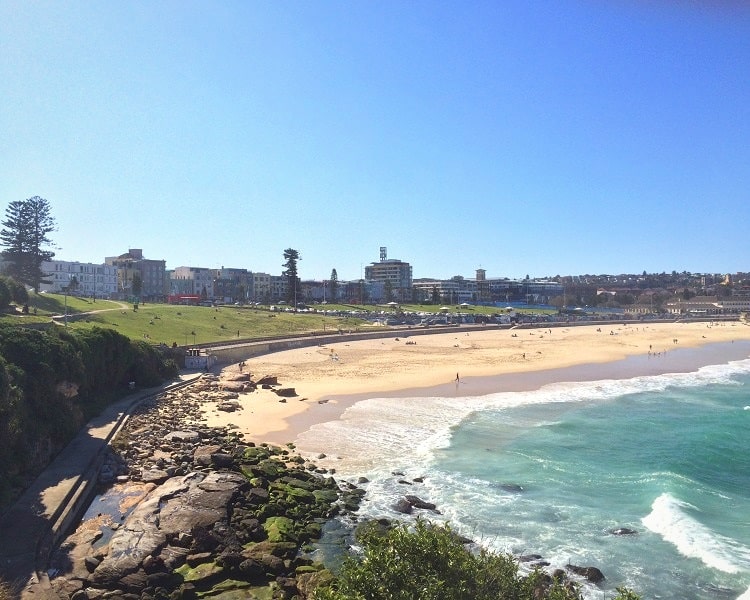 It's no surprise that Bondi is home to a huge variety of restaurants and cafes, ranging from take-away and budget to fine dining options. In addition, nightlife in Bondi is pretty decent with quite a few bars, pubs and clubs to choose from.
While Bondi doesn't have its own train station, it's only a short bus trip to Bondi Junction from the beach. Keep in mind though that on busy days traffic in and around Bondi can get quite congested which also affects bus travel.
Situated in Sydney's northern suburbs, Bondi's biggest rival Manly Beach attracts millions of tourists every year.
While some may think that Manly Beach is harder to get to because it's further away from the city, Manly has one big drawcard that Bondi doesn't have. And that is the famous ferry trip from Circular Quay.
Yes the ferry ride to Manly is an experience in itself, offering the best views of Sydney Harbour. It only takes half an hour from the city to get to the Manly ferry terminal located right at the western end of the famous Manly Corso, lined with pubs, cafes and shops.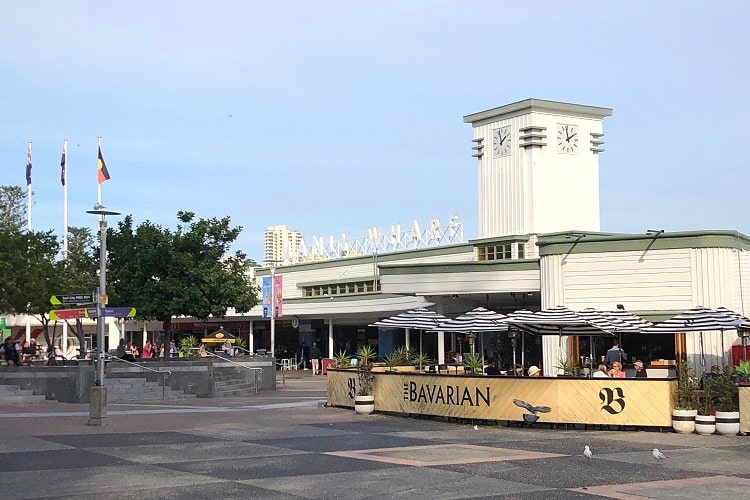 If you love hiking, two of Sydney's most beautiful walking tracks start and/or finish in Manly. Perhaps the most famous hike is the Spit to Manly walking track which runs between the Spit Bridge at Mosman and Manly Beach.
The second hike takes you around Manly North Head, offering panoramic ocean and Sydney Harbour views.
Staying in the Sydney CBD keeps you close to all the action and the city's most popular attractions and landmarks, not to mention the great variety of dining options, shopping malls and theaters.

The biggest drawback is obviously that the city is busy, noisy and also a bit more expensive than places further away.
The Sydney CBD can roughly be divided into four areas:
Darling Harbour and Pyrmont (west)
The Rocks and Circular Quay (north)
Haymarket and Chinatown (south)
Heart of the CBD
Which Sydney landmarks and tourist attractions are located in the CBD?
The Sydney CBD is home to the Opera House, the Harbour Bridge, Darling Harbour, The Rocks, Royal Botanic Garden, and several renowned museums.
Make sure you check out our extensive list of top Sydney attractions for the best places to go in Sydney.
Darling Harbour and Pyrmont
Darling Harbour is Sydney's largest recreational and pedestrian precinct, home to a large number of tourist attractions for the whole family. From waterfront dining and regular fireworks displays to huge playgrounds and exciting museums, Darling Harbour is one of Sydney's top destinations.
Pyrmont is technically not part of the Sydney CBD but is located right behind Darling Harbour and together they form a small peninsula. Home to some great hotels and restaurants, Pyrmont is a very popular and also pricey suburb with great water views
Darling Harbour is in walking distance from Town Hall train station. Sydney's lightrail line also runs through Pyrmont and Darling Harbour, providing a direct connection with Central Station.
The Rocks and Circular Quay
Once a notorious convict settlement, The Rocks is now a popular tourist destination with friendly pubs, historic real estate, cobbled lane-ways, artisan markets and a busy calendar packed with great events. The Rocks can be easily accessed via Barangaroo Reserve or Circular Quay train station.
Circular Quay is Sydney's main ferry terminal, situated between the Harbour Bridge and the Opera House. Tons of ferries depart Circular Quay every day to transport tourists as well as locals to other parts of Sydney Harbour, including Manly, Watsons Bay and Taronga Zoo.
The Circular Quay area is also home to some of Sydney's most renowned fine dining restaurants, such as Quay and Aria.
Haymarket (Including Chinatown)
Sydney's Chinatown in Haymarket is a bustling precinct with lots of restaurants, shops, cafes and Asian supermarkets around. While Chinatown's main pedestrian mall on Dixon Street is nice to visit and experience, it's also very touristy and the food can be overpriced at times.
The Haymarket area is very easily accessible via Central and Town Hall train stations.
Heart of the CBD
The heart of the Sydney CBD is situated between Circular Quay in the north and Haymarket in the south. The area is serviced by all stops along the City Circle train line, running from and to Central Station, stopping at Museum, St James, Circular Quay, Wynyard and Town Hall.

Staying in a hotel in the centre of the Sydney CBD is perfect if you wish to be close to everything. Literally all major tourist attractions are within walking distance, and with several train stations at your doorstep it's very easy to quickly get out of the city if you need to.
All major shopping malls are also located in the central area, such as Pitt Street Mall and the Queen Victoria Building. You will also be surrounded by countless restaurants, form budget-friendly eateries to expensive fine dining establishments.
If the Sydney CBD is a little too busy, perhaps one of the trendy suburbs that surround the city is a better option to find accommodation.
Chippendale
The small suburb of Chippendale is situated right behind Sydney Central Station and is home to Central Park, a major mixed-use urban renewal project with lots of high-rise, shopping malls and restaurants.
Tucked away on the edge of Central Park, hipster Kensington Street is one of Sydney's newest lifestyle and dining destinations. The highlight is Spice Alley, a tiny laneway with six hawker-style eateries covered by a ceiling of glowing lanterns. A must-visit!
Surry Hills
Art galleries, Small theatres, fine dining restaurants, hipster cafes, fashion boutiques, great pubs, and of course the hugely popular Bourke Street Bakery. You can experience all of this and much more in Surry Hills, a trendy inner Sydney suburb only a few minutes away from Central Station.
If you're a true foodie and you don't want to be surrounded by tourists, Surry Hills may be the perfect place to stay in Sydney. Despite the perhaps overhyped hipster culture of this suburb, Surry Hills really is a cool place with lots of great options for food and coffee.
Potts Point (Including Kings Cross)
Kings Cross is an inner-city locality within the suburb of Potts Point and has its own train station, one stop away from the city. Be mindful though that this part of Sydney is very busy, both during the day as well as at night.

While Kings Cross may still have a reputation of being a rough neighbourhood, the area nowadays actually feels very safe during the day. Strolling through the streets of Potts Point and having a coffee at one of the many cafes is quite a pleasant experience.
If you're looking for an area with great nightlife, lots of cafes, pretty Victorian style properties and affordable hotels, Potts Point should definitely be on your radar. And with public transport – both trains and buses – at your doorstep, it's very easy to get into the city and beyond.
Staying in North Sydney makes sense if you prefer not to stay in the middle of all the action, but still be close enough to get there within minutes. North Sydney has its own CBD so you'll find a lot of business oriented hotels there.
After business hours and also in the weekends, North Sydney really is very quiet. And this kind of feels a bit surreal given the fact that the city is just across the bridge.
Should you decide to stay here, be sure to wander around the neighbouring suburbs of McMahons Point, Milsons Point and Kirribilli. The city, bridge and Harbour views from these places are absolutely stunning.
If you wish to escape the city and spend your holiday in one of Sydney's most beautiful national parks, the Blue Mountains is the perfect holiday location for you.
The Blue Mountains is one of the most popular tourist and weekend-getaway destinations in New South Wales.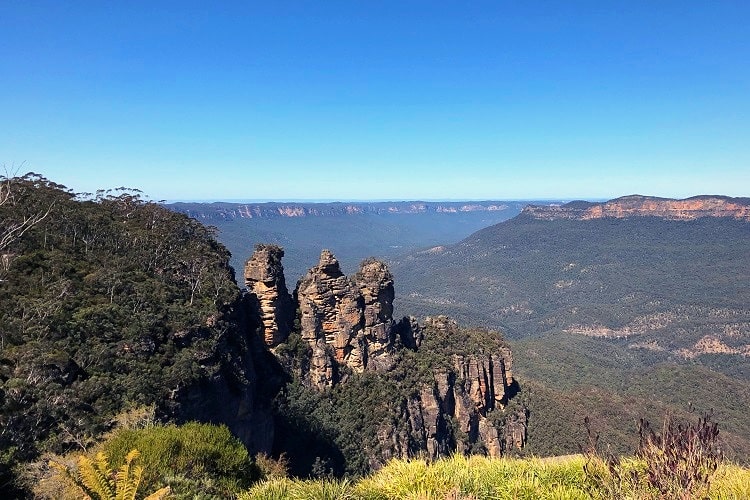 Just over an hour away from Sydney, this World Heritage listed area is home to a large number of beautiful walking tracks, waterfalls, deep valleys and canyons, rainforests and numerous lookout points with breathtaking views.
The most popular and most convenient places to stay are Katoomba, Leura and Wentworth Falls. Most of the sights and walking tracks are located in or close to these three towns.
Looking to book a tour to experience all the highlights in one day? Check out our recommendations for the best Blue Mountains tours.
Sydney is undoubtedly one of the most beautiful cities in the world to spend your holiday. Finding a good hotel (or any other type of accommodation) in a suitable location is vital in making your stay in Sydney a success.
Before you make a decision on where to stay, make sure you have a good understanding of the pros and cons of each area in Sydney. Even though Sydney is not super big and public transport is reasonably okay, each place or suburb has its own unique characteristics.
Is public transport and ease of access your main concern? Choose an area like Mascot. Do you want to stay close to the beach? Choose Bondi or Manly. Do you prefer to have lots of trendy cafes, restaurants and nightlife nearby? Choose one of the trendy suburbs surrounding the Sydney CBD.
Enjoy your stay in Sydney!