Last updated: April 19, 2021
The Winifred Falls Trail is a relatively short but scenic bushwalk that takes you to the pretty Winifred Falls in the Royal National Park.
Relax on one of the many rock platforms at the waterfall, or venture out a bit further to South West Arm Pool or Anice Falls.
Winifred Falls Trail
Distance:
1 km (one-way)
Time:
30 minutes
Grade:
Easy
Dogs:
Not allowed
In the Royal National Park, turn into Warumbul Road from Sir Bertram Stevens Drive and continue for a couple of hundred metres.
There is a small parking area located at the start of the track (map location).
Please note that parking in the Royal National Park costs $12 for one car for the whole day, to be paid at the booth or at one of the ticket machines.
Here is a map with the walking track to Winifred Falls from Warumbul Road:

Although the walk to Winifred Falls is only 1km long, there are some very steep sections, which, especially on the return trip, can be quite challenging.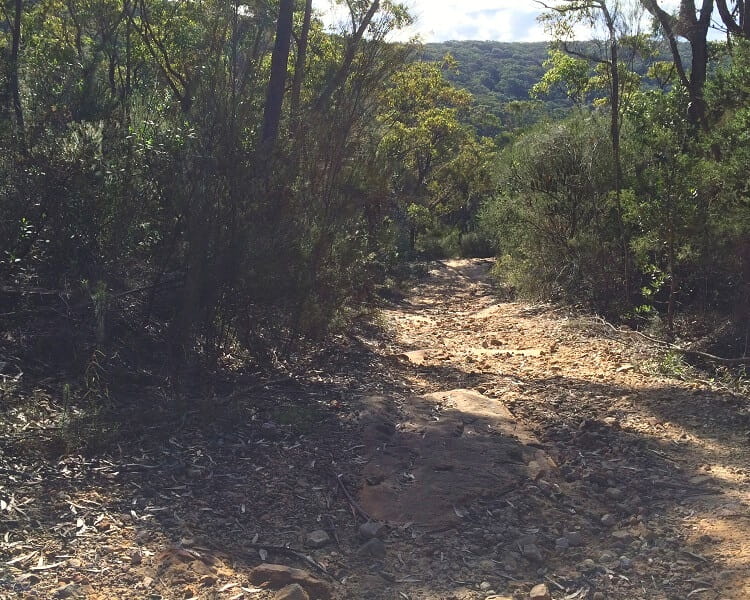 The surface is also covered with loose rocks and tree roots, so it's recommended to wear appropriate hiking shoes. Also be mindful that the track can become quite muddy after a period of heavy rainfall.
The start of the trail is clearly signposted ("Winifred Falls Fire Trail") on Warumbul Road, right opposite the parking area.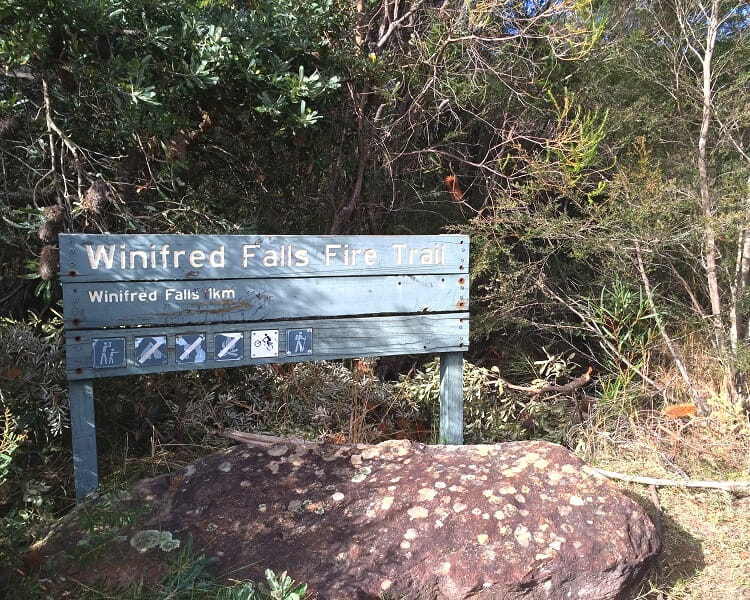 The first part of the trail to Winifred Falls is an easy 10 minutes flat walk. It then slowly turns into a bushwalk with some very steep sections.
The trail then keeps descending through a beautiful forest, with thriving native flora and fauna such as banksia plants and gum trees.

As you continue descending, you will hear the rumbling of the waterfall on the South West Arm Creek getting stronger, until you reach an intersection.
Turn left at this intersection to get to Winifred Falls.

You can get the best views and photos of the waterfall if you venture out a bit further downstream and walk around the pool.
There are several rock platforms on top of and around the waterfall to relax and perhaps even have a picnic. Take your time to enjoy this beautiful artwork created by mother nature.

Interesting Sights Nearby
If you have the time and energy, there are two more sights close to Winifred Falls that are worth visiting: the South West Arm Pool and Anice Falls.
South West Arm Pool
One of those Sydney hidden secrets, peacefully tucked away in the Royal National Park, the South West Arm Pool is a fascinating place to be.
If you do decide to go there, chances are there will be no one else around and you will have this beautiful spot all to yourself.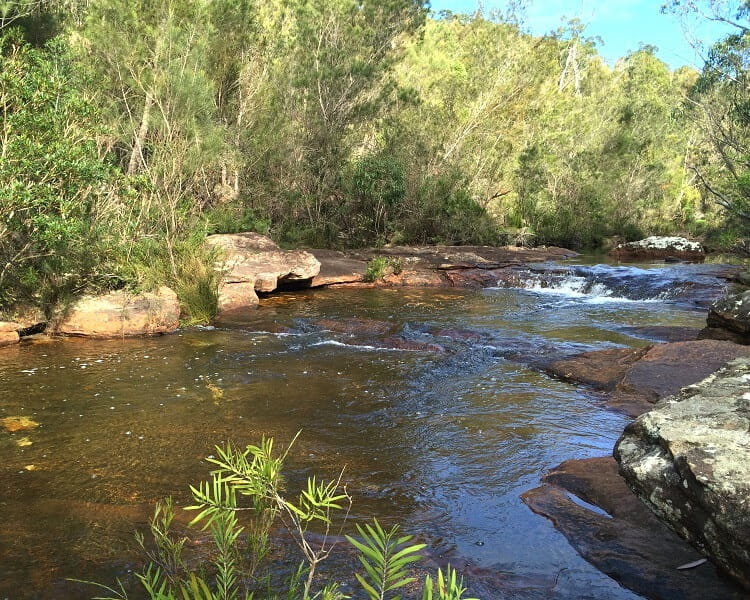 Once you arrive at Winifred Falls, keep walking adjacent to the creek (South West Arm Creek) for another 300m downstream, leading to a large pool with three boulders on the side.
It's a great place to go swimming on a warm summer's day, but be mindful that the pool is actually quite deep.
Anice Falls
You can reach Anice Falls by hiking the other direction, upstream, about 1km away from Winifred Falls. Follow the creek upstream and you'll soon have to cross it.
Keep following the trail until you get to an intersection, which connects with the Mount Bass Fire Trail. Keep going straight for another 100m and slowly start descending to Anice Falls.
This waterfall is on the Saddle Gully which eventually flows back into South West Arm Creek.
Anice Falls may not be as impressive as Winifred Falls but it's definitely worth exploring. The trail continues on to Maianbar Road, which means you could also visit Anice Falls by starting from there as well.