Last updated: May 20, 2023
Reviews of seven of the best camping chairs in Australia, based on type, comfort, weight, portability, accessories, and features.
If you want to go camping in Australia, at the very least, you will need a tent and a sleeping bag. But for a camping trip to be even more successful, a camping chair is going to add so much value.
But what is the perfect camping chair? That will depend largely on your personal needs, as there are many different types and models, from the basic folding chair to the more luxurious director's chair.
To help narrow the field, we have reviewed seven of the highest-rated and best camping chairs in the Australian market.
Top Pick:
Helinox Chair Zero
Second Choice:
Oztent King Kokoda Camp Chair
Size: 64 x 50 x 48 cm
Size: 110 x 65 x 60 cm
Weight: 0.51 kg
Weight: 6.5 kg
Capacity: 120 kg
Capacity: 150 kg
Check Price
Check Price
Top 7 Camping Chairs:
Top rated camping chair on Amazon:
Sale

Helinox Chair Zero
Ultralight, compact camping and backpacking chair weighs...
Lightweight, folding chair frame is constructed from...
Seat and carry sack are constructed from durable,...
The camping chairs recommended in this article are sold by
Tentworld
,
Snowys
and
Amazon
. Please note that we may earn a small commission if you purchase via our website at no extra cost to you. As an Amazon Associate, we earn from qualifying purchases.
We selected a variety of different styles of chairs, all at different price points, so you can find exactly what you need to make your next camping trip as perfect as it can be.
1. Helinox Chair Zero

If your kind of camping is strapping on a rucksack and hiking into the woods, then the Helinox Chair Zero hiking chair is for you.
This super lightweight, collapsible chair weighs just 500 grams and folds down to fit into a bag about the size of an adult's forearm. It is the perfect camping chair for anyone who enjoys backpack camping, hiking, or biking.
You'd think this chair would take a lot of time to assemble, given how small it is when packed away, but you'd be wrong. The lightweight alloy frame is connected via bungees like modern tent poles, which keep everything in place. To set it up, simply secure each pole into the connected dock, then slip on the easy-fit cover.
This chair may be small, but it is also very mighty, able to hold up to 120 kg. The key is in the reinforced, no-stretch seat material. The seat has a simple shape with a slightly reclined back and wide side panels. It is designed for portability more than comfort, but it certainly beats sitting on the ground.
The Chair Zero packs a decent price tag, but it is well worth the investment if you are serious about keeping your pack light and saving on space.
Helinox Chair Zero
Weight:
0.51 kg
Rated capacity:
120 kg
External dimensions:
64 x 50 x 48 cm
2. Oztent King Kokoda Camp Chair

If comfort is what you're after in your new camping chair, then the Oztent King Kokoda Camp Chair is worth considering.
At 6.3 kg, this chair is decently lightweight but also very comfortable. It features a fully padded seat and backrest with adjustable lumbar support. The top of the backrest doubles as a holder for the chair bag, which provides extra padding for those times when you really need to take a load off.
Two sturdy armrests flank the seat for added comfort and ease when getting in and out of the chair. Below each armrest is a hanger with pockets for drinks, phones, and other necessities. When not in use, the quad-fold King Kokoda collapses down to fit in a carrying case. This isn't a chair you'd want to haul a long distance, but it is compact enough to make for easy packing.
This durable, aluminium-framed camping chair can hold up to 150 kg and has a 5-year warranty.
Oztent King Kokoda Camp Chair
Weight:
6.5 kg
Rated capacity:
150 kg
External dimensions:
110 x 65 x 60 cm
3. Coleman Deluxe Mesh Event Chair

If you're looking for a good compromise between comfort and portability, the Coleman Deluxe Mesh Event Chair is a great choice.
This lightweight chair weighs only 2.9 kg and quad-folds down for easy storage in a compact and highly portable carrying case. The bag is only 71 cm long and the perfect size for carrying under your arm. The hollow steel frame adds durability and allows this chair to hold up to 105 kg.
The trick to this chair's compact size is in its height. Designed for use at outdoor events, the seat on the Coleman sits only 15 cm off the ground. While shorter than your typical camping chair, this seat is still plenty functional around the campfire and in front of the tent.
The Coleman features two cloth armrests, one with a built-in drink holder. The centre of the back and seat rest is made of mesh to allow for easy drainage in wet weather and to keep you cool during those summer camping trips.
Another thing to love about this squatty little chair? The price!
Coleman Deluxe Mesh Event Chair
Weight:
2.9 kg
Rated capacity:
102 kg
External dimensions:
77 x 52 x 59 cm
4. OZtrail Moon Chair with Arms

One way to maximise your comfort while minimising space requirements is to opt for a moon-chair-style camping chair. The OZtrail Moon Chair with Arms is by far our favourite in this category.
This quad-fold chair features a single piece of fabric that covers the steel tube frame. This single-piece seat design adds comfort by encasing you in padded fabric on all four sides. Cozy and comfortable, there's nowhere else you're going to want to be on a chilly night. When you're done with the chair, it folds down to fit easily in a 102 cm long carrying bag. Weighing only 4.2 kg, this comfy chair is easy enough to haul from the car to the campsite. Plus, it can hold up to 120 kg.
There's a lot to love about this great Australian camping chair, but our favourite thing might be the wine glass holder. In addition to the drink holders sewn into each armrest, the OZtrail Moon Chair can also hold your wine glass via a specialty clip next to the cup holder.
Nothing says relaxation more than a comfy moon chair, a glass of wine, and a roaring campfire. Add to that a 1-year warranty and a very reasonable price, and there's no reason not to pick up one of these chairs.
OZtrail Moon Chair with Arms
Weight:
4.2 kg
Rated capacity:
120 kg
External dimensions:
100 x 64 x 102 cm
5. OZtrail Sun Lounge Jumbo

Is your favourite part of camping sitting in front of the tent, taking in the beauty of the great outdoors or staring up at a blanket of stars after the sun sets? Then the OZtrail Sun Lounge Jumbo is the only camping chair you'll ever need.
This comfortable lounge-style camping chair is perfect for resting your bones after a long hike or just for relaxing with your morning coffee. The entire seat length from the feet to the head features extra padding for luxurious comfort, even in the outback.
The top of the back support has extra padding in the form of a sliding pillow that can be moved up and down to accommodate people of different heights or slid all the way down for increased lumbar support. In the upright position, this wide chair has a straight-up-and-down feel. Pulling the locking clip below the armrests allows you to adjust this angle to nearly flat. In any position, you'll love the attached side table and sunken drink holder.
The frame is made of high-tensile steel that is durable but a bit heavier than other options. The chair weighs 10.3 kg and can support weights up to 150 kg. Overall, the Sun Lounge Jumbo, which comes with a 1-year warranty, certainly isn't the most compact camping chair in the world, but it does fold down flat for easy storage.
OZtrail Sun Lounge Jumbo
Weight:
10.3 kg
Rated capacity:
150 kg
External dimensions:
61 x 53 x 113 cm
6. Darche DCT33 Directors Camp Chair

If you're sick of buying camping chairs only to have them break after a single season, then the Darche DCT33 Directors Camp Chair is for you. This director-style camp chair folds flat along the centre axis and is easy to carry using the rounded steel armrests as a handle.
This durable steel-framed chair features a wide seat and padded backrest. It is rated for an impressive 145 kg, making it the best choice for campers big and tall. The chair weighs slightly more than other options at 6.2 kg but is portable enough for car and caravan camping.
Aside from its durability, one of the best features of this chair is the built-in side table. Not only does this provide plenty of space for your dinner plate, but it features an in-set cup holder with a handle gap that can accommodate mugs.
Opposite the table is a handy armrest side pocket that allows you to keep your phone and other gear close at hand while you eat and relax. Another great feature of the Darche are the oversized plastic feet that prevent the chair from sinking into the grass.
Considering the quality of this chair, the 2-year warranty, and all the great features, it is very well-priced.
Darche DCT33 Directors Camp Chair
Weight:
6.2 kg
Rated capacity:
145 kg
External dimensions:
63 x 93 x 108 cm
7. OZtrail Galaxy 3 Seater Camp Chair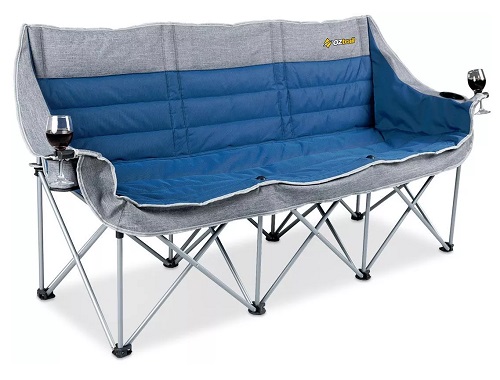 Need a camp chair the whole family can enjoy? How about one they can enjoy together, at the same time! The OZtrail Galaxy 3-Seater Camp Chair has you covered. With double-cushioned seats, this cozy couch provides the perfect place for the whole family to cuddle up after a long day in the bush.
This extra-long camping chair (or camping "couch" might be more accurate) is large enough to seat three people comfortably. The extra-strong, 600D denier fabric is sturdy enough to hold up to 330 kg at once. Not too bad for a chair that only weighs 9.2 kg by itself.
The intelligently designed cup holders on each armrest include a handle extension that can accommodate mugs as well as wine glasses. No matter what you're drinking, you can keep it close at hand. And the back of each seat features a large mesh pocket for holding books, tablets, and phones.
When it's time to pack up, this extended quad-fold collapses into an impressively compact bag for carrying. At 92 cm long and 35 cm wide, this package will take up a little more space in the boot. But considering it's three chairs in one, you're really gaining more than you lose.
The frame of the OZtrail 3 Seater is made of powder-coated steel and comes with a 1-year warranty.
OZtrail Galaxy 3 Seater Camp Chair
Weight:
9.2 kg
Rated capacity:
330 kg
External dimensions:
192 x 60 x 93 cm
Camping Chair Buying Guide
As you can see from our list above, camping chairs come in various shapes and sizes.
To find out which style is best for your needs, there are a few things you should consider before you buy:
Type of chair
Comfort
Weight and portability
Accessories and features
Let's discuss these buying factors in more detail to help you find your best camping chair in Australia.
1. Type of Chair
There are roughly six main styles of camping chairs out there. Each type has its advantages and drawbacks, especially concerning how portable and comfortable they are.
Quad fold
Flat fold
Directors chair
Lounge chair
Moon chair
Hiking chair
Before choosing your next camping chair, it is worth considering which aspects are most important to you.
Quad fold
Quad-fold chairs, like the Oztent King Kokoda, are the golden standard of the camping world. A moveable, crisscrossing frame allows these camping chairs to fold up like an accordion to fit into a compact, elongated carrying bag.

The most basic quad folds utilise a thin, mesh seat that reduces the overall width and weight of the chair once it is collapsed. These are great for saving on space but are perhaps less comfortable to sit in. Premier quad folds feature denser fabric with added padding on the seat and back but are bulkier.
On the downside, quad-fold chairs tend to have slightly reclined backrests that don't allow for adjustment.
Flat fold
Flat-fold chairs work off the same principle as old-school collapsible lawn chairs. The backrest, seat, and legs fold over one another to collapse into a flattened square. These chairs are not as portable as quad folds but are still fairly easy to find space for in the car.
Like the quad-fold, the overall comfort of this style of camping chair is determined by the amount of padding and type of fabric used. Cheaper options tend to have little to no padding but are lighter overall, while pricier options tend to be reasonably padded but a little more cumbersome when collapsed.
These chairs tend to have fixed-position backrests that cannot be adjusted.
Directors chair
Director's-chair style camping chairs, like the Darche DCT33, tend to be the bulkiest of the options and are best suited for caravans and car camping. They have a very blocky look with a wide, flat seat and straight up and down backrest. Most collapse flat for easy storage but are too heavy to be overly portable.

One of the biggest perks of a director's chair is the stable armrests. These are typically solid and able to hold a good amount of weight, making them very useful for getting in and out of the chair. That, combined with the taller-than-average camping chair height, makes this style a favourite among older outdoorsy types.
Most camping chairs in this style come with an attached table and drink holder. They also tend to feature higher weight capacities than other options.
Lounge chair
Lounge-chair-style camping chairs, like the OZtrail Sun, are the perfect option for those willing to sacrifice some space in the boot for a lot of added comfort.
These chairs feature an adjustable, reclinable backrest and attached footrest. They can be used in an upright position similar to a quad-fold chair or reclined to nearly flat like a pool lounger.
When folded out, these large chairs take up a ton of room. And when folded down, they tend to be heavy and take up more space than your standard fold-flat chair. But for those who do a lot of car or caravan camping, the comfort these types of chairs provide is well worth the extra space.
Moon chair
Moon chairs, like the OZtrail Moon Chair, are so named because the seat, backrest, and armrests are all connected with a single piece of fabric that gives them the look of a giant dish. That unique shape adds a level of comfort that other quad-fold chairs can't touch. They also tend to be warmer due to the added protection provided by the fabric side panels.
Aside from a little added comfort and a slightly different shape, these chairs tend to have all the same pros and cons as your typical quad fold. They collapse into a compact, elongated shape for easy portability and storage but offer limited adjustability.
Hiking chair
Hiking chairs, like the Helinox Chair Zero, are built for one thing: portability. These lightweight, highly collapsable chairs are usually made of metal alloys and specialty high-tensile fabrics. The frames either come completely apart or work with bungees to fold down as flat as possible.
The minimalist design and lack of adjustability mean these things are light on comfort. But, if you need a chair that you can fit in a rucksack and carry long distances, this is your best option.
2. Comfort
If comfort is a big priority for you, you'll want to look for a chair with lots of padding, an adjustable backrest, and comfy armrests.
Expect that the more comfortable a chair is, the bulkier and less portable it will also be. Finding the right camping chair often means finding a compromise between these two ideas.
3. Weight and Portability
When it comes to weight and portability, the amount of padding and type of material has some effect, but the biggest determinant is the frame material and style.
Metal alloys are the lightest frame types available, while steel tends to be the heaviest but is also much cheaper. Frames that are set up to collapse on all axes, like a quad-fold, are going to be more compact and easier to carry than flat-fold styles. Some specialty hiking chairs take it a step further and break apart for incredibly compact storage.
4. Accessories and Features
In addition to the above features, you should consider what accessories you'd like your camp chair to have.
Some commonly added features include:
Cupholders
Pockets
Wine glass holders
Attached tables
Detachable footrests
Headrests
Adjustable backrests
Lumbar support
Of course, the more features, the higher the price. But having more features and accessories doesn't always mean you're getting a higher-quality camping chair.