Last updated: February 6, 2021
What are the best hostels in Sydney?
We have shortlisted 8 top hostels in Sydney; affordable backpacker accommodation with great facilities and easy access to public transport and landmarks.
Sydney is one of the most popular backpacking cities in the world, and for good reason! A perfect climate, lots of beaches, easy public transport, great cafes and restaurants, Sydney has indeed a lot to offer.
With so many backpackers and budget travellers visiting Sydney each year, it's no surprise that there are lots of great hostels spread across the city. Some of them are quite cheap and affordable, while others are a bit more exclusive with excellent facilities.
We've created a shortlist of the 8 best hostels in Sydney that we think are not only great value for money but are also in ideal locations.
8 Great Hostel Options in Sydney:
Here are 8 Sydney hostel options that definitely won't disappoint.
These include the 5 best hostels in and close to the Sydney CBD, and 3 hostels at the three most popular Sydney beaches!
1. Sydney Harbour YHA
Opened in 2019, the modern Sydney Harbour YHA in The Rocks exceeds all general expectations most people would have from a hostel.
Built above archaeological remnants of colonial Sydney, this award-winning hostel combines premium facilities with a true heritage experience.

Sydney Harbour YHA has shared, private and family rooms available, all with free linen, WiFi, and access to the fully equipped communal kitchen and rooftop terrace.
There is also the option to upgrade to a premium room with widescreen TV and partial city and Harbour views.
Facilities throughout the hostel include air-conditioning, onsite ATM, barbecue, laundry, food store, fast WiFi, TV room and tour desk.
Sydney Harbour YHA
Location:
The Rocks
Dorms:
4/6/8
Private rooms:
Yes
2. Wake Up! Sydney
Conveniently located right next to Central Station in an eight-story heritage building, Wake Up! Sydney is a purpose-built hostel with more than 500 beds.
This multi-award winning hostel complex is also home to a bar, restaurant, café and travel agency, with public transport right at your doorstep.

Wake Up! Sydney is a great option for those looking for cheap, clean and friendly accommodation in a super central location.
Facilities include free WiFi, 24-hour check in, private rooms as well as shared rooms.
Wake Up! Sydney
Location:
Sydney Central
Dorms:
4/6/8/10
Private rooms:
Yes
3. Railway Square YHA
Our third hostel in this list of affordable accommodation options in Sydney is the refurbished Railway Square YHA right next to Central Station.
Staying overnight at Railway Square YHA can be quite a unique experience if you choose one of the shared rooms in a railway carriage on platform zero.

Sydney's most laid-back hostel of course also has private rooms available, located in the historic main building.
Facilities include free WiFi, linen, air conditioning, communal kitchen, cafe, restaurant, TV room, and a tour desk.
Railway Square YHA
Location:
Sydney Central
Dorms:
4/8
Private rooms:
Yes
4. The Pod Sydney
Located close to World Square shopping mall in Sydney's CBD, The Pod is a different kind of hostel. It's a very affordable place to stay, with maximum privacy in dormitory rooms.
The hostel is named The Pod because of the enclosed pod-style beds in the dorms, each with their own lights and power sockets. It gives residents a sense of privacy, while still enjoying the social aspect of being in a hostel.

In addition to the well-designed rooms, The Pod Sydney also offers a cozy communal space with a large kitchen and dining room, a lobby lounge and a TV lounge.
The Pod is very much a functional hostel, and doesn't have the typical outdoor party area that you often find in hostels. But being so close to everything, that shoulnd't be much of a miss.
The Pod Sydney
Location:
Sydney CBD
Dorms:
4/6/8
Private rooms:
Yes
5. Mad Monkey Bayswater
Formerly known as Kings Cross Backpackers, Mad Monkey Bayswater is the best choice if you're keen to stay in one of Sydney's most popular party districts, Kings Cross.
Set in a typical Autralian townhouse-style property, the family atmosphere at Mad Monkey Bayswater means new guests make new friends almost instantly.

One of the perks of staying overnight here is the rooftop area with BBQ facilities, a great spot to relax and to spend a few summer evenings chatting away while enjoying a cold beer.
This hostel is located just off the famous "Golden Mile" in Kings Cross with easy access to clubs, restaurants & tourist hotspots. Kings Cross train station is around the corner as well, with a direct connection to Bondi Junction and the city.
Kings Cross Backpackers
Location:
Kings Cross
Dorms:
4/6/8/10/12
Private rooms:
No
6. Wake Up! Bondi Beach
Keen to stay close to the beach rather than in the city? Understandable!
Facing Australia's most popular beach, Wake Up! Bondi Beach (formerly known as Bondi Backpackers) offers affordable and comfortable hostel accommodation with the typical Sydney beach culture atmosphere.

Choose from a range of small dormitory rooms or private rooms, and enjoy excellent common areas such as a spacious rooftop, furnished with umbrellas and deck chairs.
If that's not enough, Bondi Backpackers also offers complimentary activities such as yoga classes, personal training sessions and walking tours in the area.
Bondi Backpackers
Location:
Bondi Beach
Dorms:
3/4/6
Private rooms:
Yes
7. Mad Monkey Coogee Beach
If Bondi is a bit too busy for you, Coogee Beach is an excellent alternative. Coogee is just as awesome as Bondi, it's just a bit smaller and quieter than its big brother further north.
One of the best hostels in Coogee is Mad Monkey, located opposite the beach and close to the main strip of cafes and restaurants. It's also the starting point of the Coogee to Bondi coastal walk, a must-do when you're in Sydney.

Mad Monkey has a wide range of dorms of different sizes available, as well as private rooms. Travelling to the city is very easy too, with regular buses going to the city departing from the bus stop across the road.
Mad Monkey Coogee Beach
Location:
Coogee Beach
Dorms:
4/6/8/10/12
Private rooms:
Yes
8. Manly Bunkhouse
Situated on the north side of the Sydney Harbour Bridge, Manly is Sydney's second most popular beach with a pleasant family friendly atmosphere.
Manly Bunkhouse is a super relaxed hostel to stay at, with a typical Australian backpacking atmosphere. It's away from the hustle and bustle of the city, and close enough to an awesome beach that is great for swimming as well as surfing.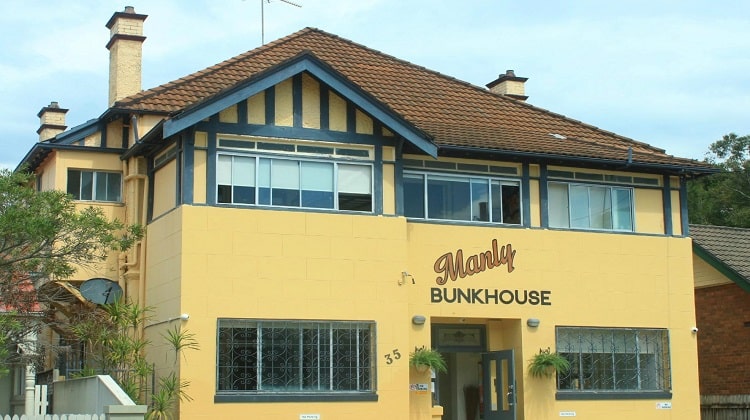 Travelling to the city isn't too hard from Manly, with regular ferry services operating between the Manly ferry wharf and Circular Quay.
Manly Bunkhouse offers basic hostel rooms and facilities, with a laidback vibe that you will absolutely appreciate. Common areas include a sunny backyard, lounge room and a large kitchen.
Manly Bunkhouse
Location:
Manly
Dorms:
4/6
Private rooms:
Yes
Final Thoughts on Backpacking in Sydney
With tons of hostels to choose from in Sydney and surroundings, it's not always easy to make the right choice. The above 8 hostels all have a good reputation and offer the right facilities, some a bit more expensive than others.
In the Sydney CBD area, our favorite hostel would be the Sydney Harbour YHA. Despite the fact that it's perhaps a bit pricier than other options, this hostel is top notch and is located in a perfect location, close to ferries, trains, and all the tourist highlights.
If you'd like to be closer to the beach, Wake Up! Bondi Beach is an excellent choice. If you prefer Coogee Beach further south, Mad Monkey is a great place to stay. Coogee is a little quieter than Bondi, but still with lots of fun things to do and with easy access to public transport.
Looking for inspiration for things to do in Sydney? Check out this shortlist:
Enjoy your stay!