Last updated:
Sydney is blessed with lots of beautiful beaches, some big and world-renowned, others much smaller and not so well-known. With so many quality beaches on offer, Sydney is almost unrivalled in the world.
While it's great to spend a day at Cronulla Beach, Manly Beach, Coogee Beach or Bondi Beach, chances are you'll be surrounded by thousands of other beach-goers and sunbathers. But sometimes we just want to escape the world and have a whole beach to ourselves.
While that may be virtually impossible these days, there are still beaches in and around Sydney that are a bit of a secret. Beaches with very few facilities, but where you can still appreciate Sydney's natural beauty in peace and quiet.
11 Secluded Beaches in and Around Sydney
Below are our 11 favorite secluded beaches in and around Sydney.
Be mindful though that most of these secluded beaches are unpatrolled and don't have surf life saving services available. So if you're planning to go for a swim, please be cautious and ideally bring someone with you.
1. Resolute Beach, Ku-Ring-Gai Chase National Park
With panoramic views of Pittwater and the Barrenjoey Headland, Resolute Beach is a true hidden gem in Ku-ring-gai Chase National Park with beautiful emerald green water and virtually no tourists around.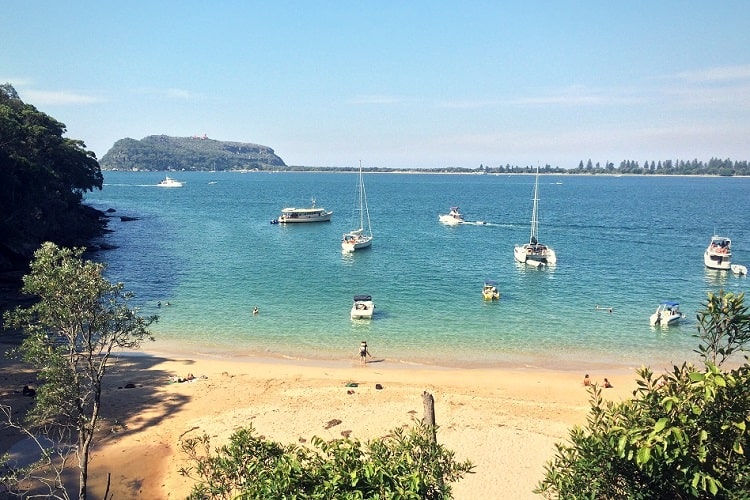 To access the beach, follow the Resolute Loop Trail from the Resolute Picnic Area. Alternatively you can follow the bushtrack from the West Head Lookout until you arrive at the beach further south.
2. Milk Beach, Vaucluse
Overlooking Hermit Bay and Sydney Harbour, right in front of the famous and historic Strickland House, Milk Beach is a 50 metres long and 5 metres wide strip of sand, quietly tucked away in Vaucluse.
The best way to get to the beach is by following the Rose Bay to Watsons Bay walking track starting at the Rose Bay ferry wharf. A refreshing swim after a bit of hiking makes the experience even better.

Keep in mind though that as secluded as Milk Beach may be, it's not always as quiet as it once was.
It can get a bit crowdy on warm summer days, but regardless, it's still a beautiful spot to go for a refreshing swim and enjoy the Sydney Harbour views.
3. Maitland Bay Beach, Bouddi National Park
The Maitland Bay Track is a popular bushtrail in Bouddi National Park that takes you right down to the beautiful beach of Maitland Bay, one of the most secluded beaches in the greater Sydney area.

And because the beach is so stretched out, it's very easy to find your own private spot with no one else around.
While you're there, make sure you go and explore the eastern end of the beach where you can find the remains of the S.S. Maitland Shipwreck that ran aground in May 1898. At low tide, some of the remains of the shipwreck are still visible.
4. Whale Beach, Northern Beaches
Not as famous as its bigger neighbour Palm Beach in the Northern Beaches region, Whale Beach is a beautiful 600 metres long strip of sand.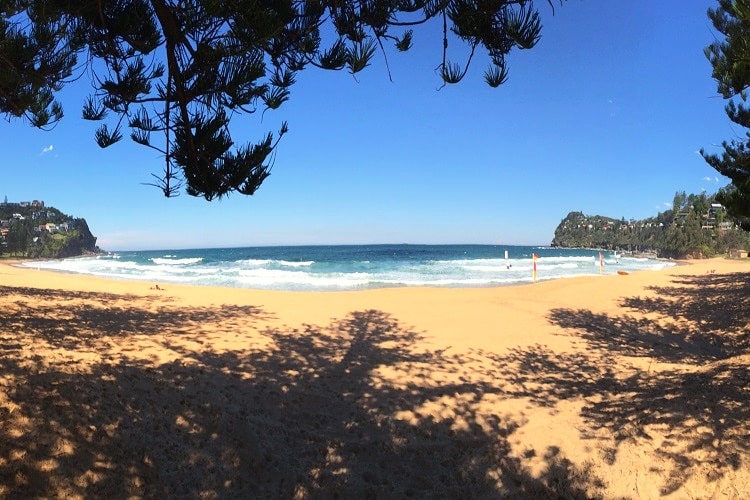 Whale Beach has a very pleasant, secluded atmosphere and hardly ever gets crowded. Whale Beach also has a man-made 25 metres long rock pool, located at the southern end of the beach.
5. Queens Beach, Vaucluse
Queens Beach is a super small secluded strip of sand along the Hermitage Foreshore Walk in Vaucluse, not too far away from Milk Beach.
In our opinion, Queens Beach is quieter (and also smaller) than Milk Beach, so if you really want to have a beach all to yourself, Queens Beach may just be the better choice.

The views from the beach to the city and Sydney Harbour are superb, and make the secluded beach experience all the better.
When visiting Queens Beach, just be mindful of the tides, because part of the beach may actually disappear at high tide!
6. Wattamolla Beach, Royal National Park
Located along the famous Coast Track in the Royal National Park, the Wattamolla Beach area with the lagoon and waterfall is an oasis of natural beauty.
The lagoon with its calm water is the perfect spot for kayaking, swimming and snorkeling.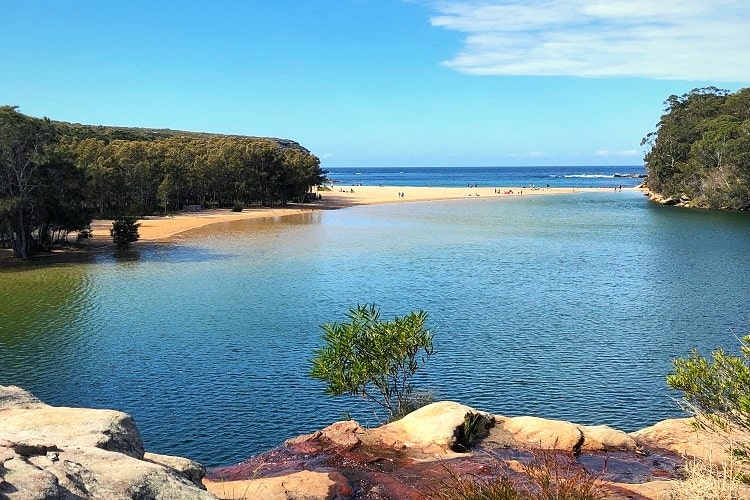 Wattamolla also has great facilities such as parking areas, a huge picnic field with BBQs and a toilet and shower block. While this may be a very popular weekend family destination, the area is so big that there is always enough space for everyone.
It does often get busy at Wattamolla though, especially during summer weekends, but luckily there are quite a few more secluded beaches in Royal National Park to visit.
7. Reef Beach, Dobroyd Head
Reef Beach is a very small strip of sand at Dobroyd Head, boasting scenic views of Sydney's North Harbour and Manly Cove on the opposite side. A wooden walkway just behind the beach forms part of the Spit Bridge to Manly walk.

Reef Beach used to be a popular nude beach in the 1970's and 1980's, but nude bathing has been prohibited since 1993.
8. Kutti Beach, Vaucluse
The best thing about Kutti Beach is that most people can't find it apart from the locals. Quietly hidden away between Parsley Bay Reserve and Watsons Bay, Kutti Beach can be really hard to find. Until now that is…

The beach is accessible via a very narrow staircase right next to the Vaucluse Amateur Sailing Club located at the end of Wharf Road. It may look like a dead-end, which it essentially is, but don't walk away as the staircase is right there.
Kutti Beach is also one of Sydney's very few dog-friendly beaches, so there's a big chance you'll have to share the sand with a bunch of happy dogs.
9. Collins Flat Beach, Manly
Located just a few minutes from Manly between North Head and Little Manly Cove, secluded Collins Flat Beach is a great spot to escape the crowds and enjoy a quiet swim.

Bring a picnic blanket, a bottle of wine and take in the peaceful surroundings with scenic Harbour views, moments away from civilisation. There's even a little waterfall!
Photo credit: NSW National Parks
10. Lady Martins Beach, Point Piper
One of Sydney's best kept secrets is Lady Martins Beach in Point Piper. You can access this long but very narrow strip of sand by heading down a little lane next to the Royal Prince Edward Yacht Club on Wolseley Road.

The beach is named after the wife of Sir James Martin, Premier of New South Wales in the 1860's and 1870's.
11. Store Beach, Manly
Store Beach is a little strip of sand just off Manly's North Head in Sydney's Northern Beaches. The best way – or perhaps the only way – to get to this gem of a beach is via water.
Hire a kayak from Manly Wharf and paddle towards North Head. You'll find the beach close to the old Quarantine Station.

Fringed by bushland, hidden away from civilisation, chances are you'll have this beautiful spot all to yourselves. Pack a picnic, relax on the beach and watch all the boats go by like there's no tomorrow.