Last updated: May 3, 2021
Where to find affordable accommodation in Sydney?
We have listed some of the best budget accommodation options in the Sydney CBD. Affordable yet good quality hotels that don't hurt your wallet.
Staying in the Sydney CBD keeps you close to all the action and to the city's most popular tourist attractions and landmarks. It also gives you great options when it comes to restaurants, shopping malls and theaters.
But staying overnight in and around Sydney is very expensive, especially hotels in or close to the CBD. But if you spend a bit of time researching accommodation options, you will find that there are still great budget hotels available.
They may not always provide the luxury we wish for, but the below 8 budget hotels are of very decent quality, they are clean, and they are in great locations.
Top 8 Budget Hotels in Sydney CBD:
Top 8 Budget Hotels in Sydney CBD
Here is our list of budget places to stay in the centre of Sydney, close to all the major tourist highlights and also public transport.
Prices generally vary from around $80 up to $220, which for Sydney standards is considered reasonably affordable.
Looking for an affordable Sydney hostel instead? Check out our shortlist of some of the
best hostels in Sydney
.
1. Sydney Harbour YHA
Opened in 2009, the modern Sydney Harbour YHA in The Rocks exceeds all general expectations most people would have from a hostel.
Built above archaeological remnants of colonial Sydney, this award-winning hostel combines premium facilities with a true heritage experience.

Sydney Harbour YHA has shared, private and family rooms available, all with free linen, WiFi, and access to the fully equipped communal kitchen and rooftop terrace.
There is also the option to upgrade to a premium room with widescreen TV and partial city and Harbour views.
Facilities throughout the hostel include air-conditioning, onsite ATM, barbecue, laundry, food store, fast WiFi, TV room and tour desk.
2. The Australian Heritage Hotel
Established in 1914, the iconic Australian Heritage Hotel is one of the most prominent buildings in the historic precinct of The Rocks.
The Australian Heritage Hotel is also a pub, but not just any pub. Staying there means you will get to enjoy a wide range of Australian craft beers as well as a great selection of gourmet pizzas.

This unique hotel has double, queen and twin rooms available, as well as family suites, all located on the first floor, right above the pub.
Facilities include traditional bathrooms with shared facilities, complimentary continental breakfast, guest room with TV, video, and tea and coffee making facilities, free WiFi, and complementary luggage storage.
3. Travelodge Hotel Sydney Martin Place
Located in a quiet street close to Martin Place and St James train station, Travelodge Hotel Sydney offers comfortable budget accommodation at very reasonable prices.
All major tourist attractions, such as the Opera House and Harbour Bridge in the north and Darling Harbour in the west, are in walking distance.

Facilities include hi-speed WiFi, parking, laundry, luggage storage and airport shuttle. Note that there is no onsite restaurant or cafe, but with tons of great restaurants in the area, that shouldn't be a problem.
This is a no-nonsense, comfortable budget accommodation option in a great location.
4. Wake Up! Sydney
Conveniently located right next to Central Station in an eight-story heritage building, Wake Up! Sydney is a purpose-built hostel with more than 500 beds.
This multi-award winning hostel complex is also home to a bar, restaurant, café and travel agency, with public transport right at your doorstep.

Wake Up! Sydney is a great option for those looking for cheap, clean and friendly accommodation in a super central location.
Facilities include free WiFi, 24-hour check in, private rooms as well as shared rooms.
5. Sydney Harbour Bed and Breakfast
If you're looking for a unique and authentic B and B experience in the heart of The Rocks, Sydney Harbour Bed and Breakfast is an excellent choice.
The small hotel is housed in a fully restored heritage terrace building, with all rooms refurbished in hand crafted furniture.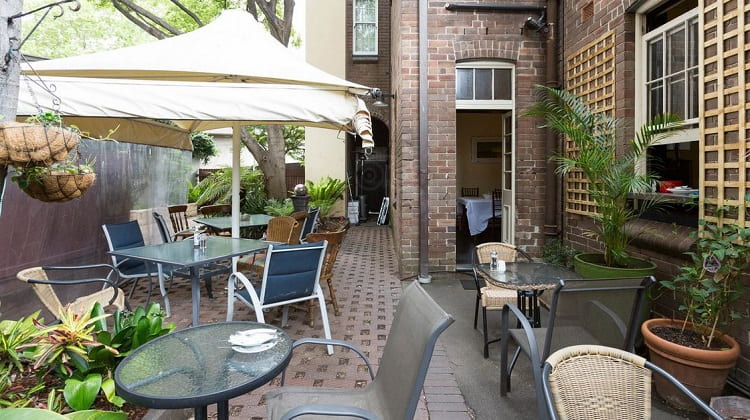 All beds the boutique rooms at Sydney Harbour Bed and Breakfast are queen size, with facilities such as free WiFi, flat screen TV, breakfast buffet and air conditioning.
Staying at Sydney Harbour Bed and Breakfast is very different from staying at major hotels, with a more personalized experience in historic surroundings.
6. Song Hotel Sydney
Situated just south of popular Hyde Park close to Pitt Street Mall, Song Hotel Sydney offers standard budget accommodation, with facilities such as WiFi, baggage storage and free breakfast.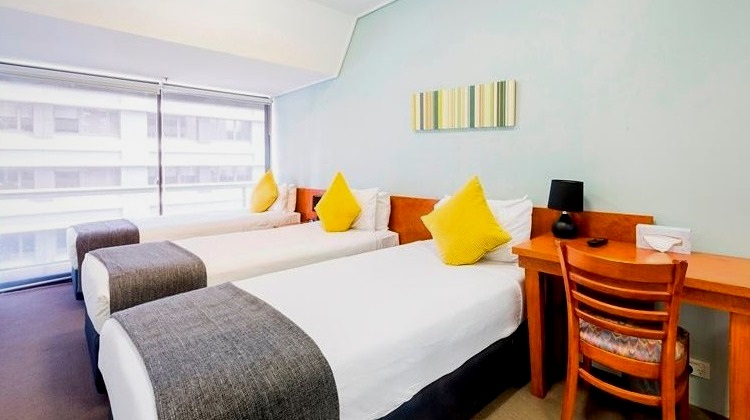 Staying at Song Hotel Sydney is affordable and clean, but it's also very basic without any bells and whistles, which is perfectly fine if that's not what you're looking for.
This is a great budget option if you wish to be staying in the southern part of the Sydney CBD, close to Oxford Street, Surry Hills, and Central and Museum train station.
7. Railway Square YHA
Our third hostel in this list of budget accommodation options in the Sydney CBD is the refurbished Railway Square YHA right next to Central Station.
Staying overnight at Railway Square YHA can be quite a unique experience if you choose one of the shared rooms in a railway carriage on platform zero.

Sydney's most laid-back hostel of course also has private rooms available, located in the historic main building.
Facilities include free WiFi, linen, air conditioning, communal kitchen, cafe, restaurant, TV room, and a tour desk.
8. Sydney Hotel CBD
If you wish to stay close to Chinatown and Darling Harbour, Sydney Hotel CBD is a very affordable budget accommodation option to consider.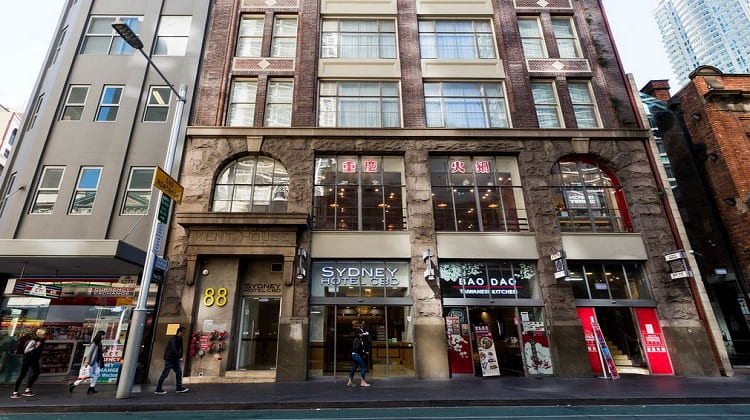 This is another no frills, basic hotel that offers friendly and comfortable accommodation, close to public transport, nightlife and major tourist attractions.
As you can see from the list above, staying overnight in Sydney can actually be quite affordable with various budget hotels to choose from. The most important thing is to have a room in a clean and safe environment, as most of your time in Sydney will be spent outside exploring anyway.
If we had to pick a favourite from this list of budget Sydney CBD hotels then it would be the Sydney Harbour YHA. It suits both backpackers looking to sleep in shared accommodation, as well as couple travellers and families in need of an affordable private room.
Whichever hotel you choose, enjoy your stay in Sydney!