Last updated: August 18, 2023
A guide to the 15 best beaches in Sydney, from family-friendly strips of sand to world-famous beaches with excellent facilities.
Sydney is the perfect destination for swimming, sunbathing, and surfing, with dozens of different beaches to choose from, between Palm Beach in the north and Cronulla in the south.
While some of these beaches are famous worldwide and draw big crowds on warm summer days, there are also still many quiet and secluded beaches to discover in Sydney.
We have shortlisted what we believe are the best beaches in Sydney, some small and reasonably quiet, others much busier and with more facilities nearby.
Pick your favourite from the below list of 15 fantastic beaches in Sydney, ordered from north to south.
1. Palm Beach

The Palm Beach peninsula is one of the most well-known beachside destinations in New South Wales, located around 40 kilometres north of the Sydney CBD.
The water at the beach facing the ocean can sometimes be a bit rough due to strong winds. The smaller beach facing Pittwater, also known as Station Beach, on the other side of the peninsula, has much quieter waters and is perfect for a relaxing swim.
When visiting Palm Beach, don't forget to visit the Barrenjoey Lighthouse up the hill on the Barrenjoey Headland. The views from there are stunning, and a short walk will get you there.
2. Whale Beach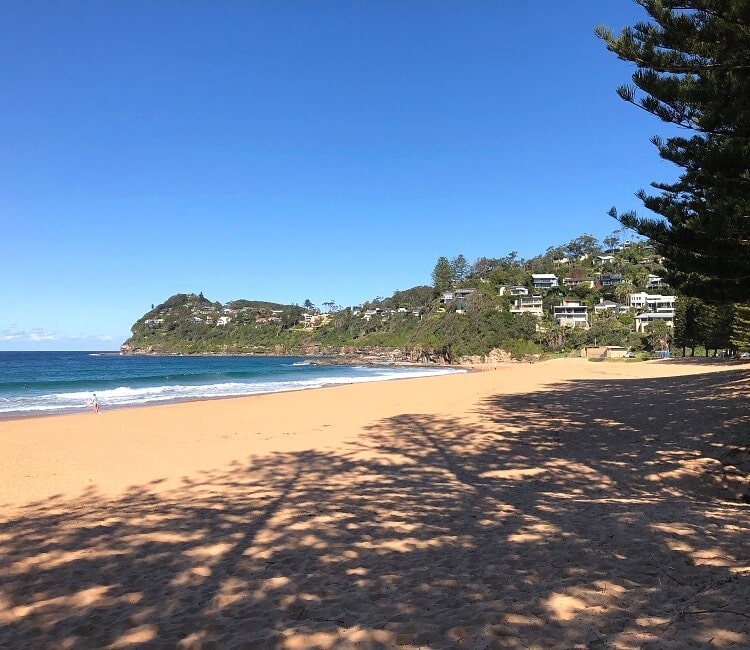 Whale Beach is another picturesque strip of sand in the Northern Beaches region, located just south of Palm Beach.
Perhaps not as well known as its bigger neighbour, Whale Beach is usually much quieter than Palm Beach and has a pleasantly secluded atmosphere.
Whale Beach is around 600 metres long and is surrounded by two 40 metres high sandstone headlands; Little Head at the north end and Careel Head at the southern end of the beach. The views from both headlands are beautiful.
Like many other beaches in Sydney, Whale Beach also has a rock pool. The Whale Beach Rock Pool is 25 metres long and is located at the southern end of the beach.
3. Freshwater Beach

Hugely popular with surfers, Freshwater Beach is a 350m long strip of sand located just north of Manly Beach.
Swimming can be somewhat hazardous at Freshwater because of the waves and rips, but surfing conditions are usually excellent.
Freshwater forms part of the Manly-Freshwater World Surfing Reserve as one of the World Surfing Reserves, which recognises the historical, cultural and environmental values of famous surfing beaches.
4. Manly Beach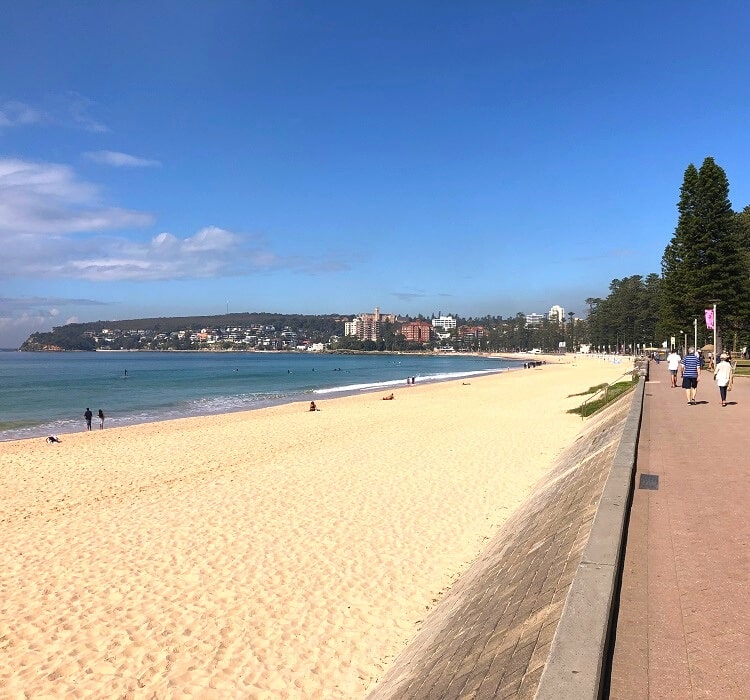 Manly and Bondi are Sydney's most popular beaches, but opinions are divided on which one is the best or the most popular. But they are, in fact, quite different, so we prefer not to choose one over the other.
Manly has two main beaches, one facing the Harbour with often very calm water, perfect for families, and the other facing the ocean with usually stronger currents.
The best way to travel to Manly Beach is by ferry from Circular Quay. This popular ferry trip is a tourist attraction in itself, and is a great way to experience the beauty of Sydney Harbour.
5. Shelly Beach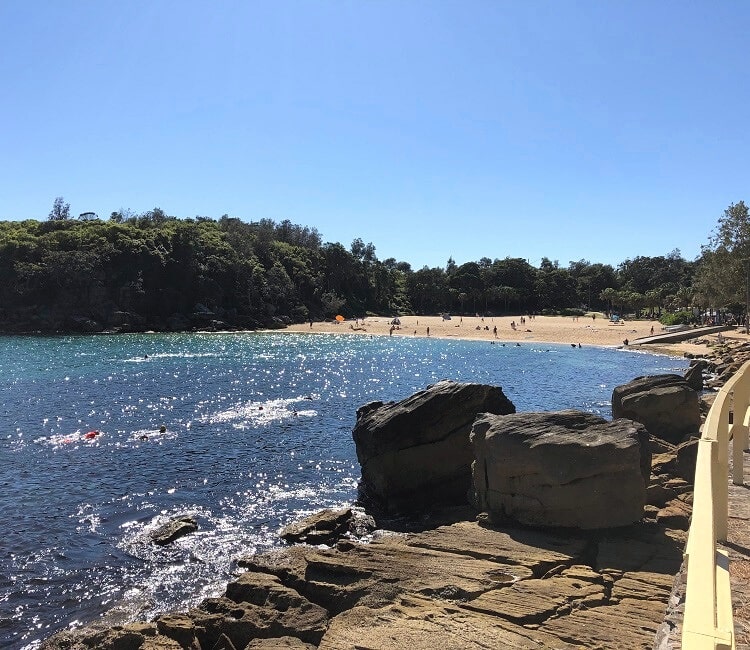 If Manly Beach is a bit too crowded or wild, follow the footpath from Manly's main beach heading south, which leads to picturesque Shelly Beach.
This small strip of sand forms part of Cabbage Tree Bay, a protected aquatic reserve that covers an area of around 20 hectares, including the entire bay, the shores and the beaches, from the southern end of Manly Beach to the northern end of Shelly Beach Headland.
Shelly Beach is a popular spot for scuba diving and snorkelling, with a great variety of marine life that can be viewed in the shallow water.
It's also a starting point for the walk around Manly North Head, which forms part of the nearly 20 km long Manly Scenic Walkway.
6. Balmoral Beach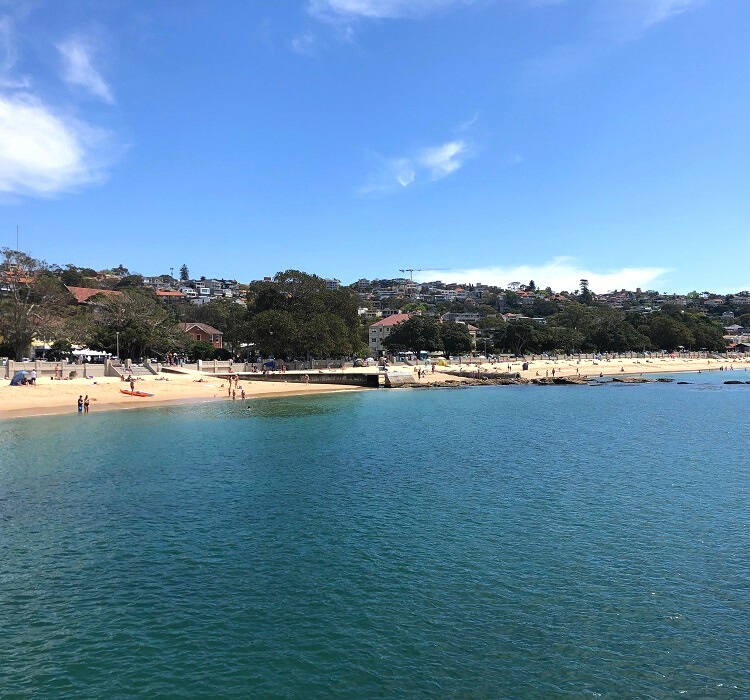 Balmoral Beach is a picturesque strip of sand in Sydney Middle Harbour with usually calm water, a swimming enclosure and excellent picnic areas.
The Esplanade behind the beach offers many cafes and restaurants, while the grassy areas are perfect for a picnic or a leisurely stroll.
Due to its sheltered location, the water always seems calm, making it great for swimming. You can also be a little more active and go stand-up paddle boarding, kayaking, or snorkelling.
7. Milk Beach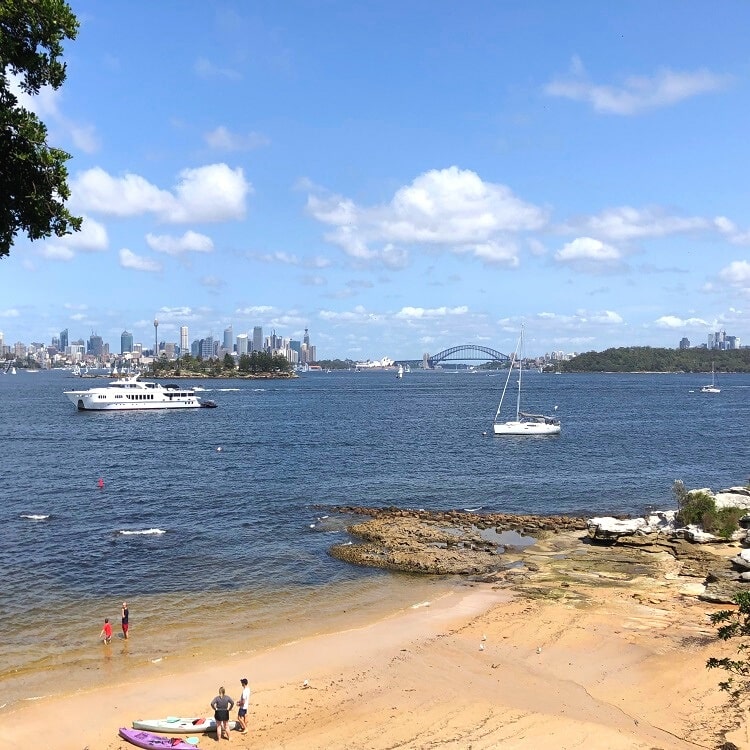 With fantastic Sydney Harbour and city views in front of you and a beautiful heritage-listed mansion right behind you, Milk Beach in Vaucluse is a great spot to spend a lazy Sunday afternoon.
Milk Beach is one of the many secluded bays and beaches you can see along the Hermitage Foreshore Walk, one of the most enjoyable coastal walks in Sydney.
Because Milk Beach is so small, there are no cafes or shower facilities. Nearby Nielsen Park and Shark Beach do have those amenities if you need them.
8. Shark Beach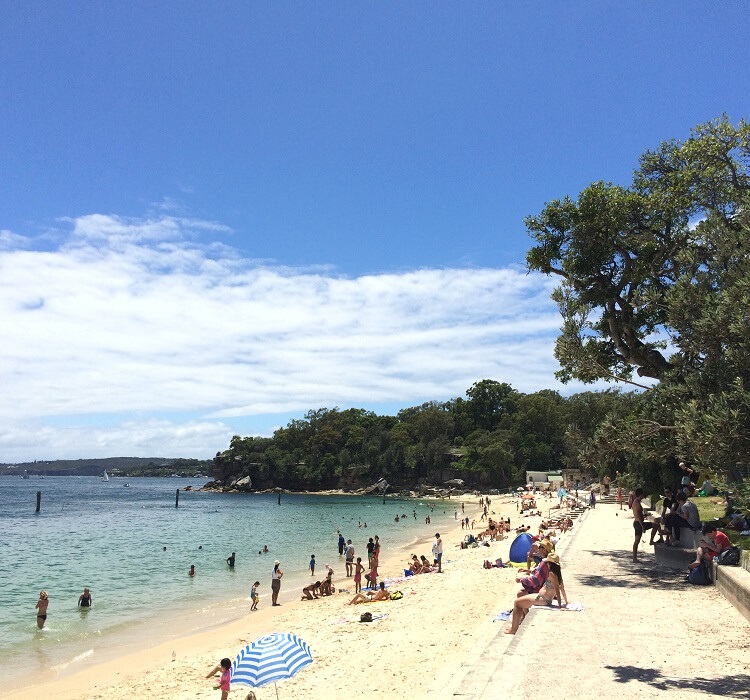 Shark Beach, with Nielsen Park right behind the beach, is a popular weekend destination for families to go for a swim and to have a picnic.
And because the beach is so popular and also relatively small, finding a parking spot on a warm summer's day can be pretty challenging. So it's best to go there on a weekday or early morning.
But disregarding the crowds, Shark Beach is an excellent family-friendly strip of sand in Vaucluse, with an enclosed swimming area, a shaded promenade and a cafe for snacks, coffee and lunch.
9. Bondi Beach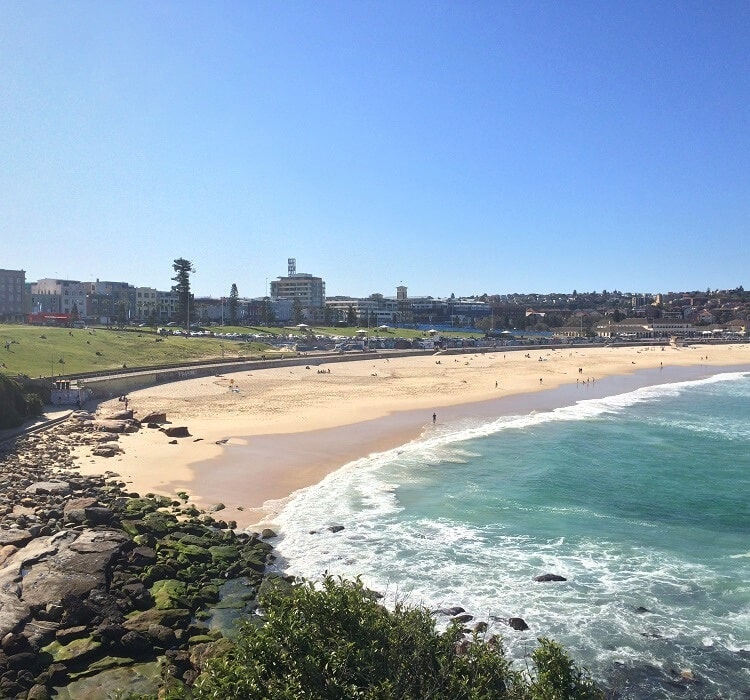 Most people will love this beach, while others hate it, but the undeniable fact is that Bondi Beach is an absolute icon in Sydney, New South Wales, and Australia.
With a wide, beautifully shaped sandy beach, excellent swimming and surfing conditions, many cafes and restaurants in the surrounding area, large picnic areas and even an outdoor gym, Bondi is a great place to hang out for a day.
Listed on the Australian National Heritage List, Bondi Beach is the definition of the classic Australian beach culture, and is a must visit for every tourist coming to Sydney.
The Bondi SLSC is officially recognised as the world's oldest surf life-saving club. They do a fantastic job keeping the many beach-goers as safe as possible, which is not an easy task.
10. Tamarama Beach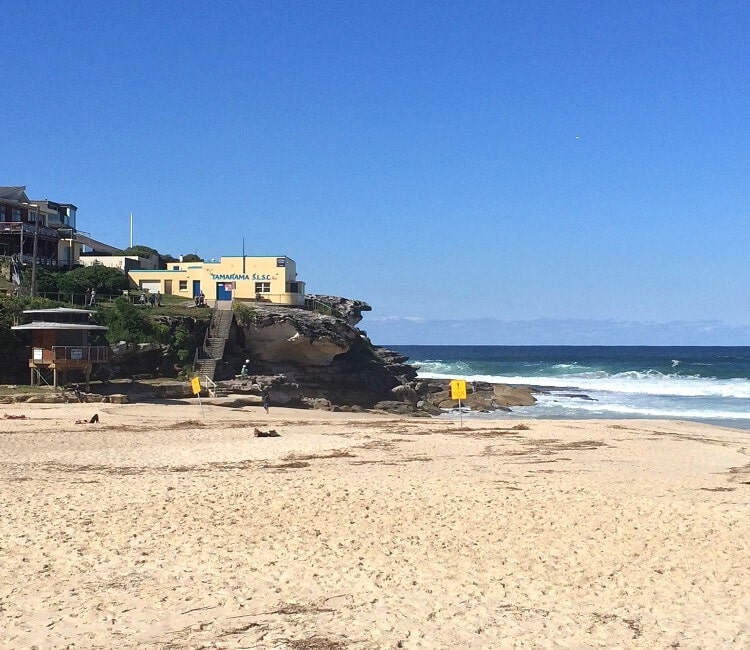 Commonly referred to as "Glamarama" by the locals, Tamarama Beach, just around the corner from Bondi Beach, offers good surfing conditions.
The beach itself is relatively small and narrow but cozy, with a couple of volleyball courts and a cafe at the back.
The water conditions at Tamarama can often be quite dangerous, which is why this beach has become the ideal spot for sunbathing and simply hanging out rather than swimming.
11. Bronte Beach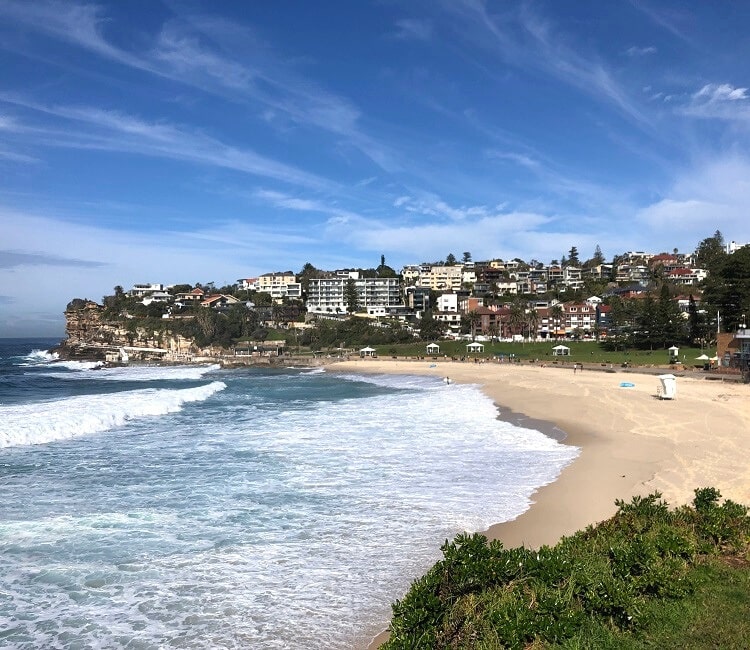 Bronte is another popular beach destination in Sydney's eastern suburbs, only a short walk from Bondi Beach, with a large park and many trendy cafes across the road from the beach.
The water at Bronte offers excellent surf conditions and also has a lap pool for hobby swimmers and a natural rock pool for a fun splash.
Please be mindful that the water at Bronte Beach can be pretty dangerous at times, so it's essential to always follow the directions of the much-needed surf lifesavers at the beach.
12. Clovelly Beach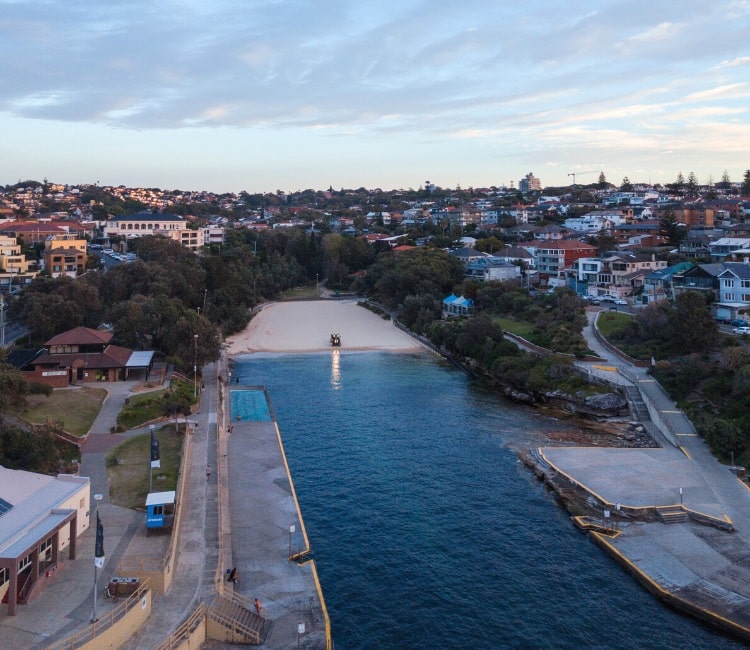 Clovelly is a charming little beach-side suburb just north of Coogee, with a lawn bowls club, a lovely beach and a large parking area.
Swimming here is great, but the water can get rough the closer you get to the open ocean, especially when the wind picks up. In those conditions, it can feel like swimming in a giant wave pool.
But closer to the beach, the water is usually pleasantly calm and shallow, perfect for young and old.
13. Coogee Beach

Often referred to as the smaller version of Bondi Beach, Coogee Beach is a characteristic 400m long strip of sand facing Coogee Bay in Sydney's eastern suburbs.
While it's not a good beach for surfing, the water is usually very suitable for swimming. But as always, be sure to stay between the flags for your safety.
Goldstein Reserve, the large parkland area behind the beach, has excellent facilities such as tables, barbecues, picnic shelters and trees that provide plenty of shade. Further back is Coogee Bay Road, where you'll find many great cafes and restaurants.
Coogee is easily accessible via public transport, but perhaps the best way to get there is via the popular Bondi to Coogee walk. It's a beautiful 6km coastal walk with stunning ocean views from start to finish.
14. Maroubra Beach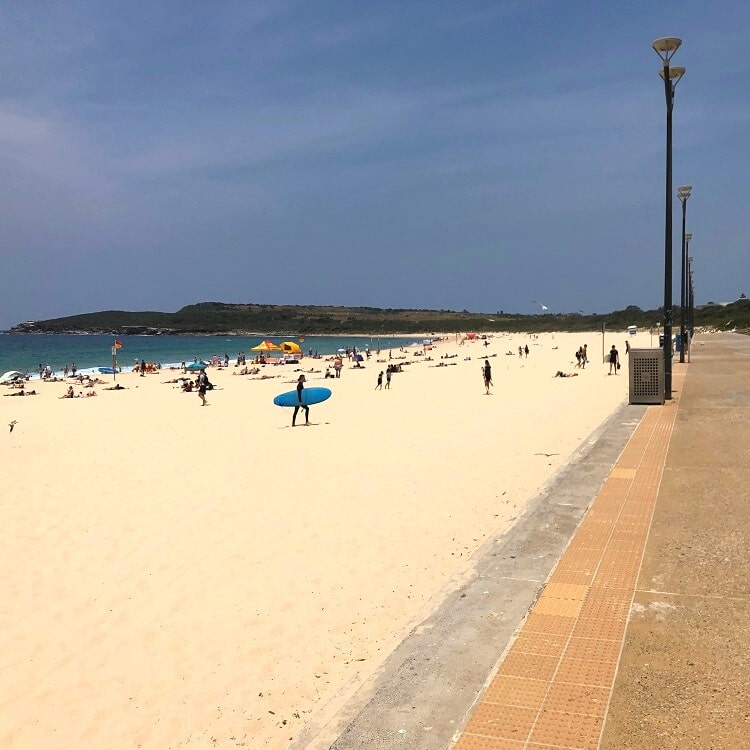 One of Sydney's most popular surf beaches is Maroubra, located south of Coogee. The beach is long and wide, so there's always a free spot to put down your towel, even on warm and sunny days.
Maroubra Beach is surrounded by open space. To the north of the beach are Jack Vanny Memorial Park, Mahon Pool and the rocky headland.
South of the beach are Arthur Byrne Reserve and headland, and Broadarrow Reserve is to the west.
15. Cronulla Beach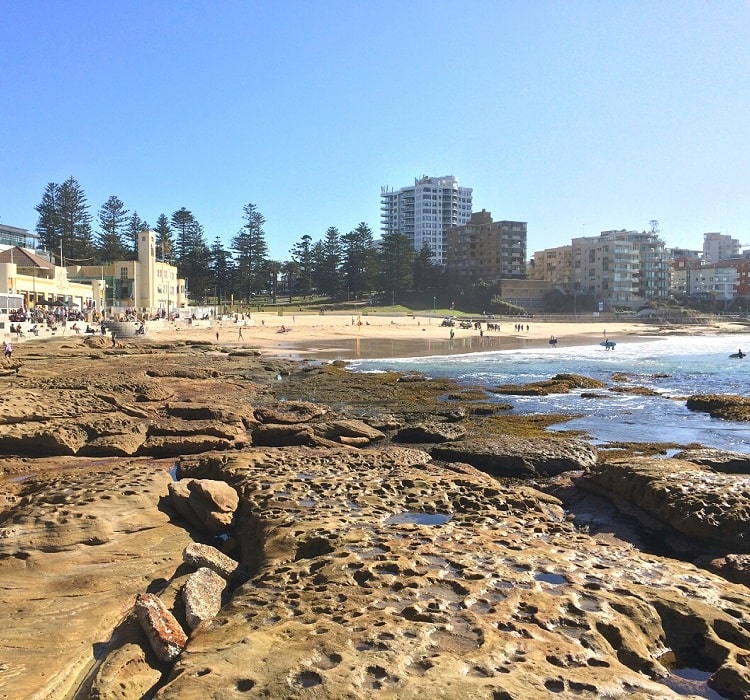 The Cronulla Peninsula south of Sydney has no shortage of beautiful beaches, making it a popular weekend day trip destination for many Sydney-siders.
Popular with surfers, North Cronulla Beach is a beautiful 400m long strip of sand facing Bate Bay. Swimming can be quite hazardous there due to the strong rips that are often present.
However, the busier beach in the Cronulla area is South Cronulla Beach at Cronulla Park. It's a family-friendly beach with usually calm water and good facilities nearby.
Sun protection:
If you're going to spend some time at the beach, it's a good idea to bring a beach shelter with you. Read our guide to the
best beach tents and shelters
for more protection and comfort while on the sand.