Find the best things to do in Sydney, for tourists as well as for locals. Make the most of your stay in Sydney with this comprehensive guide.
Let's face it, getting bored in Sydney is quite the challenge. From hiking and chasing waterfalls to lazing on the beach and exploring the Harbour, Australia's most popular city certainly has no shortage of things to do.
In this guide, we will outline the best things to see and do in Sydney. Free things or romantic things, rainy day activities or outdoor adventures, we have attractions and activities for everyone.
Book a Sydney tour:
Top 10 Things to Do in Sydney
Let's start this guide with our top 10 things to see and do in Sydney.
1. Do the Bondi to Coogee Walk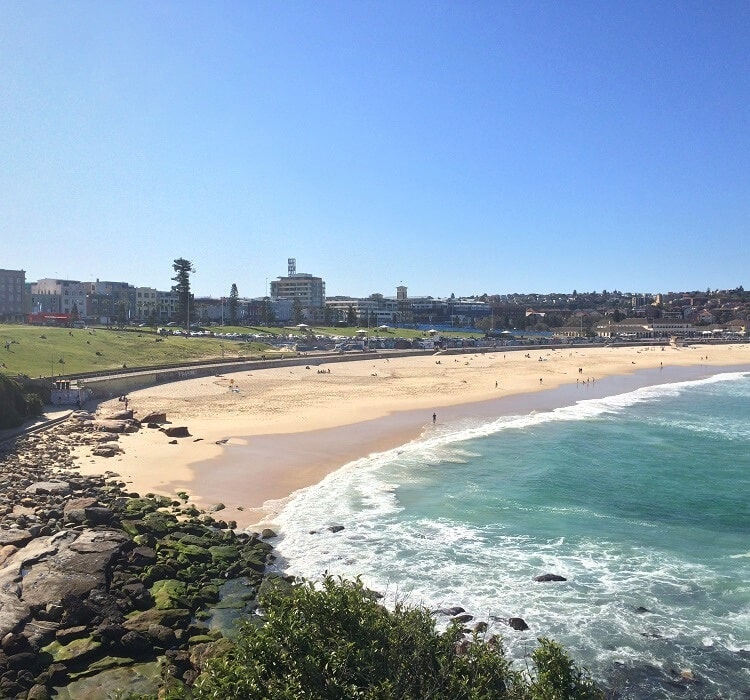 Perhaps the most famous walking track in Sydney and New South Wales brings hikers from iconic Bondi Beach to trendy Coogee Beach, showcasing the sheer beauty of Sydney's coastline.
Tourists from all over the world and local Sydney-siders alike come to Sydney's east coast every day to enjoy Australia's best beaches, stunning ocean views and lots of parks, cafes and restaurants on the way from Bondi Beach to Coogee Beach.
The track can be divided into two sections, each with its unique highlights, with Bronte Beach located at the halfway mark. Depending on stops, the walk can easily be completed within 3 hours. You can then either walk back the same way or catch a bus to return to your starting point.
If you have the energy, walking back is a good idea because the views are always different and you will discover new things to see and experience.
2. Visit Opera House and Royal Botanic Garden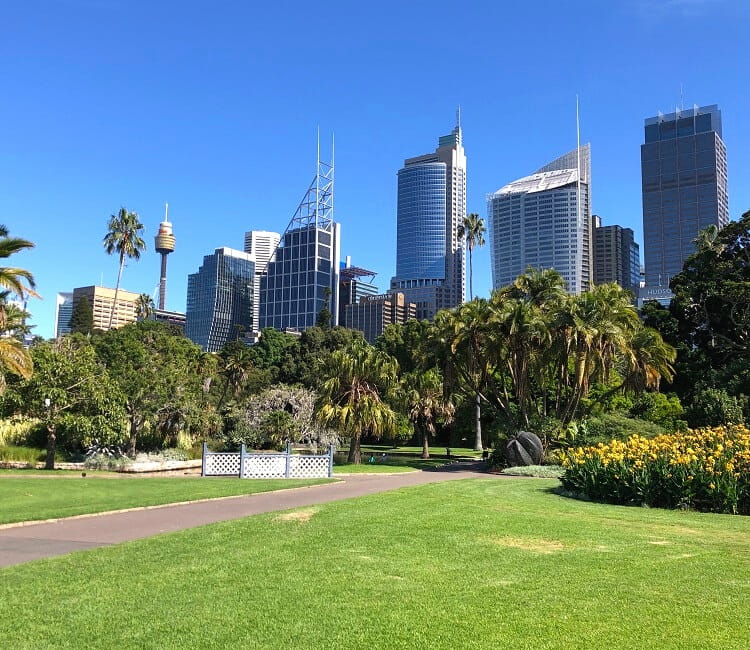 Considered by many as one of the most famous and distinctive buildings constructed in the 20th century, the Opera House should be on top of your list of things to do in Sydney.
Opened in 1973, the Opera House now functions as a multi-venue performing arts centre, with several theatres, rehearsal studios, two main halls, restaurants, bars and souvenir shops under its roof.
Next door to the Opera House and facing Sydney's impressive skyline is the Royal Botanic Garden, home to an enormous collection of exotic plants from all around the world.
Established in 1816 and 30 hectares in size, the Royal Botanic Garden is Australia's oldest botanic garden and scientific institution. Strolling through this green oasis is an absolute delight.
3. Visit the Three Sisters in the Blue Mountains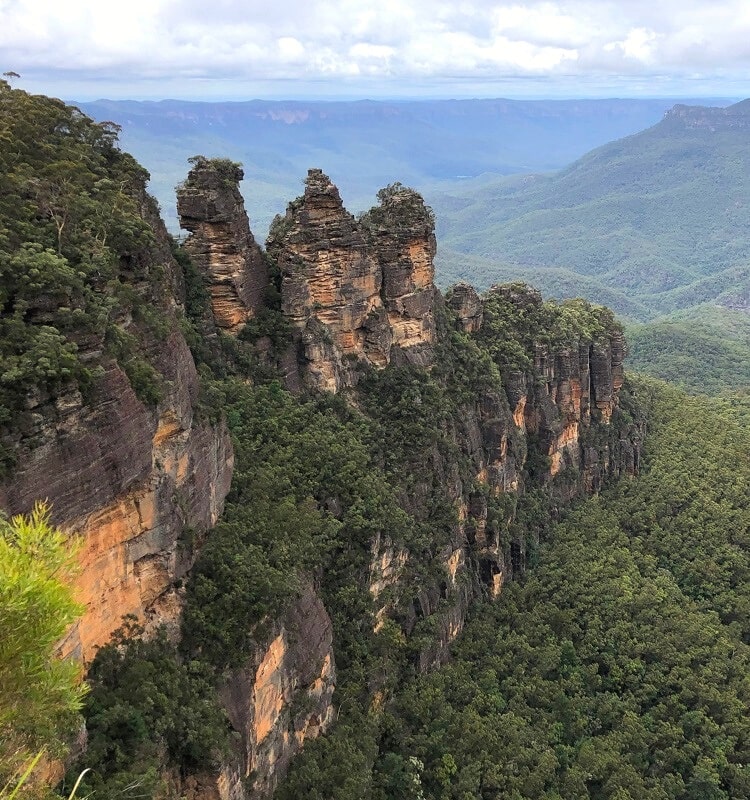 One of the most popular weekend-getaway destinations in greater Sydney is the Blue Mountains region, only 90 minutes away from the Sydney CBD.
This natural treasure is home to beautiful lookout points, dramatic sandstone cliffs, exciting bush walking tracks, deep canyons, pretty waterfalls, and much more. Make sure you check our list of the best lookouts in the Blue Mountains, and also our guide to the best hikes in the Blue Mountains.
The biggest highlight in the Blue Mountains is a unique rock formation consisting of three sandstone peaks known as the Three Sisters, formed by land erosion.
The best views of the Three Sisters can be enjoyed from the Echo Point lookout, but it's much more exciting to meet the Three Sisters in person by following a short walking track from Echo Point to this rock formation.
4. Spend a Day in Taronga Zoo

Against the backdrop of the Sydney CBD skyline, Taronga Zoo in Mosman is a fantastic day out for the young and old. There are various ways to get to Taronga Zoo, but the ferry trip is by far the best way!
If visiting the zoo isn't exciting enough, it's also the starting point of one of the most enjoyable Sydney Harbour walking tracks.
The Taronga Zoo to Balmoral Beach walk is a 6.5km trail that swirls its way past secluded beaches, picturesque bays, impressive lookouts and historical sights.
5. Catch a Ferry to Manly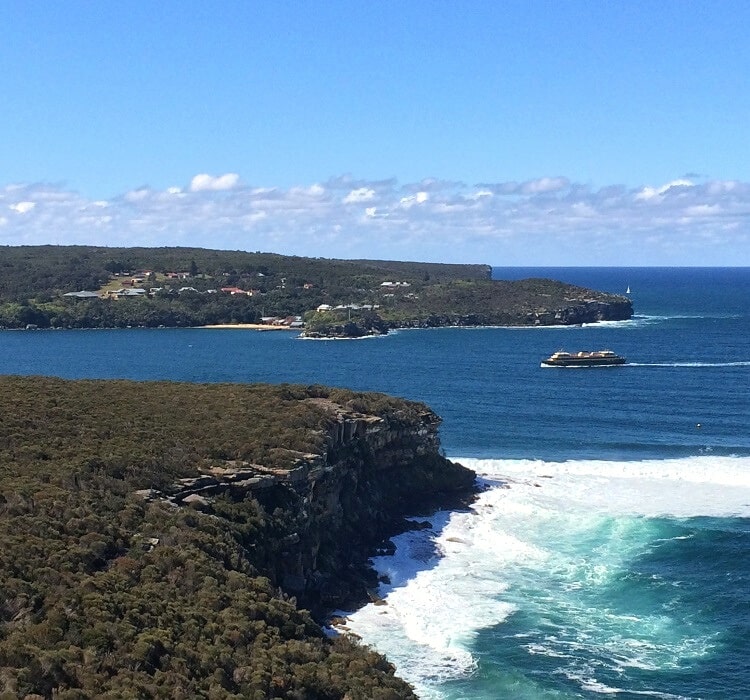 The scenic ferry trip from Circular Quay to Manly is the perfect way to experience the true beauty of Sydney's famous Harbour.
Once in Manly, enjoy lunch at one of the many cafes and pubs, go for a swim, and don't forget to do the picturesque walking trail to Shelly Beach.
If you're feeling active, manly can also be used as the starting point of two popular Sydney walking tracks. Both the Spit to Manly walk and the Manly North Head circuit walk can be commenced from the Manly ferry wharf.
These two walks combined form the Manly Scenic Walkway, a stunning 19.5km long coastal walking adventure.
6. Visit The Rocks and Sydney Harbour Bridge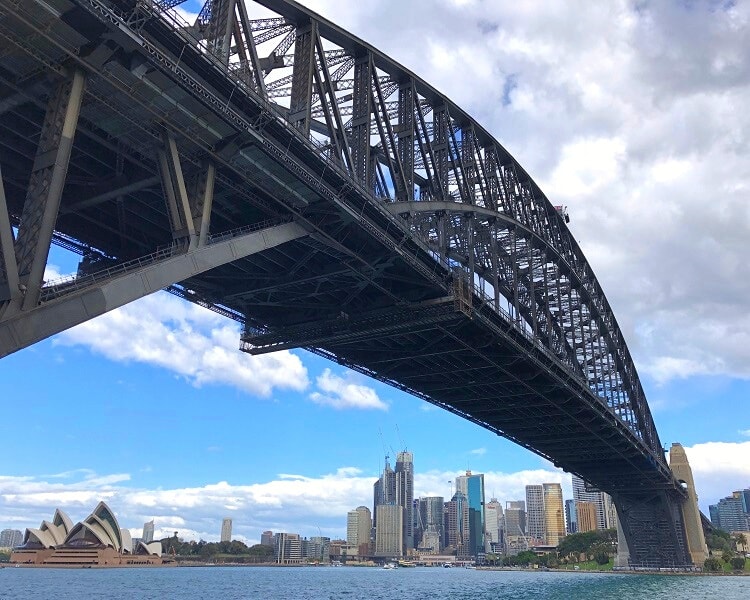 One of Sydney's oldest neighbourhoods, The Rocks, used to be a notorious convict settlement but is now a popular tourist destination with friendly pubs, cobbled lane-ways, historic buildings and lots of great events happening throughout the year.
The Rocks is also the perfect place to see Sydney's second iconic landmark, the Harbour Bridge, from close by. Opened in 1932, the famous Sydney Harbour Bridge not only has the best looks but it's also an incredible piece of superb engineering.
Also known as the Coathanger because of its arch-based design, the 134m high Sydney Harbour Bridge connects the Sydney CBD with the North Shore.
The best way to experience the beauty of this iconic landmark is by walking across the Harbour Bridge along the pedestrian walkway. Access to this walkway is via the Bridge Stairs in The Rocks.
7. Discover Cockatoo Island

Often overlooked by tourists, Cockatoo Island is a UNESCO World Heritage and National Heritage Listed island, situated right in the middle of beautiful Sydney Harbour.
Cockatoo Island has a surprisingly rich history as a shipbuilding yard and Commonwealth naval base, and also as a convict island.
You can experience all of this first-hand by wandering around on the island and absorbing its well-preserved history.
Catch a ferry from Circular Quay, score a free map from the visitor centre and enjoy a fantastic day out. Or book a luxury tent on the camping site and enjoy two days on this unique island.
8. Visit Darling Harbour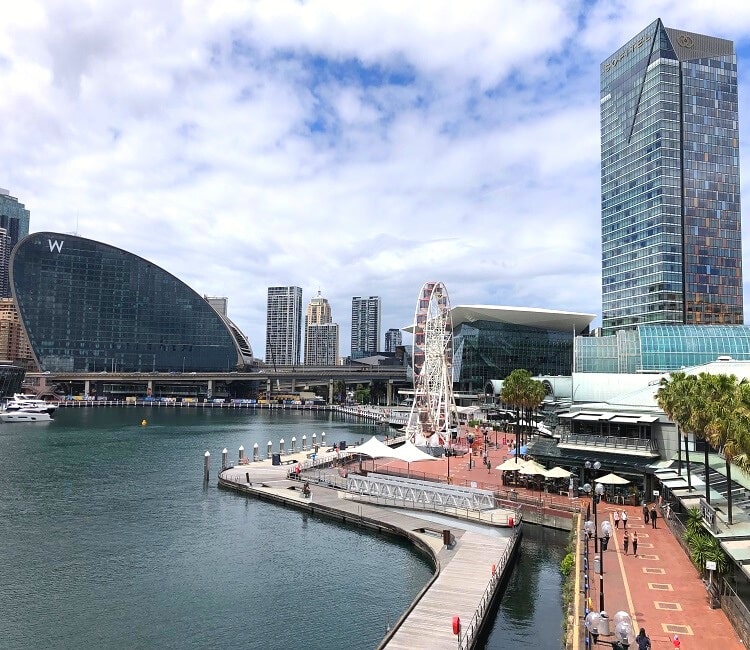 Sydney's largest recreational and pedestrian precinct, Darling Harbour, is home to a great variety of attractions for the whole family.
Darling Harbour has something for everyone, from waterfront dining and regular fireworks displays to exciting museums and huge playgrounds.
Nearby Darling Quarter and the Barangaroo Foreshore are within walking distance and very much worth visiting.
Both locations have been undergoing significant upgrades and are now popular lunch and dinner hot spots for tourists, local office workers, and residents.
9. Relax in Watsons Bay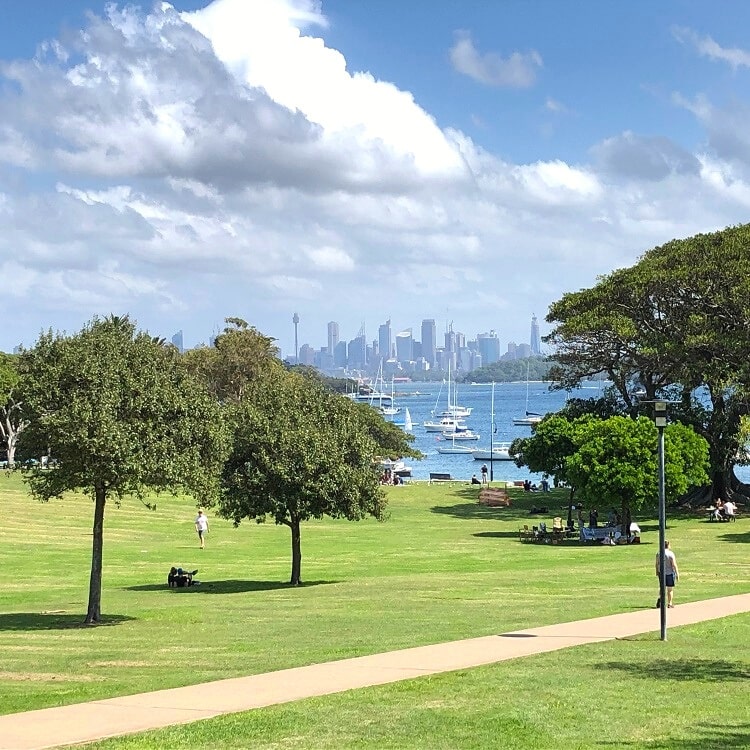 Starting and ending at picturesque Watsons Bay, the popular circuit walk around South Head offers some of the best panoramic views of Sydney Harbour, the city skyline, the Pacific Ocean, North Head and the historic Hornby Lighthouse.
The best way to travel to Watsons Bay is by ferry departing from Circular Quay. This is an excellent opportunity to see even more of Sydney Harbour, the sailing ships, and not to mention the prestigious waterfront mansions.
Once you arrive in Watsons Bay, it's time to explore this picturesque and historic fisherman's village. See the Vaucluse Yacht Club, Robertson Park, and The Gap, before having lunch at one of the cafes or restaurants.
10. Go up to Sydney Tower Eye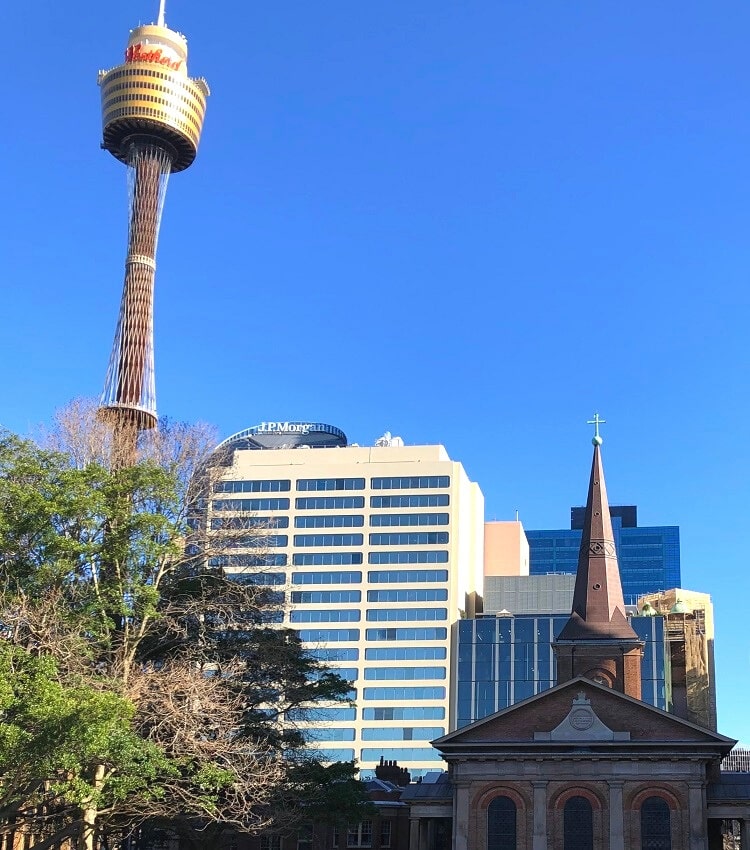 If you want to see Sydney and its surrounding suburbs from high above, a visit to the Sydney Tower Eye is an absolute must.
That is where you get to enjoy the best views, from the second-tallest observation tower in the Southern Hemisphere, including an exciting 4D cinema experience.
Visitors to Sydney Tower can choose from a range of unique experiences, such as dining or drinking at the rotating restaurant and walking on the observation deck at 820 feet above street level.
Romantic Things to Do in Sydney
We can all agree that Sydney is one of the world's most beautiful cities, with lots of fun and exciting activities. All those iconic landmarks and that stunning scenery make Sydney also the perfect city to get your romance on.
Is your girlfriend's birthday coming up, or is Valentine's Day around the corner? Make sure you check out our list of the most romantic things to do in and around Sydney for some great ideas.

Things to Do in Sydney at Night
Sydney is somewhat of an international city, and there's something to explore around every corner when the sun sets in the evening, as long as you know where to look.
If you're ready to get your feet wet when the sun sets, make sure you check out our top picks for things to do in Sydney at night.

Things to Do in Sydney When It Rains
You may be forgiven for thinking that the sun always shines in Sydney, but Sydney does experience, on average, 100 rainy days per year. So what do the outdoor-loving locals do on those rainy days in Sydney when we can't go outside without getting soaked?
To keep you entertained on those grey and cold days, we have listed 17 awesome indoor activities to do in Sydney when the sun is nowhere to be found.

Free Things to Do in Sydney
As beautiful as Sydney may be, it is sadly also one of the most expensive cities in the world to live in or to spend your holiday. Luckily though, with a great climate and many natural and man-made landmarks to visit, you can still enjoy yourself without emptying your wallet.
We have compiled a list of free things to do in Sydney to help you save some of your hard-earned dollars.

Unusual Things to Do in Sydney
There is no denying that Sydney is home to some amazing urban landmarks and natural sights that every tourist loves to visit. But there are also lots of unusual things you can do in Sydney. Unique activities that not many people know about or don't make time for.
We have listed some great ideas for unusual Sydney activities that will appeal to both international tourists and proud local Sydney-siders.

Manly is one of Sydney's most popular coastal towns, with various beautiful beaches, excellent pubs, scenic walking tracks, historical sites, and much more.
Check out our guide to the best things to do in Manly for a complete list of the most popular attractions and activities.

Things to Do in Palm Beach
Palm Beach is Sydney's northernmost beach town, situated around 40km north of the CBD. This highly desired Northern Beaches suburb has quite a unique and relaxed atmosphere that appeals to many.
We have prepared a complete guide on things to do in Palm Beach, with not only beautiful sightseeing spots but also exciting water activities and great places to eat.

Things to Do in the Blue Mountains
The Blue Mountains region west of Sydney is a popular day and weekend destination in New South Wales, loved by international tourists and Sydney-siders alike. Sydney's prettiest national park is home to exciting bushwalks, scenic waterfalls, beautiful lookouts, and trendy townships.
We have listed the best things to do in the Blue Mountains to help you make the most of your day out in this beautiful national park.