Last updated: August 2, 2023
Sydney is the prettiest, most versatile, and also most popular city in Australia, visited by millions of tourists each year.
What sets Sydney apart from other big cities around the world is a beautiful Harbour, unique landmarks such as the Harbour Bridge and the Opera House, a near-perfect climate, and a stunning coastline with countless beaches.
If you've never been to Sydney, you might feel overwhelmed by the many tourist attractions this amazing city offers.
This guide will help you select your favourite from the 30 most popular attractions and the best places to visit in Sydney.
Book a Sydney Attractions Pass:
Get a Sydney Attractions Pass and visit four of Sydney's top tourist attractions for one affordable price:

SEA LIFE Sydney
WILDLIFE Sydney
Madame Tussauds
Sydney Tower Eye
Book a Sydney Tour:
Top 30 Sydney Attractions and Places
In no particular order, here are 30 of Sydney's top tourist attractions and the best places to visit.
1. Sydney Opera House
Opened in 1973, the Sydney Opera House is not only one of Sydney's top tourist attractions, but it's also considered one of the most famous and distinctive buildings of the 20th century.
The Opera House is now a multi-venue performing arts centre with several theatres, rehearsal studios, two main halls, restaurants, bars and souvenir shops.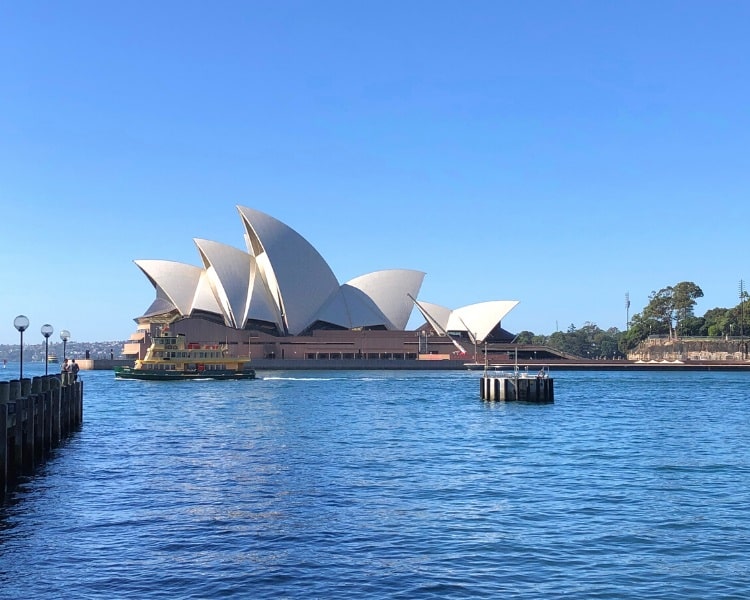 When you first lay your eyes on this magnificent piece of engineering, you will be in awe. The beautiful location of the Opera House adds to the experience, with Circular Quay and the Harbour Bridge just around the corner.
Book a tour!
A guided tour is a great idea if you want to see the Opera House from the inside and learn more about it. For example, this hour-long guided tour takes you underneath the world-famous sails and along the 300 corridors of the Opera House.
Watch a show!
Check out the Sydney Opera House calendar of upcoming shows and events. If you're going to visit Sydney as a tourist, scheduling in a performance at the Opera House is highly recommended.
2. Sydney Harbour Cruise
Whilst the regular ferry services are a great way to experience the beauty of Sydney Harbour, a day or night cruise over the Harbour is a wonderful experience that often includes drinks and a meal.
On a cruise, you typically have a lot more space to wander around, and there are fewer people on the boat than on a regular ferry. A cruise is also much slower, allowing you to really soak in the beauty surrounding you.

Have a look at our list of best Sydney Harbour cruises for a selection of different types of cruise experiences catering for different budgets.
Top Sydney Harbour cruises:
3. Taronga Zoo Sydney
Against the backdrop of the Sydney CBD skyline, Taronga Zoo in Mosman is a fantastic day out for young and old. There are various ways to get to Taronga Zoo, but the ferry trip from Circular Quay is the best way.
Quietly tucked away on the north side of Sydney Harbour with superb city views, Taronga Zoo is Australia's largest zoo with great shows and close encounters with various animals.

If visiting the zoo isn't exciting enough, it's also the starting point of one of the most enjoyable Sydney Harbour walking tracks. The Taronga Zoo to Balmoral Beach walk is a 6.5km trail that swirls its way past secluded beaches, picturesque bays, impressive lookouts and historical sights.
It's easiest to purchase your tickets in advance online in advance. Another option is to purchase this cruise and Taronga Zoo combo ticket, which includes a rocket ferry trip and entrance to the zoo.
Read our guide to the best zoos in Sydney for a complete list of Sydney zoos and wildlife parks to visit.
4. Sydney Tower Eye
If you want to see Sydney, the Harbour, the coastline, and its surrounding suburbs from above, a visit to the Sydney Tower Eye should be on top of your list of favourite attractions.
The Sydney Tower Eye is where you enjoy the best views from the second tallest observation tower in the Southern Hemisphere, which also includes an exciting 4D cinema experience.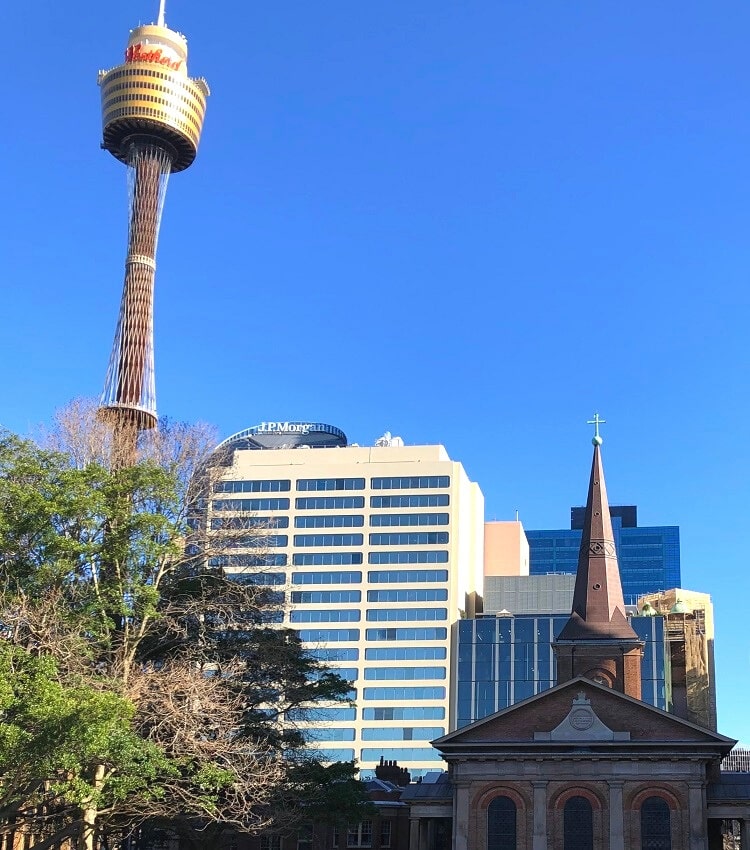 To buy general admission tickets in advance or book one or more of the special experiences, go to the official Sydney Tower Eye website.
In addition to enjoying the incredible views from high above, you can also enjoy unique dining or drinking experiences at the rotating restaurant.
5. Sydney Harbour Bridge
Opened in 1932, the famous Sydney Harbour Bridge not only has the best looks but it's also an incredible piece of superb engineering. Also known as the Coathanger because of its arch-based design, the 134m high Sydney Harbour Bridge connects the Sydney CBD with the city's North Shore.
One of the most popular free things to do in Sydney is actually walking across the Harbour Bridge. The views of the Opera House and Circular Quay from the bridge are wonderful.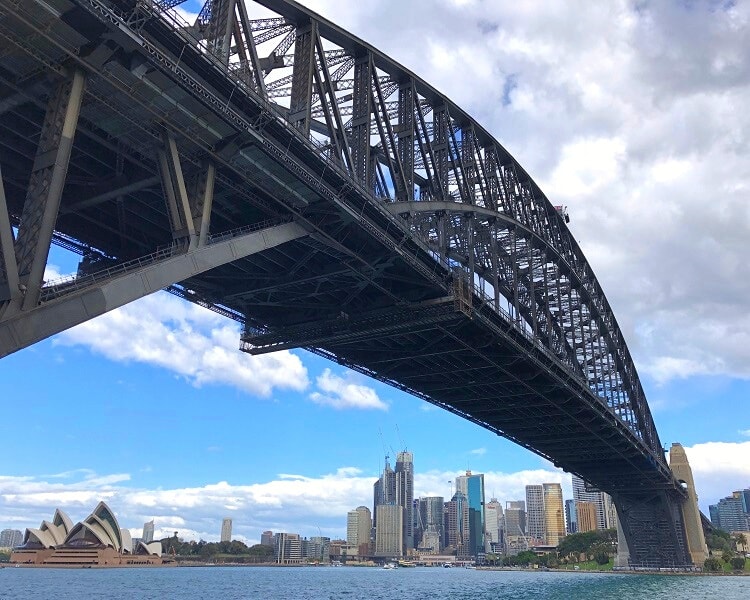 An even better option is to visit the Harbour Bridge Pylon Lookout. For a small fee, you can head to the top of one of the four pylons, where you can enjoy great views and visit a small but educational museum.
Are you feeling adventurous? Enjoy unforgettable panoramic views of the Sydney CBD skyline and the Sydney Harbour by climbing the bridge. It's a truly once-in-a-lifetime experience that you will never forget.
6. The Rocks
One of Sydney's oldest neighbourhoods, The Rocks, used to be a notorious convict settlement but is now a popular tourist destination. The area is home to friendly pubs, cobbled laneways, historic buildings, and many great events happening throughout the year.
The Rocks is also the perfect place to see one of Sydney's most iconic landmarks, the Harbour Bridge, from close by. You can also walk underneath it, where you'll realise how magnificent this bridge is.

The Rocks is home to over 100 heritage sites and buildings spread across the narrow streets. This includes Sydney's oldest surviving house, Cadman's cottage, a heritage-listed former water police station built in 1816.
The best way to enjoy The Rocks and to learn more about Sydney's colonial history is by doing a self-guided walk that takes in all the highlights. Read our guide to the best pubs in The Rocks with insider tips and a recommended walking route.
Top guided tours in The Rocks:
7. Darling Harbour
Sydney's largest recreational and pedestrian precinct, Darling Harbour, is home to a great variety of attractions for the whole family. Darling Harbour has something for everyone, from waterfront dining and regular fireworks displays to exciting museums and huge playgrounds.
Highlights are the Sydney Aquarium, the Australian National Maritime Museum, Madame Tussauds, the Wild Life Sydney Zoo, the Chinese Garden of Friendship and the Darling Quarter Kids Playground.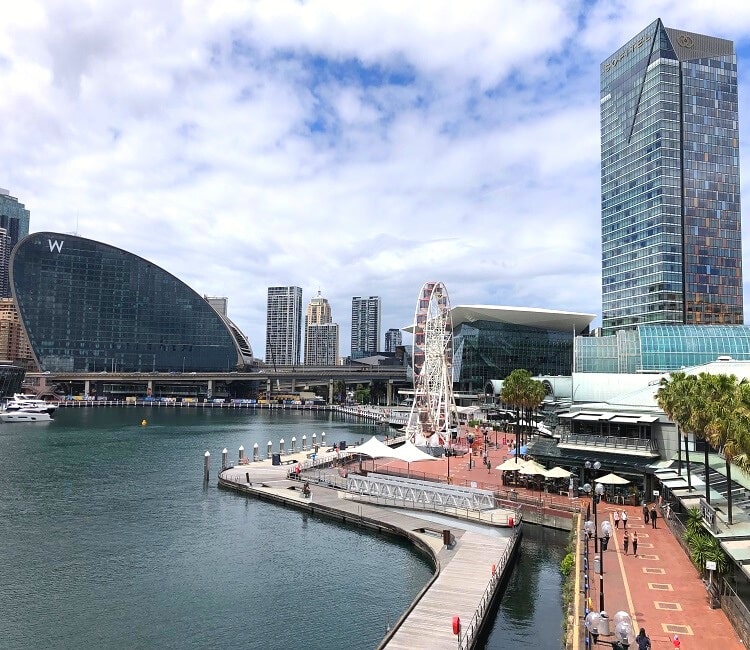 Nearby Darling Quarter and the Barangaroo Foreshore are within walking distance and very much worth visiting. Both locations have been undergoing major upgrades and are now popular lunch and dinner hot spots for tourists, local office workers, and residents.
Darling Harbour is conveniently located only a few moments away from Town Hall train station and Chinatown. A great way to get to Darling Harbour from Central Station is via The Goods Line, an urban walkway where an old train line used to be.
8. Sea Life Sydney Aquarium
Located in the northern section of Darling Harbour, just north of the historic Pyrmont Bridge, the Sea Life Sydney Aquarium is one of Sydney's most popular tourist attractions.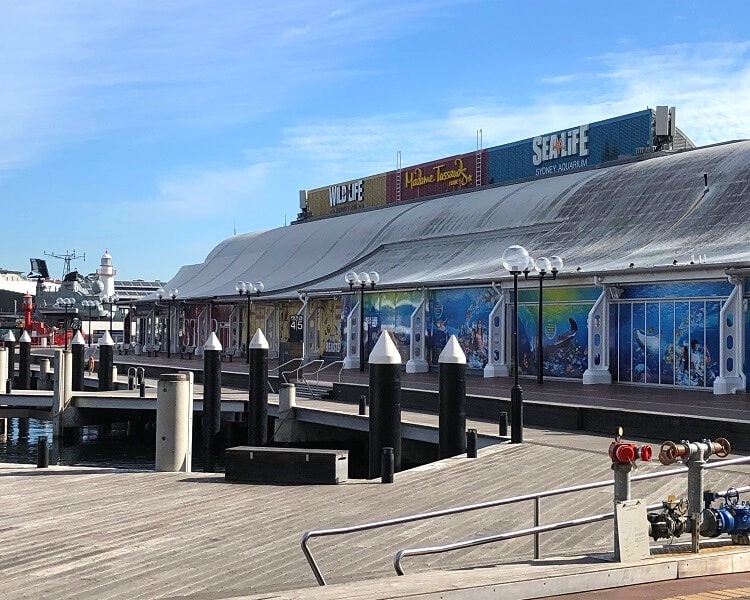 It's hard to imagine from the outside, but the Sydney Aquarium is home to more than 13,000 individual fish and other sea and water creatures from various Australian water habitats.
An average visit to the Sydney Aquarium takes about two hours and can easily be included in a full-day visit to Darling Harbour. You can purchase tickets online or at the counter.
9. Royal Botanic Garden Sydney
Situated next to the Opera House and facing Sydney's impressive city skyline, the Royal Botanic Garden Sydney is home to an enormous collection of exotic plants from all around the world.
The Royal Botanic Garden was established in 1816 and is Australia's oldest botanic garden and scientific institution. Wandering through this 30 hectares large green oasis is an absolute delight.

Popular with tourists and local office workers, the Botanic Garden is a quiet place where people can visit to learn more about science, gardens, plants and horticulture.
The best way to access the Royal Botanic Garden is via Circular Quay and the Opera House, or otherwise via Hyde Park and The Domain just south of the garden.
10. Cockatoo Island
Visiting one of the many Sydney Harbour islands is a great way to learn more about the history and evolution of Sydney. Cockatoo Island is one of those islands that is definitely worth a visit and makes for a great day out.
Cockatoo Island is a UNESCO World Heritage and National Heritage Listed island, situated right in the middle of beautiful Sydney Harbour. Over the years, the island has served as a shipbuilding yard, Commonwealth naval base, and a convict island.

There is a direct ferry service from Circular Quay to Cockatoo Island. Once on the island, grab a free map from the visitor centre and wander around to fully absorb the rich history and the highlights on the island.
If you have more time to spend, you can also stay overnight on Cockatoo Island. Book a luxury tent on the waterfront camping site, or otherwise, book a night in one of their heritage holiday houses or harbour view apartments.
11. Manly Ferry Trip
The best way to truly enjoy the beauty of Sydney Harbour is by catching a ferry from Circular Quay to Manly. This hugely popular ferry trip is indeed one of Sydney's top attractions, not just for tourists but for locals as well.
This unique ferry ride takes in all the sights that make Sydney Harbour so pretty, such as the Opera House, the Harbour Bridge, Bradleys Head, South Head, Dobroyd Head, and Manly Cove.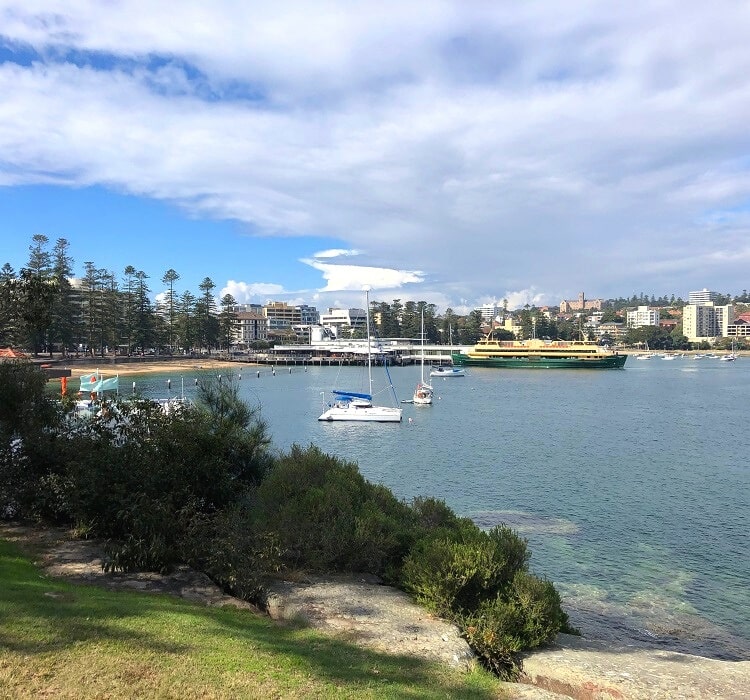 Depending on the weather on the day, try to get a seat outside at the front of the vessel for the best views. Otherwise, pick one side of the vessel on the way to Manly, and grab a seat on the other side when returning to the city.
Note that travelling by ferry in Sydney isn't expensive at all, but on Saturdays and Sundays, all public transport with the Opal Card is capped at $8.05 for the whole day.
12. Bondi Beach
A visit to Sydney is not complete without spending a morning or afternoon in Bondi Beach, Australia's most popular and well-known beach town.
Bondi Beach quite literally has something for everyone. The water is excellent for swimming and surfing, there are many great outdoor picnic areas to enjoy, and the suburban street of Bondi are heavily populated with great cafes and pubs.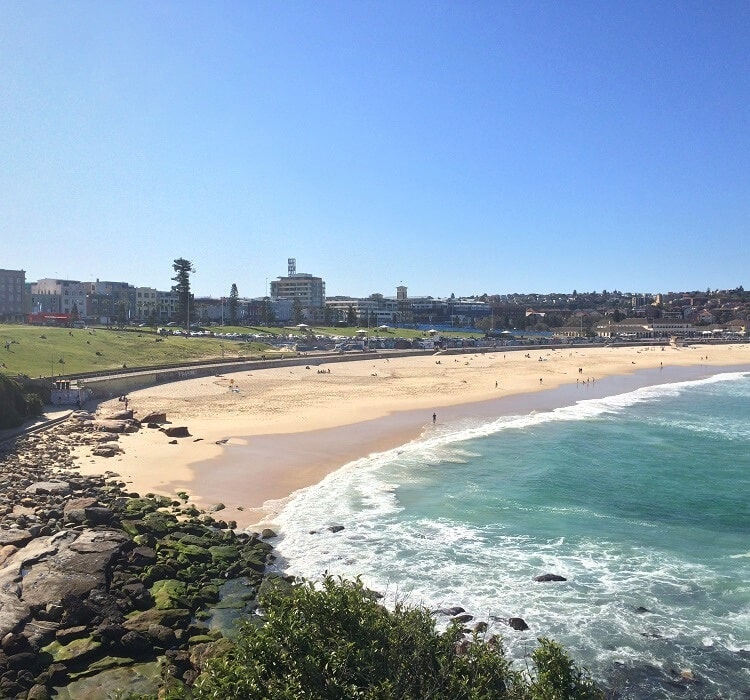 If you have the time and you love a bit of hiking, the Bondi to Coogee coastal walk is an absolute must. It's Sydney's most popular walking trail, and for good reasons. The views from start to finish are amazing, with many cafes and parks along the way to rest.
The track can be divided into two sections, with Bronte Beach located at the halfway mark. Depending on stops, the walk can easily be completed within three hours. You can then walk back the same way or catch a bus to return to your starting point.
13. Watsons Bay
Watsons Bay is a popular harbourside suburb of Sydney, located 11 km northeast of the Sydney CBD. South Head, the southern entry point to Sydney Harbour, is also part of Watsons Bay.
There's plenty to see and do in Watsons Bay, which is why this small suburb gets so busy during weekends. A large park in the centre of town, various cafes and pubs, a couple of beaches, and some great lookout points make Watsons Bay a pleasant tourist attraction.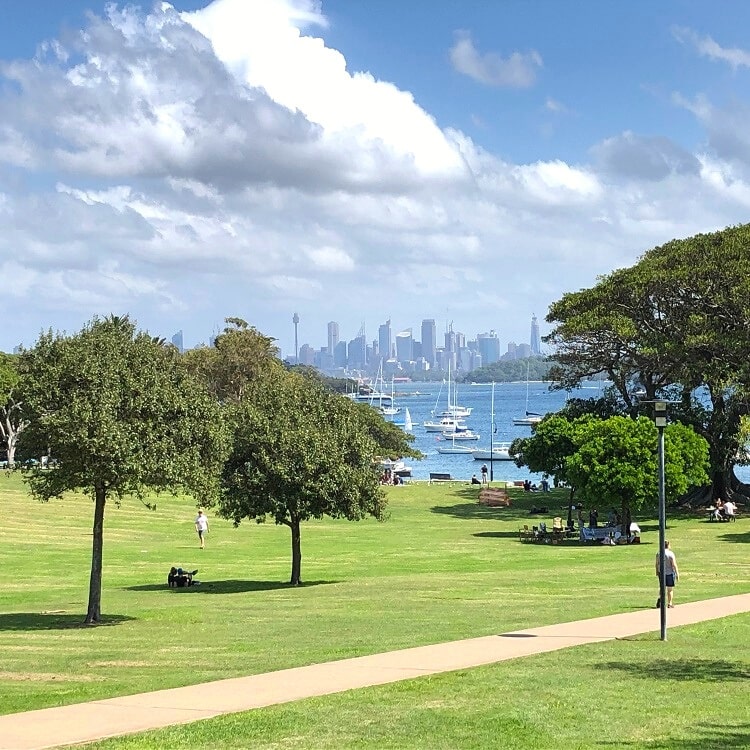 Starting and ending at Robertson Park, the popular circuit walk around South Head offers some of the best panoramic views of Sydney Harbour, the city skyline, North Head, the Gap, and the historic Hornby Lighthouse. This relatively easy walking track is the best way to discover the beauty of Watsons Bay.
Getting to Watsons Bay is easiest by ferry from Circular Quay. It's a scenic ferry ride, which makes the day trip to Watsons Bay even more enjoyable. Otherwise, plenty of buses travel between the city to Watsons Bay regularly.
14. Manly Beach
If you think that the best Sydney beaches are all located in the eastern suburbs, south of the bridge, you're wrong! Sydney's northern beaches are just as exciting as their eastern rivals, with Manly Beach standing out as one of the most popular Sydney tourist destinations.
Manly is a beachside suburb with a somewhat unique and relaxed atmosphere. It has a long beach facing the ocean, and a quieter beach facing Sydney Harbour, where the ferry wharf is located. Both beaches are connected by the Manly Corso, a pedestrian mall lined with pubs, cafes, surf shops, galleries and street entertainment.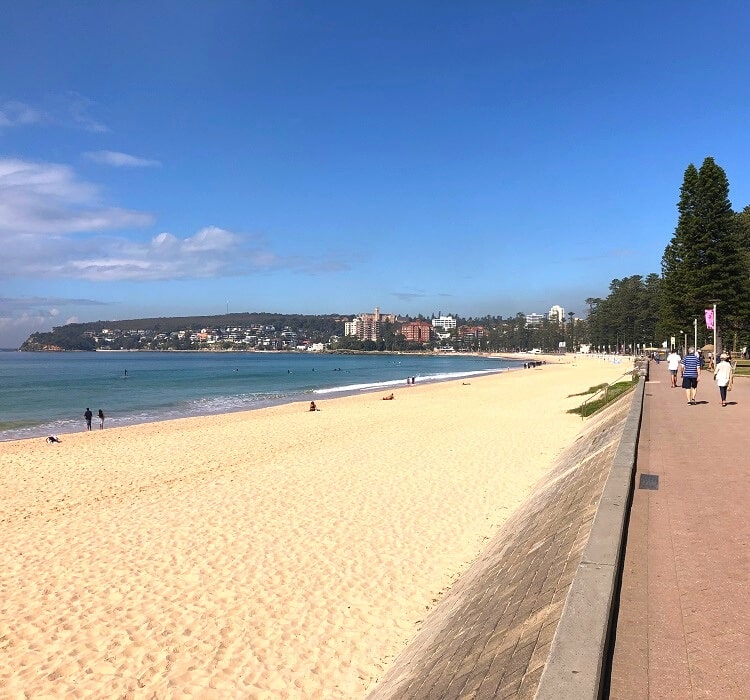 One can easily spend a whole day in Manly as it's such a great place to enjoy a relaxing day out. But if you like some exercise, Manly is the starting point (or end point) of two popular hiking trails.
The Spit to Manly walk is a 10km coastal adventure between the Spit Bridge and Manly, and the North Head circuit walk is a 10km adventure that explores the history and unique landscape of North Head. Both are highly recommended.
15. Barangaroo Reserve
Situated on the western side of the Sydney CBD, Barangaroo Reserve is a modern Sydney Harbour foreshore park developed as part of a large urban redevelopment project. This project has turned a once ugly industrial site into a thriving business, entertainment and leisure precinct.
Barangaroo Reserve is a 6-hectare waterfront park with a large man-made hill right in the middle. It consists of several beautifully designed terraced gardens connected by various walking paths. The abundant use of sandstone fits perfectly in the design of the park.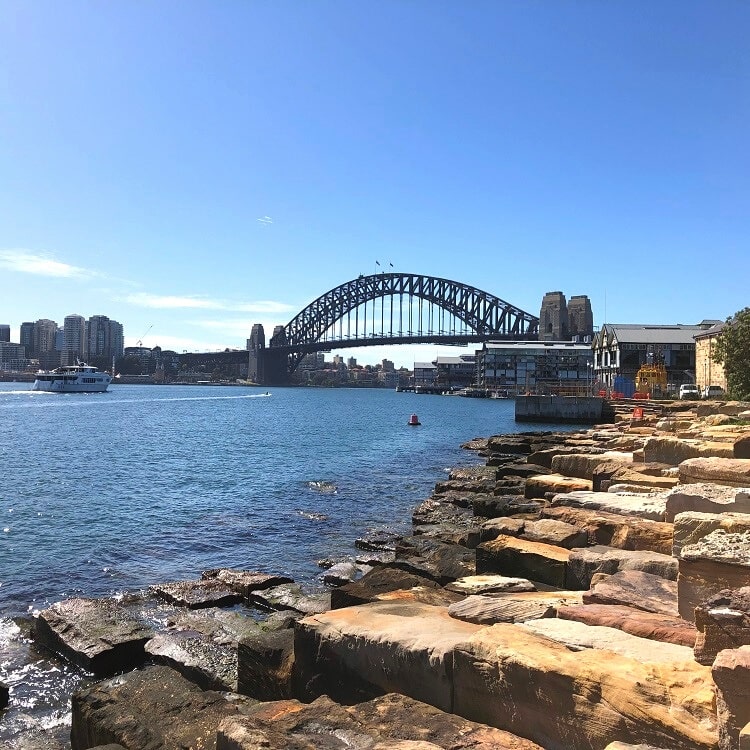 The park is home to over 75,000 planted trees, palms, ferns, shrubs and other plants. The different species have all been native to the Sydney region for the last 200 years. Interestingly, Barangaroo Reserve has introduced 18 official new place and road names, with 40% of these names referencing Aboriginal culture or people.
The best way to get to Barangaroo Reserve is either via Circular Quay and The Rocks or via King Street Wharf just south of the park. Wynyard is the closest train station, which has an exit that is quite close to the reserve.
16. Hyde Park
Located on the eastern fringe of the Sydney CBD, heritage-listed Hyde Park is Australia's oldest public parkland. The park extends to the Domain and the Royal Botanic Garden further north.
While certainly not as large, Sydney's Hyde Park does look and feel a bit like New York's famous Central Park, also because of its location in the city.

Hyde Park is a wealth of history, with several historic buildings situated along the park's boundaries, such as the Supreme Court of New South Wales, St. James Church, Hyde Park Barracks, and St Mary's Cathedral.
The park is also home to the ANZAC War Memorial, a heritage-listed monument and museum located near Liverpool Street.
17. Palm Beach
Situated 40km north of the Sydney CBD, Palm Beach is Sydney's northernmost beach town with a unique atmosphere that resembles a small subtropical paradise.
Palm Beach is a popular day-trip destination for Sydney-siders, as well as a niche holiday retreat for tourists, backpackers, and Australian and international celebrities alike.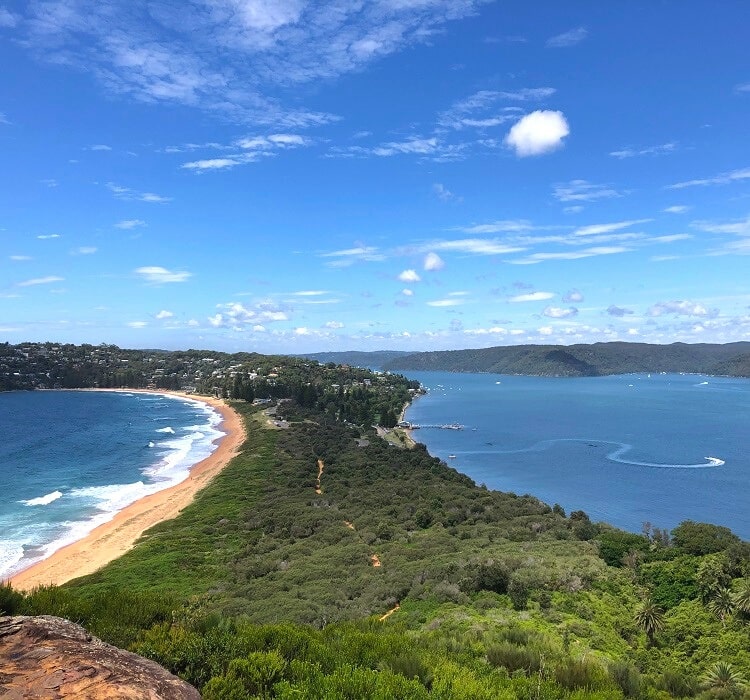 There are lots of things to see and do in Palm Beach, including a hike up to the iconic Barrenjoey Lighthouse, surfing and swimming, and of course some great cafes and restaurants to choose from.
Whilst it's not the easiest of suburbs to get to, Palm Beach is worth a visit if you're staying in Sydney for more than just a couple of days. The best way to get there is by bus from Wynyard in the city.
18. Luna Park Sydney
A visit to Luna Park, just across the Harbour Bridge in Milsons Point north of Sydney, makes for a great day out, especially if you're visiting Sydney with children.
First opened in 1935, Luna Park is a heritage-listed amusement park in a prominent Harbour location with classic 1930's style architecture.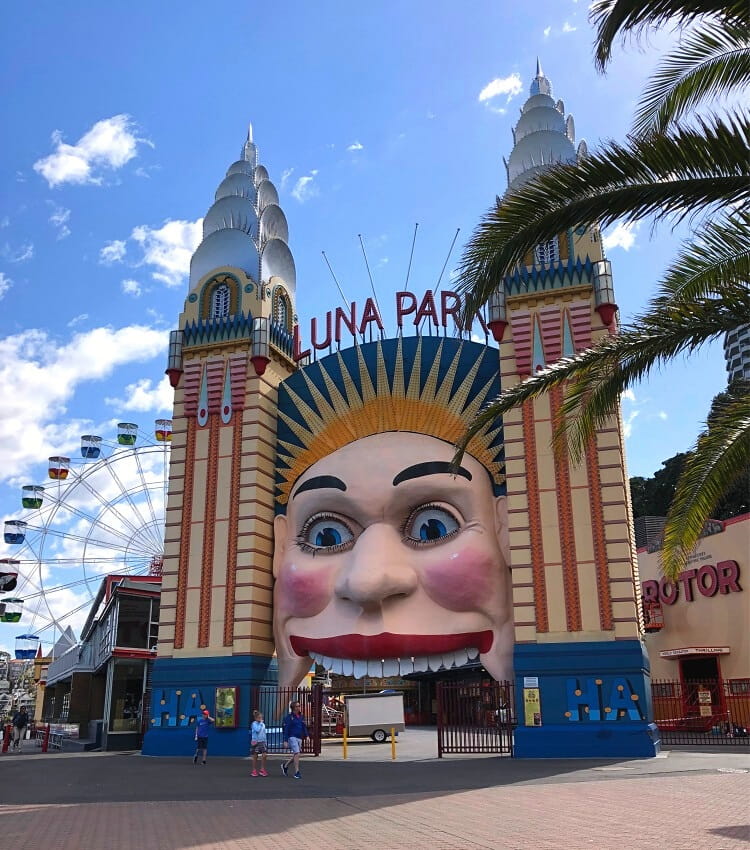 Getting to Luna Park is easy, with Milsons Point train station just around the corner. You can, of course, also walk across the Harbour Bridge from the city and warm up with some great views.
Once you're finished at Luna Park, consider walking around the Lavender Bay foreshore to Wendy's Secret Garden for more beautiful city and Harbour views.
19. Australian National Maritime Museum
The Australian National Maritime Museum (ANMM) is Australia's national centre for maritime collections, research, exhibitions and archaeology.
The museum was opened in 1991 as part of a major Darling Harbour redevelopment project.

Besides the free, permanent galleries, the ANMM hosts an ever-changing program of temporary exhibitions and a fleet of historic craft at its wharves in Darling Harbour.
The Maritime Museum is a fun and educational museum that caters for all ages and is a great way to spend an afternoon in Sydney.
20. Queen Victoria Building
Built in the 1890s, the heritage-listed Queen Victoria Building (better known as the QVB) is one of Sydney's many historical buildings, located in George Street in the middle of the CBD.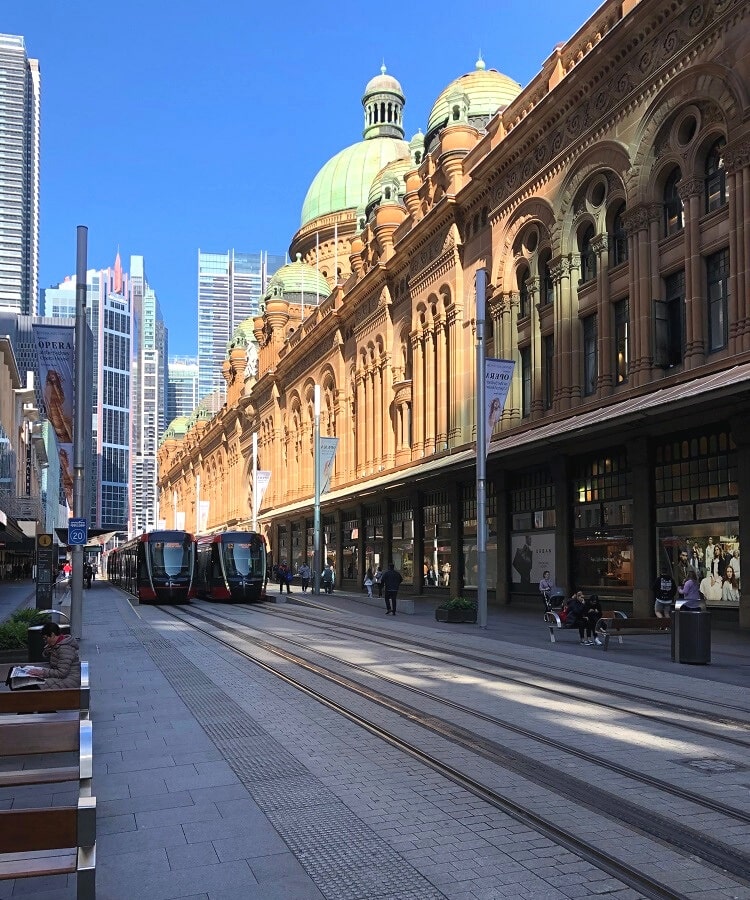 The heritage-listed QVB was designed by Government Architect George McRae in Romanesque Revival style, and is bounded by George, Market, York, and Druitt Streets.
After having undergone several major renovations, the QVB is now one of Sydney's most popular shopping destinations, offering a great variety of fashion boutiques, jewellery shops, cafes, restaurants, and so much more.
21. Powerhouse Museum
Located in the inner west suburb of Ultimo, on the edge of Darling Harbour, the Sydney Powerhouse Museum is a converted electric tram power station with various science-focused artefacts and exhibits.

It's a science and technology museum suitable for all ages, with many unique exhibits on display, including the oldest operational rotative steam engine in the world and an old steam locomotive.
A nice way to get to the Powerhouse Museum is by following the Goods Line walking trail from Central Station.
22. Fairfax Walk on Manly's North Head
The Fairfax Walk on Manly's North Head is a family-friendly walking trail with two panoramic lookouts offering incredible views of Sydney Harbour, the city skyline, South Head, and the ocean.

The Burragula Lookout specifically is one of the most impressive lookout points in Sydney, with incredible ocean and Harbour views against the backdrop of the Sydney city skyline.
The North Head Sanctuary, close to the Fairfax Walk, is also worth a visit. It holds special significance to the indigenous people of the Sydney area, with Aboriginal remnants such as rock engravings and middens still visible in the headland.
23. Cahill Expressway Lookout
Mostly overlooked by tourists as well as by locals, the Cahill Expressway Lookout is a panoramic viewing point right above Circular Quay train station.
The large viewing platform offers incredible views of the Opera House as well as the Harbour Bridge.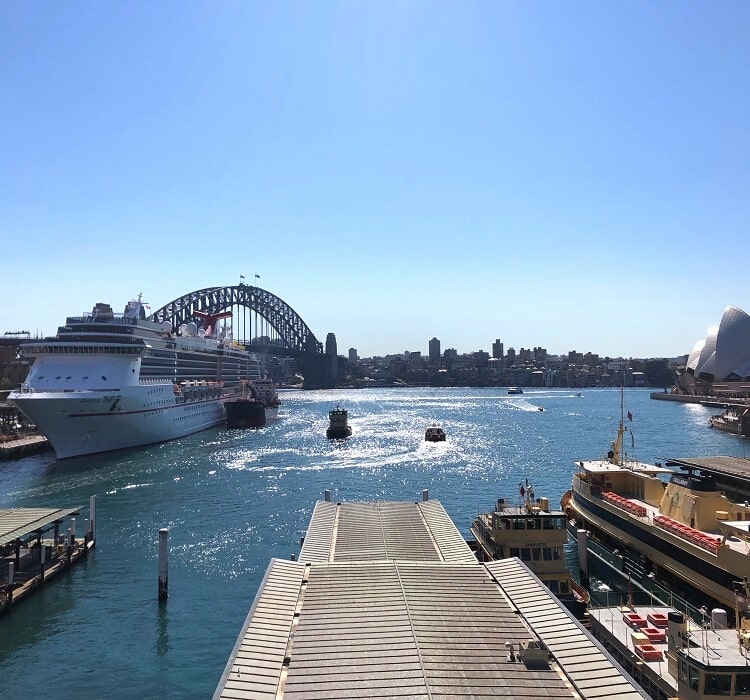 The lookout can be accessed via the short and easy Cahill Walk, which runs between the Royal Botanic Garden and The Rocks, and connects with the walking path across the Sydney Harbour Bridge.
If you plan to do both of these walks combined, you will be doing one of the best Sydney city walks, which allows you to see all the iconic landmarks in one fantastic walking track.
24. Australian Museum
Established in 1827, the heritage-listed Australian Museum (AM) is the oldest museum in Australia, boasting a collection of almost 20 million objects related to Australian culture and history.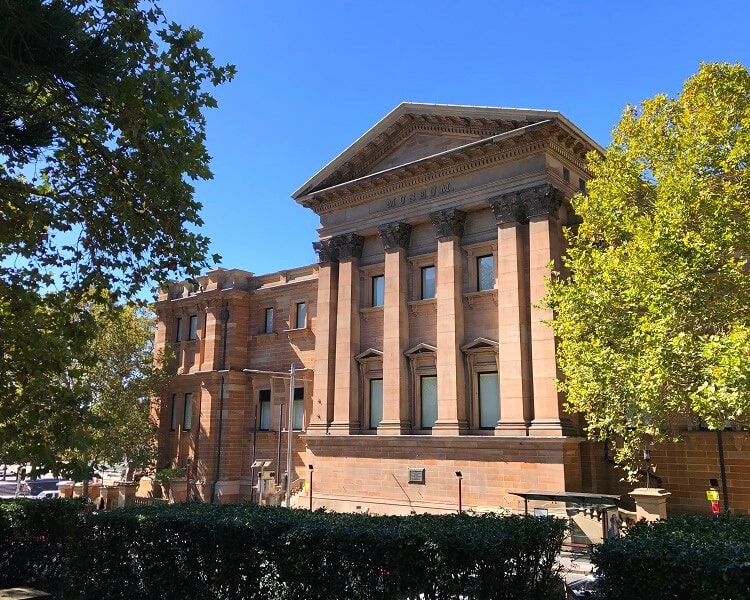 Conveniently located on William Street, right at the edge of Hyde Park, the Australian Museum is a great Sydney tourist attraction, perfectly suitable for both adults and children.
It's one of those attractions that you would typically visit on a rainy Sydney day when you want to avoid being outdoors.
25. Chinese Garden of Friendship
Built in the late 1980s, the beautiful Chinese Garden of Friendship is a heritage-listed green space situated at the south end of Darling Harbour, only a short stroll away from Darling Harbour.

The Chinese Garden of Friendship was designed in China to celebrate the Australian Bicentenary. It was gifted to Sydney from Guangdong, a Chinese sister state to New South Wales.
The garden is quite the special place in Sydney, with small waterfalls and lakes, large willow trees, pavilions, sculptures and large colourful fish on display.
26. Museum of Contemporary Art Australia
If you're a fan of cutting-edge Australian and international modern art, a visit to the Museum of Contemporary Art (MCA) on the western side of Circular Quay is an absolute must.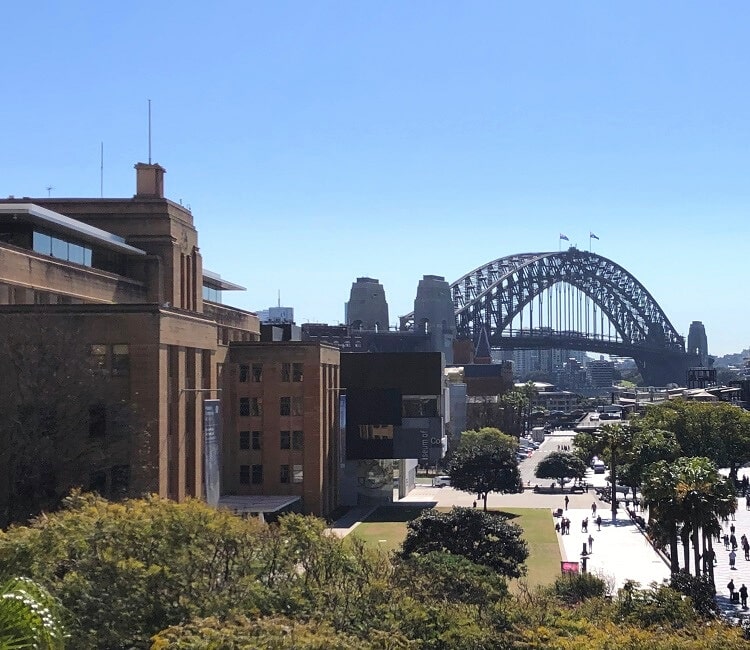 Housed in an impressive art deco building right at the waterfront, the MCA is dedicated to exhibiting, collecting and interpreting the work of today's contemporary artists.
The beautiful building itself, dominating the Circular Quay shoreline, is enough reason to visit this museum.
27. Chinatown Sydney
Just like so many large cities around the world, Sydney also has its very own Chinatown. Australia's largest Chinatown is situated in Haymarket, in the southern part of the CBD, close to Darling Harbour.

Sydney and New South Wales have welcomed Chinese immigrants since the 19th century, with a large Chinese community now living in and around Sydney.
Sydney's Chinatown has a vibrant atmosphere, with many noodle bars, food courts, Asian grocery stores, yum cha restaurants, and even fine dining restaurants along the narrow streets.
28. Broughton St Lookout
Sydney's best-kept secret is perhaps the Broughton St Lookout, located at the southern end of Bradfield Park in Kirribilli. The views of the Sydney CBD, the Harbour Bridge and the Opera House are stunning.

It's easy to get to this lookout by public transport, with the Milsons Point train station just down the road.
An even better option is to walk across the Harbour Bridge from the city and make your way to Bradfield Park.
29. Art Gallery of New South Wales
Situated in The Domain just south of the Royal Botanic Garden, the historic Art Gallery of New South Wales is the most important public gallery in Sydney, and one of the largest in Australia.

The gallery was established in 1874 and is now home to significant collections of Australian, European and Asian art. The gallery also presents almost forty exhibitions each year.
Like the Museum of Contemporary Art, the Art Gallery of New South Wales is housed in an imposing and historic building. What's more, entry to the public exhibition space is free.
30. Georges Head Lookout
The last tourist highlight in this list of great Sydney attractions is the Georges Head Lookout in Mosman on Sydney's north shore.
Georges Head is a historic place in Sydney, with military relics such as an artillery battery and fortifications on display.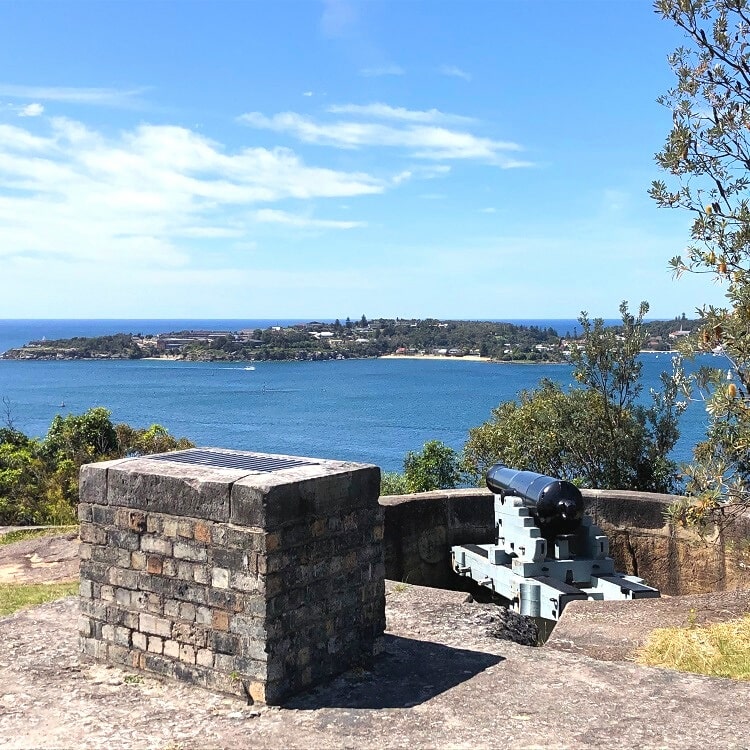 The Georges Head Lookout Lawn leads to the popular lookout point with amazing views of Sydney Harbour, with North Head and South Head right in front of you and the city skyline in the west.
With more than 150 years of military history, combined with panoramic views, Georges Head is well worth a visit during your time in Sydney.