Last updated: September 24, 2022
Mermaid Pools is a beautiful natural water hole on the Bargo River at the start of Tahmoor Gorge, only 75 minutes southwest of Sydney.
You may have already read a few stories about Mermaid Pools and how beautiful it is, but there is so much more to this part of the world than just that water hole.
While most people go there only to visit Mermaid Pools, it's recommended to venture out a bit further and discover how uniquely beautiful Tahmoor Gorge on the Bargo River is.
Warning about Mermaid Pools:
Do not jump into the water hole. If you're planning to swim in Mermaid Pools, please note that the only way in is by jumping off a cliff (around 15m high), and the only way out is via a make-shift rope next to the waterfall.
Swimming in this hole is therefore considered dangerous and there have been injuries and even fatalities in the past. Do a quick Google search, and you will find several serious incidents.
Jumping into the pool is NOT recommended and is entirely at your own risk. Also note that there is no phone reception in the area. There are other, smaller water holes along the track where you can safely go for a swim.
Furthermore, Mermaid Pools is considered a sacred site for traditional land owners, in particular for Indigenous women, and needs to be respected.
Getting to the start of the walking track that leads to Mermaid Pools can be a bit confusing.
Parking is available right next to the Rockford Road Bridge (see image below).

If you're driving in via the Old Hume Highway, turn into Rockford Road, and turn right into Charlies Point Road just after crossing the bridge. Turn right again into a dirt road that takes you to the bridge.
If you're coming in via the Hume Motorway, take the Avon Dam Road exit, then turn into Anna Road, and stay on that road until you can turn left into Charlies Point Road.
Click on this link to find that exact parking spot and the surrounding area on Google Maps.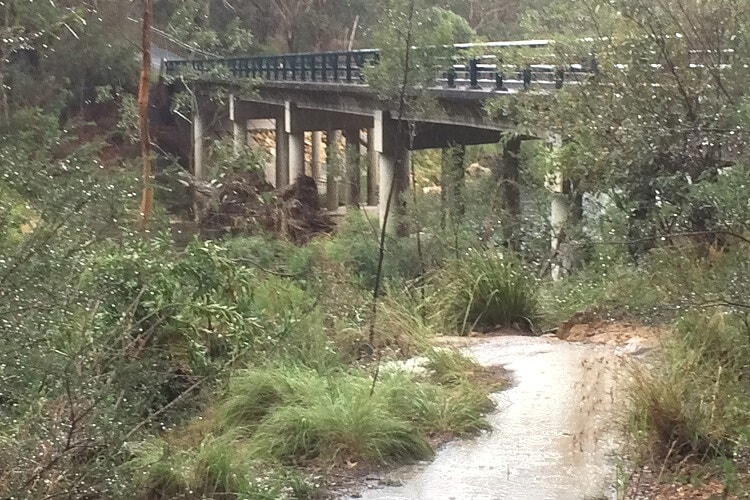 Once you've parked your car, walk under the bridge and follow the track on the eastern side of the Bargo River.
There is a sign at the bridge that indicates the start of the track.
Starting from the bridge, there are two options:
Bridge to Mermaid Pools (easy to moderate)
Mermaids Pool to Tahmoor Gorge Circuit Track (very hard)
You can just do the short hike to Mermaid Pools, hang out there, and return to your car. Or you can extend your walk by including a loop trail around Tahmoor Gorge.
The first option takes around two hours return and is a relatively easy walk. The second option can take up to six hours and is a hard walk. It's for experienced bushwalkers only.
We recommend that you only do the second part of the hike if you're fit and have brought enough water with you. A set of good hiking poles would also be useful for this tough track.
The map at the bottom of the page is a rough sketch of the walking track to Mermaid Pools and Tahmoor Gorge.
Signage Along the Way
The interesting thing about this hike is that it's not officially documented on any council or state government websites. There is also no official signage, and the track, at times, is very hard to follow.
Other bushwalkers have left their own markers along the way, which is very helpful otherwise there's a big chance you'd get lost. Look for arrows and other brightly-coloured signals as you hike through the gorge. There are even maps pinned on trees here and there.

If you do feel that you're lost, go back to the last marker you saw and try and find the next one.
At times you may think you're a bit lost, but then another marker pops up, and you're good to continue.
What's in a name?
There is some confusion around the actual name of this natural water hole. Some call it Mermaids Pool, others like to call it Mermaid Pool, and then there's websites that refer to it as Mermaid Pools. Google Maps names it "Mermaids Pool", but the sign at the bridge at the start of the track says "Mermaid Pools".
1. Bridge to Mermaid Pools
| | |
| --- | --- |
| Distance: | Approx. 2km |
| Time: | 2 hours (return) |
| Grade: | Medium |
The hike from the bridge to Mermaid Pool is relatively easy and should take approximately one hour (one way).
Not too long after the start of the track, you can choose between the upper path and the lower path along the river.

The upper path follows a ridge and is the easier of the two. The lower path stays right at the river and is more fun, with some rocks and boulders to climb over.
The two paths join again and become the Matilda Track, which will eventually take you to Mermaid Pools.
See Through Pools
Before ending up at Mermaid Pools, it's worth doing a little side-trip down to the water to have a closer look at the See Through Pools.
It's a magical place with small waterfalls, water cascades and swirl holes. This is a great spot to go for a quick swim on a warm day.

The water can be quite deep in some places, but please be careful when swimming as there are lots of hidden rock formations underwater that you can't always see.
Please note, as one reader has pointed out, the water in the Bargo River may be polluted due to nearby underground coal mining. Therefore, swimming in the river is at your own risk.
Mermaid Pools
Mermaid Pools is a deep water hole surrounded by cliff walls and beautiful bushland.
As mentioned above, the only way into the pool is by jumping off a 15m high cliff. There's also a 25m high platform, but that's only for the true daredevils.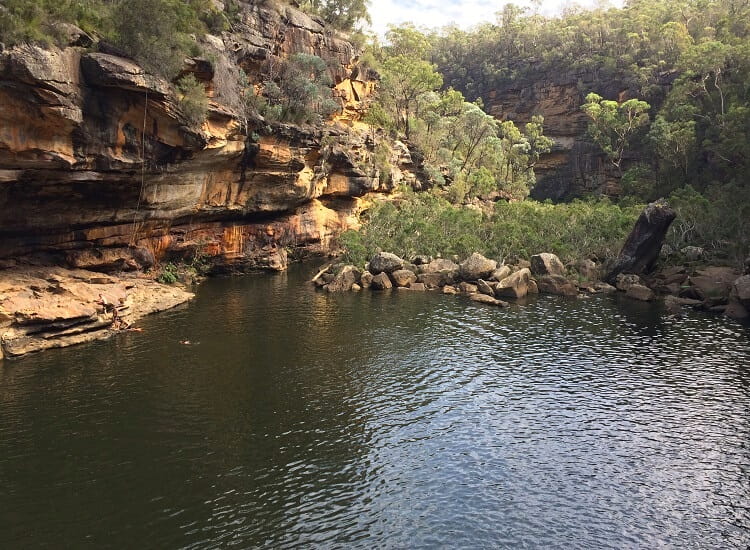 A big yellow sign is painted on top of the lower cliff, saying it's an unsafe spot to jump into the pool. The irony is that this sign feels more like an invitation to jump than it is to discourage people.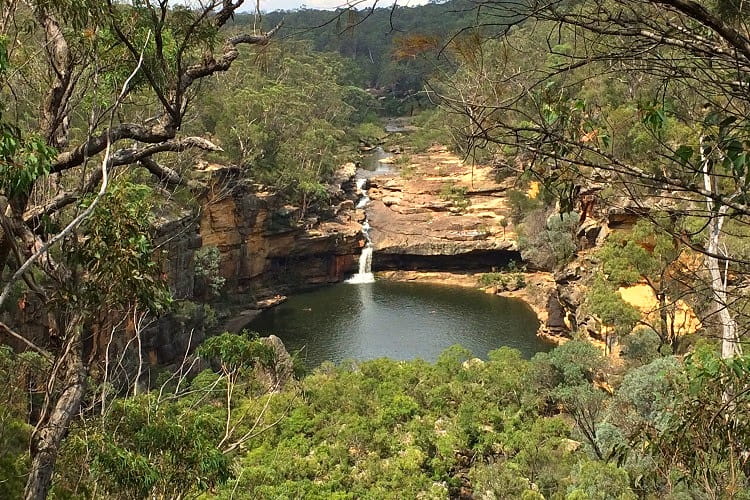 As mentioned, jumping is entirely at your own risk. We strongly advise against it because it's unsafe and because it's considered a sacred site.
And if jumping isn't risky enough, then climbing back out of the pool via a makeshift rope right next to the slippery waterfall certainly is. Many accidents have happened in the past.
The rock platforms above the pool are perfect for just sitting there for a bit, having a picnic, and enjoying the serenity of the environment.
2. Mermaids Pool to Tahmoor Gorge Circuit Track
| | |
| --- | --- |
| Distance: | Approx. 8km |
| Time: | 4-6 hours (return) |
| Grade: | Hard (experienced bushwalkers only) |
If you're feeling energetic, are an experienced bushwalker, and have enough water, it's recommended to venture out further and see more of the Tahmoor Gorge/Canyon along the Bargo River.
Not too far from Mermaid Pools, the walking track splits in two and essentially forms a loop.

It's best to do the lower track along the creek first, as this is the most challenging section and involves a lot of climbing and crossing rivers.
The upper track is reasonably flat and will eventually bring you back to Mermaid Pools.
Lower Track
The path follows the Bargo River, which you will need to cross several times. The scenery here is fantastic and makes you feel like you're far away from civilisation.
The path along the creek is hard to follow, making you even more grateful for the makeshift markers.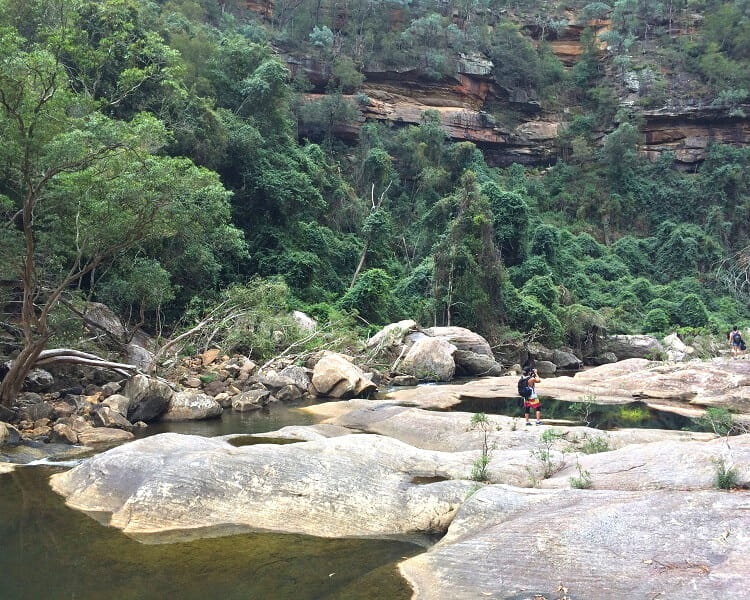 If you haven't had a chance yet to swim, there are quite a few nice spots where you can dip your toes and feel one with nature.
After a couple of hours, the lower track transitions into the upper track. This is perhaps the most challenging part, where you have to climb up the canyon with some very steep rock steps.
Upper Track
Once you've made your way up, the track takes you back via the Sugar Loaf Pass on top of the Tahmoor Gorge.
There are a few scenic lookout points where you can rest up and take in the impressive views of the area.

At some point, the path does a sharp turn to the left, which kind of makes you feel like you're going the wrong way.
But not to worry, from this point onward, the track is an easy forest path that takes you back to Mermaid Pools.
Map of Mermaid Pools and Tahmoor Gorge
This handy map (courtesy of the Wollondilly Shire Council) is a hand-drawing of the walking trails and points of interest along the way, including The Potholes, See Through Pool, Mermaids Pool and Tahmoor Gorge.
Even though this map by itself is not enough to guide you through the area, it's certainly a good source of reference. So by all means, print it out and bring it along with you. Please note though that the map was drawn upside down.