Last updated: October 26, 2023
The North Arm Walking Track is an exciting walking trail in the suburb of Castle Cove that passes through beautiful Harbour-side bushland.
This is a moderately challenging 6.5 km long walking trail exploring a quiet part of Middle Harbour, with lovely views of Sugarloaf Bay to take in.
In this article, we will fill you in on the highlights of this track, how to get there, and where best to start.
North Arm Walking Track
Distance:
6.5 km (return)
Duration:
2.5 hours
Grade:
Moderate (some steps, uneven surface)
Dogs:
On a lead
Since the North Arm Walking Track is a return walk, there are two locations from where you can start hiking:
From Cammaray Road in Castle Cove (see Google Maps).
From North Arm Road in Middle Cove (see Google Maps).
It doesn't really matter which location you pick, but in the below track notes, we are starting from Cammaray Road and walking westbound.
Here is a map of the North Arm Walking Track:

The North Arm Walking Track is a moderately challenging walking trail with several steep sections and sets of steps to conquer. Overall, the path is relatively easy to follow and is well-signposted.
Some sections of the track are a bit overgrown, and after a period of rainfall, the path can get very muddy. Wearing good hiking shoes is recommended.
1. Start of the Walk
Once you've parked your car on Cammaray Road, walk past the gate next to the information board to start this exciting hike.

The first part of the walk heads down on a steep, sealed road towards Sugarloaf Bay. This area is referred to as H.C. Press Park, which was once home to a dance hall, baths, and picnic shelters until 1964.
Closer to the water, the sealed road ends and the path continues as a bushwalking track.
2. Sugarloaf Bay
The walking track follows the foreshore of Sugarloaf Bay with several spots where you can enjoy views of Middle Harbour.

This section of the walking track includes a series of boardwalks and a creek crossing, meandering through a landscape with a great variety of plant and tree vegetation and wildlife.

The track soon hits an intersection with Willis Road, where you need to go straight ahead. But a short detour to a jetty at the water's edge is definitely worth it.
3. Willis Road Jetty
Turn left at that intersection to pay a quick visit to this jetty, which offers fantastic views of Sugarloaf Bay.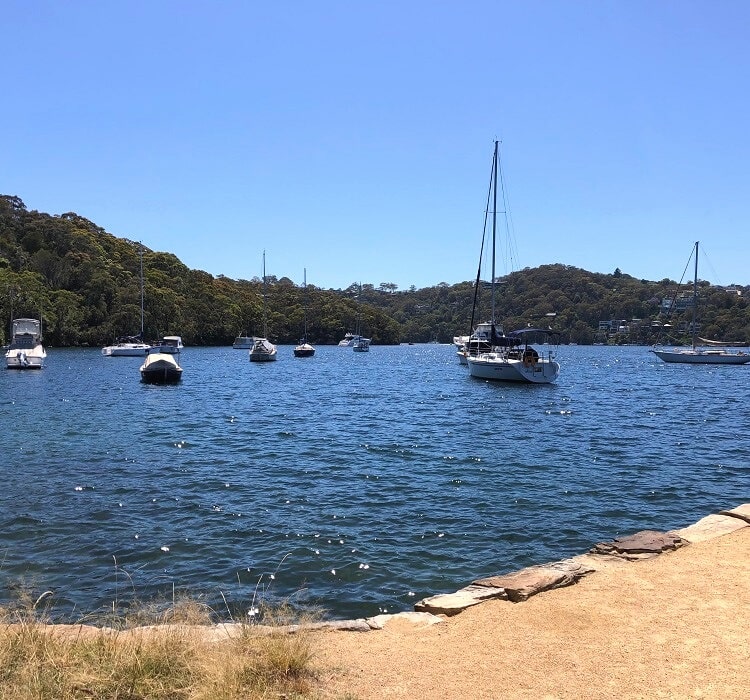 There is also a wooden bench, making this jetty the perfect spot for a short break with perhaps a refreshing snack while enjoying the water views.
Back at the intersection, the walking track continues on a sealed road leading up to a sewerage pumping station. A fenced platform offers more water views but from a higher point.

The next section of the walking track is perhaps the most enjoyable, as it follows a path through a thriving She-Oak forest with a few creek crossings.
4. Scotts Creek Wooden Bridge
The track continues through the southern part of North Arm Reserve above the mangroves of Sugarloaf Bay and Scotts Creek.

Following a short section on a sealed road, the walking track continues into the bush, quickly descending to a wooden bridge that crosses Scotts Creek.
After crossing the bridge, the track heads into a fascinating area of mangrove forests and mud flats, which supply nutrients to many plants and animals.

From the mangroves, the track continues along the southern side of the creek to the east, before a short but steep climb out of the creek valley.
5. Lookout
After completing this steep climb, the North Arm Walking Track ends at North Arm Road in the leafy suburb of Middle Cove.

Only moments away from this track access point is a nice lookout with a wooden bench. This lookout offers scenic views of the bay that Scotts Creek flows into.
Keen to continue hiking?
Walk to the end of North Arm Road, where you will find the start of the Harold Reid foreshore track, a family-friendly bushwalk that explores the Harold Reid Reserve with scenic Middle Harbour views along the way.
This walk will add approximately 4 km (return) to your hiking adventure. It's a relatively easy walk and is worth the extra effort if you have the time and energy.